A homemade keto pizza that's ready in 15 minutes? Better than takeaway for sure! Here's how to make the best cheesy keto pizza in the world!
If you've been following a keto diet for a while, I'm pretty sure you're missing a lot of your regular delicious treats. And I'm pretty sure a good pizza is at the top of your list!
Truth be told, pizza doesn't have a very good reputation among healthy, diet-friendly foods. Although it's extremely delicious and it can be found at every corner of the street, be it a restaurant or street food stall, it's a carbs bomb. It also has lots of fats because of the dairy that's usually used, so the fat-carb combo makes it a no-no when you're on a keto diet.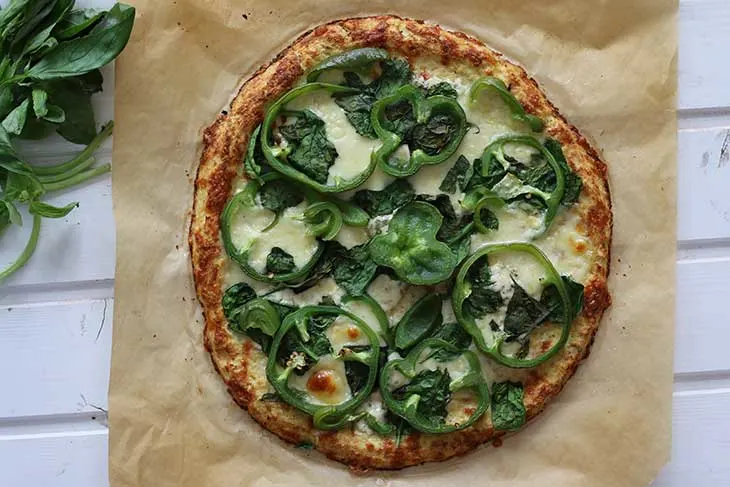 So what's there to do, you might ask? After all, indulging in a yummy piece of pizza can't hurt from time to time. Luckily for you, there are multiple healthier alternatives to the classic pizza! This cheesy keto pizza is a perfect example.
This cheesy keto pizza has one of the best healthy crusts I have ever tasted. The crust is made of cauliflower florets mixed with parmesan cheese, eggs, and sea salt in a food processor. It's flavorful, it's healthy and it's extremely easy to make!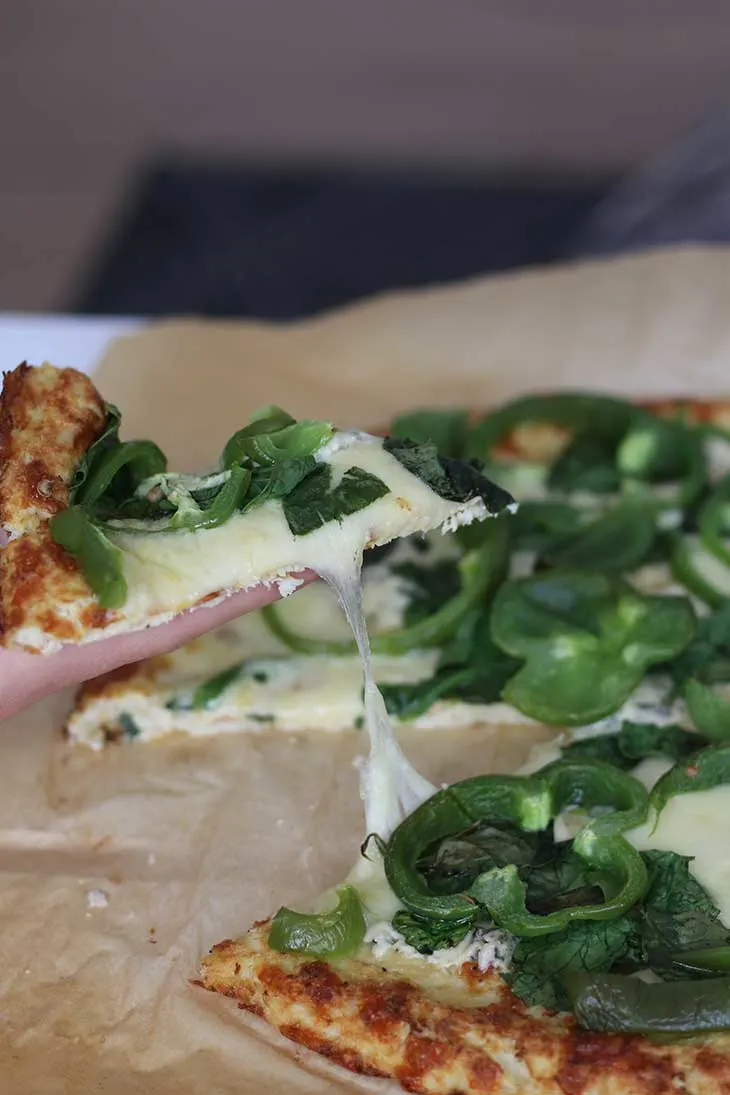 One of the turn-offs when making a homemade pizza is the dough. Let's face it: it's pretty hard to find a pizza dough that's just… perfect. There's usually yeast involved, lots of kneading, waiting for the flour to rise, baking it at the right temperature. And so on.
But all these problems disappear with my recipe for cheesy keto pizza! All you need to do in order to achieve a perfectly crunchy pizza crust is to mix all the crust ingredients in a food processor and you're pretty much good to go. All you need to do next is to select some keto-friendly toppings and that's it.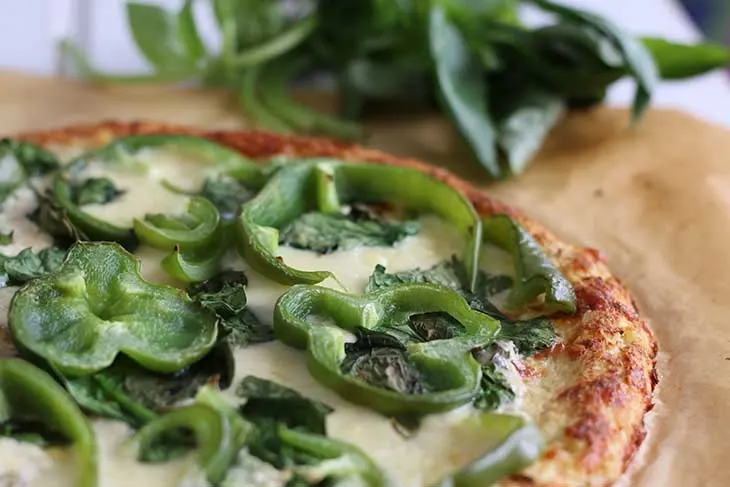 And I have a pretty important piece of advice for you here: pre-bake your crust. Yes, yes, unlike the classic pizza where you can just lay your dough in a pan then add the toppings and throw the pan in the oven, this time we'll need to pre-bake our cauliflower crust. This will ensure that our cheesy keto pizza doesn't end up all gooey and weird. Pre-baking the crust means you'll achieve a crunchy, amazing texture. You won't even miss a classic pizza anymore!
NOTE: For this cheesy keto pizza I used eggs, parmesan cheese, and gouda cheese, so it's definitely not vegan. If you're looking for a vegan-friendly alternative that's both yummy and super easy to make, I recommend checking out my recipe for cauliflower pizza crust without dairy. You'll only need some cauliflower, flour, psyllium husks, cornstarch, olive oil, and vegan cheese to make it and the results are 100% impressive.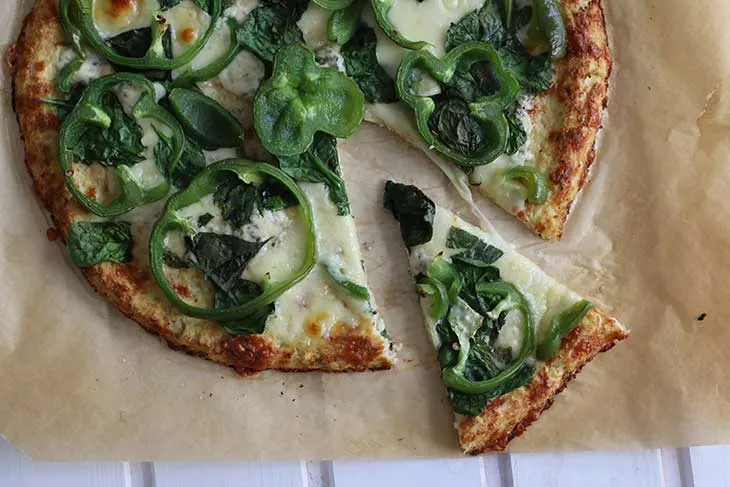 As for the toppings, I used some gouda cheese (it melts beautifully on this pizza!), some sliced green bell pepper, and some baby spinach. Yes, baby, bring on the greens! All these ingredients are keto-friendly and super healthy.
In case you don't like green bell peppers or baby spinach, I have a list of alternative ingredients that you can use to keep this recipe keto-friendly: olives, broccoli, arugula, zucchini, and mushrooms. Nope, no tomatoes here, as they're pretty high in carbs and that's the exact opposite of what we're looking for here.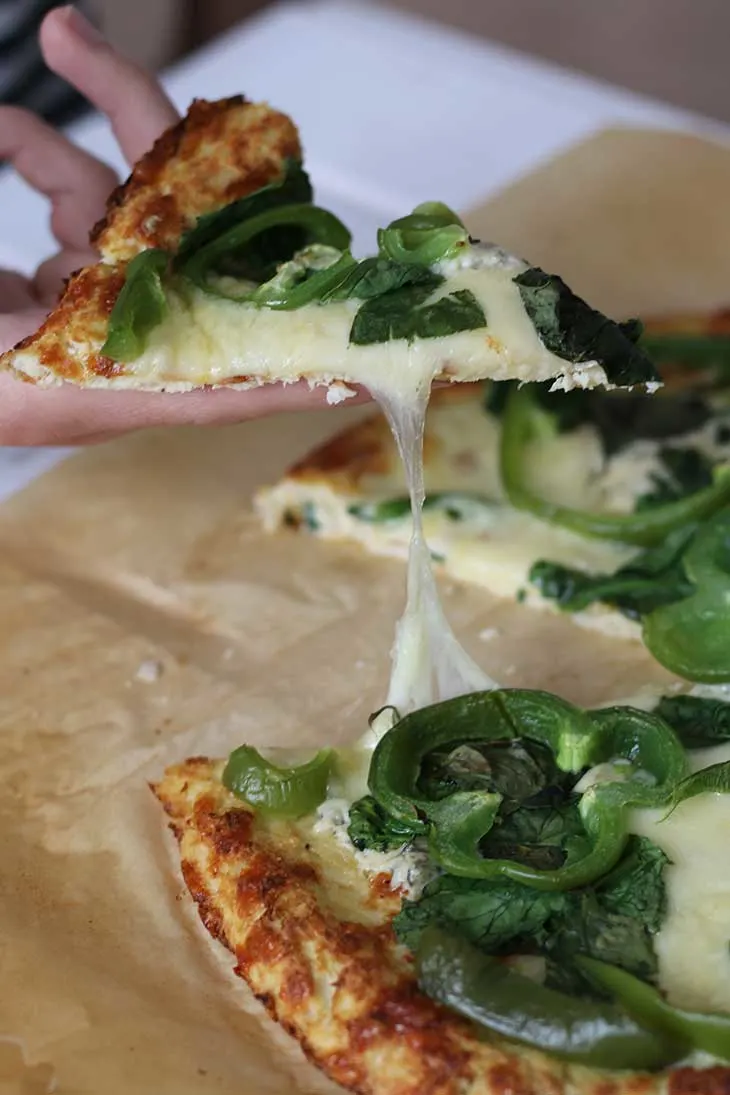 One of the best things about this cheesy keto pizza is its texture. You might not expect this from a cauliflower crust, but it's super crunchy and delicious! And the toppings are mainly creamy, which makes for an amazing combo.
The best part about a pizza is, of course, the cheese – and this recipe has not one, but TWO kinds of cheese in it! Parmesan for the crust and gouda on top. Talkin' about a perfect match made in heaven, right? Make it and you'll thank me later.
Although this cheesy keto pizza might look a bit too healthy, it's actually very tasty. It has an amazing flavor given by the gouda-spinach-pepper combo and it's definitely not boring! Who said we can only eat plain, boring meals when we're on a diet? Not me, sir!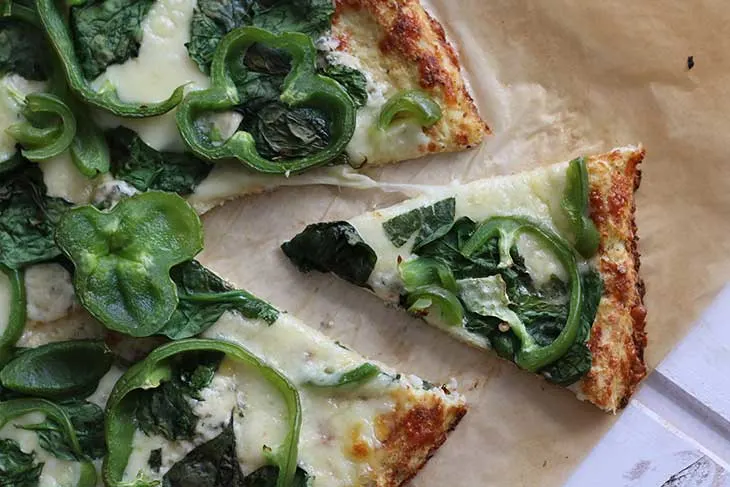 These being said, I hope you'll try this recipe for cheesy keto pizza soon. If you decide to do so, don't forget to let me know how it went. I'm so curious about your opinions! And if you decide to mix and match or change the recipe in any way, let me know that too. I'm always looking for improvements!
Until then, I wish you happy cooking and bon appetite.
Yield: 1 pizza
Cheesy Keto Pizza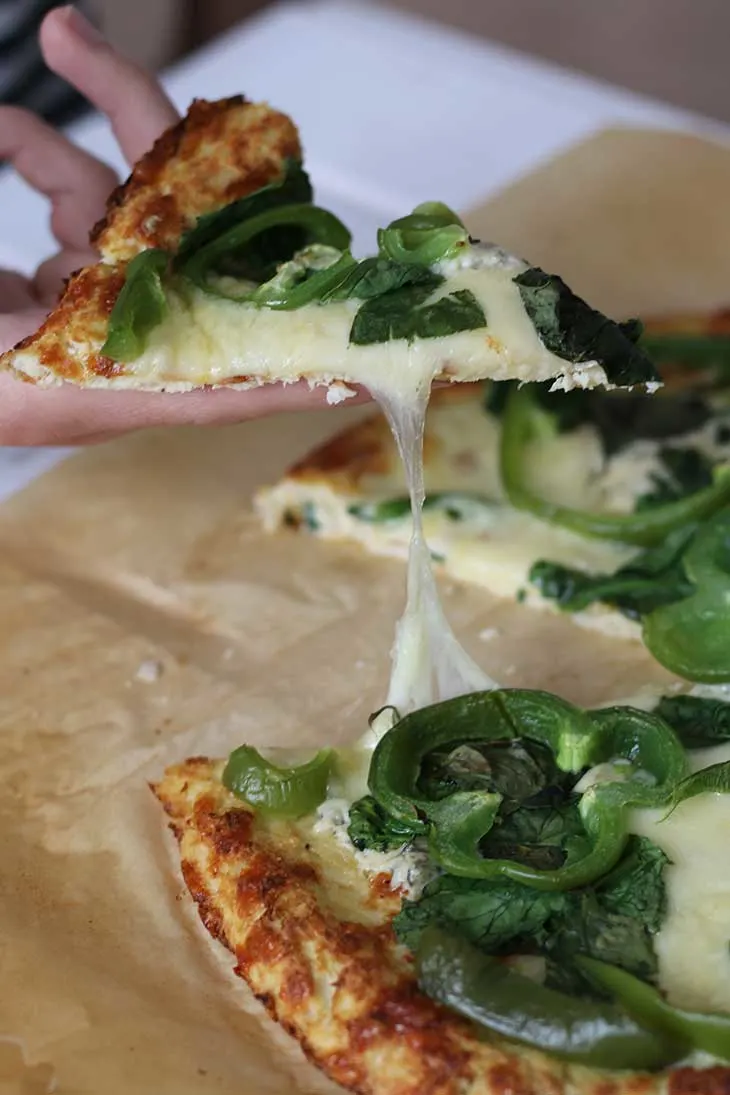 A homemade keto pizza that's ready in 15 minutes? Better than takeaway for sure! Here's how to make the best cheesy keto pizza in the world!
Ingredients
For the crust:
1 medium cauliflower head, florets separated
2 eggs
1 tsp sea salt
150g (1 ¾ cups) parmesan cheese, grated
For the topping:
100g (1 ¼ cup) gouda cheese, grated
1 green bell pepper, sliced
a handful of baby spinach
Instructions
Preheat the oven to 200 C.
Line a tray with baking paper and set it aside.
Add all the keto pizza crust ingredients to a food processor.
Process everything at high speed, until a homogeneous, sticky puree is formed.
Brush the prepared baking paper with some oil.
Transfer the keto pizza crust dough to the prepared baking tray. Flatten it using your fingers and give it a round shape. It should be about 1cm thick.
Bake for about 7-10 minutes, or until lightly golden.
Take it out of the oven and add the grated gouda cheese on top, sliced green bell pepper, and some baby spinach.
Return to the oven and bake for about 7 more minutes.
Top with some fresh basil and serve!
Nutrition Information
Yield
1
Amount Per Serving
Calories

546
Total Fat

31g
Saturated Fat

14g
Trans Fat

1g
Unsaturated Fat

13g
Cholesterol

427mg
Sodium

2966mg
Carbohydrates

36g
Fiber

16g
Sugar

16g
Protein

39g
I strive to keep the information as accurate as possible but make no warranties regarding its accuracy. I encourage you to make your own calculations using your preferred nutrition calculator.