This vegan taco casserole is comforting, delicious, healthy and very easy to make! Plus, it's ideal for meal prep and to feed a whole family!
Tacos are a world-famous Mexican dish, loved by children and adults alike. And the reasons are pretty solid: tacos are easy to make, filling, quick and delicious and they contain all the magnificent flavors of the Mexican cuisine. But do you know what's better than a taco? A taco casserole, of course! A taco casserole is very similar to a shepherd's pie or a lasagna, but with a unique, Mexican twist!
Making a vegan taco casserole is super easy, as the only thing you have to do is take the usual taco ingredients and some tortillas and layer everything in an oven tray. Bake to perfection and there you have it – Mexican comfort food at its best!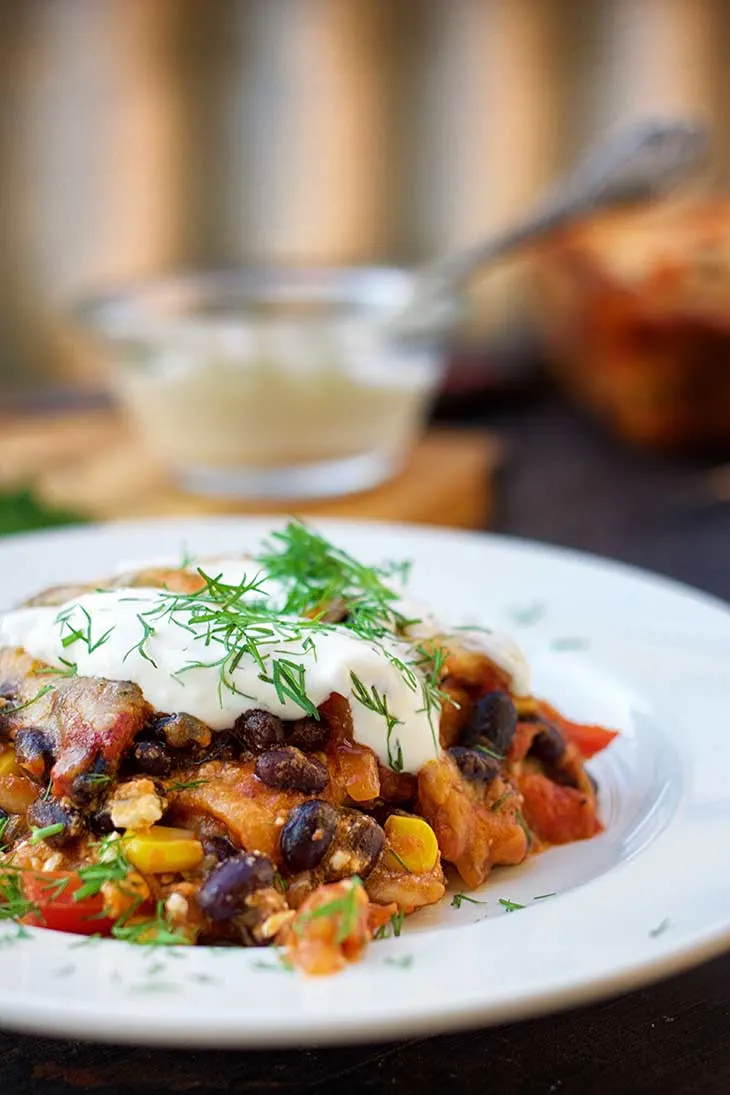 Taco casseroles combine the amazing flavors of authentic tacos with the comforting feeling given by casseroles, resulting in a perfect dish that you can share with your friends and family during a Mexican-inspired dinner!
One of the best things about this taco casserole is that it's the perfect dish for a weekend meal prep, but it is also ideal for a weeknight dinner, as the preparation is super quick and the baking only takes a little more than half an hour. The process of baking will cause the cheese to melt, resulting in a finger-licking good dish that you can top with fresh greens for a more refreshing taste!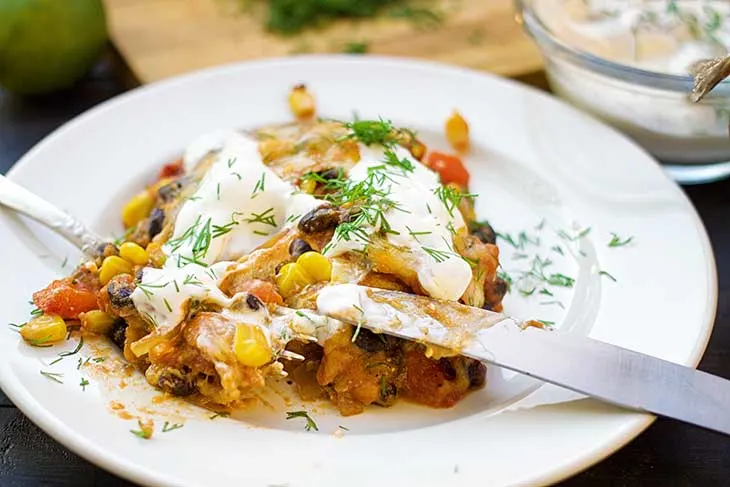 A taco casserole might look complicated at first, but the entire process is actually super simple!
Just like any other casserole, this recipe is easily customizable, so you can make a taco casserole that will perfectly fit your taste and personal preferences. You can either make it with pork, beef, chicken or keep it vegan. Add jalapeno slices if you want to make this recipe as spicy as you can handle, add some black olives, exclude the cumin, add avocados, add more black beans or don't add any sweet corn at all – the sky is the limit when we're baking casseroles! Pick your favorite taco fillings, add them to this amazing taco casserole or put them on top when you serve it, and the results will be perfect every time!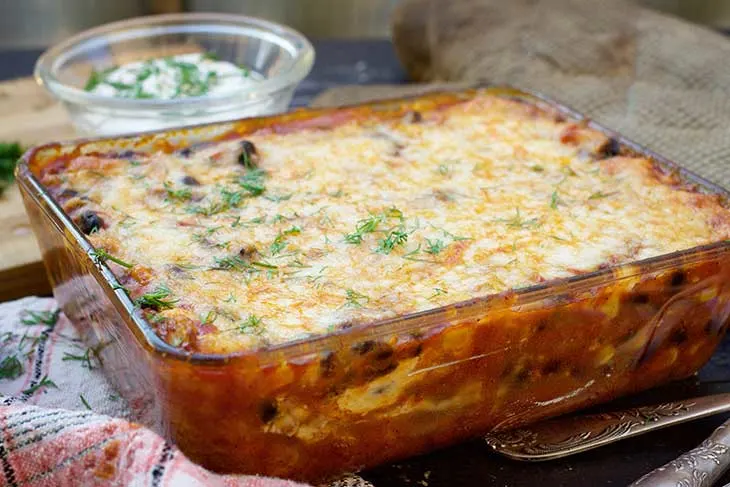 My recipe for vegan taco casserole is as simple as I promised and it preserves the authentic flavors of the Mexican cuisine. Serve it hot or freeze it for the following days – either way, the results will impress even your omni friends!
Don't forget to add your favorite toppings before serving, such as yogurt, sour cream, tomatoes, avocado etc. Or, even better, make a homemade Mexican salsa to go with it and serve for lunch or dinner. Enjoy!
Yield: 6 +
Vegan Taco Casserole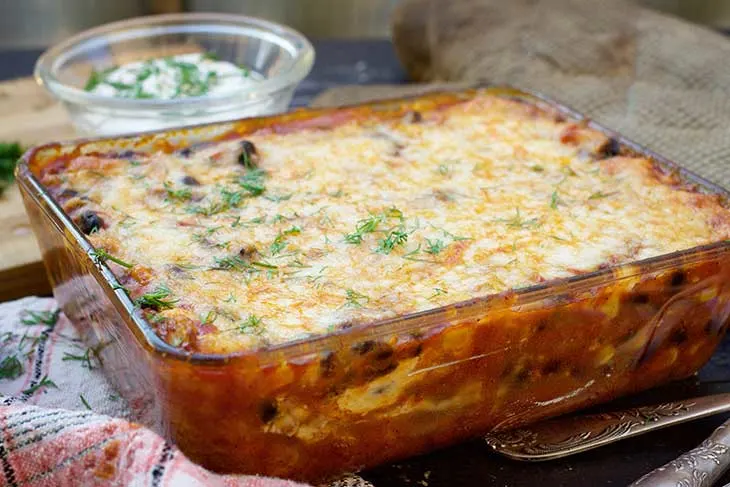 This vegan taco casserole is comforting, delicious, healthy and very easy to make! Plus, it's ideal for meal prep and to feed a whole family!
Ingredients
250g (1 cup) tofu, crushed
180g (1 cup) black beans, cooked
170g (1 cup) sweet corn, cooked
450g (2 cups) tomato sauce
6 large tortillas - you can use GF if you want
1 Tbsp olive oil
1 onion, diced
1 tsp chili powder
1 tsp cumin
1 tsp garlic, crushed
½ tsp salt and pepper to taste
120g (1 cup) vegan cheese, shredded (or for the vegetarian version, use any cheese you want)
Instructions
Preheat the oven to 200C.
Heat the olive oil in a skillet over medium heat. Add the onion and saute until translucent.
Add the tomato sauce, chili powder, cumin, garlic, salt and pepper and cook for about 8 minutes.
Brush a casserole with some olive oil.
Spread a layer of tortillas on the bottom of casserole.
Cover with ⅓ cup tomato sauce
Spread a layer of crushed tofu over the tortillas then top with a layer of corn, beans and ⅓ cup vegan cheese.
Top with 2 more tortillas and repeat the layers 2 times.
Cover with foil and bake for about 30 minutes. Remove the foil and bake 10 more minutes, until golden. Top with some fresh greens and serve with a spoon of vegan yogurt.
Nutrition Information
Yield
6
Amount Per Serving
Calories

357
Total Fat

11.7g
Carbohydrates

49.6g
Protein

13.3g