Try these easy vegan tacos with an extra-meaty filling! It will be difficult for you to even notice these aren't made with actual minced beef!
I start the week with a non-Italian-inspired recipe this time! I'm still in Milan, but just realized I have a bunch of recipes just waiting to be posted on the blog! I've been cooking so much since I got here and can't wait to show you all the recipes I made. Some are inspired by the Italian cuisine, while others are simply created based on momentary ideas. 🙂
This recipe was inspired by Jamie Oliver's beef tacos recipe. I wanted to "veganize" it and make it as similar as possible to the original meat-based taco recipe. Notice that I didn't use corn taco shells because I didn't have any. I used Schar gluten-free wraps instead. Actually, you can use any kind of wrap. The recipe will turn out delicious anyway.

I made this as part of the gluten-free sandwich campaign I hosted for Schar Romania last month, but forgot to post it! So, if you're looking for some healthy, delicious vegan sandwiches, check these out: Vegan Steak Sandwich, Grilled Eggplant Sandwich, and Vegan BLT Sandwich.
Hope you'll like these vegan tacos! Textured Soy Protein (TSP) can be an excellent meat substitute for vegetarians, but make sure it's non-GMO!
P.S. What kind of recipes would you like to see on my blog? Let me know, in the comment section below!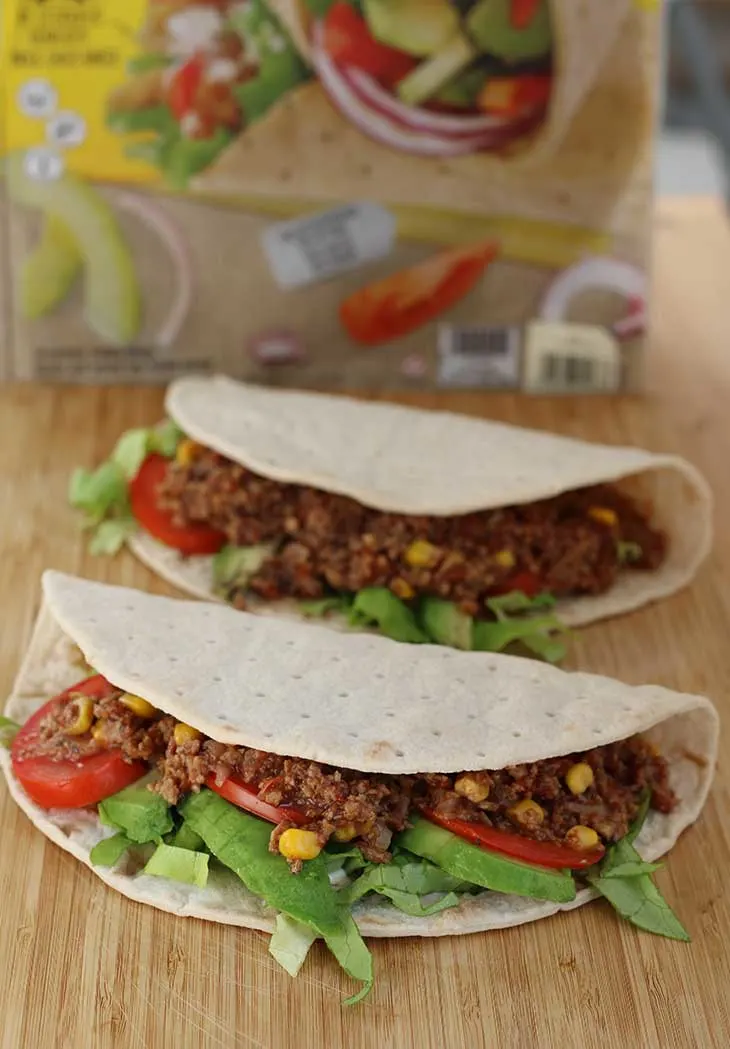 Down below you will find the recipe. This vegetarian taco recipe is so easy to make and you can serve them with your family or friends! Give it a try!
Yield: 6
Easy Vegan Tacos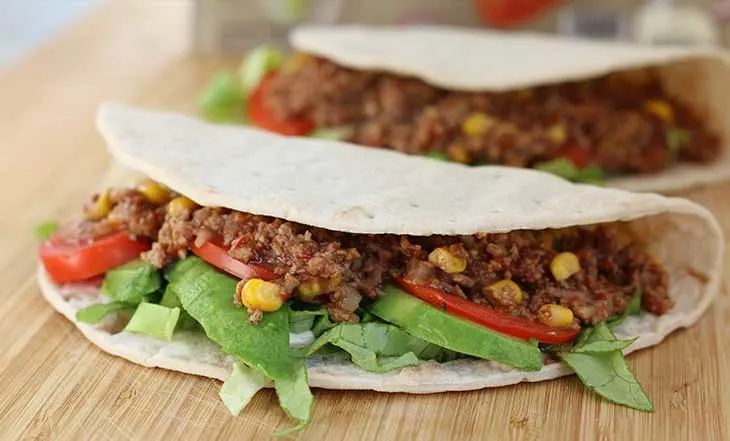 Try these easy vegan tacos with an extra-meaty filling! It will be difficult for you to even notice these aren't made with actual minced beef!
Ingredients
Vegan "Minced Meat":
100g (1 cup) textured soy protein, granules
4 Tbsps sweet corn
1 small onion
1 red pepper
olive oil
2 cloves of garlic
1 tsp sweet paprika
1 tsp cumin
salt and ground pepper, to taste
Vegan Tacos Assembly:
Schar gluten-free wraps or corn taco shells
1 ripe avocado, sliced
tomato slices
lettuce
Salsa
2 ripe tomatoes
1 spring onion
1 Tbsp chopped parsley
2 Tbsps lemon juice
Instructions
Bring water to a boil in a medium pot. Add the soy granules and remove from heat. Cover with a lid. Leave them to soak for 10 minutes.
In the meantime, chop the onion, red pepper, mince the garlic and place them into a bowl.
Heat 2 Tbsps of olive oil in a large pan. Add the ingredients from the bowl, plus sweet corn and spices. Saute for 5 minutes.
After 10 minutes have passed, drain the soy granules, while pressing them, so that most of the water will be eliminated. Add them to the pan.
Saute on medium heat for 10 more minutes, then remove from heat.
Prepare the salsa. Add all the salsa ingredients into a blender and blend well.
Assemble the vegan tacos.
Spread salsa on each taco, add a couple of tomato slices, some lettuce, some avocado slices and 2-3 Tbsps of the vegan "minced meat".
You can eat these just as they are if you use the Schar gluten-free wraps. If you use taco shells, spread them out on a baking tray and place in the oven for 3 to 4 minutes until crisp, before filling them.
Nutrition Information
Yield
6
Amount Per Serving
Calories

164
Total Fat

6.8g
Carbohydrates

15.4g
Protein

10g