Mexican food at home? Yes, let's do it! These vegan hard shell veggie tacos are the perfect idea for a quick, delicious and healthy dinner.
Confession time! I decided to change things on the blog a little – I decided to start posting ALL those excellent recipes I'm making every day for lunch or dinner. These are yummy, easy recipes for everyday cooking that I made and loved, but for which I didn't have any time to take "professional" pictures with my camera because I was just TOO hungry. I have so many recipes like this that I didn't share with you guys because I felt the visuals are "not worthy". I had no props, no proper light and no fancy plating. But I won't let that stop me ever again!
So for this recipe I only have a couple of photos taken with my phone, but what's important here is the taste and the actual recipe. No perfect pictures ahead, just my real, non-polished food that I eat in my real life. 🙂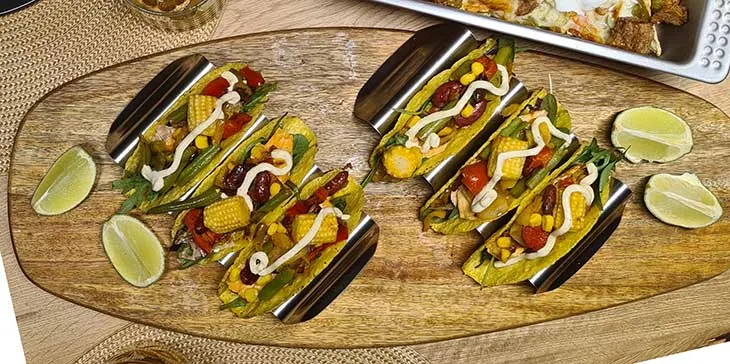 Okay, let's get back to our recipe. I prepared these vegan hard shell veggie tacos for a Mexican-themed dinner. I really love organizing this type of 'themed' evenings at home several times a week. It's like dining out in a restaurant, only we can make it our own. Plus, it's cheaper and more romantic.
Want to hear a funny story as well? Because I wanted to properly "mimic" a restaurant atmosphere, I used this video as a background sound. You might laugh at the idea, but we really enjoyed an authentic bar atmosphere. Totally recommended!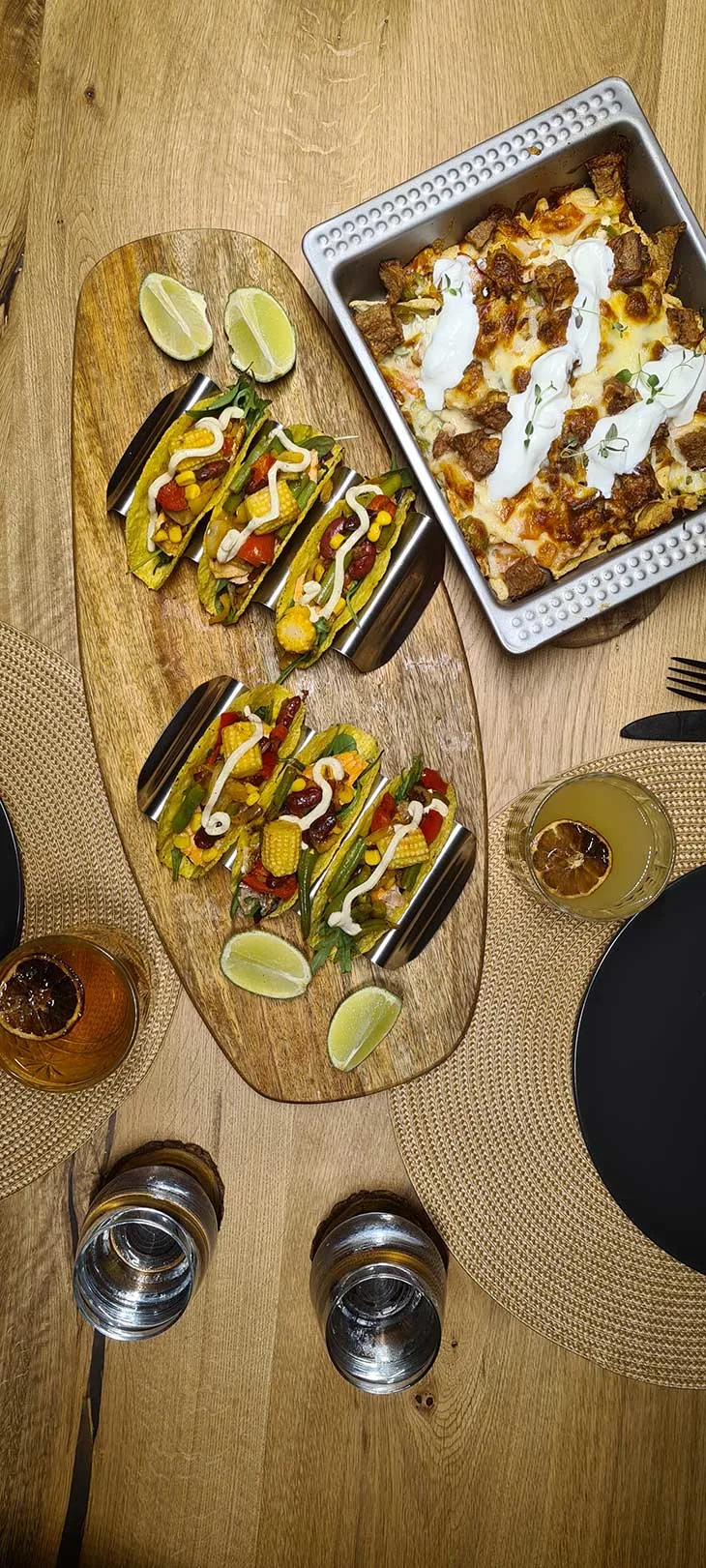 Even though I love organizing thematic dinners at home, some things are still the same, even on a pandemic: I hate spending endless hours in the kitchen! So for this recipe of hard shell veggie tacos I used a mix of Mexican veggies bought from the supermarket.
This time I used a mix from Lidl – it's my favorite because it has baby corn and beans as well and they're already seasoned. Mexican flavors – quick and easy, without omitting the healthy element. Of course, you can use your own Mexican veggies mix or you can make your own by buying individual bags of frozen veggies or canned veggies as well.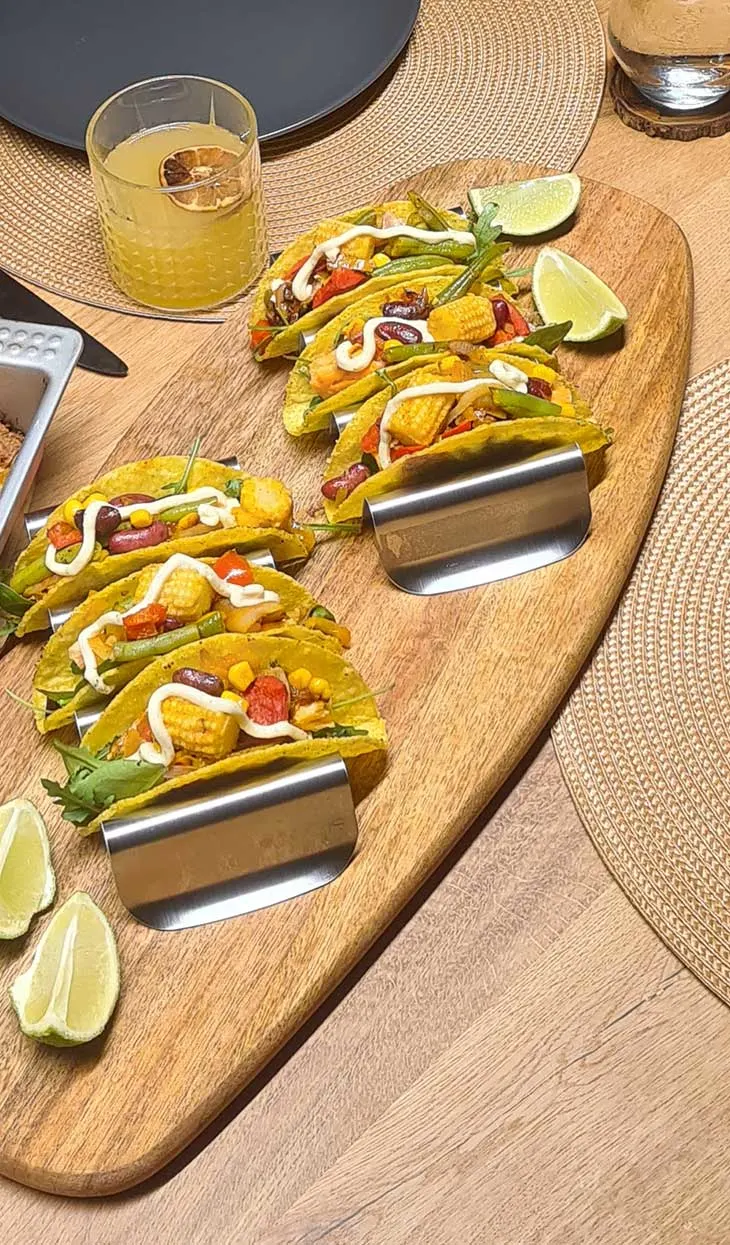 As I mentioned before, the pictures are not great. We were extra hungry and we really wanted to enjoy our evening together, so, as in 90% percent of the cases when I cook at home, I didn't get to take "proper" blog pictures – the ones I used you to, I mean. Those polished, magazine-perfect photographs.
But I'm still glad I have these 2 pictures taken with my phone. I cropped them so I could have 4 photos – just enough to fill an article with. I really wanted to share this recipe with you because it really exceeded all my expectations! These hard shell veggie tacos were simply excellent – and this is really not an overstatement.
In order to have a full Mexican dinner (I'm not joking when I'm saying I take my themed dinners seriously!) I also made some vegan nachos – recipe here. It's the best combo! And I think some guacamole could be an excellent addition to this meal in case you have enough time for it. We didn't, but the hard shell veggie tacos and the nachos were more than enough for two people.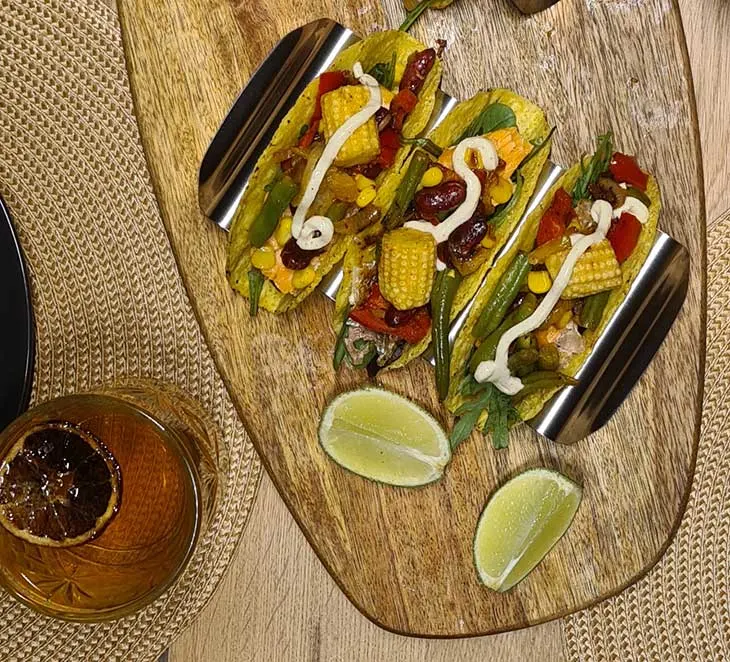 TIP: Costin was craving some fish tacos as well, so I made both versions. If you're not following a vegan diet and you want to try some fish tacos as well, you can throw some salmon fillet in your oven, then cut it into smaller pieces and add it to your veggie tacos. Satisfaction guaranteed!
By the way, I have a fully stocked bar at home so lately I've been really enjoying pairing my food with some custom, personalized cocktails. As you can see in the pictures, we had some cocktails during our Mexican night as well. I've made two different ones, both with vodka as a base. One of them has Absolut Peach vodka and peach tea and the other one has Absolut Mango vodka combined with pineapple juice. They were amazing!
So in case you're interested in me sharing some yummy cocktails and alcoholic drinks with you, just let me know! 🙂
If I come to think about it, I can say that these hard shell veggie tacos have become my new favorite tacos. You may remember I made some other taco recipes in the past – such as these cauliflower tacos, these smoky vegan tacos with salsa verde and these easy vegan tacos. I LOVE all of them, but these hard shell ones are really so easy and flavorful, it's hard not to become obsessed!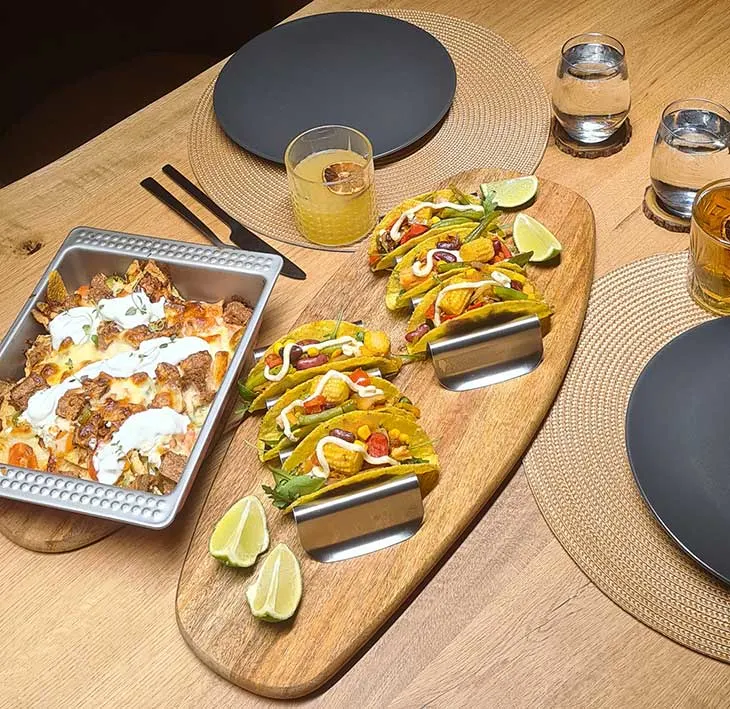 HACK: If you can't find hard shells for tacos, you can just take all these ingredients and put them in a bowl. This way you'll end up with a taco bowl – you'll just need to add some rice as a base. Or you can fill some regular wraps with the veggie combo. Whatever floats your boat!
And I think that was all I wanted to tell you about these wonderful hard shell veggie tacos. They're extremely easy to make, they're quick and they're SO healthy and yummy. I think I'm actually in love!
In case you try these hard shell veggie tacos, don't forget to tell me how it went. And don't forget about the cocktails, too! You can thank me for the idea later.
Yield: 2 people
Hard Shell Veggie Tacos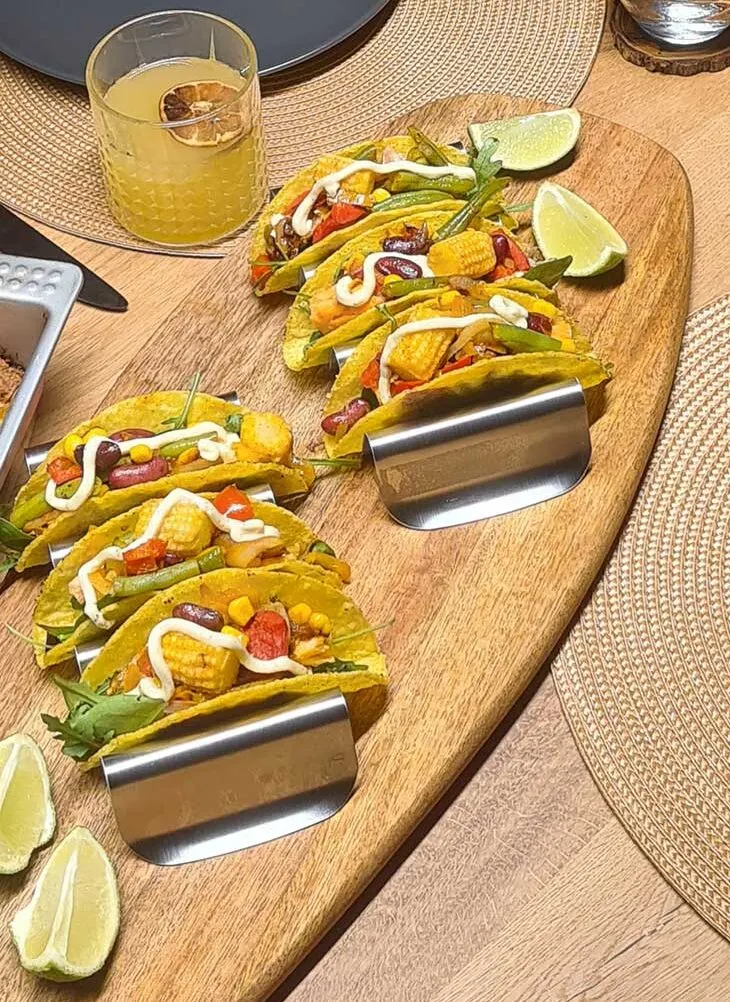 Mexican food at home? Yes, let's do it! These vegan hard shell veggie tacos are the perfect idea fora quick, delicious and healthy dinner.
Ingredients
6 hard corn taco shells
300g (10 oz) frozen Mexican veggies mix, any brand you like - I used half a bag of Lidl Mexican mixed veggies, but you can use any brand. Mine contains baby corn, sweet corn, green beans, kidney beans, onion, red pepper and spices.
2-3 Tbsp taco seasoning blend - I added a few pinches of chili powder, garlic and onion powder, crushed red pepper flakes, dried oregano, paprika, cumin, salt and pepper
1 lime, cut into 4 wedges
some mixed salad greens - I used a pre-washed salad mix - Misticanza is my favorite
garlic aioli or any other garlic sauce you like - you can also mix some mayo with crushed garlic cloves.
some light drizzles of sriracha
Instructions
Sautee the frozen veggies in a pan, with a little bit of water. Add the spices. Cover with a lid and let them steam for about 15 minutes.
Place the hard corn taco shells in the serving forms and start filling them with some mixed salad greens and 2-3 Tbsps of the veggies mix.
Drizzle some garlic aioli and sriracha on top and serve with freshly squeezed lime juice on each taco.
Nutrition Information
Yield
2
Amount Per Serving
Calories

826
Total Fat

20g
Saturated Fat

3g
Trans Fat

0g
Unsaturated Fat

15g
Cholesterol

12mg
Sodium

2381mg
Carbohydrates

149g
Fiber

30g
Sugar

32g
Protein

29g
I strive to keep the information as accurate as possible but make no warranties regarding its accuracy. I encourage you to make your own calculations using your preferred nutrition calculator.