Mexican, anyone? This amazing recipe for vegan ground soy quesadillas is the perfect addition to a weekday dinner. Simple and extremely healthy!
You know I talked about the Mexican cuisine and my complete love for it before. Here's my confession: I love Mexican cuisine and everything it offers to the world – the spices, the tastes, the textures, and everything in-between.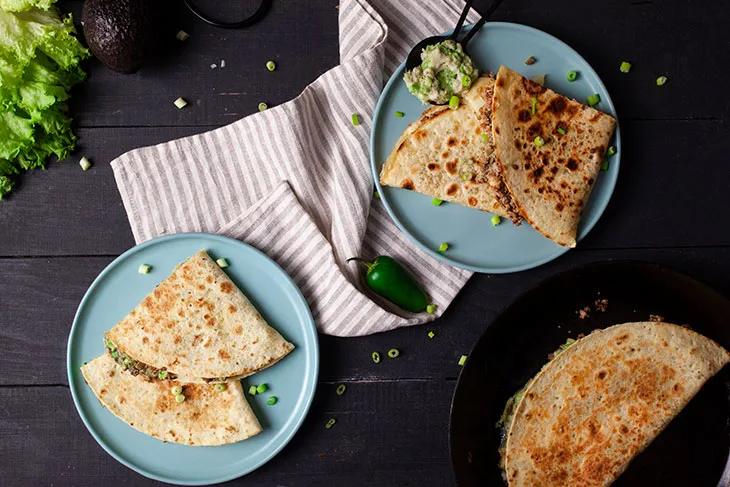 There are many iconic Mexican dishes out there such as chili con carne or, of course, the world-famous tacos that can now be found on every corner of the street. But nothing compares to a good ol' quesadilla. And my recipe today will teach you how to make the BEST ground soy quesadillas, all vegan, healthy and delicious.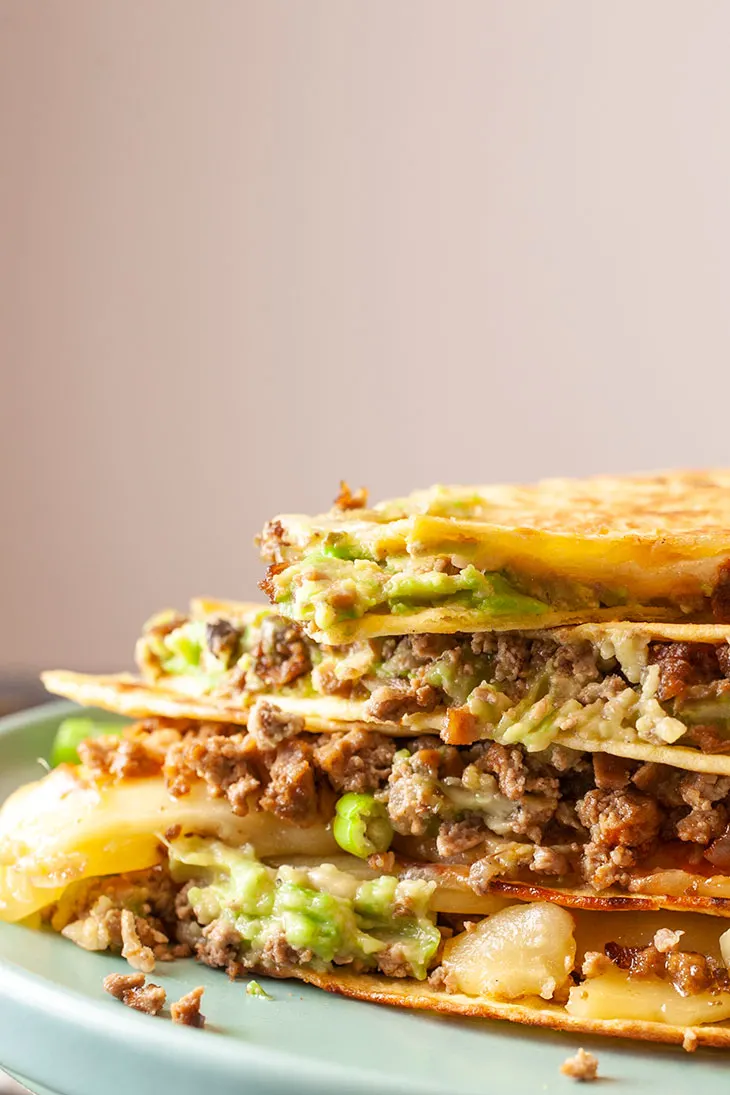 I find myself craving a little bit of Mexican food from time to time and almost every time I choose to create my own versions instead of ordering a takeaway. Cheaper and healthier! I've experimented with plenty of Mexican dishes before that I turned vegan. And all of them turned out 100% delicious. But these ground soy quesadillas are my latest obsession. They're just SO good and SO easy to make! I already made them three times and I just can't seem to get enough. I'm craving another portion right now!
What I love best about this recipe is the way its taste and texture resemble the "real thing". I know that vegans don't really like or crave the taste of meat after a while, but if you think about it, meat is all about its spices.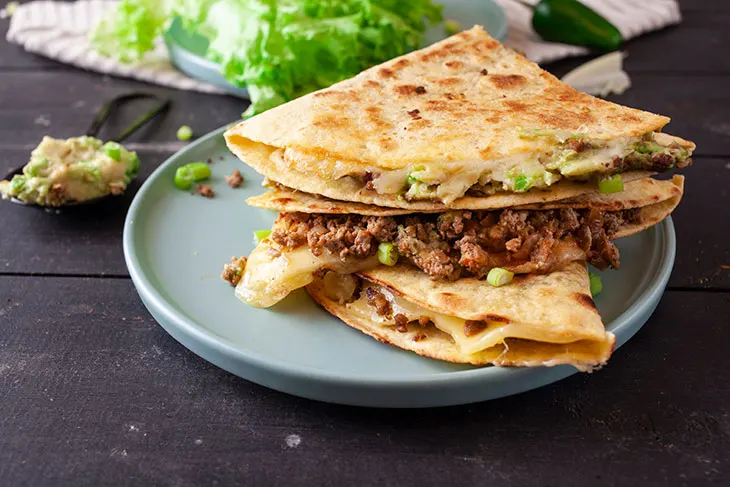 And that's the exact reason why I chose to fill today's quesadillas with ground soy. Ground soy absorbs all the spices and flavors you throw into it like a sponge. This means that, if you use the right spice combo, you'll end up with something incredibly flavorful and delicious. And this exact thing applies to today's recipe!
Another amazing thing about ground soy is its texture – just like ground meat, only better! And when you think about it, quesadillas can be quite soggy and soft at times. But not this time! The use of ground soy promises an amazingly crunchy texture that will make you think you're eating the original quesadillas served in Mexico. But don't just take my word for it, I urge you to get up from the couch, head to the kitchen, and try these ground soy quesadillas for yourself!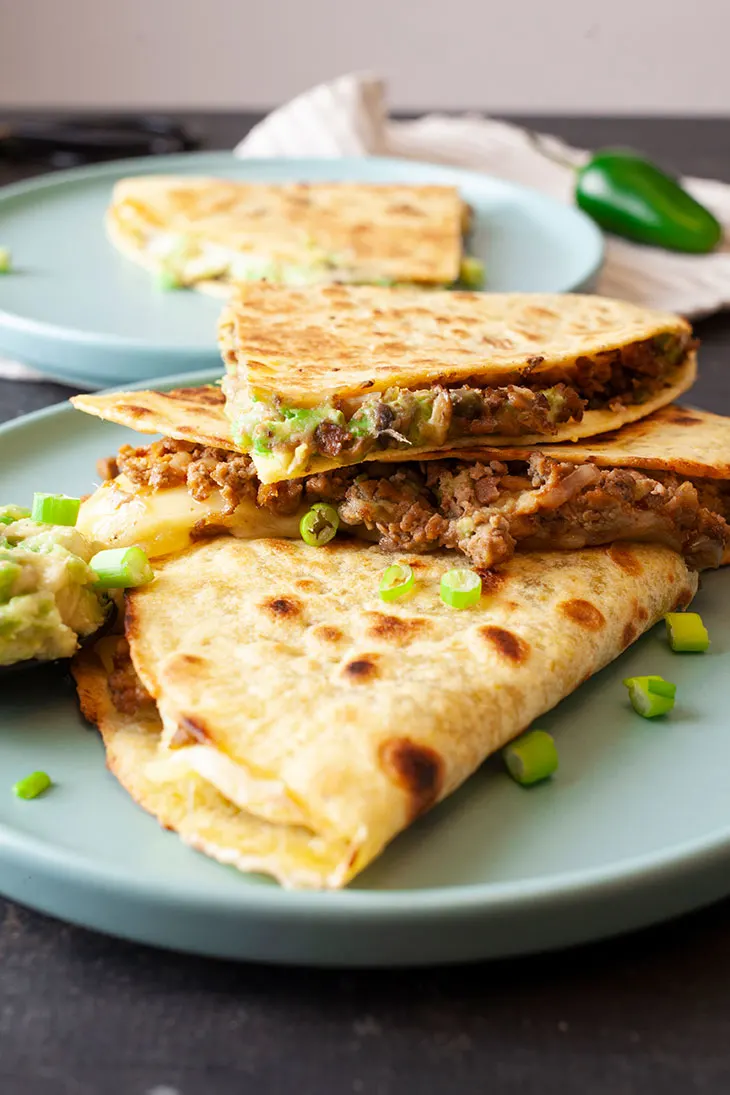 What else did I add to this vegan quesadilla? Heh, A LOT of things, actually. Delicious things, that is. Picture this: avocado (mandatory!), lime juice (mandatory!), onions, jalapenos (because how could I not?), garlic, vegan cheese, tomato salsa, and, of course, some carefully chosen spices. After all, Mexican cuisine is all about the right spices. Otherwise, the result is going to be plain and boring. And we don't want that, do we?!
One of my favorite things about this recipe for ground soy quesadillas is that it's extremely versatile. Don't like white tortillas? Use wheat ones instead. Hate the sweet tomato salsa? Use a spicy one instead. Don't like jalapeno? Simply omit it. Craving some corn? Add it to the mix, why not? There's no right and wrong here, as long as you're following the cooking process and you're adding the staple quesadilla ingredients – the tortilla and the textured soy protein + spices, in this case. Other than this, you're free to experiment, mix and match as much as you want to.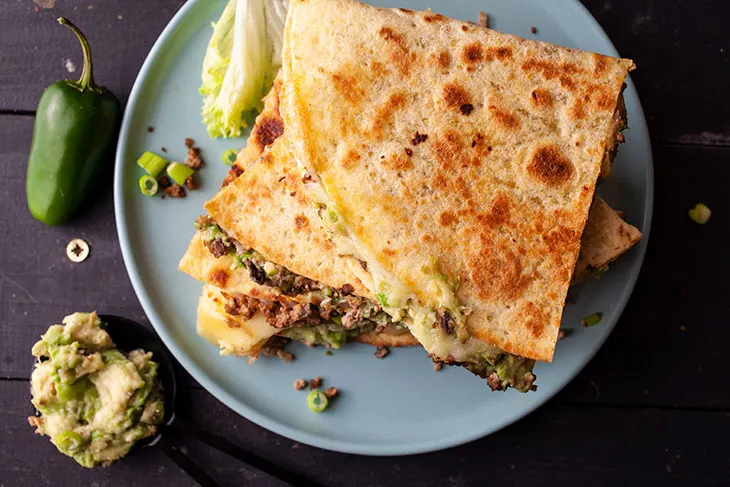 Another incredible thing about these ground soy quesadillas is that they're extremely easy to make. And quick! Which makes them perfect for a mid-week lunch or dinner. Or you can even take 20-25 minutes to prepare them before you leave for work and take them as a packed lunch. Talkin' about convenience, right? These ground soy quesadillas are perfect for any occasion.
Simple. Quick. Absolutely delicious. Protein-rich. Easily customizable. Gooey. Filling. Isn't that everything you ever dreamed your lunch would be? I know I'd love to indulge in a ground soy quesadilla right now, so what are you waiting for?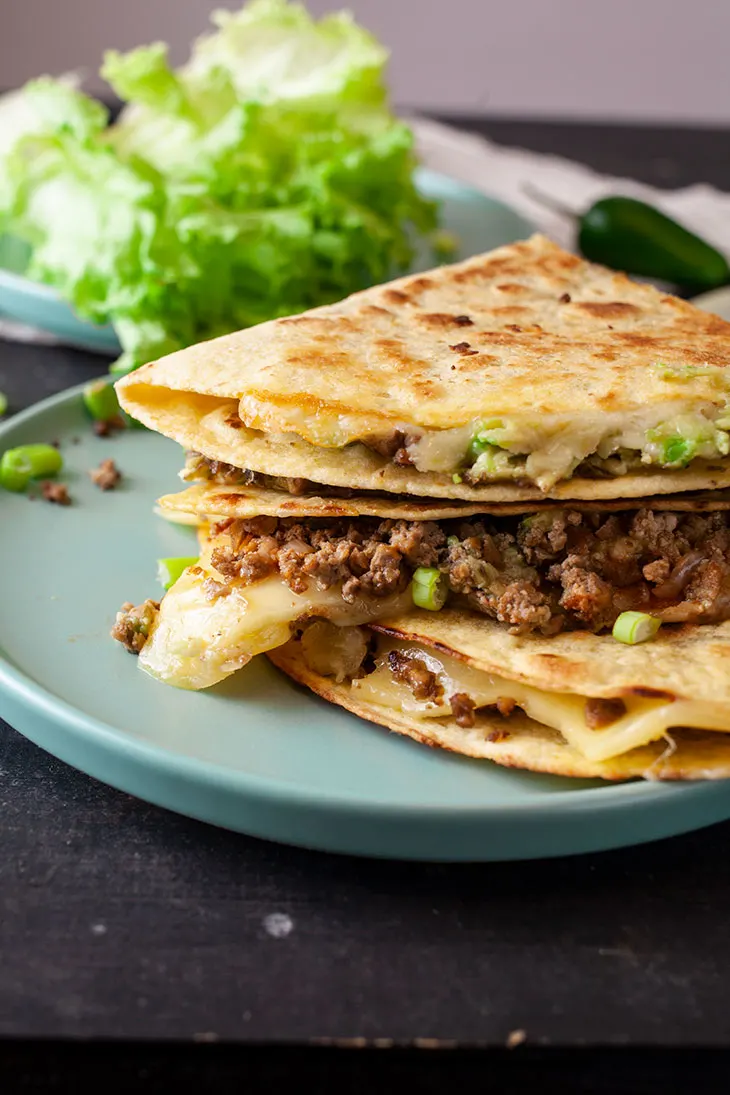 Whenever you decide to try this unique recipe, don't forget to come back here and let me know how it went. I always read the comments section and I'm curious to find out about your opinions. Until then… happy cooking and happy eating!
Yield: 4
Ground Soy Quesadillas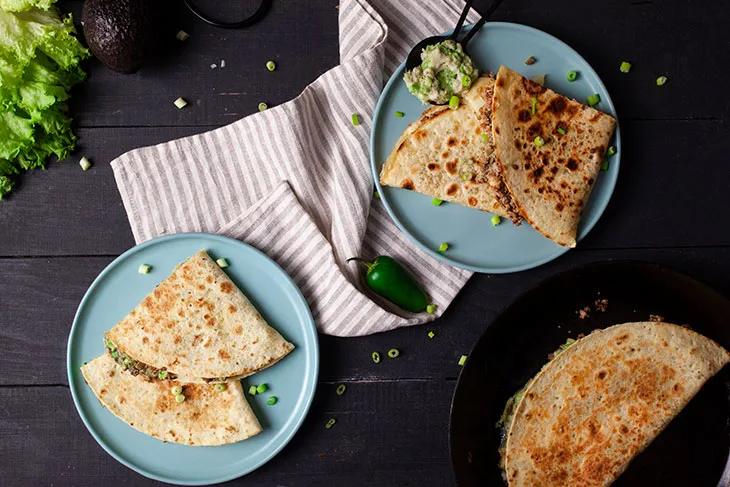 Mexican, anyone? This amazing recipe for vegan ground soy quesadillas is the perfect addition to a weekday dinner. Simple and extremely healthy!
Ingredients
1 avocado, pitted
1 Tbsp lime juice
½ onion, finely chopped
1 jalapeno, finely chopped
2 cloves garlic, minced
50g (2 oz) textured soy protein, granules
8 Tbsp cheese, grated (vegan or dairy)
8 Tbsp passata
4 corn tortillas
2 Tbsp spices mix for beef or pork
1 Tbsp olive oil
salt and pepper, to taste
Instructions
Boil the textured soy protein. Once soft, drain it very well and combine it with the spices mix.
Preheat a skillet over medium heat. Add olive oil.
In a small bowl, mash the avocado with a fork, add lime juice, salt, and pepper to taste, and mix to combine.
Add the onions to the skillet and saute for about 2 minutes.
Add the jalapeno and garlic and continue cooking for about a minute.
Add the boiled textured soy protein granules and passata
Cook, stirring for about 3 more minutes. Set aside.
Preheat another pan over medium-low heat.
Heat a tortilla for about 15 seconds on one side then flip over.
Sprinkle about 2 Tbsps of the grated cheese over the tortilla.
Add ¼ of the soy mixture and 1/4 of the mashed avocado. Spread evenly.
Fold tortilla in half. Press it with a spatula to flatten as much as possible.
Cook until lightly browned on each side.
Repeat with the rest.
Nutrition Information
Yield
4
Amount Per Serving
Calories

378
Total Fat

24g
Saturated Fat

7g
Trans Fat

0g
Unsaturated Fat

15g
Cholesterol

52mg
Sodium

287mg
Carbohydrates

19g
Fiber

6g
Sugar

1g
Protein

24g
I strive to keep the information as accurate as possible but make no warranties regarding its accuracy. I encourage you to make your own calculations using your preferred nutrition calculator.