Are you craving a delicious and refreshing dessert? You're in the right place, as this citrus upside-down cake will satisfy your sweet tooth!
What better way to celebrate the fast-approaching winter than cake? Okay, maybe you don't need winter to bake a cake, it's a four-seasons kind of thing. But winter is a time of holidays and let's face it… Holidays are a time of letting ourselves loose and indulging in whatever cravings we might have. So it's cakes season!
I was quite in the mood for something sweet today, and my first thought was to make a fast run to the supermarket. But as it was a quite relaxed and free Saturday, I stopped the first impulse and decided that I'll make my own something sweet. And I decided on a citrus upside-down cake! 🙂
It was so delicious that I decided to share the recipe with you. To be honest, it didn't even last until the next day. As I am writing this, there's no more cake left! But I admit I had some helpers both in cooking and eating!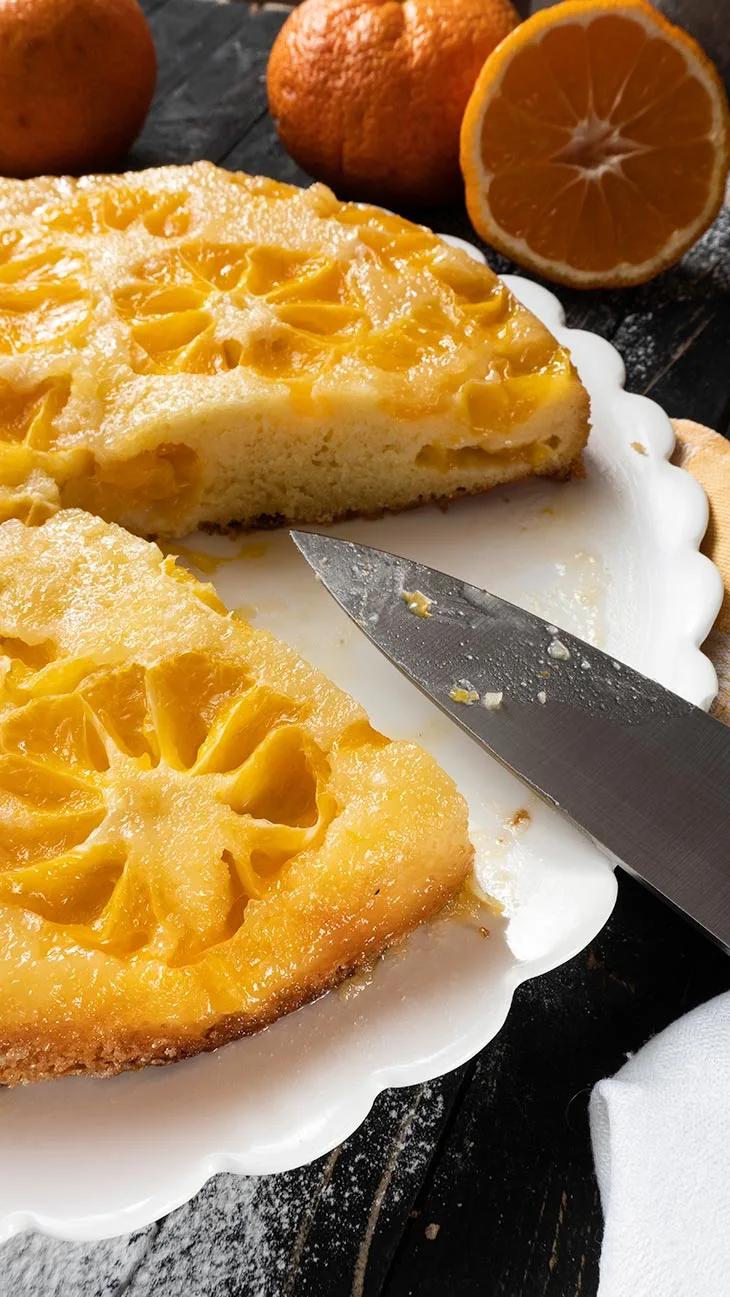 Thinking of cake toppings I could use, I decided upon mandarins. First, because they're one of my favorite fruit. Second, because they are quite seasonal.
In my country, nothing says Winter better than the smell of freshly peeled citrus. They're also a traditional gift to offer carolers during the Christmas holidays. I know it's a bit too early for that, but I think it's never too early to get in the holiday mood. 🙂
I think you will really enjoy the citrus upside-down cake too! I'm quite proud of myself because it's one of the best cakes I've made this year! The texture was so fluffy and spongy, literally melting into your mouth. And the mandarin slices caramelized so nicely and gave such a great flavor to the cake! Trust me, it will be a feast to taste and admire this cake!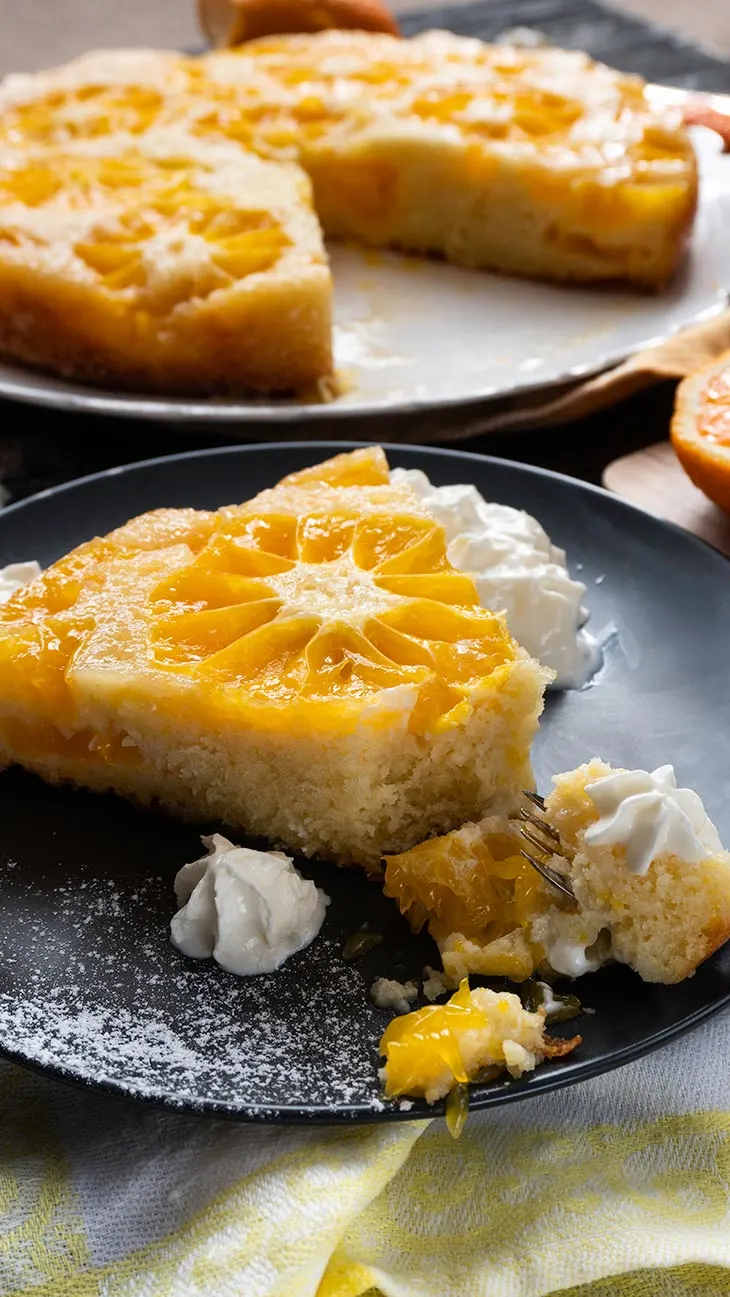 A citrus upside-down cake is, for me at least, one of the most good looking cakes out there. The fruit scattered on top of it form a really nice mosaic-like pattern. It's almost like looking through a kaleidoscope! And the bright color of the mandarin will give this cake a really fun and interesting look!
Now, what do we know about upside-down cakes? They are called this way because of the fact that when we prepare them, we place the fruit on the bottom of the baking pan and add the batter on top of it.
So while it's inside the oven, the cake is "upside-down". When everything is ready, we take it out and the bottom becomes the top – the fruit will end up on the upper side of the cake! But why is that, you may wonder.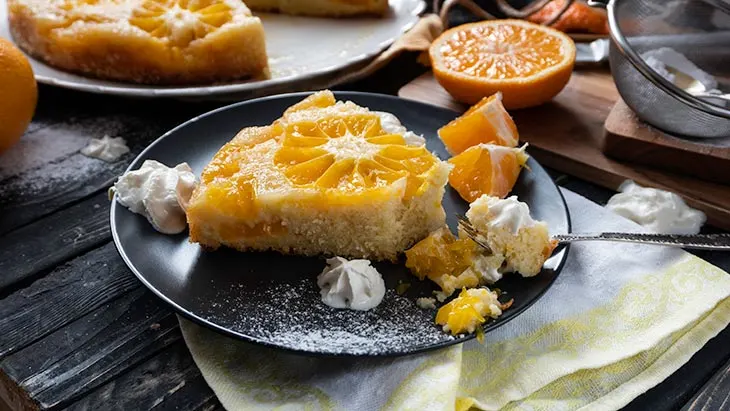 Well, it's not just for the fun of it, there was actually a good reason for doing that! It's because, at the time when this cake was invented, it was over the fire! That's right – the upside-down cake has actually been around for some good hundreds of years! So it was actually a clever way to get a nice looking top with tasty caramelized fruit.
That's why they had to put the fruit, the sugar and the oil/butter on the bottom of the pan over the fire. After the cake was fully cooked, the unattractive top was turned upside down and became the bottom – resulting in a delicious and glorious looking cake!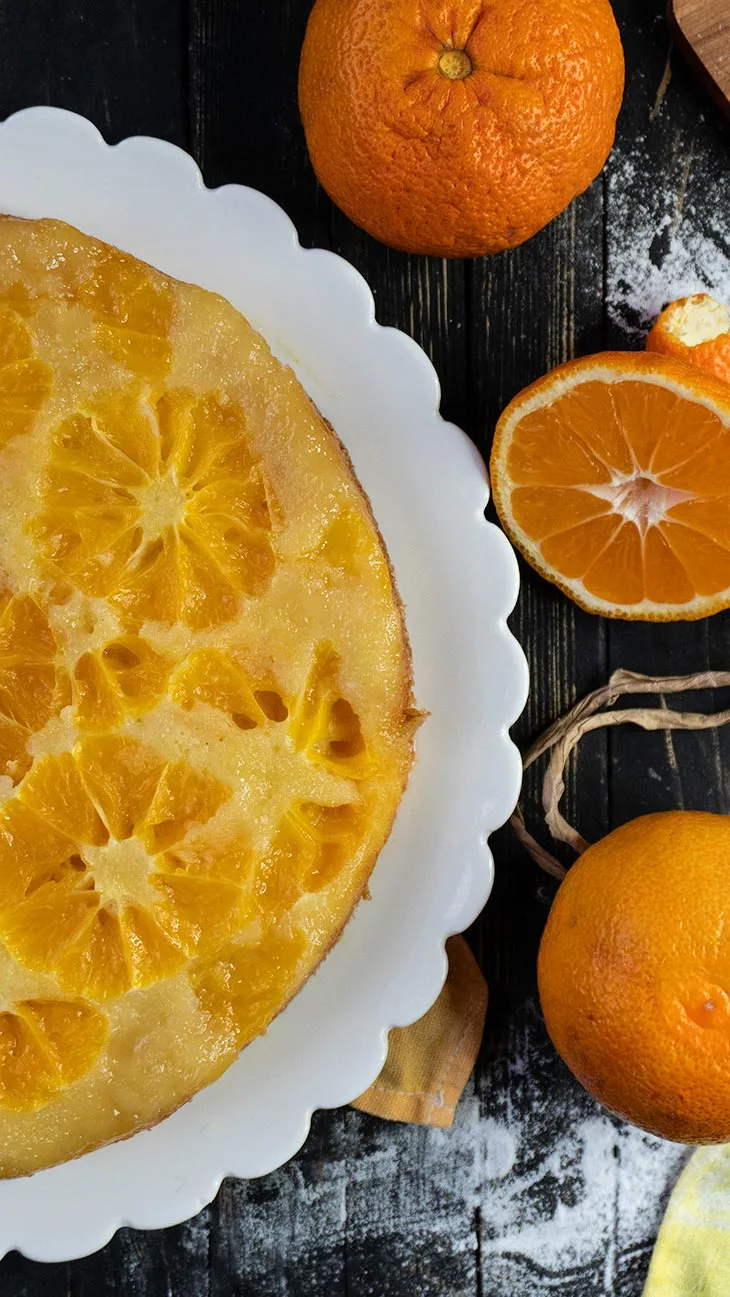 But it actually wasn't until the start of the 20th century that the upside-down cake became a hit. And we owe that… to the inventor of canned pineapple! In 1901, Dole invented the machine that could cut the pineapple into perfect rings that could be then canned.
Fast, one of the most popular ways to use the pineapple rings was to bake the good looking upside-down cake! That's why traditionally, the upside-down cake is a pineapple upside-down cake. There's even a National Pineapple Upside-down Cake Day – the 20th of April!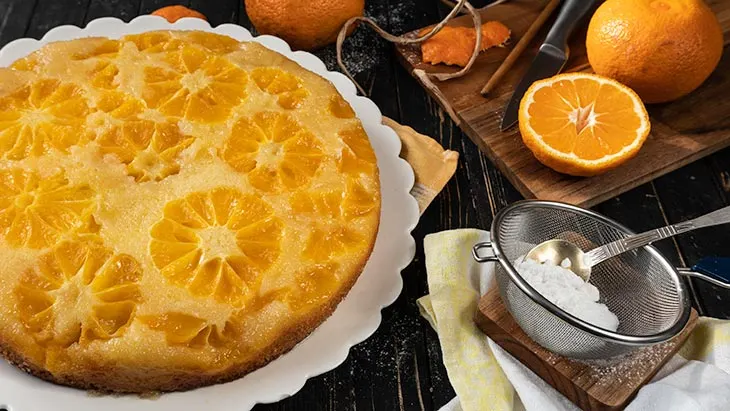 That's fun, right? Now here are some tips for the perfect citrus upside-down cake:
Properly peel the mandarins to make sure it won't turn out bitter
Use a springform cake pan so you can easily detach the bottom without altering the beautiful mandarin slices
When inside the oven, use a toothpick in the center of the cake to check if it's fully baked. It should come out mostly clean without any wet batter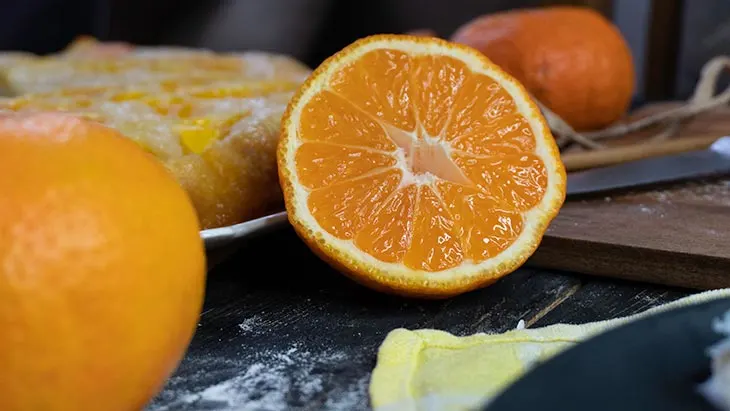 I hope you will have lots of fun baking and eating this delicious citrus upside-down cake – I know I sure did! I am eager to read your comments and find out what was your outcome!
Yield: 6+
Citrus Upside Down Cake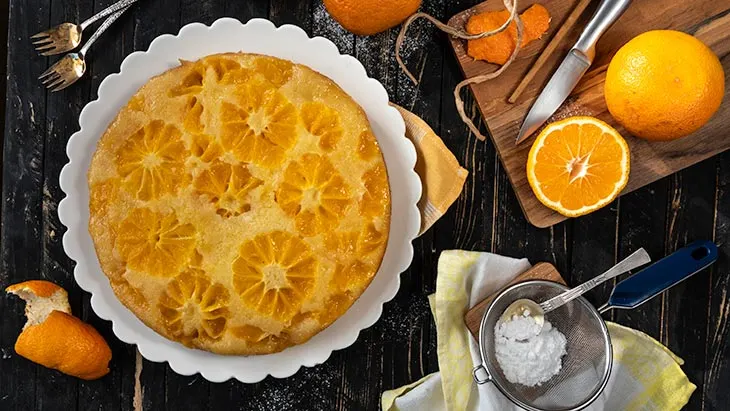 Are you craving a delicious and refreshing dessert? You're in the right place, as this citrus upside-down cake will satisfy your sweet tooth!
Ingredients
4 large mandarins
200g (1 ½ cups) flour
100g (1 cup) sugar
3 Tbsp brown sugar
240ml (1 cup) almond milk, warm
110g (½ cup) vegan butter, melted
60ml (¼ cup) mandarin or oranges juice
2 Tbsp coconut oil
2 tsp baking powder
1 tsp baking soda
½ tsp vanilla extract
salt
Instructions
In a bowl, combine the sugar with the butter until sugar is dissolved.
Add the mandarin juice, almond milk, flour, baking powder, baking soda, vanilla extract and a pinch of salt. Mix well until creamy.
Let it rest for 15 minutes.
Peel and cut the mandarins horizontally into thick slices.
Brush the baking tray with coconut oil and sprinkle the bottom and sides with brown sugar.
Cover the bottom of the pan with mandarin slices.
Pour the dough over them.
Bake at 180 degrees Celsius for 30-35 minutes.
Use a toothpick to check when the cake is done.
Take out of the oven and let the cake rest for 10 minutes.
Flip it on a serving tray/plate.
Serve with vegan whipped cream.
Nutrition Information
Yield
6
Amount Per Serving
Calories

477
Total Fat

20g
Unsaturated Fat

0g
Carbohydrates

70g
Fiber

2g
Sugar

45g