Need some fresh inspiration for today's lunch? Here is a whole new take on fritter-style patties, a versatile snack that you can munch on all day! Find out how to make the best cauliflower patties.
What does your ideal vegan breakfast look like? I, for one, love combining a healthy amount of hummus, with a tomato salad, and then have it all combined with the fritter patties of the day. I say "of the day", because I love all kinds of vegan patties, and I don't always know what I'm going to make them from.
I think it really comes down to what I happen to have in the fridge. This is usually leftover vegetables from other vegan recipes that I've been making. 🙂
Yesterday I found some cauliflower in the fridge and I decided to use it for some delicious cauliflower patties. I love vegan patty recipes because they use so little ingredients to become delicious. I rarely exaggerate with the spices in these patties, because I never eat them by themselves, but you are free to do so if you want to! I think vegan patties go best simple, with the occasional hummus sauce and fresh salad.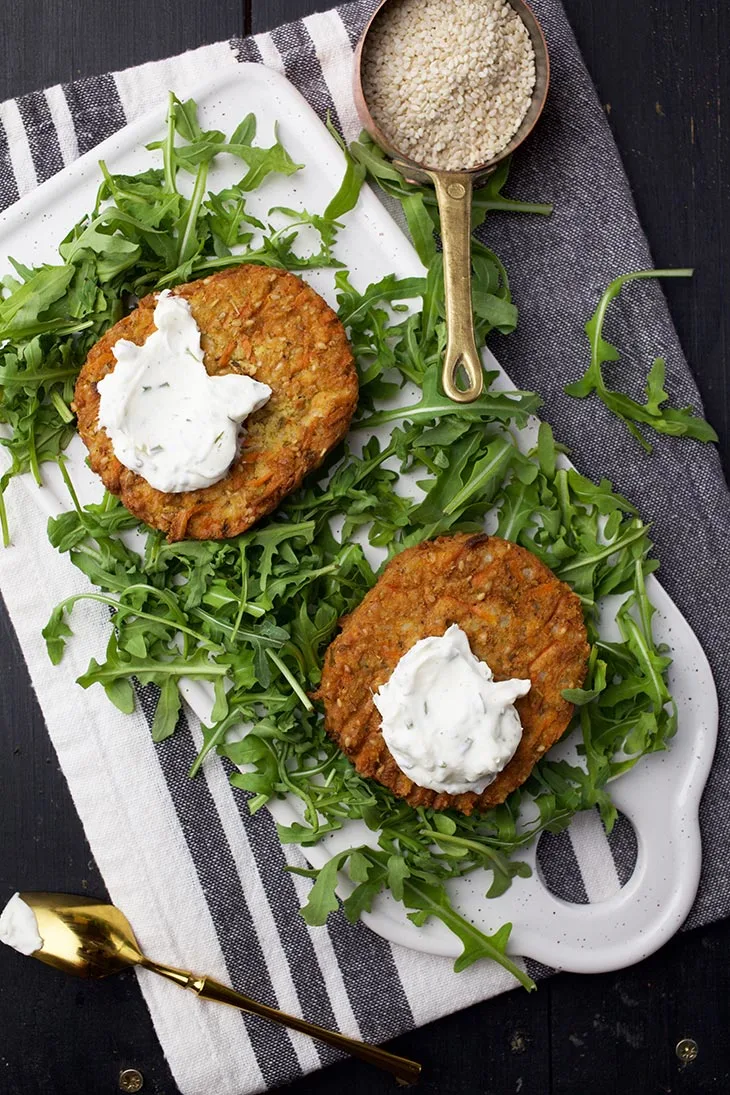 What I like most about cauliflower patties is that they retain the creamy texture of cauliflower and its delicious taste, while also being able to incorporate some of the basic patty flavors – cheesiness, baked goodness.
Patties can successfully be used in a vegan sandwich, too! If you make larger patties from the same basic ingredients you can make a delicious arrangement – the same concept applies to vegan burger patties, too!
Cauliflower patties are some of the lightest patties you can taste. They are the polar opposite of their non-vegan counterpart. I used to love cheesy patties before I became a vegan, and I was worried that I was going to miss them.
I can tell you that the difference is worth exploring, even if you aren't a vegan. Cauliflower patties are an easy recipe to make in a very short time, and you'll be better off from a health point of view.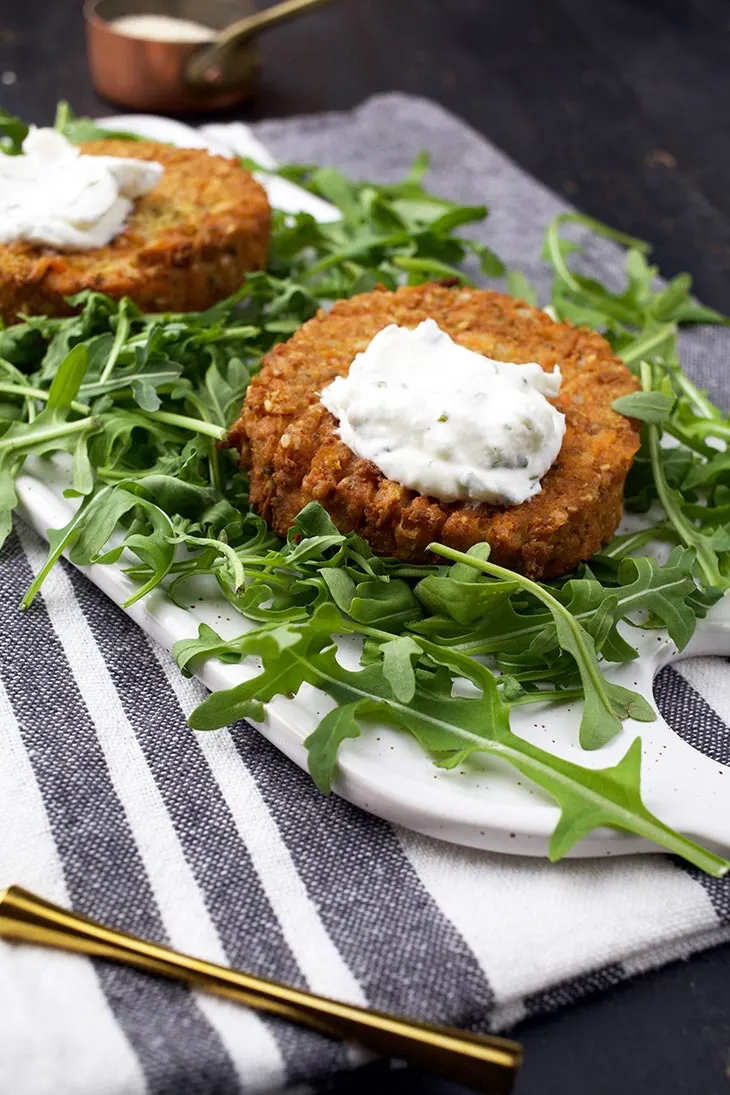 Cauliflower has a ton of health benefits, two of them being that it's high in fiber and vitamin B. If you have a deficiency of either of those, cauliflower patties are for you!
They're a light snack that goes great at any meal of the day! If you want to spice up your patties, you can start by lightly salting – then using freshly ground pepper and possibly some hot/sweet sauce of your preference. Cauliflower has a subtle taste, so it's an easy recipe to personalize! 🙂
If you like cooking for your friends, you could make a larger batch of these cauliflower patties and serve them on a plate among a vegan feast with ingredients of your own choosing! I think that everybody should be free to eat whatever they want, and if your friends are also vegans that's a double win! If they're not, I think vegan patties are a great way to convince your meat-loving friends to try some vegan cuisine that they're already part familiar with!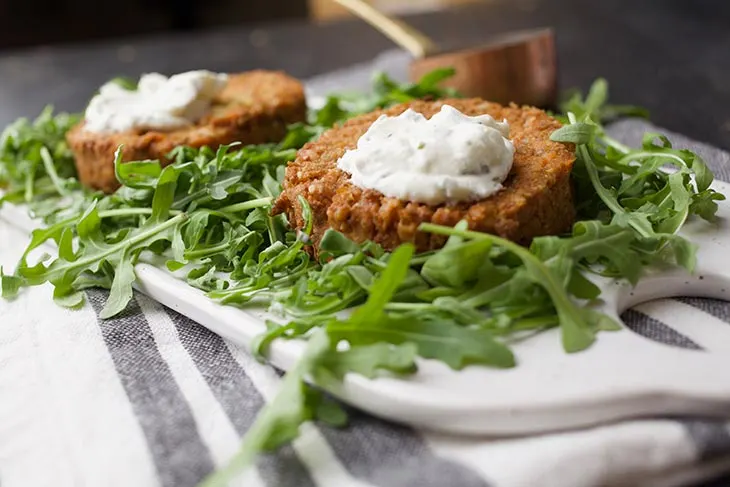 I love cooking for my friends, and I usually make several types of vegan patties – quinoa cakes, broccoli cakes, hash browns and all other types of vegan patties. Interestingly enough, I haven't had any complaints from the part of meat eaters – they all seem to get along just fine with these patties!
If you're looking for a healthy and delicious treat for your kids, this is also the recipe for you! I wouldn't recommend giving your kids too many fritters in general, especially deep fried since deep-fried food is not too good for the sensitive metabolism of children.
Vegan fritters, however, slightly salted and cooked in an oven, are a great healthy snack for the little ones. I've cooked some for my cousin's son, and he loved them! This is not to say that you should force a vegan lifestyle on your kids – you should let people come to their own decisions, always! 🙂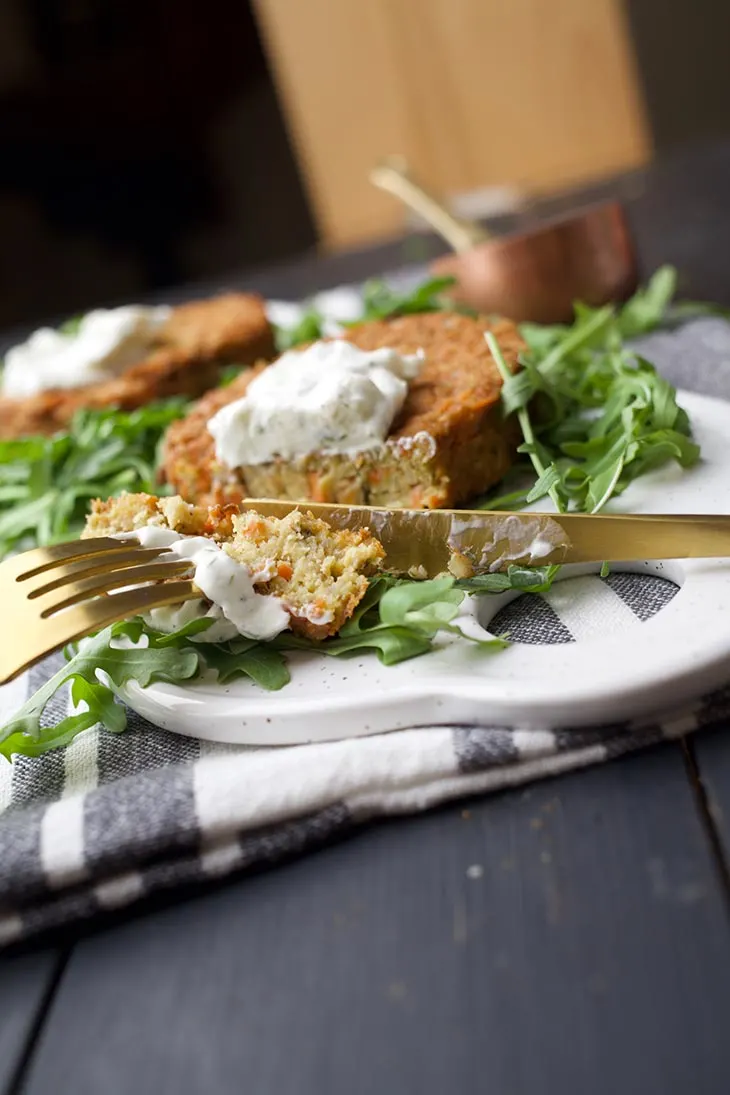 I hope this recipe has enriched your knowledge of vegan cuisine, at least a tiny bit! I always love showing people just how easy vegan cooking can be! This is also one of my favorite recipes that I do all the time, so I really hope you will like it! Other than that, write to me if you have any thoughts, opinions or questions about this recipe. I always love hearing from you! That's it from me, good luck and enjoy!
Yield: 8
Cauliflower Patties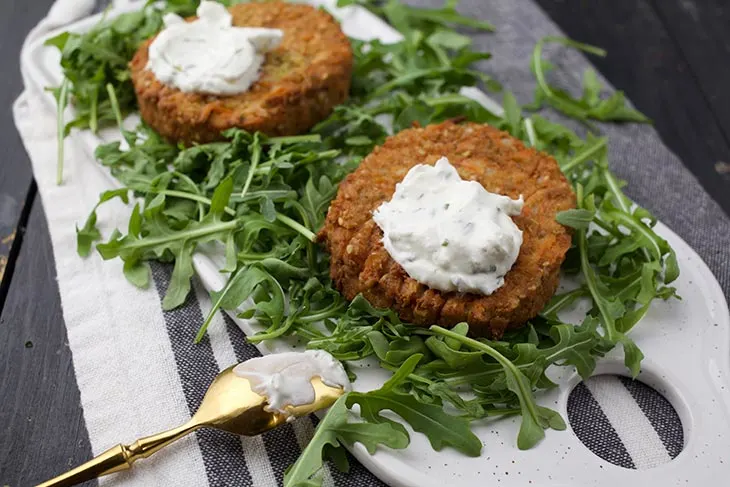 Need some fresh inspiration for today's lunch? Here is a whole new take on fritter-style patties, a versatile snack that you can munch on all day! Find out how to make the best cauliflower patties >>>
Ingredients
For the patties:
250g (2 cups) cooked cauliflower florets
250g (1 cup) silken tofu crumbles
50g (½ cup) finely grated carrots
30g (½ cup) finely chopped onion
50g (½ cup) finely chopped chives
2 Tbsp sesame seeds
1 Tbsp olive oil
For the "egg" mixture:
3 Tbsp garbanzo flour
6-8 Tbsp water
1 Tbsp nutritional yeast
⅕ tsp black salt
⅓ tsp curcuma/turmeric powder
½ tsp salt
½ tsp pepper
For serving:
vegan tzatziki sauce
150g (2 cups) fresh green salad
Instructions
In a food processor, add all the ingredients for the egg mixture. Pulse a few times to combine and then set aside.
Finely chop the cooked cauliflower florets to a rice-like size. Discard and press out all of the liquid and then set aside.
Heat a skillet over medium heat.
Add olive oil, the chopped onions, and grated carrots. Sautee until fragrant for about 4 minutes. Set aside.
In a food processor add the cauliflower, tofu, cooked onion and carrots, chives, sesame seeds, and the egg mixture.
Pulse to incorporate in order to form a batter.
Form the cauliflower patties using a round cooking shape.
Fry in a heated skillet for about 6 minutes on each side, on medium.
Serve on a green arugula salad with tzatziki sauce.
Nutrition Information
Yield
8
Amount Per Serving
Calories

195
Total Fat

7g
Carbohydrates

23g
Fiber

9g
Sugar

7g