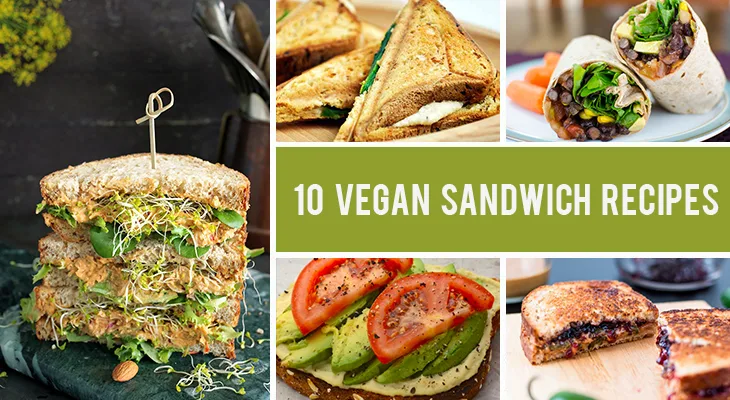 Let's face it – sandwiches are THE MOST versatile food in the universe – along with pasta and pizza, of course! But what could be faster and easier than a sandwich? I'll tell you: literally nothing! Sandwiches can be as easy as peanut butter and jelly or as complex as you want them to be.
One of the things I love most about them is that the possibilities are basically endless. Just take your favorite kind of bread and start layering the deliciousness! There are no rules, it only depends on what you like most and which ingredients you have on hand. They're the perfect choice for a fast breakfast, lunch, snack and even for your lunchbox for school or work. If you're in a very big rush you can even take one and eat it on the go!
Now, just because you're vegan it doesn't mean that the only sandwich you can make is a lettuce-over-bread kind of thing or a boring hummus sandwich. In fact, you can make a lot of amazing, healthy and even cheesy combinations that will make your omni friends droll for sure. And because simple vegan sandwiches don't have to be boring, I want to show you some incredible vegetarian sandwiches that can be done in no time. This list reunites 10 of my favorite vegan sandwiches, including melty cheese sandwiches, vegan toasted sandwiches, cold vegan sandwiches, warm vegetarian sandwiches, lunch sandwiches, avocado sandwiches and even spicy or sweet sandwiches! The most important part is that all of them are incredibly easy to make and they don't require more than 15 minutes tops, I promise!
Vegan or not – it doesn't matter! These vegan sandwich recipes are perfect for any day and meal! I really hope you'll get some vegan lunch ideas from this list and next time you're in doubt about what to eat for breakfast, lunch or as a snack, you'll try to make one of these tasty and fast sandwiches without meat. I'm sure you'll fall in love with them!
Click on the link titles to access these awesome sandwich recipes. Many thanks to all the wonderful food bloggers who created these recipes (you'll also find 4 of my favorite sandwich recipes here)!
Drool-Worthy Vegan Sandwich Recipes
If you're looking for a great vegan sandwich with cheese that actually melts, then this is your recipe. These sandwiches are budget-friendly and healthy – plus, you'll learn how to make an excellent homemade vegan cheese!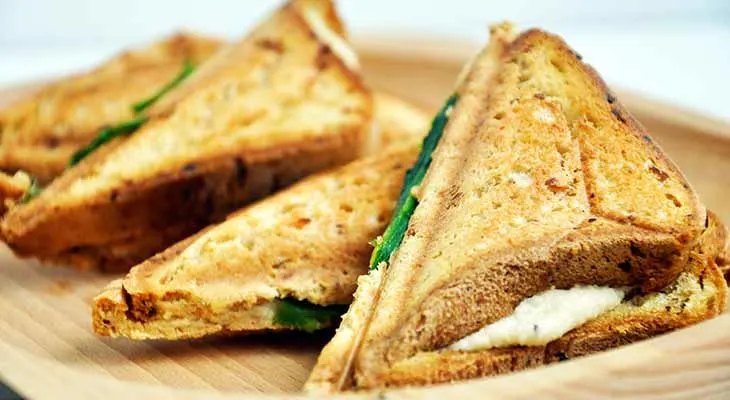 This easy-peasy sandwich contains two of my favorite things ever: chickpeas and avocado! If you love green sandwiches that are both creamy and filling, then you must try this! It's also perfect for a quick but healthy lunch.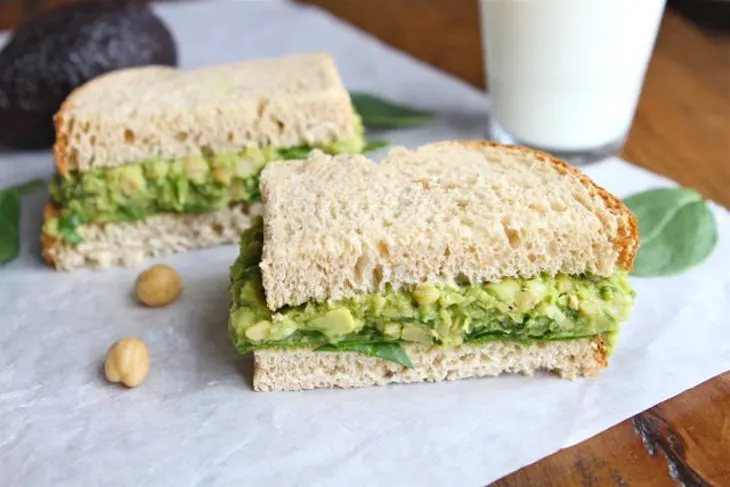 If you're missing the classic BLT sandwich with bacon, lettuce and tomato, then search no more – this awesome version uses smoked tofu to replace the bacon and the results are so yummy you won't believe it's totally vegan!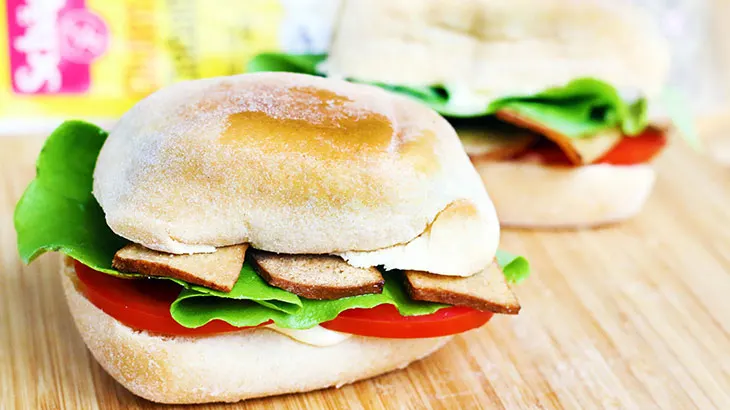 Time for a classic: this vegan sandwich with hummus, avocado and tomatoes goes well for breakfast, lunch and even as a snack! If you're a hummus fan (like me) then I'm sure you'll eat it again and again!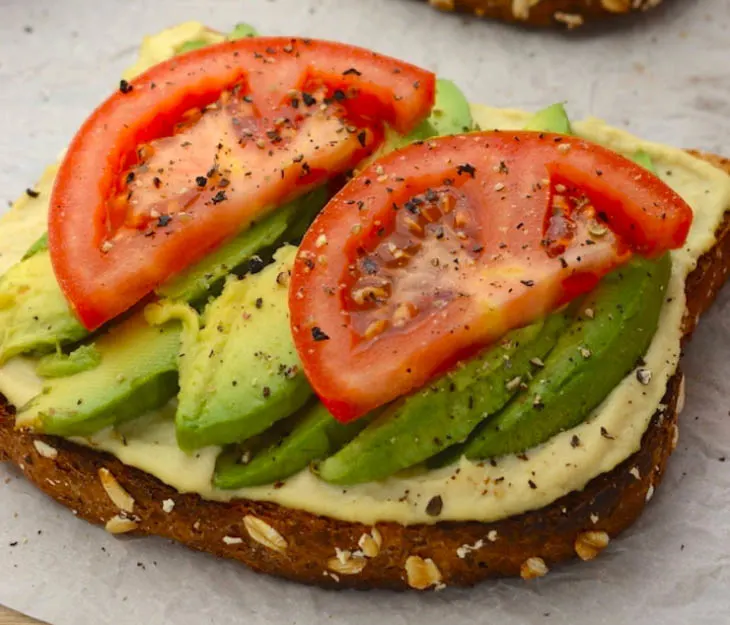 Here's one of my favorite recipes on my blog – this vegan steak sandwich is rich in flavors and extremely easy to make! Oyster mushrooms are the perfect meat replacements for these sandwiches – you just have to try them!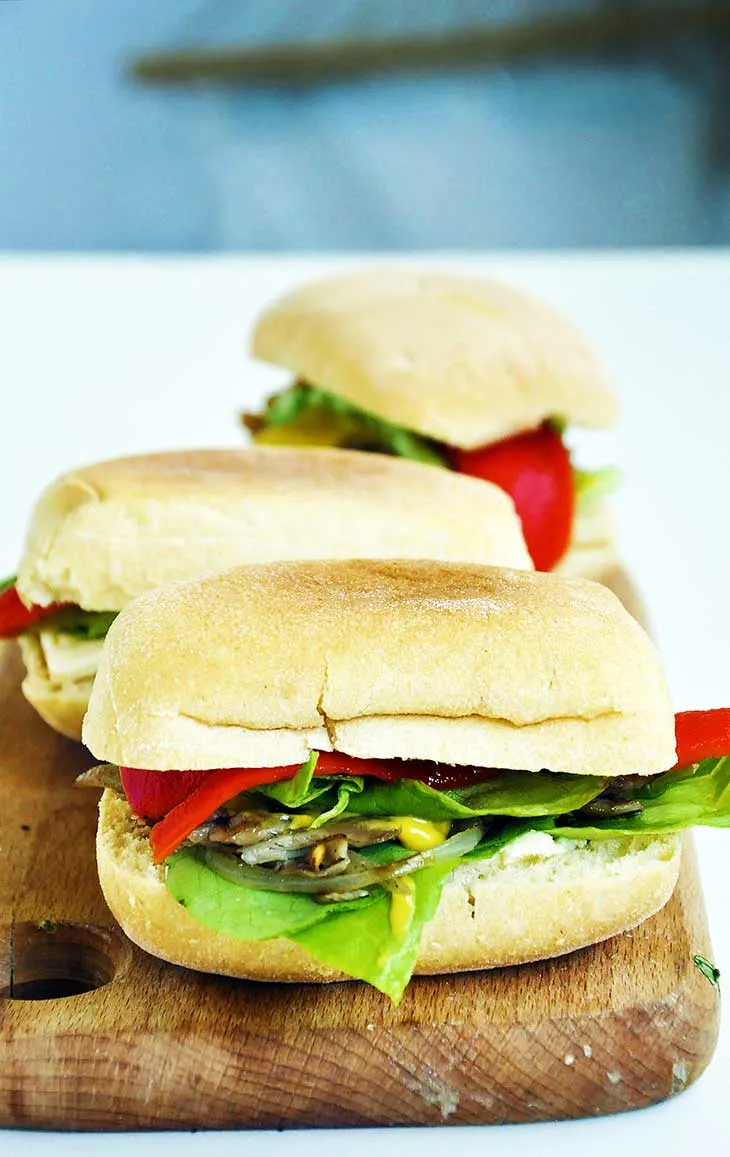 I'm a HUGE eggplant fan and one of the main reasons for this is that, besides its incredible taste, eggplant is super versatile! As you can see, you can even make some crazy good (and fast) sandwiches with it!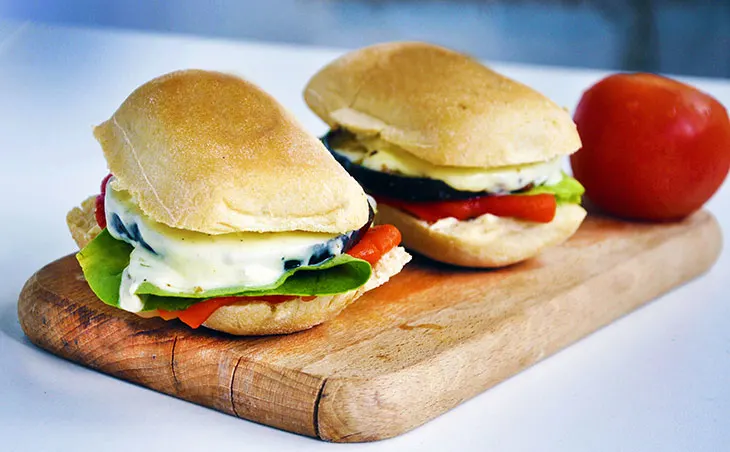 And because I can't get enough of cheesy, melty vegan sandwiches, here's another recipe! Actually, there are three different versions here – Vegan Jalapeño Popper Grilled Cheese, Vegan Spinach Pesto Swiss Grilled Cheese and Cranberry Pecan Provolone Vegan Grilled Cheese. Ah-mazing!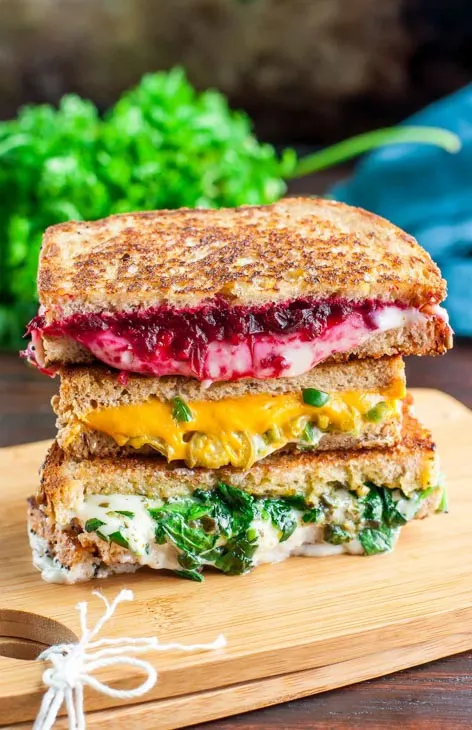 Now here's a great on-the-go lunch idea! I'm sure this black bean wrap will become your next lunchtime favorite – it's extremely easy, delicious and filling! Just cut it in half and enjoy!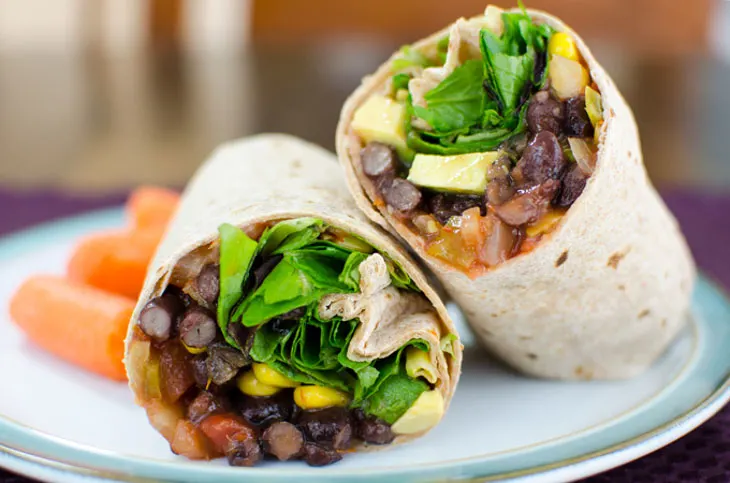 Only got 10 minutes for an amazing sandwich? Then you MUST try this one! This dairy-free version of the famous Pimento Spread Sandwiches is amazing and I'm sure you'll fall in love with it as soon as you take the first bite!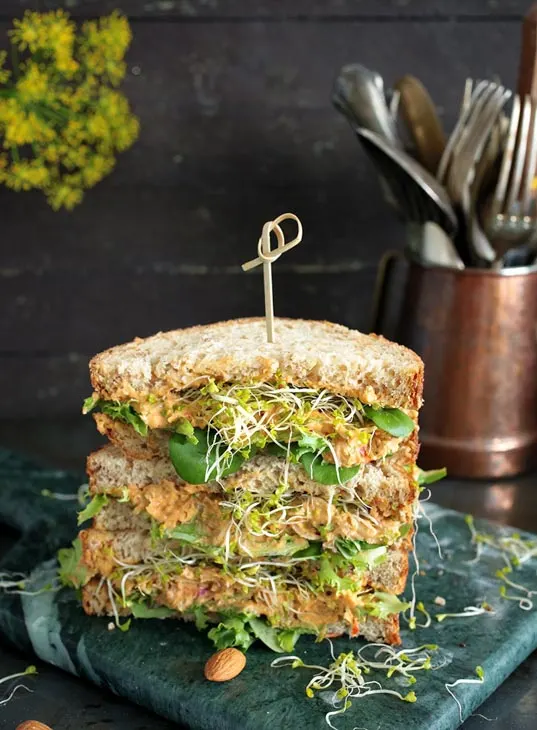 For the more courageous and exquisite people out there, I have the perfect challenge! This SunButter, Jelly and Jalapeño sandwich only has four ingredients and takes no time at all. Just be prepared for some sweetness followed by a little heat!