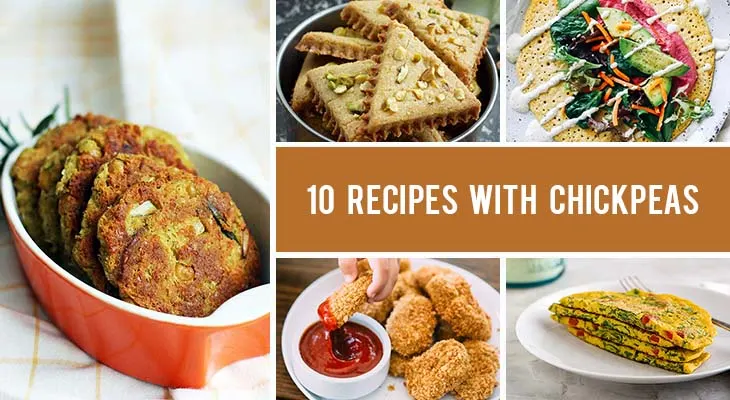 Here are 10 mouthwatering recipes with chickpeas that are not only delicious but also high in proteins! Give them a try! >>>
I think we can all agree that hummus is one of the best things in the world and nothing can compete with its flavor and creaminess. But did you know that hummus is not the only amazing thing you can cook with chickpeas? There are tons of great recipes out there, you just need to discover them!
Chickpeas are one of the oldest legumes cultivated by humans and they are so versatile, you won't believe it! It is known that chickpeas are rich in protein, dietary fiber, folate, iron, phosphorus, vitamins and more! Because they have plenty of protein, chickpeas are a key ingredient in any vegan's diet. And the possibilities of cooking with chickpeas? They're endless!
You don't have to trust my word, you can just browse this list with 10 of my favorite recipes with chickpeas that I always love to make. You will find here many different recipes, from the classic chana masala and falafel to some unique recipes for chickpea nuggets, crepes and even… biscuits! Yes, you read that right! Chickpeas are so amazing, you can even make desserts with them and the taste is like no other.
Feel free to scroll through this list of yummy recipes. You will find here 6 of my very own recipes with chickpeas that I simply make over and over again, but the rest of them were created by some very talented food bloggers that I recommend. Give them a try and don't forget to tell me which recipe is your favorite?
Click on the linked titles in order to access these chickpea recipes.
Recipes with chickpeas
I had to start my list of chickpea inspiration recipes with these brilliant chickpea nuggets. These are very similar to the chicken nuggets and they are an easy to make and delicious, crispy appetizer, snack or dinner and a huge hit with the kids. You have to give them a try!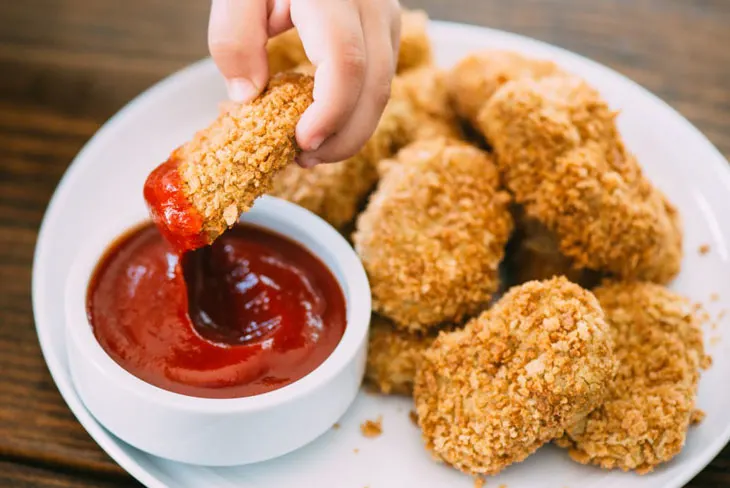 These have to be my favorite vegan patties! These vegan chickpea patties are protein-rich, flavourful, filling, and they only take under 30 minutes to make! These yummy patties make a great lunch or dinner option and the fresh rosemary adds an amazing flavor! I recommend serving them with a side of crunchy green salad or, my favorite, mashed potatoes!

Whoever knows me knows I'm obsessed with falafels and hummus and I could happily have them for every meal, every day! 🙂 This falafel wrap is bursting with amazing flavors and it's simply perfect for an exciting lunch packed for work or school. It is full of spices, veggies and plenty of tahini and I'm sure you will love it!

Yes, chickpeas are so versatile you can even use them for cookies! Try this incredible recipe inspired from one of my all-time favorite cuisines in the world – the Middle Eastern cuisine – and you will easily create flavorful Persian cookies with cardamom, rose water and pistachio. Give them a try!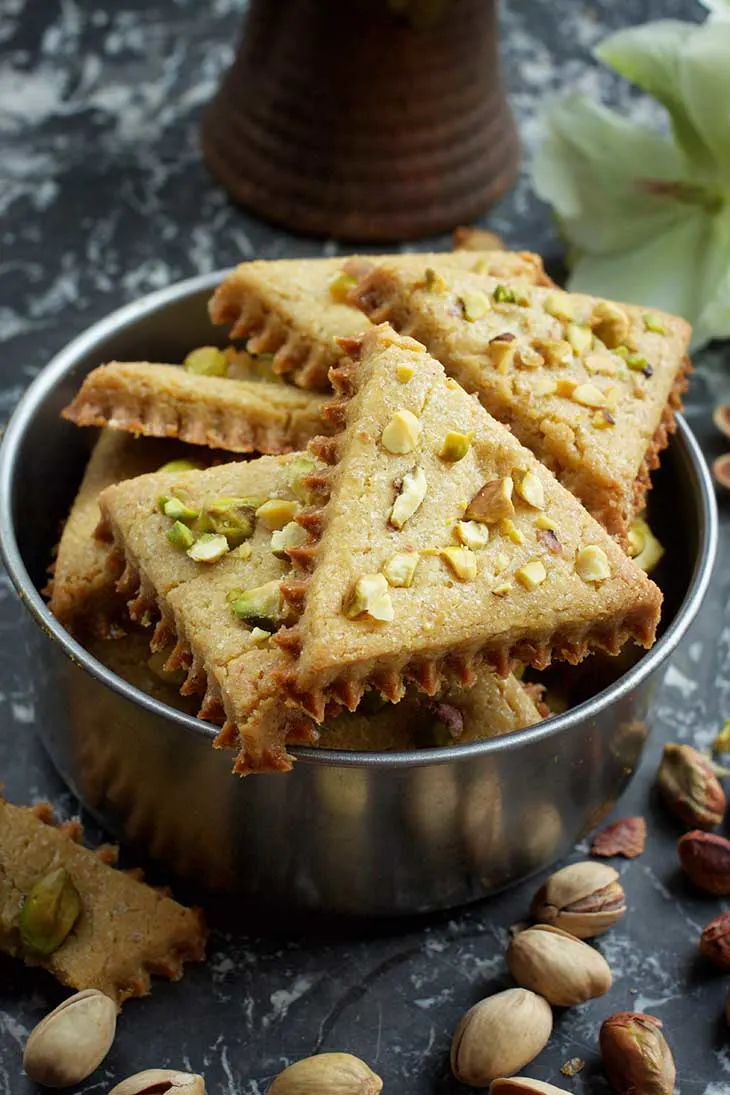 Chana Masala is a simple and rich exotic dish full of Indian flavors. Chana masala has a bit of a spicy kick that goes perfectly served with a side of fluffy rice. Try this recipe for the perfect warming comfort food on a chilly day. Chickpeas work amazingly here with the rest of the spices and delicious veggies!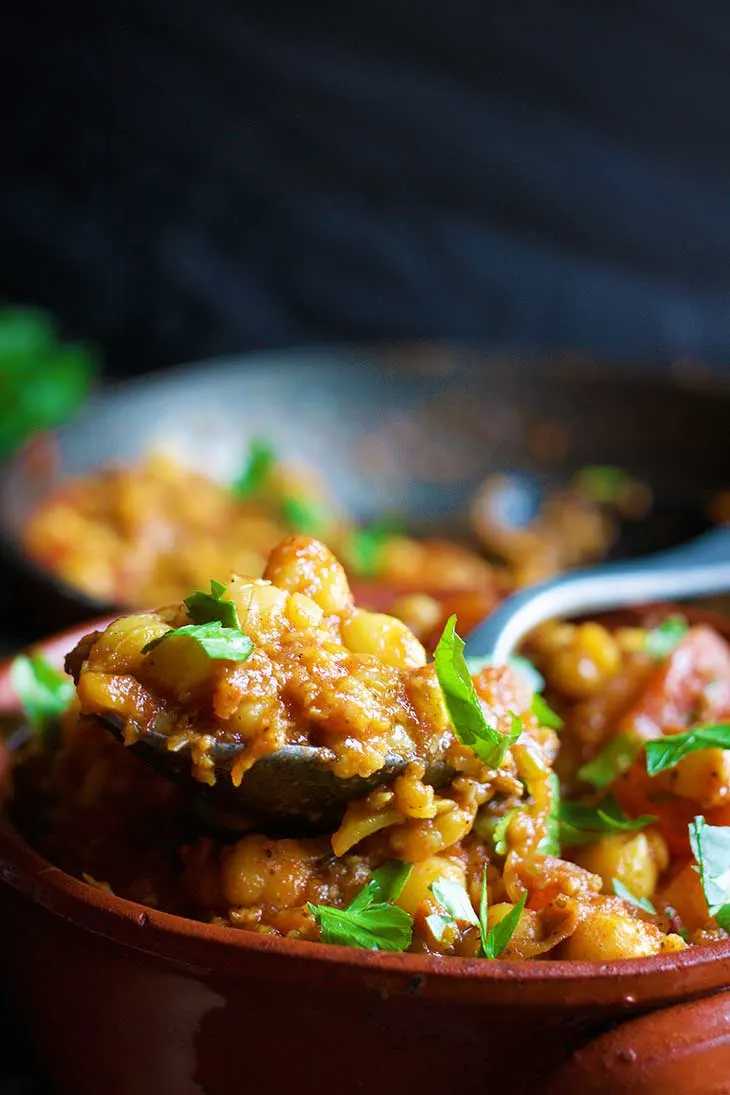 Middle Eastern flavors are simply bursting in this amazing comfort soup. This Lebanese chickpea soup is rich, nourishing and filling thanks to the chickpeas, carrots, and potatoes, and the Baharat spice mix completes all the flavors perfectly. You can serve it cold or warm, I'm sure you will love it either way!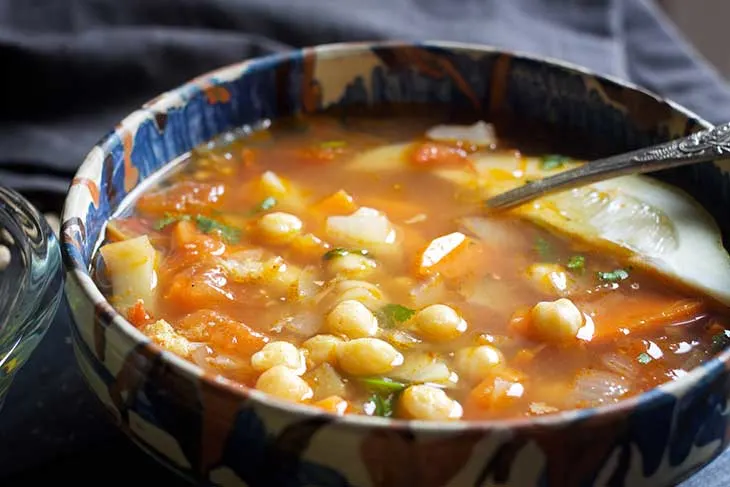 This simply has to be my favorite hummus recipe thanks to its subtle spiciness! If you are searching for a special take on the regular hummus, this is just what you're looking for! It's creamy and full of flavor thanks to the tahini, peppers, garlic, parsley and other spices. Go ahead and give it a go!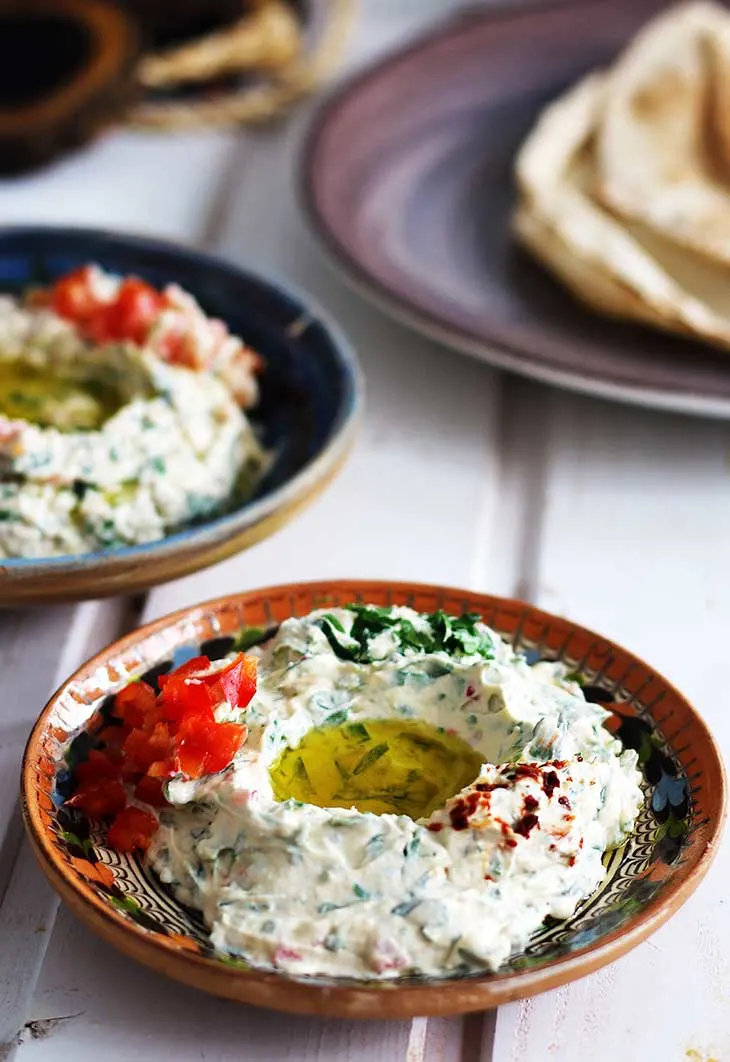 I'm obsessed with this creamy chickpea salad – whether you decide to load it into a sandwich roll, tortilla or dip it with crackers, it's perfect for a slow lunch full of protein. This yummy and easy salad has a great mix of textures and complementary flavors. Plus, it only takes 10 minutes to make! How convenient, right?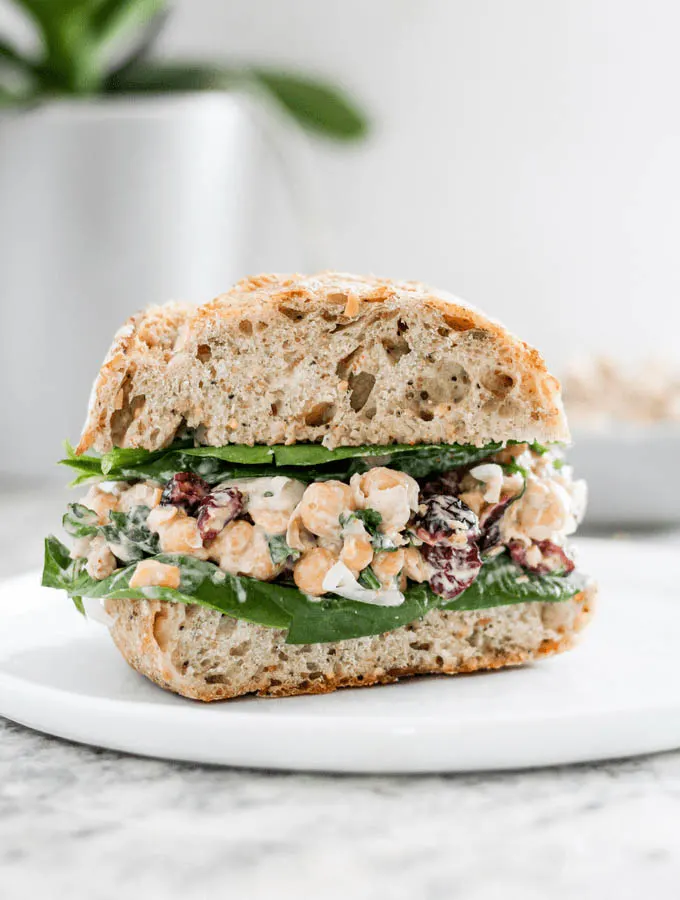 These crispy crepes are full of protein, fiber, and iron! This means that besides being super delicious, they're also extremely nourishing, satisfying and good for you! The preparation only takes a few minutes and you can top them with greens, hummus, and avocado and your meal can't get healthier than this!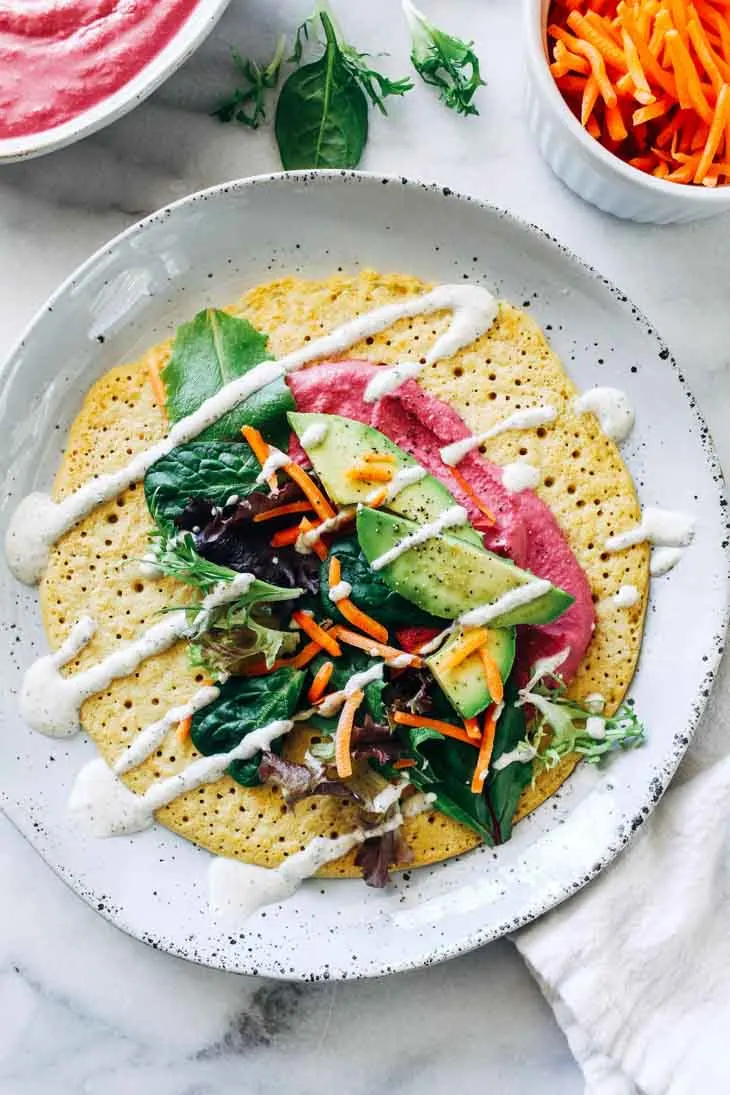 Chickpea omelets are a fluffy, delicious, protein-packed alternative to egg-based breakfasts and this omelet mix recipe is the perfect example! Try it and you'll have a perfect, flavorful, low-calorie omelet, that goes perfectly with the suggested toppings such as sriracha mayo or roasted red pepper dressing!