Change language / Schimba limba:

Română
Here's a quick and easy chana masala recipe that's bursting with amazing flavors! Serve it with a side of rice and enjoy the wonderful taste of Indian spices.
After my vegan naan recipe is time for another Indian recipe inspired by this month's challenge of cooking Asian recipes. I love dals, curries and even though I like chickpeas a lot, I've never tried chana masala before. This is the first time I make this delicious, Indian comfort meal and I'm pretty impressed!
Chana Masala is a traditional Indian recipe. The base is chana, which means chickpeas. The dish appeared first at the border between India and Pakistan and then spread in both countries. Now it is known worldwide.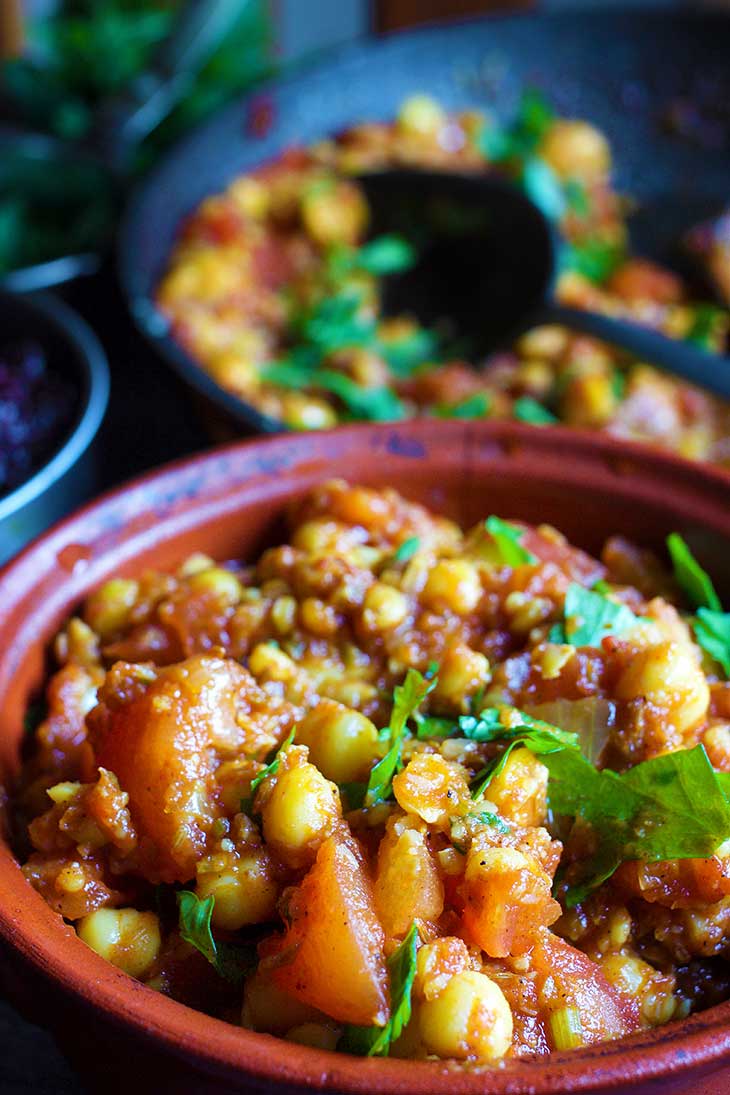 Chana Masala is also a spice blend made with chilies, coriander, cumin, cardamom, cinnamon, pepper, cloves, turmeric and aamchoor powder – a marvelous mango powder with a bit of a sour taste that transforms any kind of meal it is added to.
You can make it at home, this recipe sounds perfect if you want your own homemade chana masala spice blend, or you can buy it from Amazon or pretty much any larger stores – usually found in the Gourmet or International sections.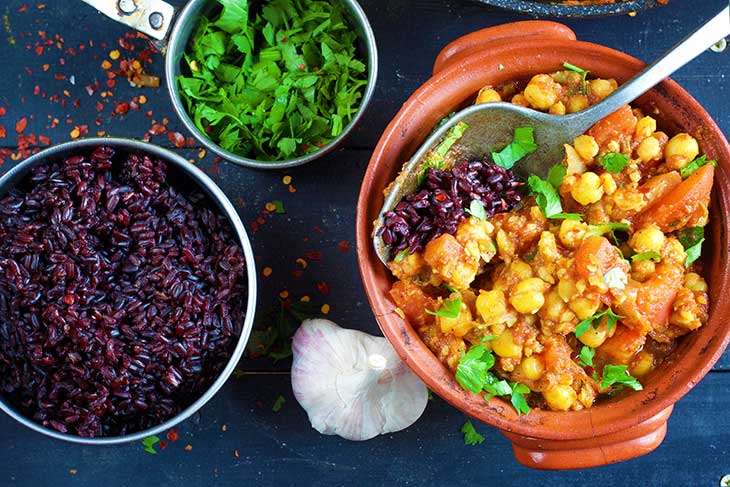 In India, there are many different types of masalas which differ by region and by the type of food in which they are meant to be used.
When you cook chana masala, you absolutely have to add cayenne pepper, but be careful not to add too much because it's quite spicy. Also, keep in mind that when you fry the cumin seeds you mustn't add any oil. If you add oil they won't pop, releasing the flavor, and will end up greasy.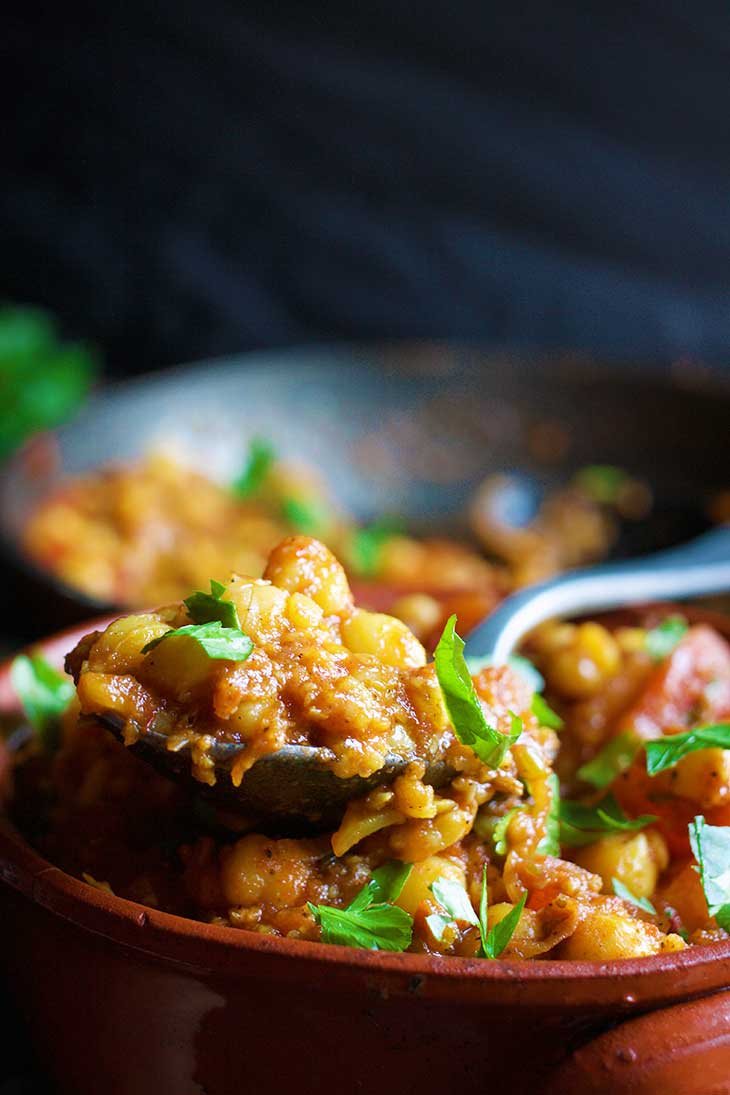 Hope you'll like this chana masala recipe! Don't forget, if you give my recipes a try, take a photo and tag me on Instagram @gourmandelleblog and use the hashtag #gourmandellerecipe. I will feature you on my Facebook page and/or Instagram Stories! 🙂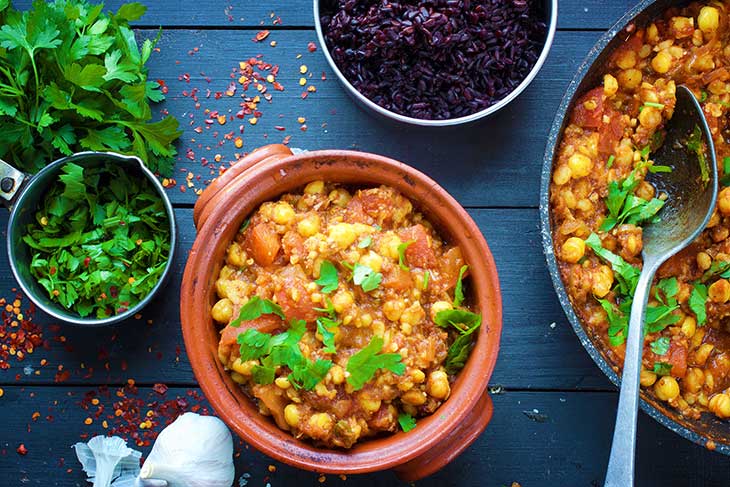 Here's a quick and easy chana masala recipe that's bursting with amazing flavors! Serve it with a side of rice and enjoy the wonderful taste of Indian spices.
Ingredients
1 tablespoon coconut oil
1 teaspoons cumin seeds
1 onion, chopped
1 tablespoon garlic, minced
1 tablespoon fresh ginger, peeled and minced
1 red bell pepper, chopped
1 ½ cups peeled tomatoes, chopped
3 cups cooked chickpeas
1 cup red rice, for serving
1 ½ teaspoons chana masala spice mix
1 ½ teaspoons ground coriander
½ teaspoon ground turmeric
a pinch sea salt
a pinch cayenne pepper
fresh parsley and cilantro, chopped, for garnish
Instructions
In a medium pot, bring water to boil. Pour in the rice and give it a stir.
Boil the rice for about 25-30 minutes, until tender, then turn off the heat and drain the excess water. Set aside.
Heat a large saucepan over medium-high heat. Add the cumin seeds and toast them for a minute or two, stirring frequently, until the seeds are golden, fragrant and start to crack.
Add oil.
Add the onion, garlic, ginger and bell pepper. Cook for about five minutes, stirring often. Add the spices: chana masala spice mix, coriander, turmeric, salt, and cayenne. Cook for a few more minutes.
Add the tomatoes and cooked chickpeas.
Bring the mixture to a simmer and cook for 10 minutes or longer to allow the flavors to mix.
Serve with a side of red basmati rice.
Top with chopped parsley or cilantro.
Nutrition Information
Yield
4
Serving Size
1 grams
Amount Per Serving
Unsaturated Fat

0g