This recipe for Chinese eggplant with garlic sauce is one of my favorite ways of cooking eggplant! Give it a try and enjoy it with a side of rice or rice noodles.
I'm a huge eggplant fan as you probably have noticed from the many eggplant recipes I have on my blog, so I couldn't miss this awesome Chinese eggplant recipe with sticky garlic sauce, as part of this month's challenge of cooking vegan Asian recipes.
Eggplant is a very popular vegetable used in recipes from all over the world. I find that the combination of eggplant and garlic is absolutely perfect, so when I discovered this popular Chinese recipe I immediately wanted to give it a try.
This recipe is quite different from other eggplant recipes I've tried in the past, as it has a different method of cooking eggplant as well as a unique type of garlic sauce. Salting the eggplant at the beginning of this recipe is a technique I've never used before. I usually buy young, small eggplants which are not that bitter, but apparently this method will help eliminate the bitterness of eggplants and make it taste even better.
Also, patting it dry before salting and cooking improve the eggplant's texture, making it slightly crispy. This is definitely something I'll remember next time I cook with eggplants! 🙂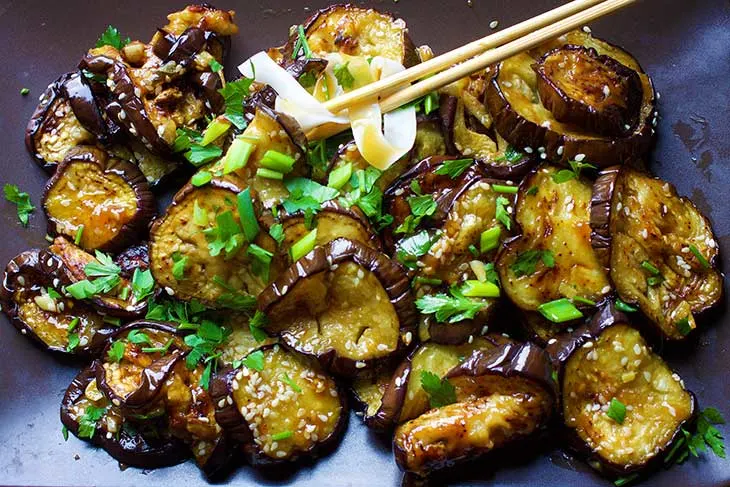 I recently found out that China is the world's leading producer and consumer of eggplants, so they know how to cook this awesome veggie.
The rest of the flavors blend so well together. The ginger adds some spiciness to the dish, the sauce is silky and sticky, the coconut sugar gives it a sweet taste and the garlic enhances everything! I just love everything about this recipe. You can also cook it in advance if you want to meal prep, as it can be stored in a container in the fridge for a couple of days and reheated.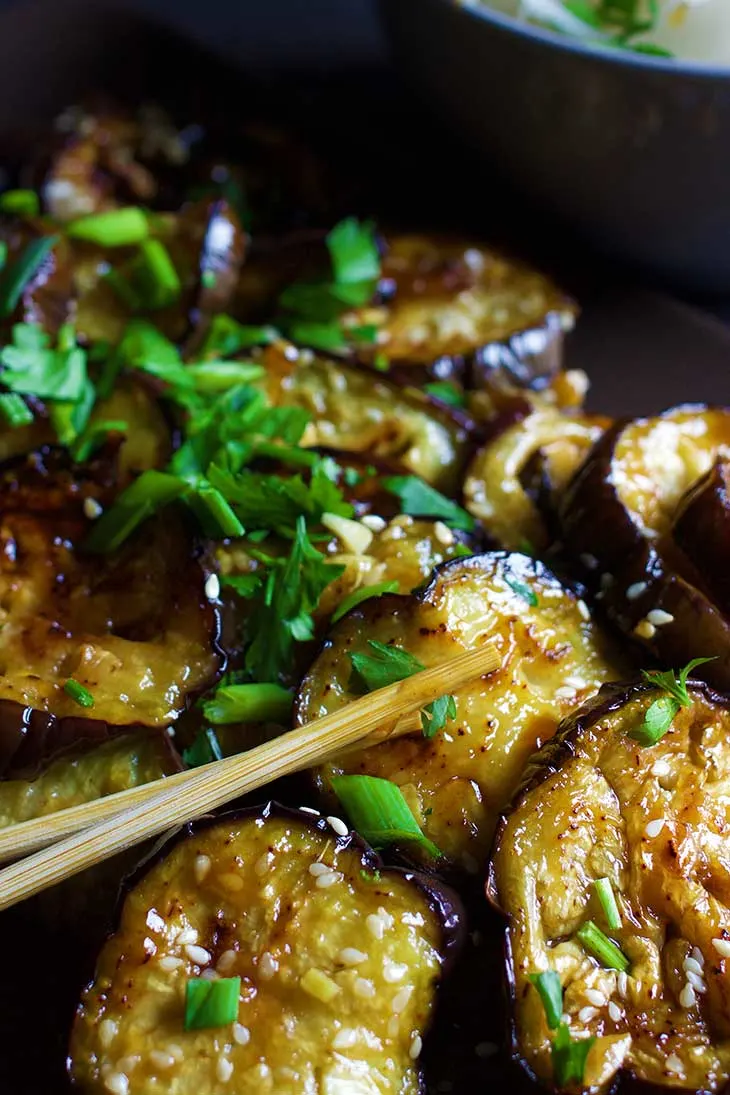 You can eat this with rice noodles, rice, or maybe even put it in a burger bun and enjoy an amazing lunch!
Hope you'll like this Chinese eggplant with garlic sauce recipe! Don't forget, if you give my recipes a try, take a photo and tag me on Instagram @gourmandelleblog and use the hashtag #gourmandellerecipe. I will feature you on my Facebook page and/or Instagram Stories! 🙂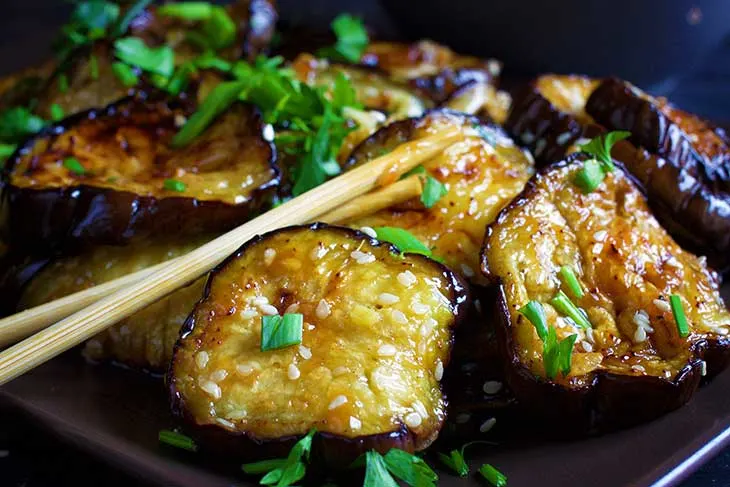 Yield: 2+
Chinese Eggplant with Garlic Sauce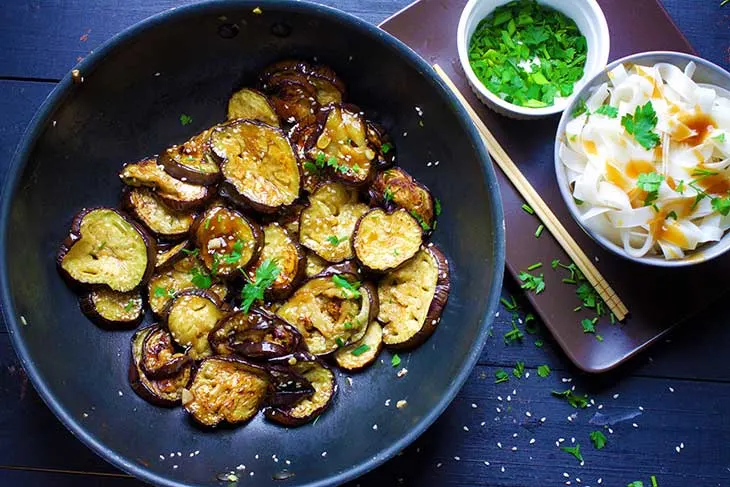 This recipe for Chinese eggplant with garlic sauce is one of my favorite ways of cooking eggplant! Give it a try and enjoy it with a side of rice or rice noodles.
Total Time
1 hour
20 minutes
Ingredients
For the eggplant:
3 large eggplant, sliced
1 tsp sea salt
1 tsp tapioca flour
4 cloves garlic, minced
1 tsp ginger, minced
2 tbsp oil
1 tbsp green onion, chopped
1 tbsp parsley, chopped
1 tbsp sesame seeds
For the sauce:
1 tsp tapioca flour
2 ½ tbsp soy sauce or tamari
2 tsp coconut sugar
½ tbsp oil
Instructions
Spread the sliced eggplant on a paper towel. Sprinkle sea salt on both sides of the eggplant slices. Cover with another layer of paper towel and allow to rest for 45-60 minutes. Pat dry.
Meanwhile, in a small bowl combine all the sauce ingredient, mix well and set aside.
In a big bowl, combine dry eggplant with tapioca and mix to evenly coat every piece.
Heat a large frying pan over medium heat and add oil.Spread the eggplant across the bottom of the pan in a single layer.
Fry the eggplant on both sides until all golden and soft, for about 10 minutes.
Transfer to a plate. Cook the remaining eggplant in batches.
In a large wok pan, heat a little bit more oil, add the ginger and garlic and stir-fry until fragrant.
Add all the eggplant to the wok and pour the sauce over. Stir a few times, until the eggplant is evenly coated and the sauce thickens. Sprinkle with sesame seeds.
Top with chopped greens and serve with some rice noodles or rice on a side.
Nutrition Information
Yield
2
Amount Per Serving
Calories

428
Total Fat

19.3g
Carbohydrates

53g
Protein

10.4g