In love with savory breakfasts? Then you'll surely love this amazing recipe for vegan breakfast hash, loaded with healthy vegetables! Give it a try!
If I were to choose the most underrated meal of the day, the winner by far would be breakfast. By now, there's no doubt that the 24-hour society we live in is detrimental to our health. And the chain of poor lifestyle choices starts just as we wake up!
Most of us are in a constant hurry: hurrying to be at work on time, trying to skip the crazy morning rush-hour or just having an incredibly long commute. And this often results in skipping breakfast. And we all know what they're calling breakfast: the most important meal of the day!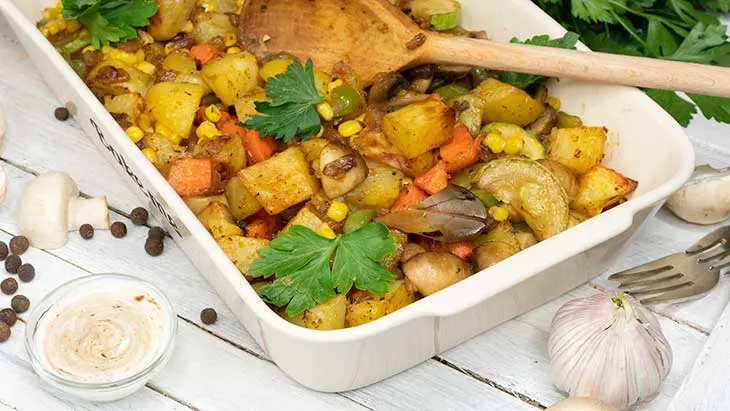 As you may have guessed already, my recipe today is all about breakfast. Vegan breakfast hash, to be more precise! An amazingly tasty recipe, super nourishing and satisfying. It's exactly the kind of breakfast you need to get you going and stash you with good amounts of energy to last you throughout the day.
In case you're not convinced already, here are the advantages of having your breakfasts regularly:
Better energy levels
Improved metabolism
More stable blood sugar levels
Better memory and concentration
Reduces the chance of over-consuming high-calorie foods throughout the day
For me, this is a pretty big deal. And all you need to do to achieve these benefits is allowing yourself some extra 10 minutes in the morning!
This recipe for vegan breakfast hash works great as a meal prep that you can store in the fridge and warm up just when you need it. Of course, it's also great to be eaten freshly prepared, if you have more time on your hands in the morning or on the weekends.
Another great thing about this recipe: it gives you the chance to use those annoying leftovers. Traditionally, hash food is a type of dish consisting of chopped up meat, potatoes and onions. We are going to skip the meat part, of course, and replace it with something much more delicious and tastier.
The dish originated as a way to use leftovers – which gave the dish a reputation for cheap food. I am happy that now we are much more aware of the environmental issues and came to realize that leftover food is not only incredibly sustainable but also super tasty if made right! 🙂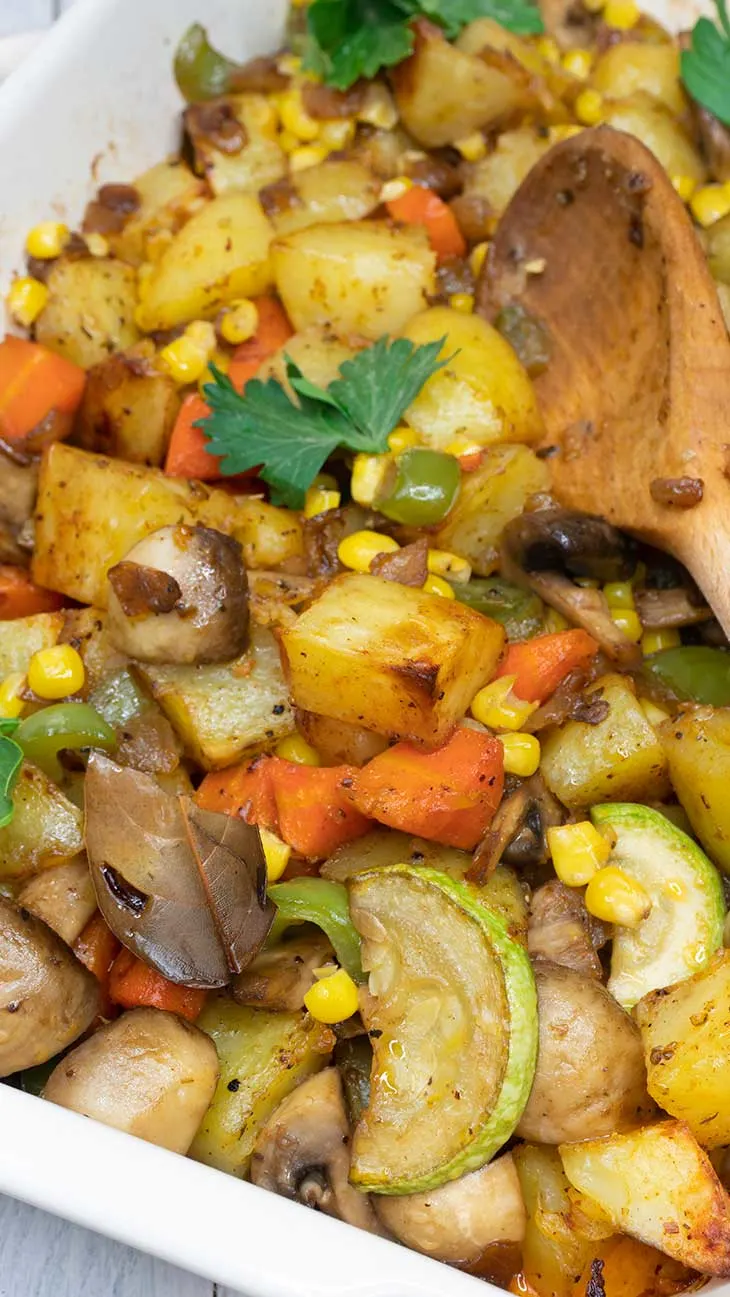 A vegan breakfast hash is the kind of dish that allows you to incorporate most of your favorite things. There are tens if not hundreds of recipes available, each with its own unique taste and flavor.
With the recipe that I presented here, I tried to find the right balance between tastiness, nutritiousness, low time of preparation and, of course, healthiness! 🙂 And I think I found the golden ratio! I managed to create something incredibly flavorful, really easy and quick to put together, while also offering you a great nutritious boost right from the beginning of your day.
But as I said, you can use this recipe as a base guide and just add whatever feels tasty to you or lies waiting in your fridge! Beans, eggs, sweet potatoes, cauliflower – you name it. Anything chopped works in this recipe, just make sure to balance the taste with the right choice of spices and herbs!
The name of this type of dish – hash – also reflects its versatility. It comes from the French word hacher which literally means to chop. So the deal with hash meals is simple – if you can chop it, you can use it! 😉
While some people prefer eating something light in the morning, such as some fruit, vegan yogurt or milk, I came to the conclusion that savory breakfasts will end up giving you higher levels of energy that will last you until lunchtime. And this recipe is my idea of a savory breakfast option! Once I have a portion of this savory breakfast in the morning, I'm all set until lunch and I won't have to think about snacks or other nibbles.
I totally recommend giving this a try and see how it works for you! You might be surprised by what a consistent breakfast might mean for your overall state throughout the day!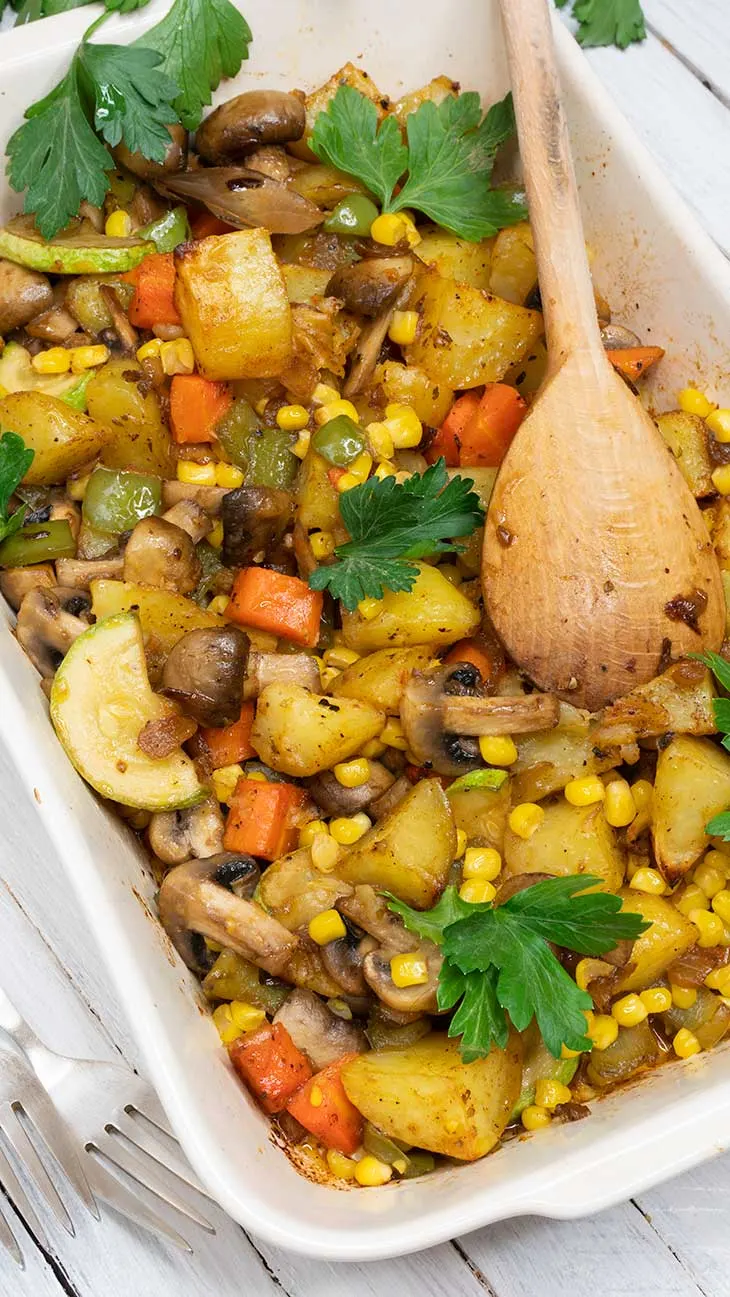 I think did enough praising, and you probably are as eager as I am to start cooking! So let's head to the kitchen and make this delicious dish come true!
Follow the steps below and if everything goes according to plan, don't forget to share this tasty treat with your family and friends. Also, don't forget to let me know in the comments about how everything turned out for you!
Yield: 2
Vegan Breakfast Hash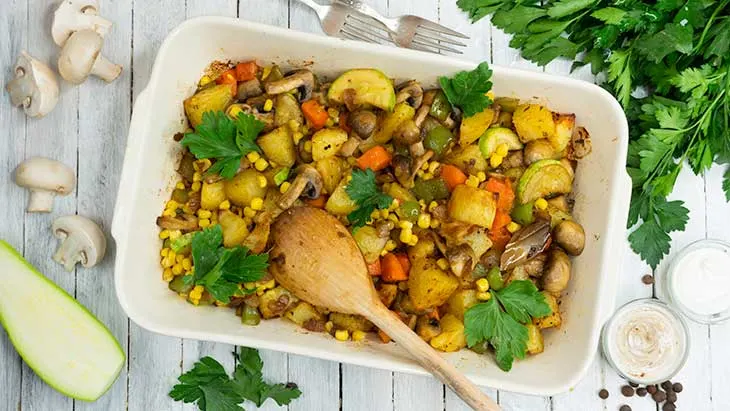 In love with savory breakfasts? Then you'll surely love this amazing recipe for vegan breakfast hash, loaded with healthy vegetables! Give it a try!
Ingredients
4 medium potatoes, cut into cubes
150g (2 cups) chopped mushrooms
2 carrots, cut into small cubes
1 bell pepper, chopped
1 medium zucchini, cut into cubes
3 cloves garlic, finely chopped
1 large onion, chopped
80g (½ cup) sweet corn
fresh parsley
3 bay leaves
olive oil
smoked paprika
salt
pepper
Instructions
In a pan, heat up 2-3 Tbsp of olive oil over medium heat.
Saute the garlic and onion with the bay leaves until translucent.
Add the mushrooms and cook until they develop some color.
Add the zucchini and bell pepper and cook for another 5 minutes.
Grease the baking dish with olive oil, add the potatoes, carrots, corn and the fried veggies.
Season with smoked paprika, salt and pepper and mix to combine.
Bake at 200 degrees Celsius for 25-30 minutes or until the potatoes are fully cooked through.
Garnish with fresh parsley.
Nutrition Information
Yield
2
Amount Per Serving
Calories

514
Total Fat

15.5g
Carbohydrates

77g
Protein

16.5g