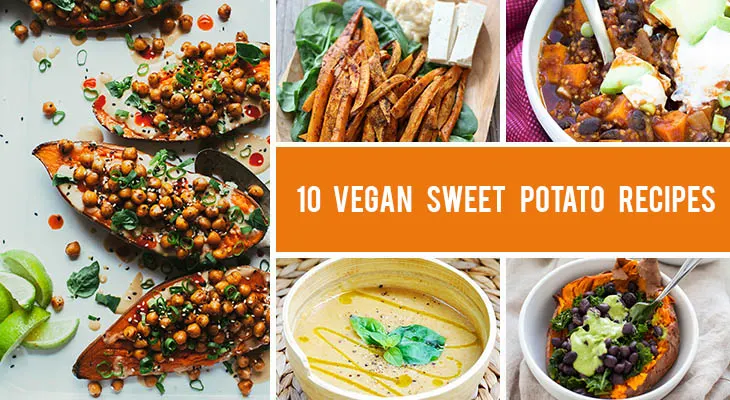 Here are 10 vegan sweet potato recipes that are perfect for both dinners and lunches and can be prepared in advance. Give them a try and fall in love with the taste and texture of sweet potatoes!
If you're not a fan of sweet potatoes yet, then you have no idea what you're missing on! Sweet potatoes are very similar to pumpkins in terms of taste and texture and there are so many recipes in which you can include them! Besides being extremely yummy, sweet potatoes are low in saturated fats and cholesterol and rich in vitamins (A, C, B6 etc), dietary fibers, potassium, manganese and more!
If you need some inspiration for including sweet potatoes in your diet more often, then you arrived in the right place! This article will provide you a good dose of inspiration for sweet potato recipes: from creamy soups, stews, fajitas, burritos, and even vegan burgers, there's nothing a big sweet potato can't do! All you have to do is scroll through this list, pick your favorite vegan sweet potato recipes and start cooking. You will fall in love with this amazing ingredient in a bit!
Click on the linked titles in order to access these delicious vegan sweet potato recipes. I totally recommend checking out all these talented food bloggers who took the time to create these recipes. As usual, you will also find here some of my own favorite recipes that helped me fall in love with sweet potatoes. Happy cooking!
Vegan Sweet Potato Recipes
If you're not a big fan of sweet potatoes already, this creamy soup is the perfect place to start your journey. Not only this incredible soup is super delicious, it is also extremely easy to make! I am sure you will appreciate the sweet but also spicy taste thanks to the ginger. Give it a try!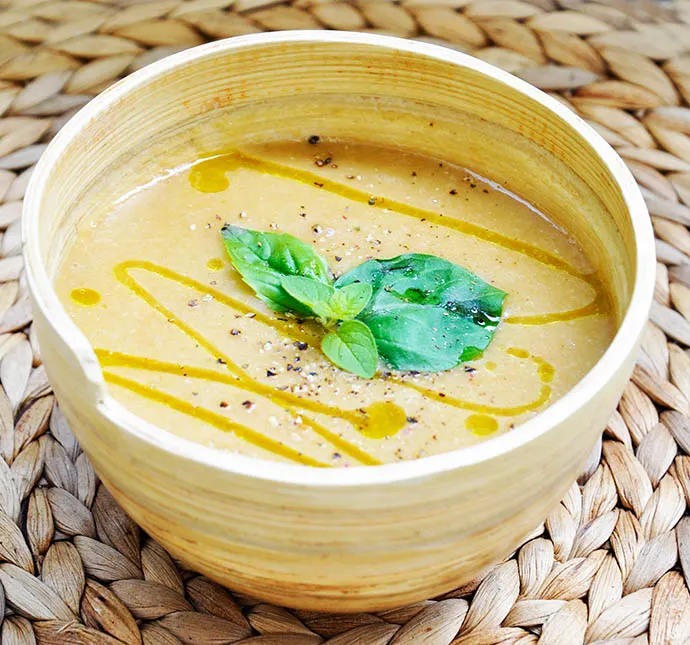 These vegan sweet potato fajitas are the perfect solution if you're looking for a quick, easy and delicious dinner! The best part about these fajitas is that you can even make them with any leftover veggies you may have on hand! Of course, don't forget about some fresh lime and cilantro in order to take this dish to a whole new level of deliciousness!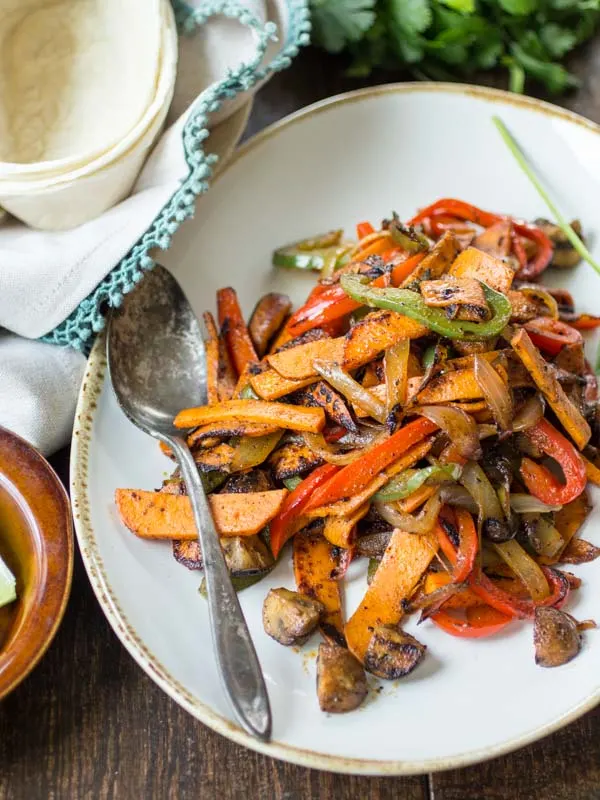 If you like easy, satisfying and comforting stews, then this recipe is for you. The combination of sweet potatoes and cauliflower is simply delicious and nourishing, while also being very light. This vegan stew with sweet potatoes and cauliflower is the perfect idea for a healthy dinner or even lunch!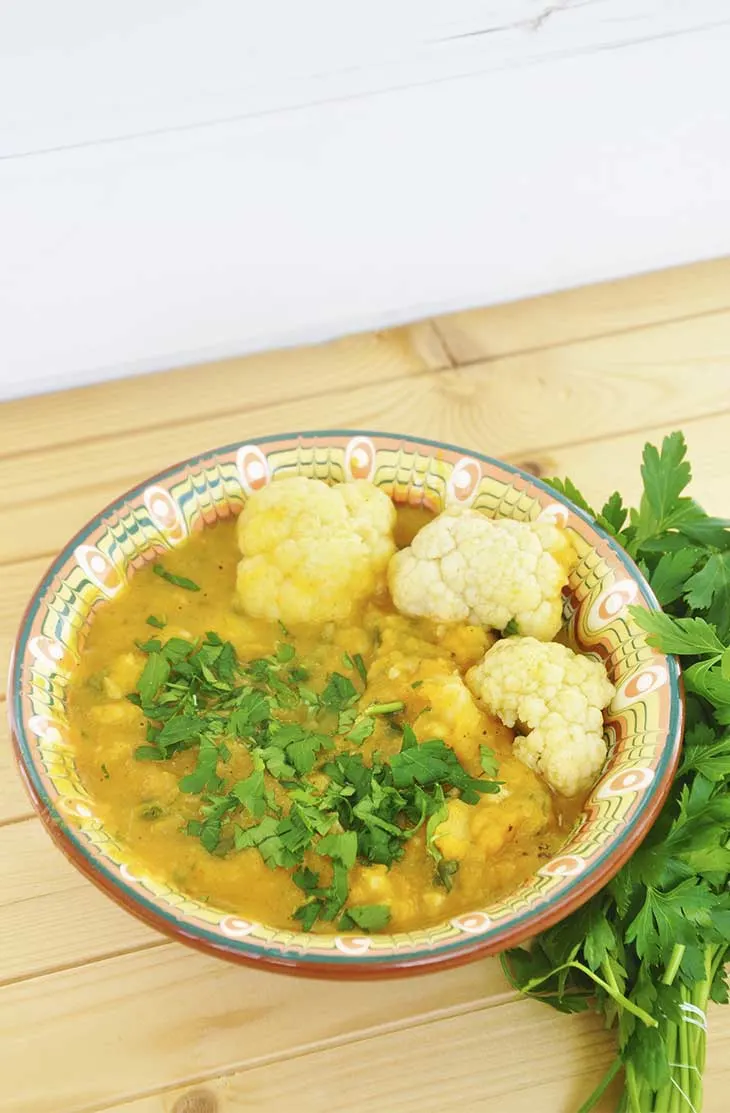 Of course, I couldn't leave out of this list the most delicious and classic recipe out there: sweet potato fries! These sweet potato fries are also very healthy, as they're not fried, as you might expect, but baked in the oven instead! Don't forget about the smoked paprika – it will make these fries so much better!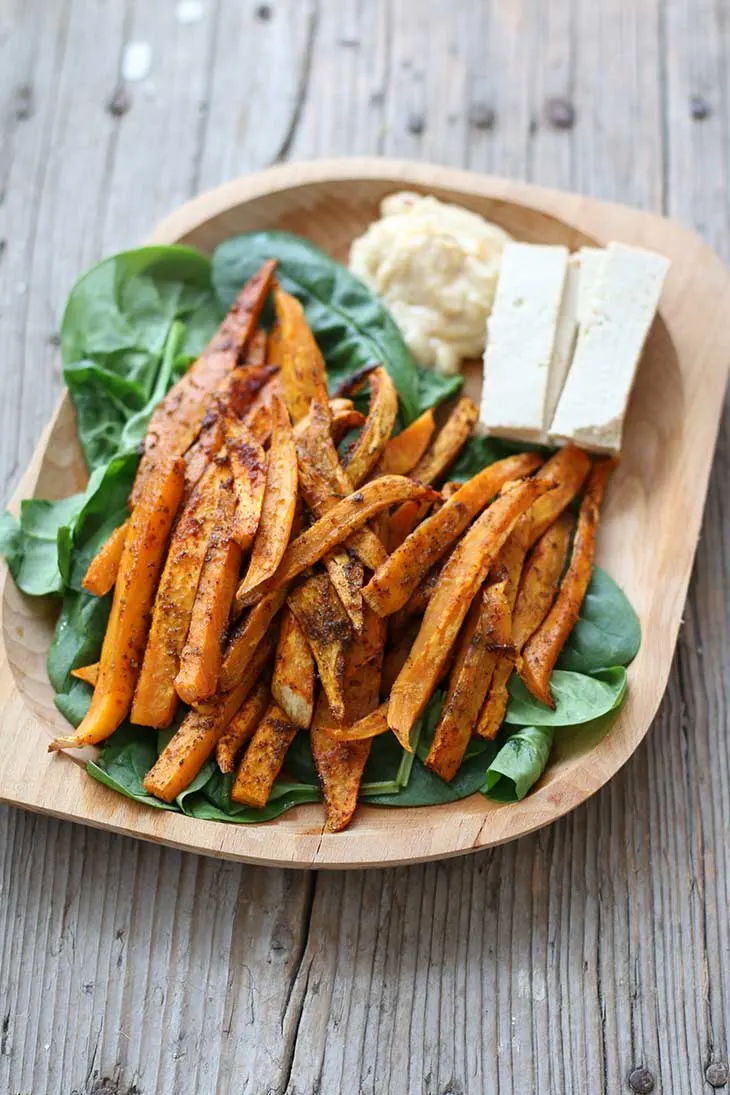 If you are searching for some new, delicious vegan burger ideas, then these sweet potato burgers should provide some inspiration for you. These patties are flavorful, crunchy on the outside and soft on the inside, which makes them so delicious together with the fresh veggies and your choice of sauces. The combination of sweet potatoes and lentils is high in proteins, macrobiotic and vegan!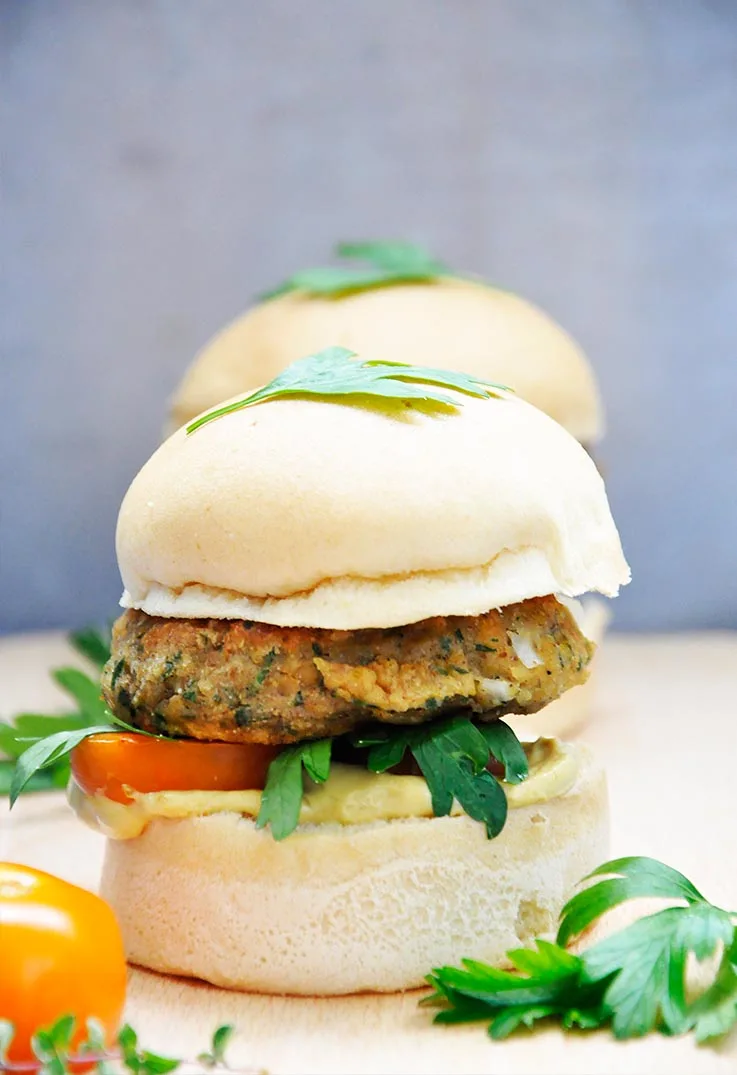 This recipe for sweet potato and black bean burritos are a vegan take on a Mexican classic. If you like burritos, then you have to try this recipe at least once! It is literally bursting with Mexican flavors and it's so delicious and healthy, you won't believe it! Give it a try and you won't regret a bit!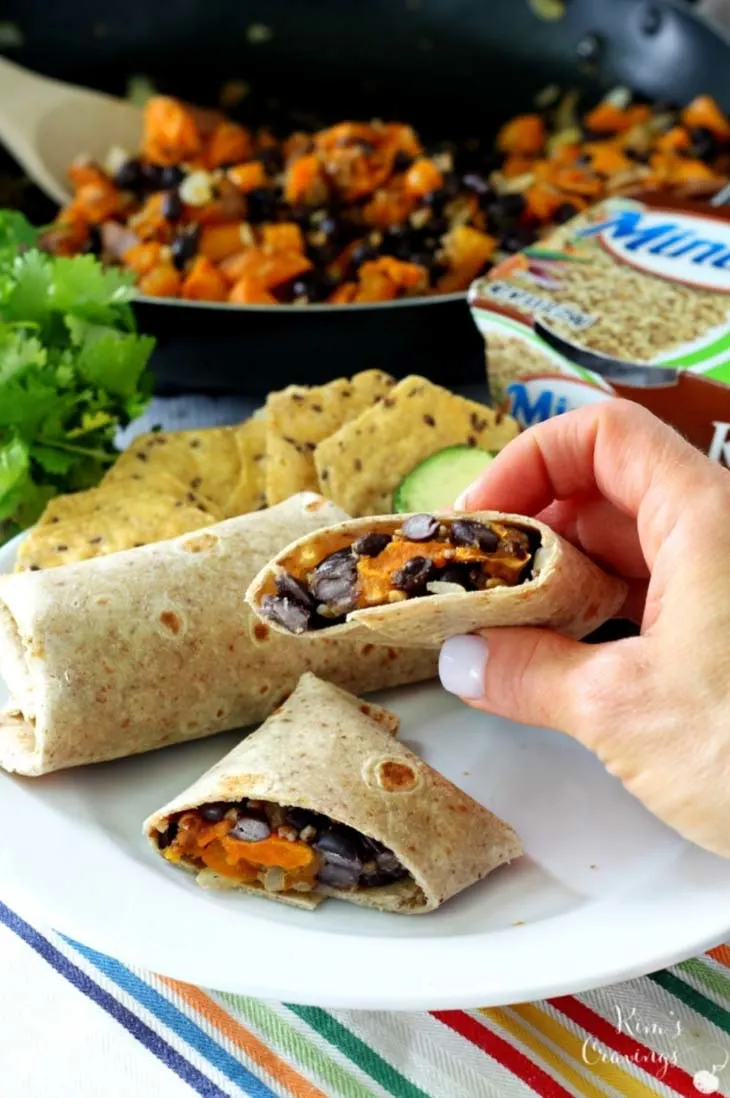 Besides being super delicious and nourishing, sweet potatoes are also great for creating vegan "pulled meat" that's just as flavorful and yummy as the real thing. Combine the shredded sweet potato will all the right spices and your favorite veggies and you will achieve the most delicious dinner or lunch! Even your omni friends will fall in love with this burger!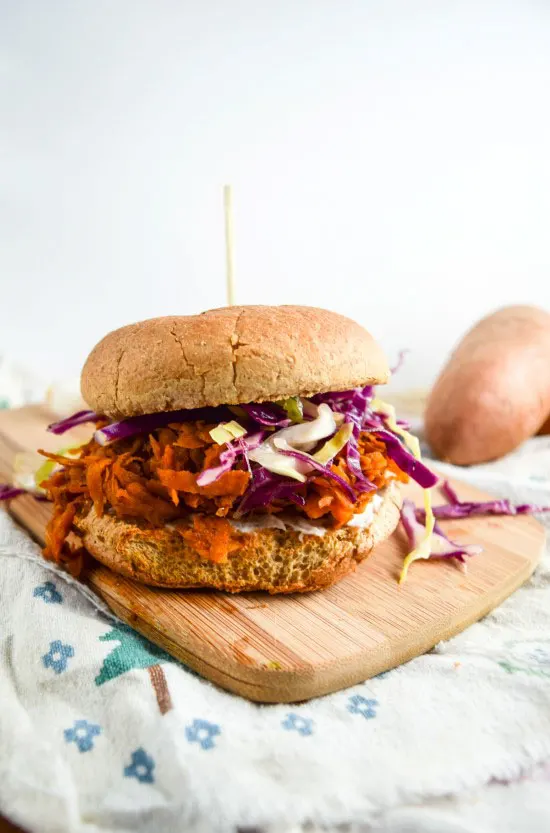 What could be easier than a baked sweet potato, loaded with all your favorite veggies, herbs and sauces? I'll tell you: nothing! That's what makes this recipe for vegan loaded sweet potato so great! Top the sweet potato with kale and black beans and serve everything with a creamy sauce. Sounds so comforting, right?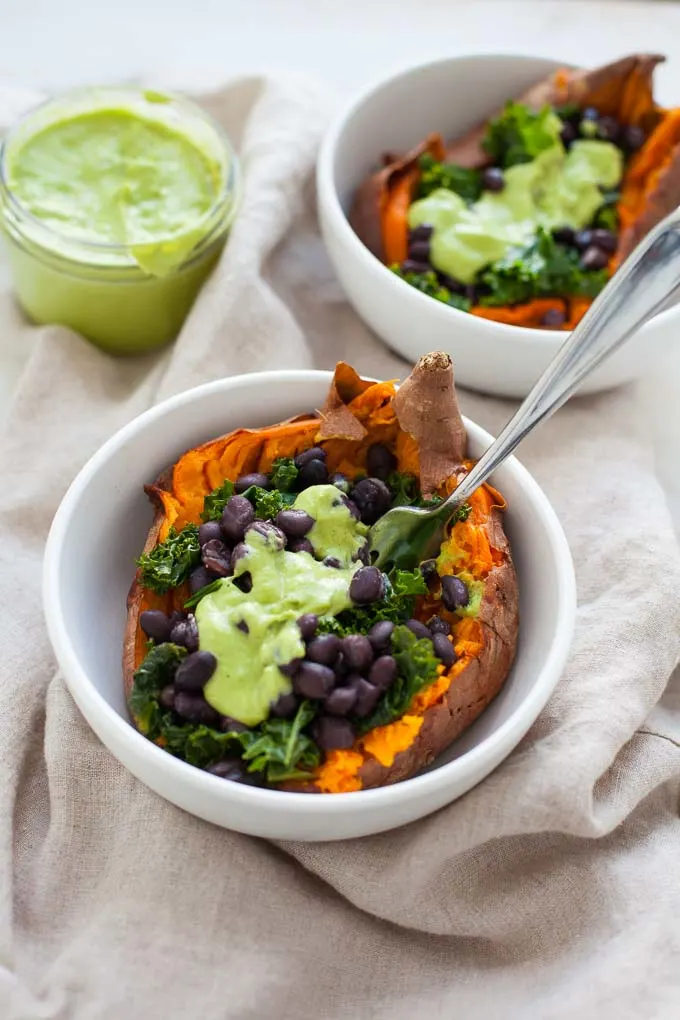 This is a very simple, yet extra delicious recipe that will provide you will all the needed nutrients of a full meal. These sauced sweet potatoes are stuffed with tossed chickpeas and an amazing ginger tahini sauce that will leave you begging for more! Give it a try for your next weeknight dinner!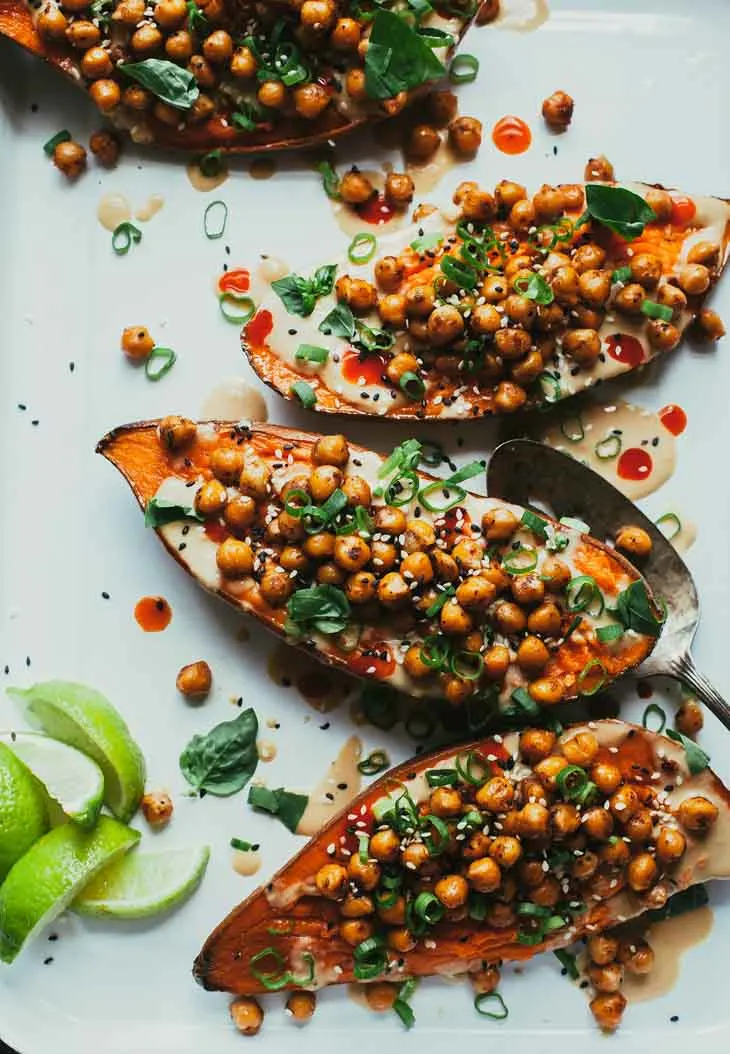 I am ending this delicious list with a super easy and comforting recipe: sweet potato and black bean chili with quinoa! This vegan chili recipe is bursting with amazing flavors and is full of proteins, which makes it perfect for dinner. Don't forget about some creamy avocado slices and you're good to go!