This curry-flavored sweet potato stew with cauliflower has a vibrant color and lots of wonderful, strong flavors! Perfect for lunch or dinner!
I love cauliflower. I actually think I love it more than I love broccoli! It's more versatile and you can use it in various ways! You can make pizza crust, pasta sauce, and even a creamy risotto, all using cauliflower! Isn't is awesome! 🙂
Even though I like it so much, I don't use it that often. Maybe I'm not used to it yet. I rarely ate it when I was a kid, and I just recently discovered its true potential. 🙂 So, far I made cauliflower soup, cauliflower spread, cauliflower casserole, and the awesome cauliflower risotto I was telling you above. Now I felt it was time to use it in a flavorful stew, accompanied by sweet potatoes and an abundance of spices.

This sweet potato stew recipe has such a great combination of textures, flavors, and colors. It resembles curry a bit, especially because I used coconut milk and a homemade curry spices mix.
This sweet potato stew is also extremely easy to make. It's the perfect dish for families and it is budget friendly, especially if you use frozen cauliflower florets, which are cheaper. Sprinkle with tons of fresh parsley and enjoy this healthy, delicious sweet potato stew.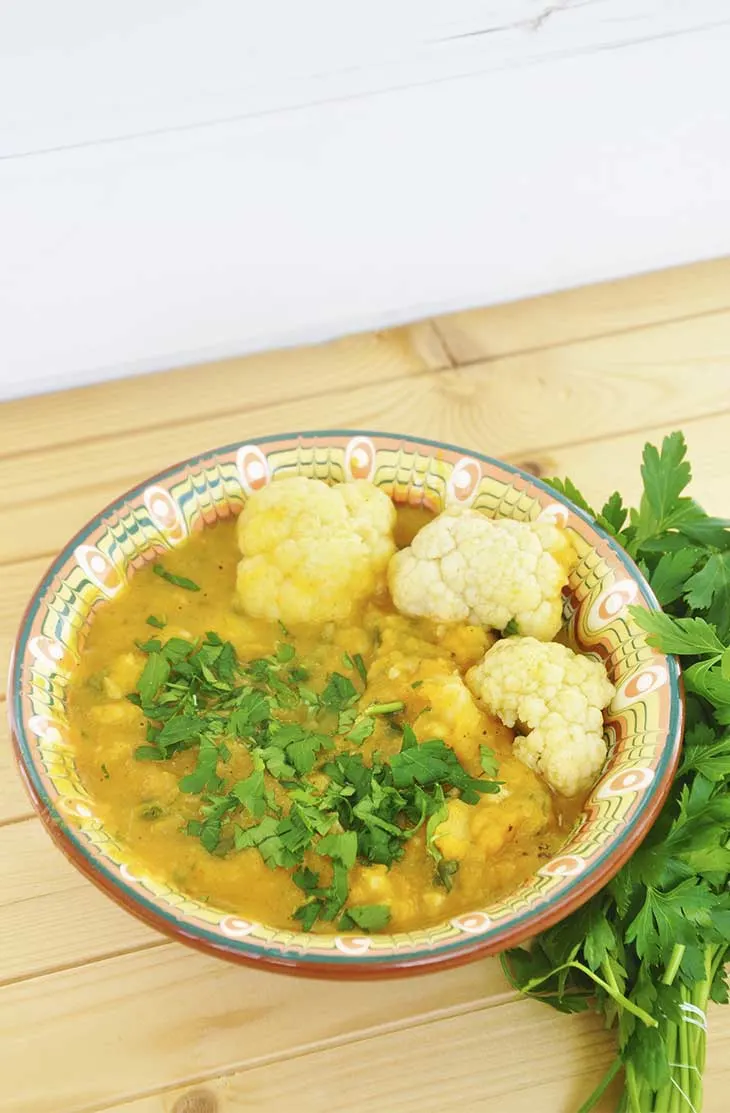 Yield: 6+
Cauliflower - Sweet Potato Stew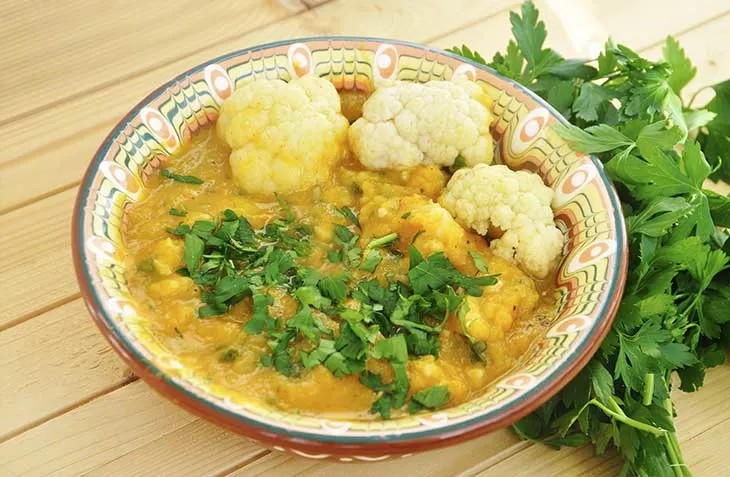 This is a curry-flavored cauliflower and sweet potato stew, with a vibrant color and lots of wonderful flavors!
Ingredients
1 medium cauliflower head, florets removed (or you can use ~500g (17.5oz) frozen cauliflower florets like I used)
2 large sweet potatoes, peeled
1 large onion, diced
4 garlic cloves, mashed
230g (1 cup) coconut milk
2 tsps turmeric powder
½ tsp ginger powder, or use a bit of fresh ginger, grated
½ tsp cumin, ground
⅓ tsp coriander seeds, ground
⅓ tsp pepper, ground
sea salt, to taste
2 Tbsps olive oil
water, add as much as needed to make the thick sauce (I added ~500-750ml / 2-3 cups)
fresh parsley - use as much as you want
Instructions
Steam cauliflower florets.
In a medium pot, add some water and boil the peeled and cubed sweet potatoes.
Check with a fork after 20 minutes. If tender, remove from heat.
Drain, but save the water.
Put the sweet potato cubes in a blender or food processor. Add coconut milk and spices. Add 1 cup of saved water. Blend until smooth. Add more water, in order to make the sauce less thick. It should have the consistency of full-fat sour cream, so thick, but not puree.
Heat oil in a large saucepan. Add diced onion and mashed garlic cloves. Saute for 2 minutes.
Add sweet potato sauce. Stir.
Add steamed cauliflower florets.
Cook for ~10 more minutes.
Serve with fresh chopped parsley on top.
Nutrition Information
Yield
6
Amount Per Serving
Calories

176
Total Fat

6g
Carbohydrates

26g
Protein

4.4g