Reteta vegetariana / vegana sanatoasa, pentru salata cremoasa de conopida cu muraturi. | Call it salad, but it may as well be a dip or a spread, this vegetarian cauliflower salad is a great appetizer, vegan and healthy!
  Recipe in English
  Reteta in Romana
Hey guys! Sorry for the long break. I was super busy with school and work, projects after projects, I just didn't have time to cook anymore. I even skipped breakfasts, which we all know it's a bad thing. I'm hoping things will get back to normal now.
About this creamy cauliflower salad,  I'm not a big fan of cauliflower as I find it a bit tasteless and prefer broccoli instead, but this creamy cauliflower salad recipe is just perfect! I call it salad but it may as well be a dip or a spread. It's a great appetizer, vegan and healthy. Also, the pickles go very well with cauliflower making this salad very refreshing.
I'm beginning to like cauliflower a lot! Since mom made this awesome Cauliflower and Cheese Casserole recipe I decided to eat it more often. I am actually planning to make a creamy cauliflower soup this week.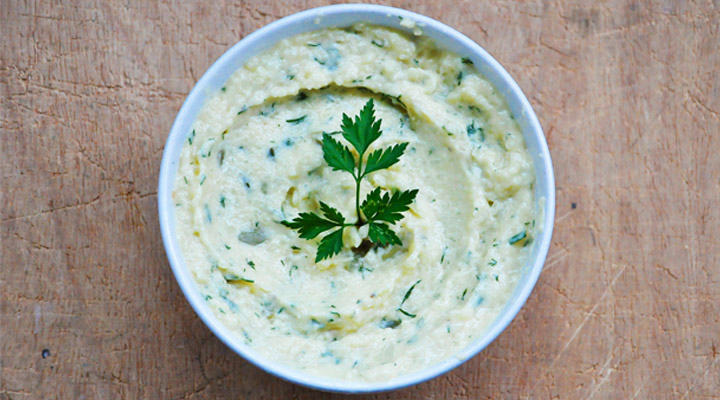 Call it salad, but it may as well be a dip or a spread, this vegetarian cauliflower salad is a great appetizer, vegan and healthy!
Ingredients
1 medium cauliflower
4 pickles
a bunch of parsley, chopped
vegan mayo, to taste
salt and pepper to taste
Instructions
There are two ways to cook the cauliflower.

With steamer: Just detach the florets and place them in the steamer. Steam for about 20 minutes.

Without steamer: Detach the florets and place them in a medium pot filled with water. Add salt in the water. Boil for 20-25 minutes.

Strain the cauliflower and place the florets in a bowl. Start mashing the florets using a fork or just use the blender if you want.
Add chopped pickles, parsley, salt and pepper. Add mayo as much as you like. Some like it with more mayo, some with less.. so just add and taste :)
http://gourmandelle.com/cauliflower-creamy-salad/
Copyright: 2014 Ruxandra Micu | www.gourmandelle.com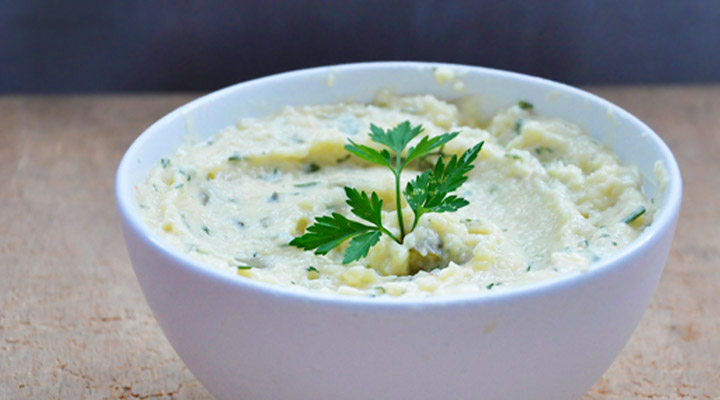 Nu ma omor dupa conopida, prefer mai mult broccoli, insa reteta asta de salata de conopida m-a facut sa imi schimb parerea. Salata de conopida e facuta de mama mea. Mi-a placut la nebunie! E cremoasa, un pic acra de la castravetii murati, si extrem de aromata. Se face si foarte usor si este perfecta pe post de aperitiv la petreceri.
O alta reteta cu conopida pe care trebuie sa o incercati este budinca cu branza telemea pe care o ador!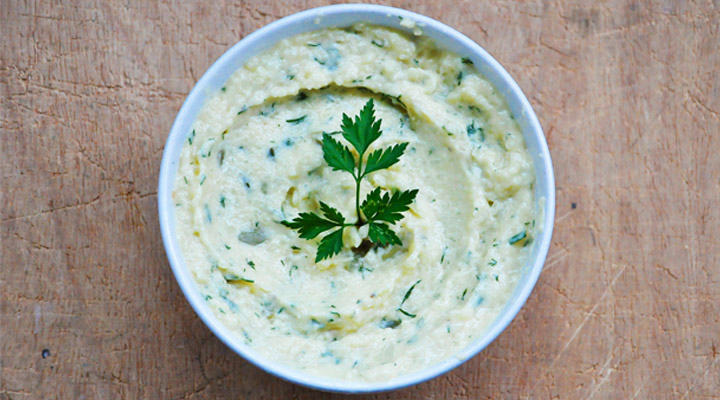 Salata de conopida
Ingrediente:
1 conopida medie
4 castraveciori murati
o legatura de patrunjel
maioneza vegana
sare si piper dupa gust
Instructiuni:
Conopida se poate gati in doua feluri:
La aburi: Rupe-o in bucatele si bag-o la cuptorul cu aburi 20 de minute.
Prin fierbere (nu recomand): Rupe-o in bucati si fierbe-o 20-25 de minute.
Scurge-o bine si paseaz-o cu o fruculita sau cu un blender vertical.
Aduga castraveciori taiati marunt, patrunjel, sare si piper. Adauga cata maioneza doresti. Gusti si verifici cata maioneza este necesara.