This keto cauliflower mac and cheese is not only a culinary delight, but also a perfect choice for those following a low-carb diet. Imagine the cauliflower florets, dipped in a creamy cheese sauce, all browned to perfection in the oven. If you haven't tried this special combination yet, it's time to indulge your taste buds.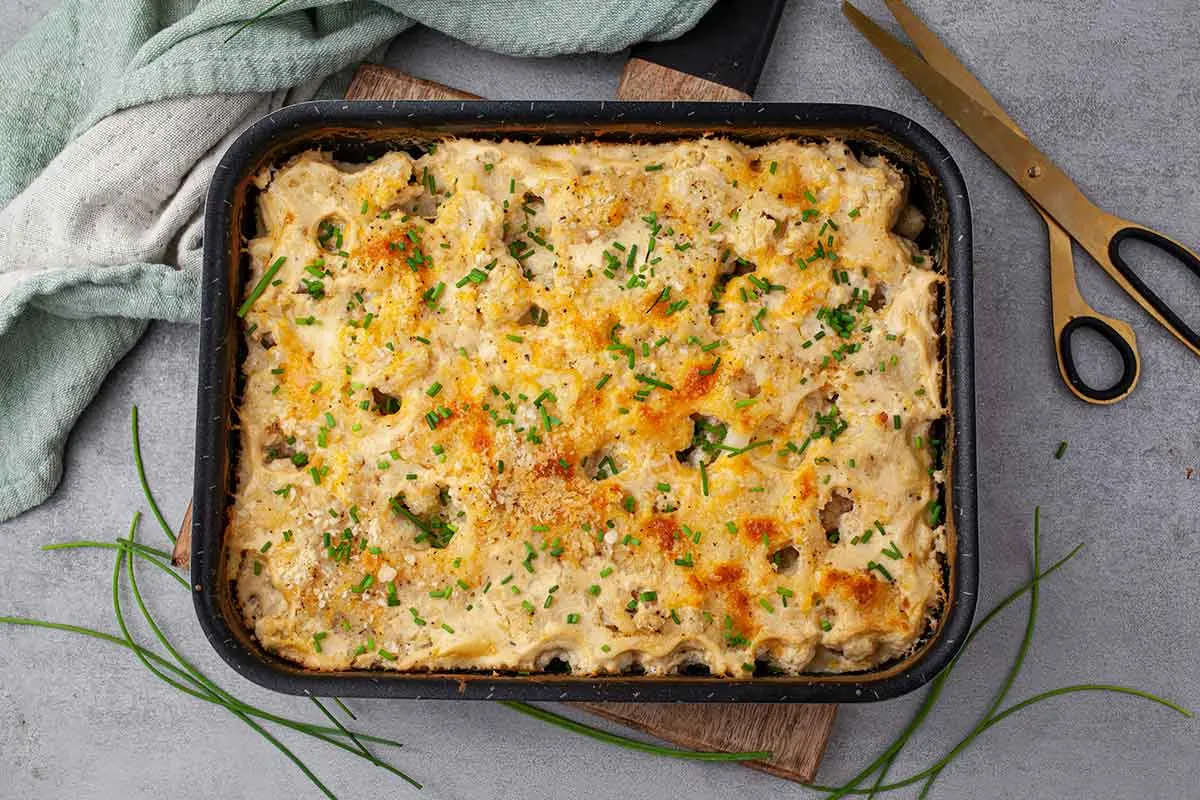 Cauliflower may seem like a tasteless vegetable, but that's only if you don't cook it properly. It needs spices and sauces to stand out and it will surely become your food favorite when you find out that it is also low in carbohydrates and calories, thus being an excellent option for those on a diet.
I have made many recipes with cauliflower so far and I especially recommend you to try my Cauliflower Hummus, Cauliflower Popcorn, Cauliflower Rice, and Cauliflower Pizza, especially if you're looking for more low carb & keto recipes with cauliflower.
This recipe for keto cauliflower mac and cheese was inspired by the classic recipe for macaroni and cheese (American mac n' cheese). I wanted to make a version without pasta, but which would be just as delicious. I say it worked out for me! 😊 Also, check out my vegan mac n' cheese if you want to try a dairy-free version.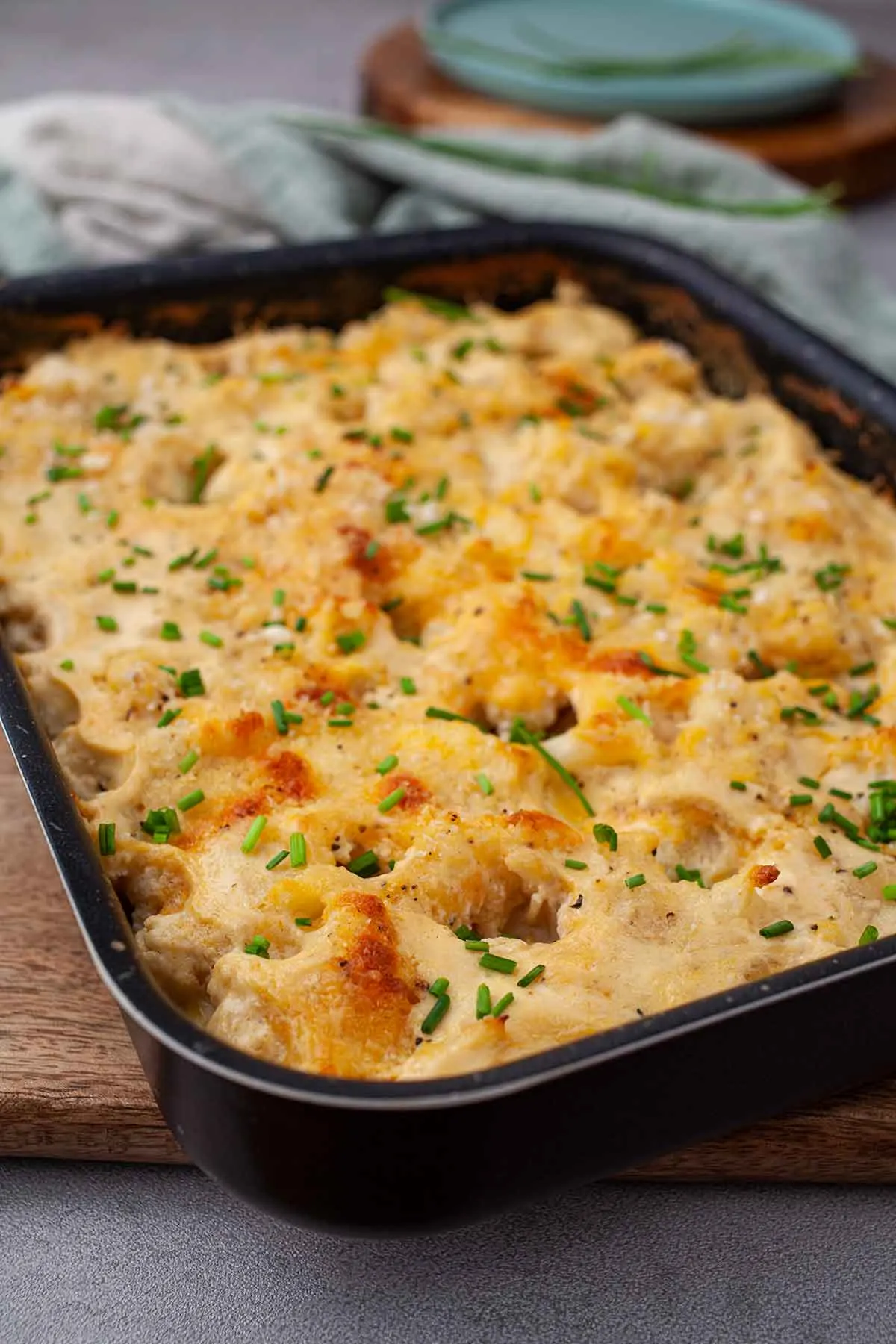 Types of cheese for the cauliflower mac n' cheese
This low carb mac and cheese is a culinary delight, and the type of cheese used can bring a distinct note to each variation of this recipe. Although I used cheddar, parmesan and mozzarella, there are many other options that you can explore.
Cheddar: With a firm texture and strong taste, cheddar adds an intense and rich taste to cauliflower. When melted, cheddar gives a creamy consistency, being ideal for giving that sticky and tasty texture that many love.
Mozzarella: Known for its stretchy quality and soft texture, mozzarella adds an "elasticity" effect to the dish, which makes it ideal for getting those fluffy portions of cauliflower with cheese. Mozzarella also has a milder taste that balances the intensity of cheddar.
Parmesan: Another option you can consider is Parmesan. With a salty and smoky taste, parmesan grated on top of the cauliflower before baking will give it a golden-crisp crust.
Gouda or Emmental: These melted cheeses have a delicate taste, which can add a creamy and velvety touch to baked cauliflower and cheese.
Goat cheese: For those who want a stronger and tangy taste, goat cheese is an excellent option. This can add an interesting contrast to milder cheeses, such as mozzarella.
Blue cheese: For extra flavor, I recommend adding a little blue cheese to the composition. The umami taste will be explosive!
Finally, the combination of cheddar and mozzarella offers a perfect balance between taste and texture, ensuring that this keto mac n cheese will be a hit regardless of the occasion. However, don't experiment with different types of cheese to customize the recipe according to your own favorites!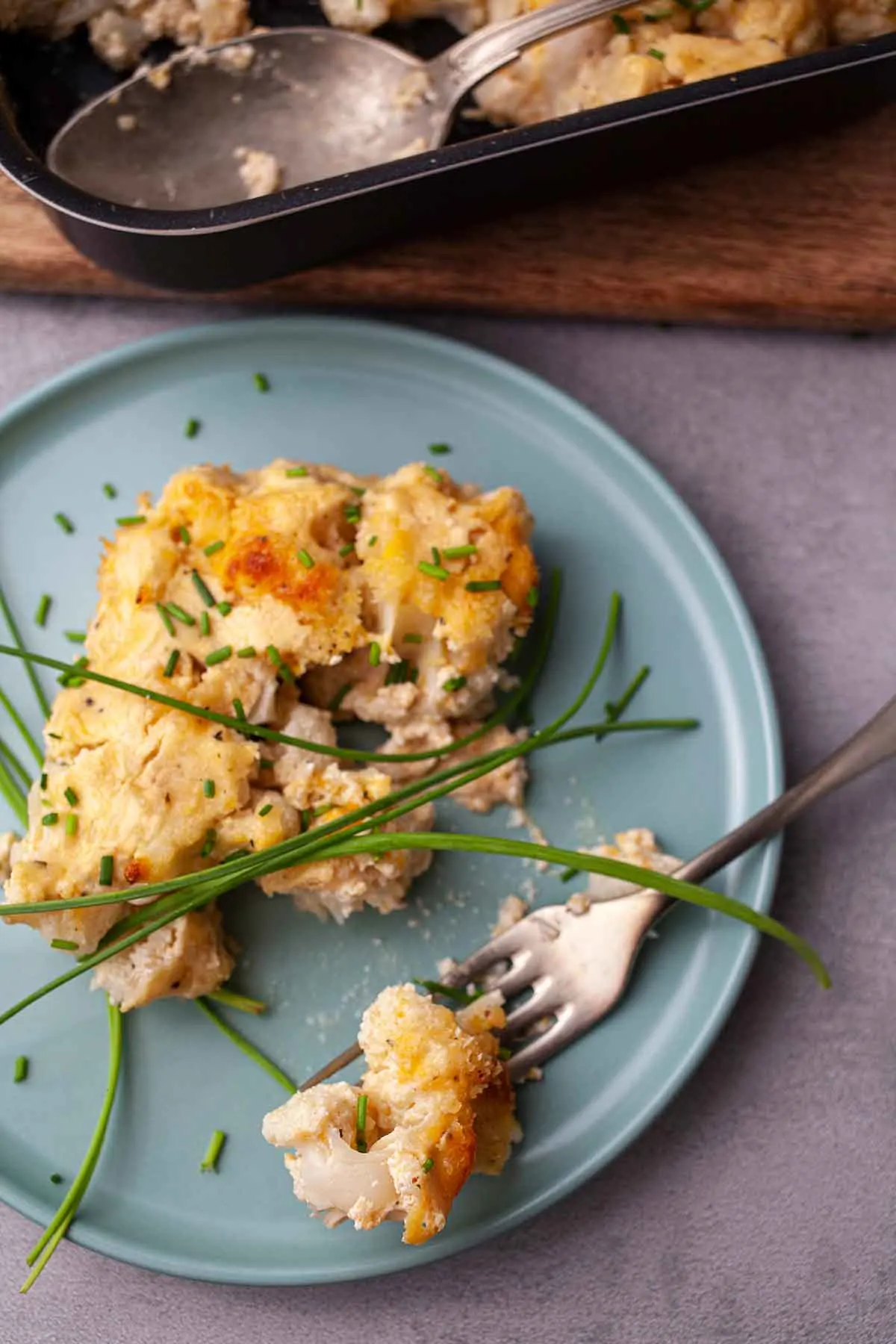 Accompaniments for the perfect keto mac and cheese
This keto macaroni and cheese is an extremely versatile dish, suitable both as a main course and as a side dish. Depending on how you choose to serve it, here are some accompanying suggestions that can complement it:
Proteins:
• Baked salmon or cod: With a soft texture and a delicate taste, these fish are perfectly complemented by the rich taste of cauliflower with cheese.
Salad:
• Green salad with avocado: Avocado adds a creamy texture, while the green leaves offer a fresh note.
• Tomato and basil salad: The classic combination of tomatoes and basil adds a contrast of flavors and colors.
Grilled vegetables:
• Grilled eggplant, peppers and zucchini: Grilled vegetables bring a hint of smoke and an intense taste, which matches perfectly with the creaminess of the cauliflower.
Sauces:
• Garlic yogurt sauce: This sauce adds a spicy and refreshing note, balancing the richness of the cauliflower with the cheese.
• Spicy tomato sauce: For those who want a touch of spice on their plate.
Regardless of your choice, this healthy cauliflower mac and cheese is so delicious and versatile that it will go well with a variety of accompaniments. Experiment with different combinations to find the best matches for your taste!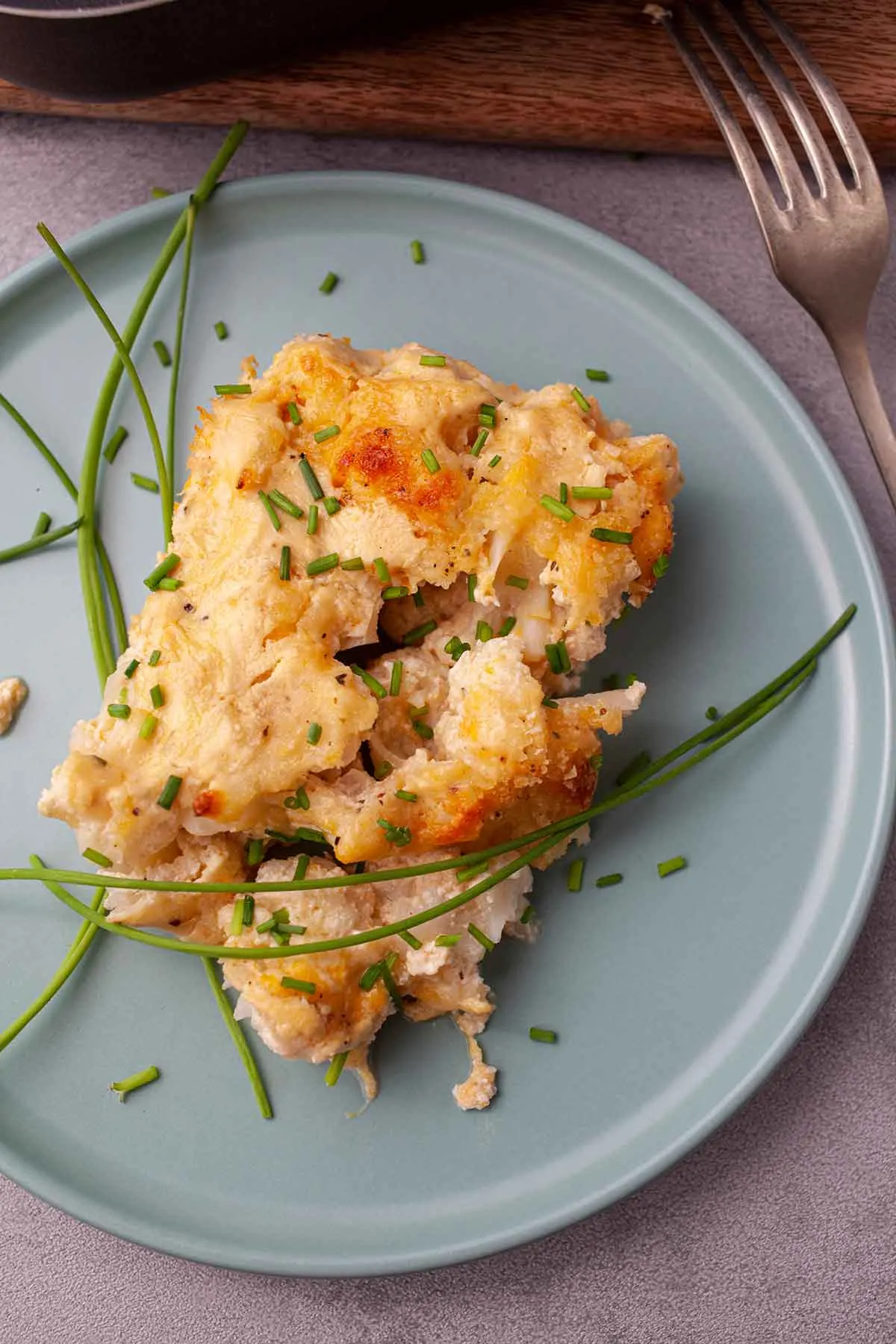 Ingredients
Cauliflower: The basis of the recipe, cauliflower offers a delicate taste and a soft texture, successfully replacing the classic macaroni in the inspiration source recipe – mac and cheese.
Full fat milk: Adds creaminess and a rich consistency to the dish, intensifying the overall taste.
Cream cheese: It gives a creamy texture and a rich taste, being essential for a delicious and homogeneous result.
Dried oregano: With aromatic and slightly spicy notes, oregano adds an additional layer of flavor and freshness.
Garlic powder: Introduces a deep and edged taste of garlic, without being too dominant.
Smoked paprika: Adds a slightly smoky note, which amplifies the depth of taste of the recipe.
Hot Paprika: Provides a touch of heat and spice, making food more stimulating and vibrant.
Cheddar cheese: With a mature and deep taste, cheddar brings a salty note and enriches the creamy texture of the food.
Mozzarella cheese: It offers elasticity and creaminess, with a texture that melts perfectly and a delicate taste.
Almond flour: I replaced the classic Panko breadcrumbs with a non-gluten and keto option – almond flour. This creates a crunchy layer on the surface, contrasting with the soft texture of the cauliflower.
Grated Parmesan: Adds an intense flavor and a salty taste, perfect to highlight and enrich the complexity of the overall flavor. It is used to gratin the recipe.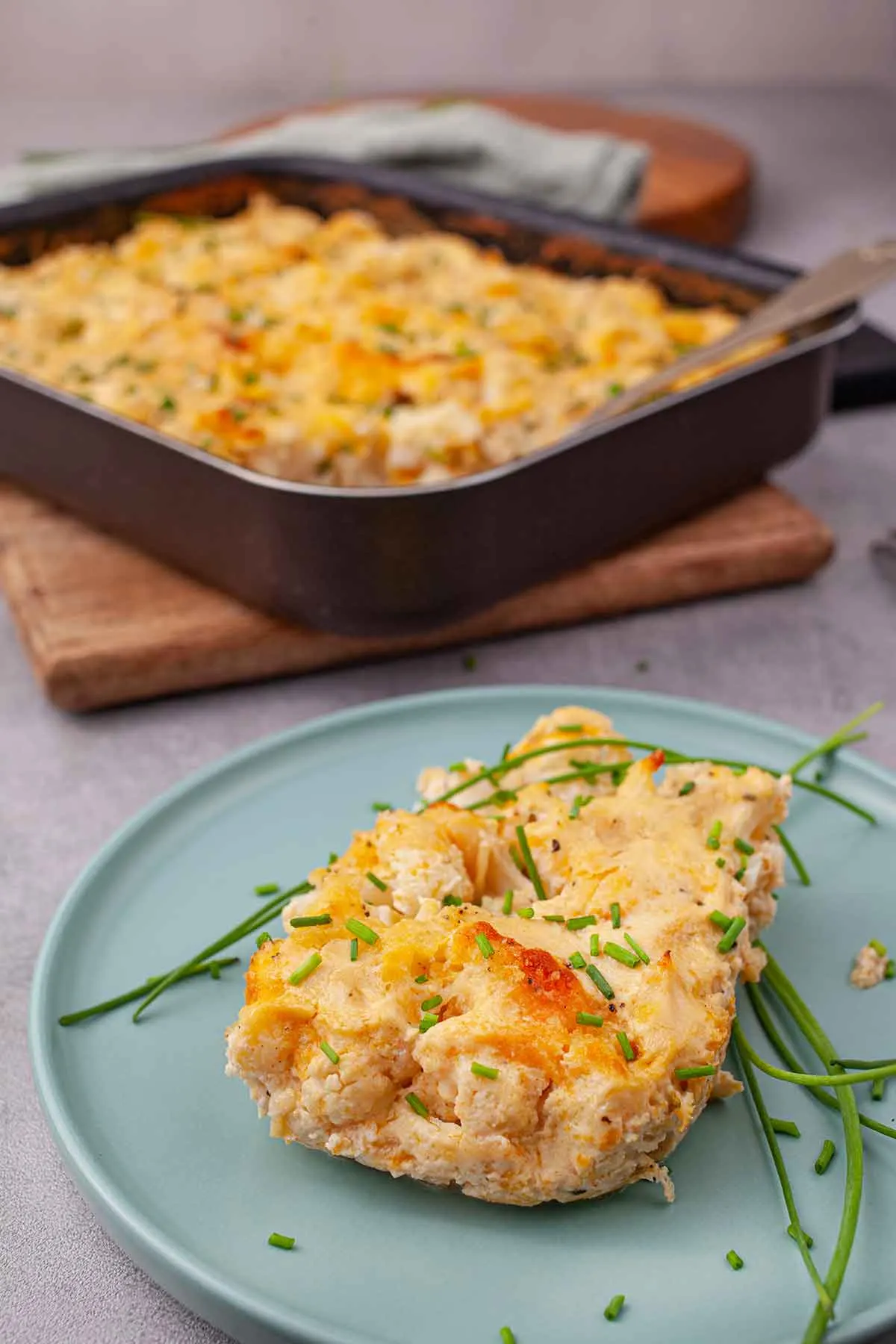 Keto cauliflower mac and cheese recipe
Yield: 6
Keto Cauliflower Mac and Cheese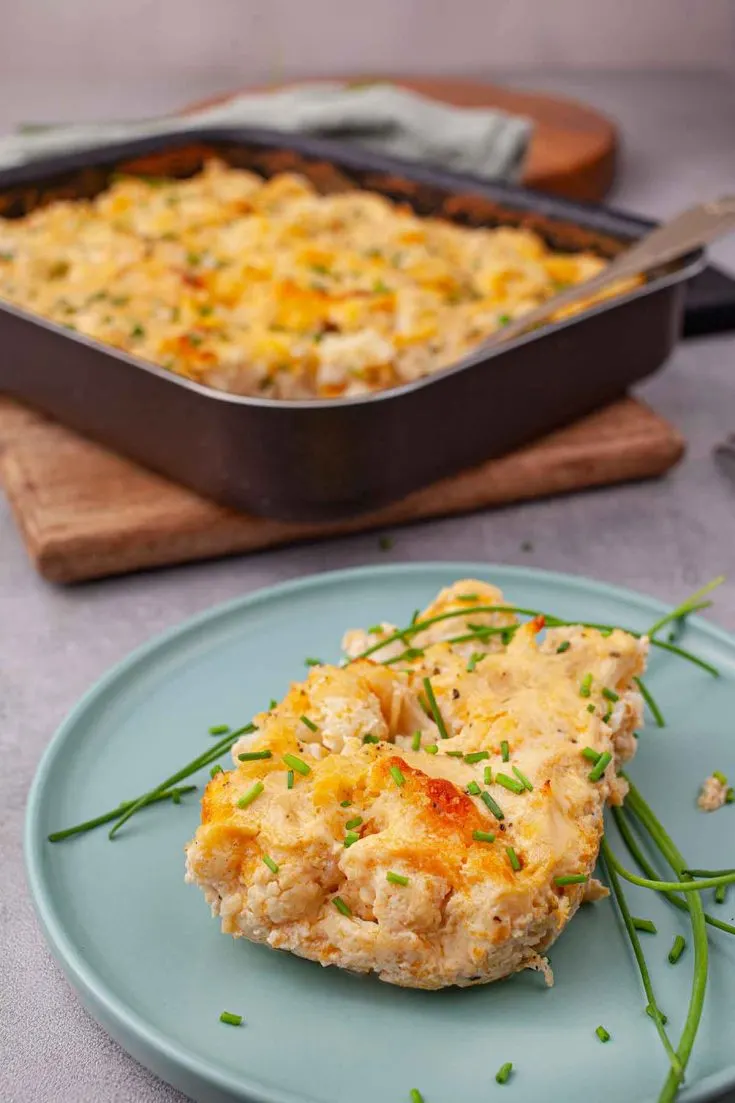 This keto cauliflower mac and cheese is not only a culinary delight, but also a perfect choice for those following a low-carb diet. Imagine the cauliflower florets, dipped in a creamy cheese sauce, all browned to perfection in the oven. If you haven't tried this special combination yet, it's time to indulge your taste buds.
Ingredients
1 small cauliflower, cut into small florets
¼ teaspoon salt
¾ cup full fat milk
1/3 cup cream cheese
½ teaspoon dried oregano
1 teaspoon garlic powder
½ teaspoon smoked paprika
½ teaspoon hot paprika or chili
½ teaspoon black pepper
¼ teaspoon salt
2 cups cheddar cheese, grated
1 cup mozzarella cheese, grated
For the topping:
¼ cup almond flour
¼ cup grated Parmesan
Instructions
Heat the oven to 180 C (375F).
In a small bowl, mix the ingredients for the topping, leave the bowl aside.
Put a pan of salted water on the stove, to boil.
When the water starts boiling, add the cauliflower florets.
Let the cauliflower cook for 5-7 minutes. Don't over-cook it at this stage.
After boiling, drain the water and let the cauliflower cool.
Grease the casserole with butter or oil. Alternatively, to skip some calories, cover it with parchment paper.
In a saucepan, on low-medium heat, add the milk. Add the cream cheese and mix until smooth. Add oregano, garlic powder, smoked and hot paprika, salt and pepper. Then add 1 cup of grated cheddar cheese and one cup of grated mozzarella. Mix well until you get a thick and creamy sauce.
Add the pieces of cauliflower over the sauce and mix so that all the cauliflower is covered.
Transfer the cauliflower mixture into the casserole; spread in an even layer.
Sprinkle with the remaining Cheddar cheese. Then sprinkle with the topping mixture.
Put the casserole in the oven and bake for 30 minutes or until it browns on the edges.
Nutrition Information
Yield
6
Serving Size
1
Amount Per Serving
Calories

421
Total Fat

31g
Saturated Fat

15g
Trans Fat

0g
Unsaturated Fat

12g
Cholesterol

88mg
Sodium

1005mg
Carbohydrates

13g
Fiber

2g
Sugar

4g
Protein

24g
I strive to keep the information as accurate as possible but make no warranties regarding its accuracy. I encourage you to make your own calculations using your preferred nutrition calculator.