In case you're craving a sweet, refreshing dessert, I've got just the solution for you! Here's how to make the most flavor-rich peach sponge cake – vegan and yummy!
Sponge cakes are one of my favorite desserts in the entire world. They're light, they're full of flavor and they're extremely easy to make. This vegan peach sponge cake is one of my latest obsessions. I'm craving a piece just while I'm writing these words right now!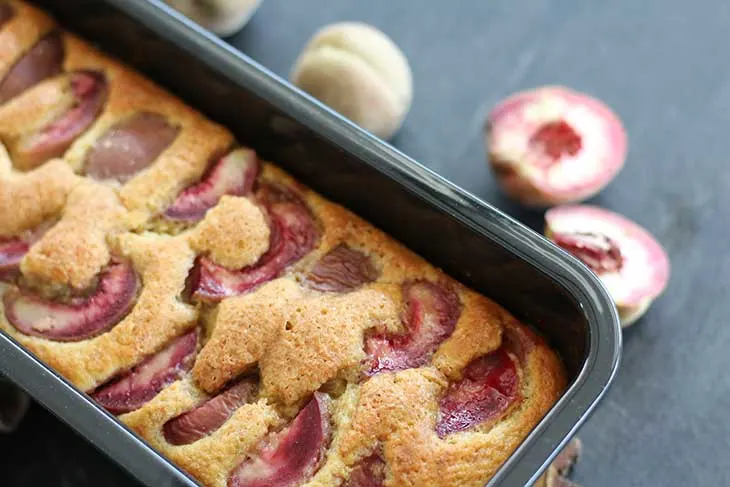 You may remember I've created several other vegan sponge cakes on the blog until now. This vegan sponge cake with red currants is just an example! Or these swiss rolls which are basically made with the same kind of dough as a sponge cake – carrot cake swiss roll, vegan vanilla swiss roll with jam, and this double chocolate swiss roll. I told you, I love a fluffy sponge cake whenever I can get it!
This peach sponge cake recipe is inspired by my vegan lemon muffins recipe that I did a while ago, only I changed the fruits and the shape – I basically transformed it from muffins into a real cake. It's moist, it's fluffy and it's everything you will ever need for a summer dessert.
For this recipe, I used fresh peaches from my garden and it turned out insanely delicious!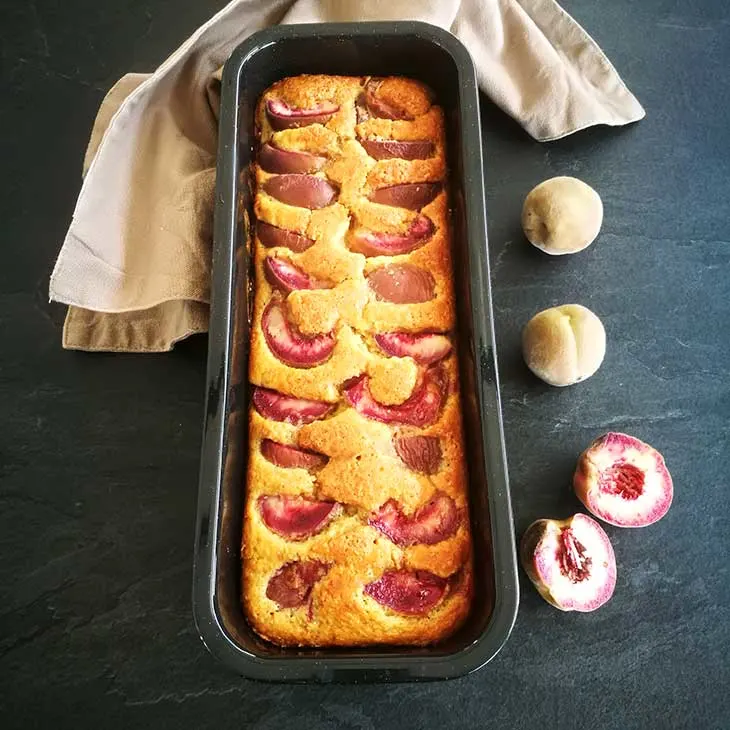 I have two peach trees – one that makes big, juicy peaches that are just perfect to eat just as they are. Their scent is simply amazing! And the other one makes tiny peaches, red on the outside and white on the inside. They aren't that big and juicy, but their intense flavor makes them perfect for desserts. Ever since I got this peach tree I've been thinking about countless peach desserts that I'm going to share with you!
I've made this peach sponge cake last summer but I only got the time to share the recipe with you now. And I'm so glad I did, 'cause it's so, SO good! 🙂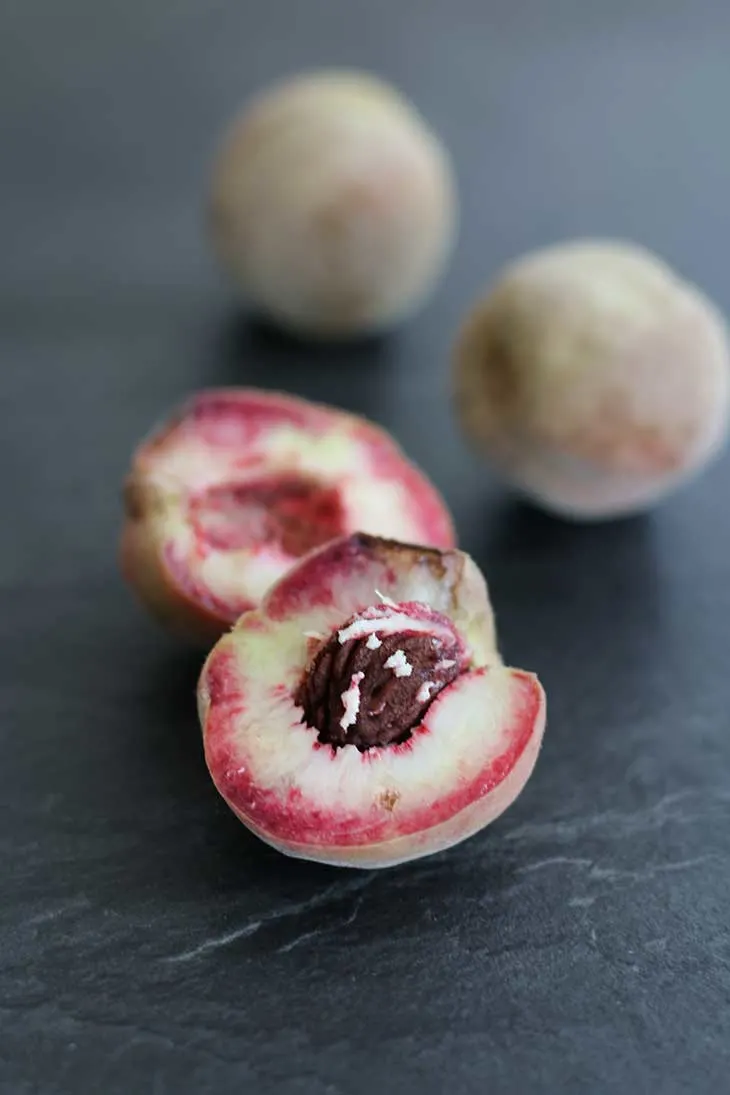 For this recipe, you'll only need 6 small peaches in case you have a similar kind to the ones that I used (you can see them in the pictures). If you're using regular, bigger peaches, you can adjust the quantities accordingly. In short – you'll probably need around 3-4 big peaches for this. It's not a big sponge cake, but it has all the flavor in the world!
Of course, this recipe is 100% vegan. I used soy milk to replace the regular milk, but you can use any type of nut milk you prefer. You can even make my recipe for homemade rice milk, it's so good and so easy to make!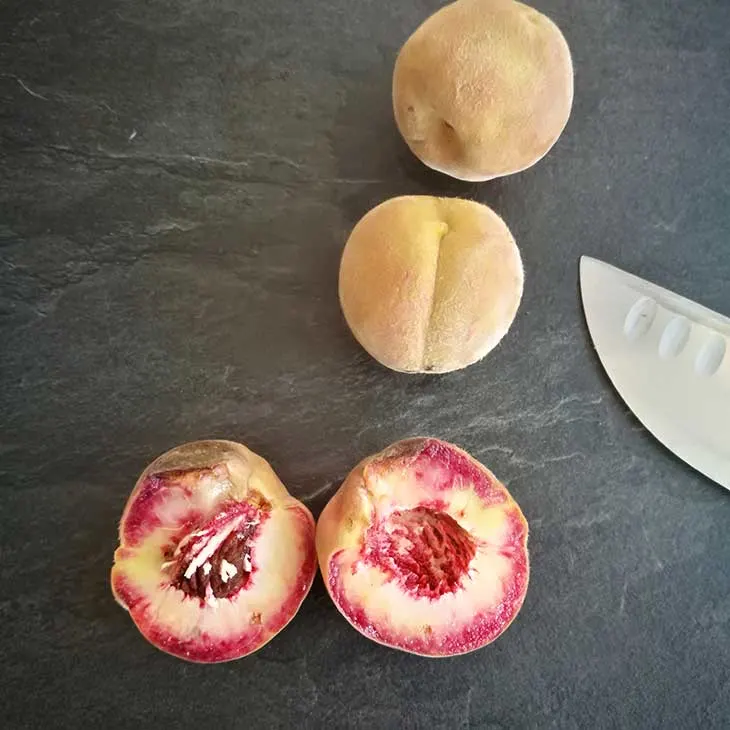 Other than this milk replacement, the rest of the ingredients are pretty regular – all-purpose flour, sunflower oil, brown sugar, baking powder, lemon zest, and some vanilla extract. I also added one teaspoon of pure rum for extra flavor. I love a little bit of alcohol in my desserts from time to time, I must admit! It just gives them a special… kick.
As I mentioned before, I made this dessert last summer and I truly believe that summer is the perfect season for this peach sponge cake.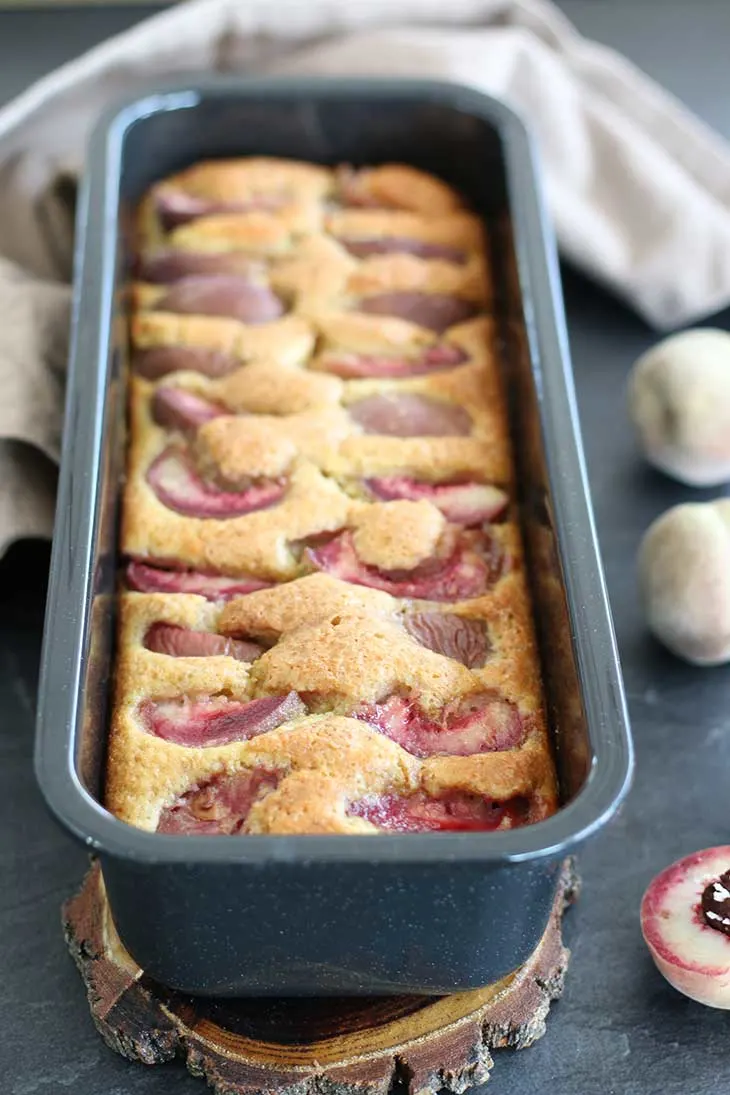 But you shouldn't let this stop you! You can prepare this recipe whenever you feel like it, but summer is when peaches are in season, which means you can get fresh, homegrown ones from the farmer's market and their flavor just can't compare with supermarket peaches. But that's just my two cents!
What I love most about a good sponge cake is that it's extremely easy to make! You just need to mix the ingredients, add the fruits and bake everything. Aaand it's done.
And did I mention that any sponge cake ever, vegan or not, is super versatile? You can make it with any ripe fruits you have on hand, really. Not just peaches!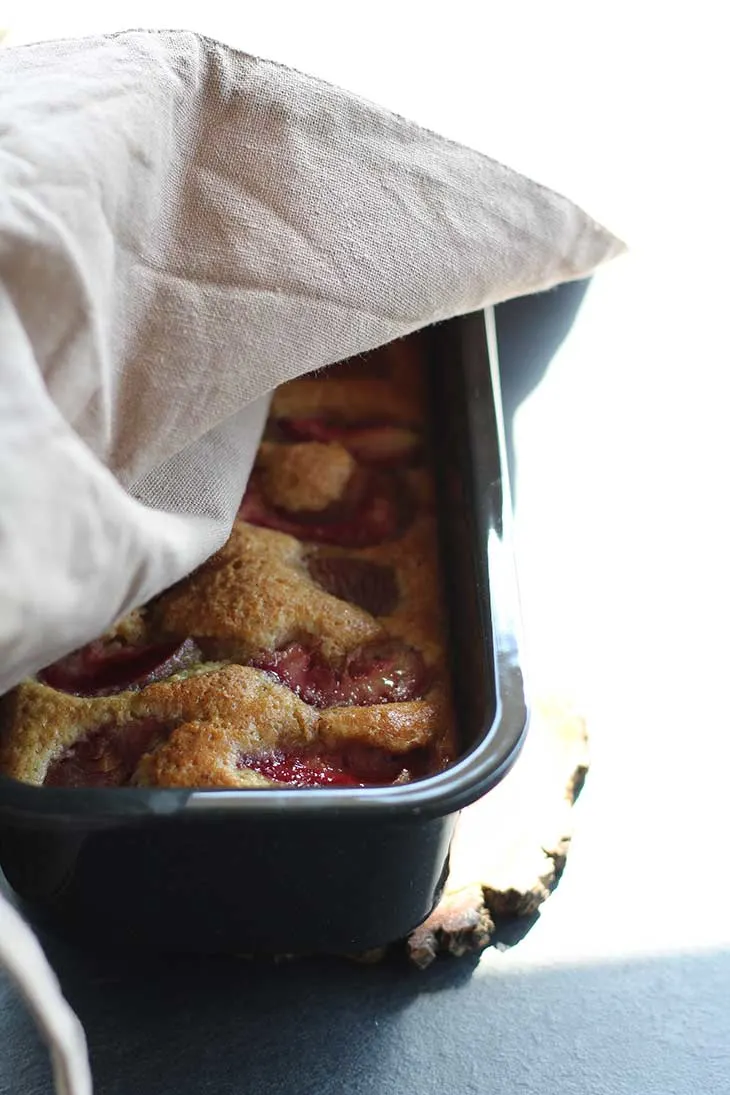 Some examples are blueberries, raspberries, apples, pears, strawberries. And the list can go on and on! You can also make a pretty mean vegan sponge cake with chocolate such as this gluten-free sponge cake with cocoa. One of my best ones!
Okay, let's talk about serving for a bit. Of course, this peach sponge cake is an awesome dessert to indulge in. But it can also be a good breakfast if you're brave enough! It goes perfectly with a big cup of your favorite coffee or with some tea. I love it with mint tea, for example. It can also be an excellent mid-day snack when you feel that sugar crush craving in. The possibilities are pretty much endless!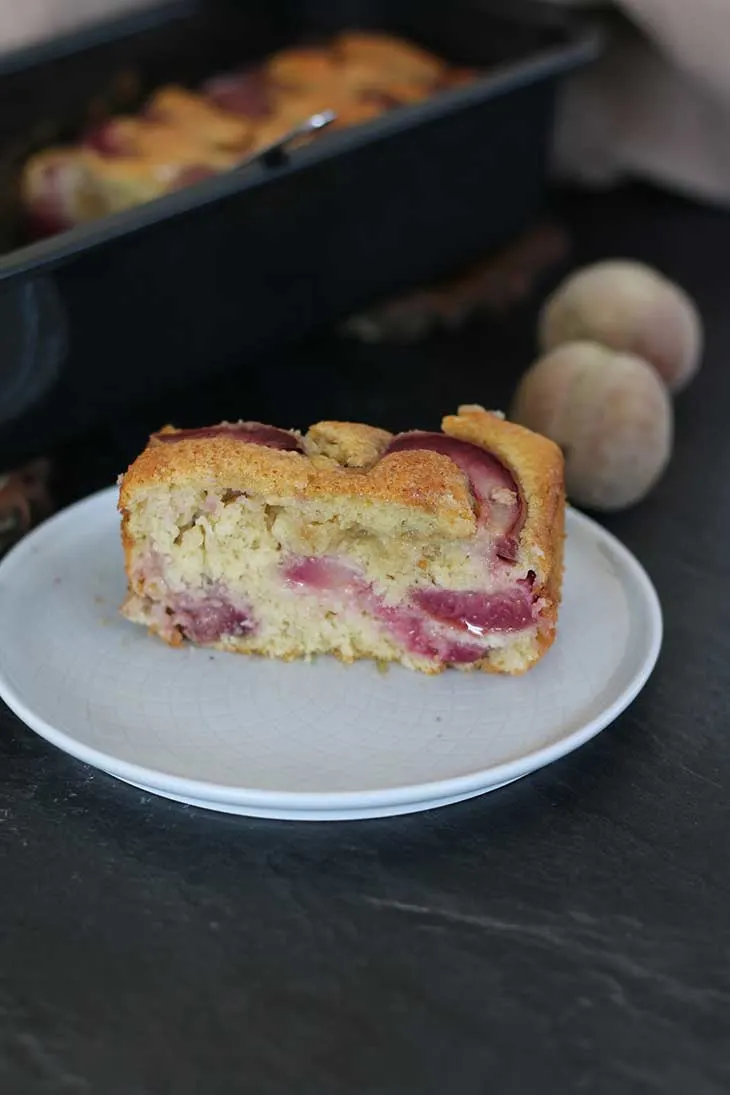 That being said, I hope I convinced you to try this peach sponge cake soon. If you do so, don't forget to let me know how you liked it. Happy cooking!
Yield: 1 cake, approx. 10 slices
Peach Sponge Cake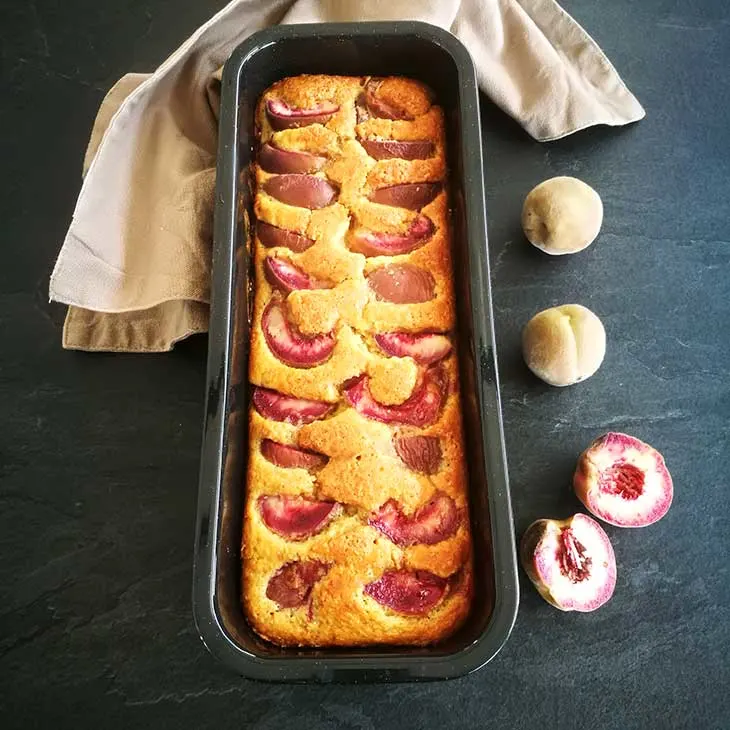 In case you're craving a sweet, refreshing dessert, I've got just the solution for you! Here's how to make the most flavor-rich peach sponge cake – vegan and yummy!
Ingredients
200g (1 ¾ cups) all-purpose flour
100ml (7 Tbsp) grape or sunflower oil
200ml (1 cup) soy milk, or any other non-dairy milk
200g (1 cup) light brown sugar
1 tsp baking powder
1 lemon (the zest from the whole lemon and the juice from half of it)
1 tsp pure vanilla extract
1 tsp pure rum
6 small peaches, like the ones in the photos - if you use larger peaches, adjust the quantities accordingly
Instructions
Preheat the oven to 350F (180C).
Sift the flour into a mixing bowl, then add the brown sugar, baking powder and mix.
Add all the other ingredients, except peaches and whisk together.
Remove the pits from the peaches. Cut 3 of them into small cubes and the other 3 in slices.
Add the cubed peaches to the batter and mix.
Grease a tin (I used a rectangular, ~30cm long, pound cake tin).
Pour the mixture in and top with the sliced peaches. Sprinkle some brown sugar on top.
Bake for 25 minutes. Test with a toothpick. Insert it in the middle of the peach sponge cake and if it comes out clean, it's ready. Otherwise, let it bake for a couple more minutes.
Let it cool before serving. I didn't wait, so that's why it may look a bit too fragile in the photos, but trust me, when it's cool, it's just perfect!
Nutrition Information
Yield
10
Amount Per Serving
Calories

125
Total Fat

3g
Saturated Fat

1g
Trans Fat

0g
Unsaturated Fat

2g
Cholesterol

4mg
Sodium

72mg
Carbohydrates

22g
Fiber

2g
Sugar

11g
Protein

4g
I strive to keep the information as accurate as possible but make no warranties regarding its accuracy. I encourage you to make your own calculations using your preferred nutrition calculator.