Discover the ultimate cowboy caviar recipe – an explosion of Tex-Mex flavors, which harmoniously combines beans, corn, avocado, tomatoes and onions, turning a simple salad into an unforgettable delight.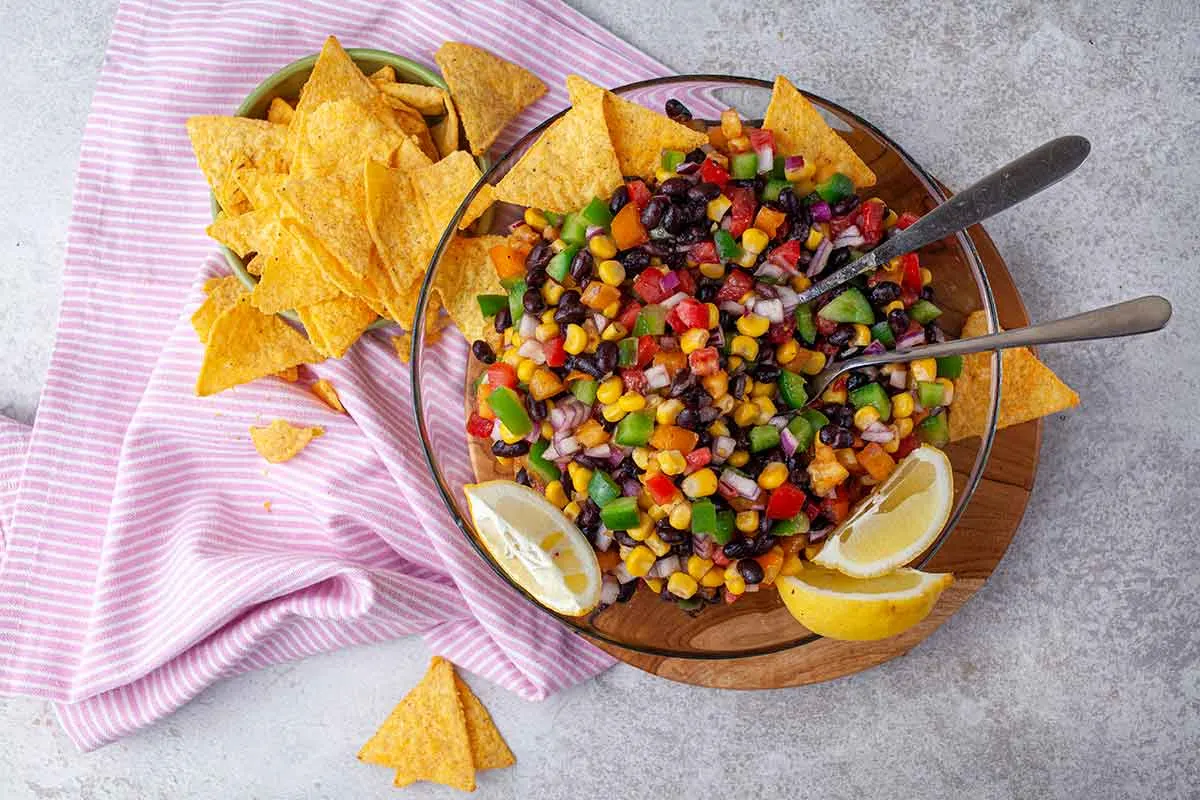 I discovered a great salad recipe called Cowboy Caviar, and I have to tell you a little about its origins.
It is said that this salad has Tex-Mex origins and appeared for the first time in the southwest of the United States, in the border area. It quickly gained popularity among cowboys and ranchers who traveled and worked in that region. Ingredients such as beans, corn, peppers and onions were easy to transport and store during long journeys, so cowboy caviar salad became a favorite food for these adventurous travelers.
Over time, the salad has spread throughout the country, gaining popularity especially in social events and parties, because it is easy to prepare, delicious and offers a unique combination of Tex-Mex flavors. It is fascinating how this simple but tasty recipe has become part of the culinary culture of America and has remained a kind of food loved by many generations.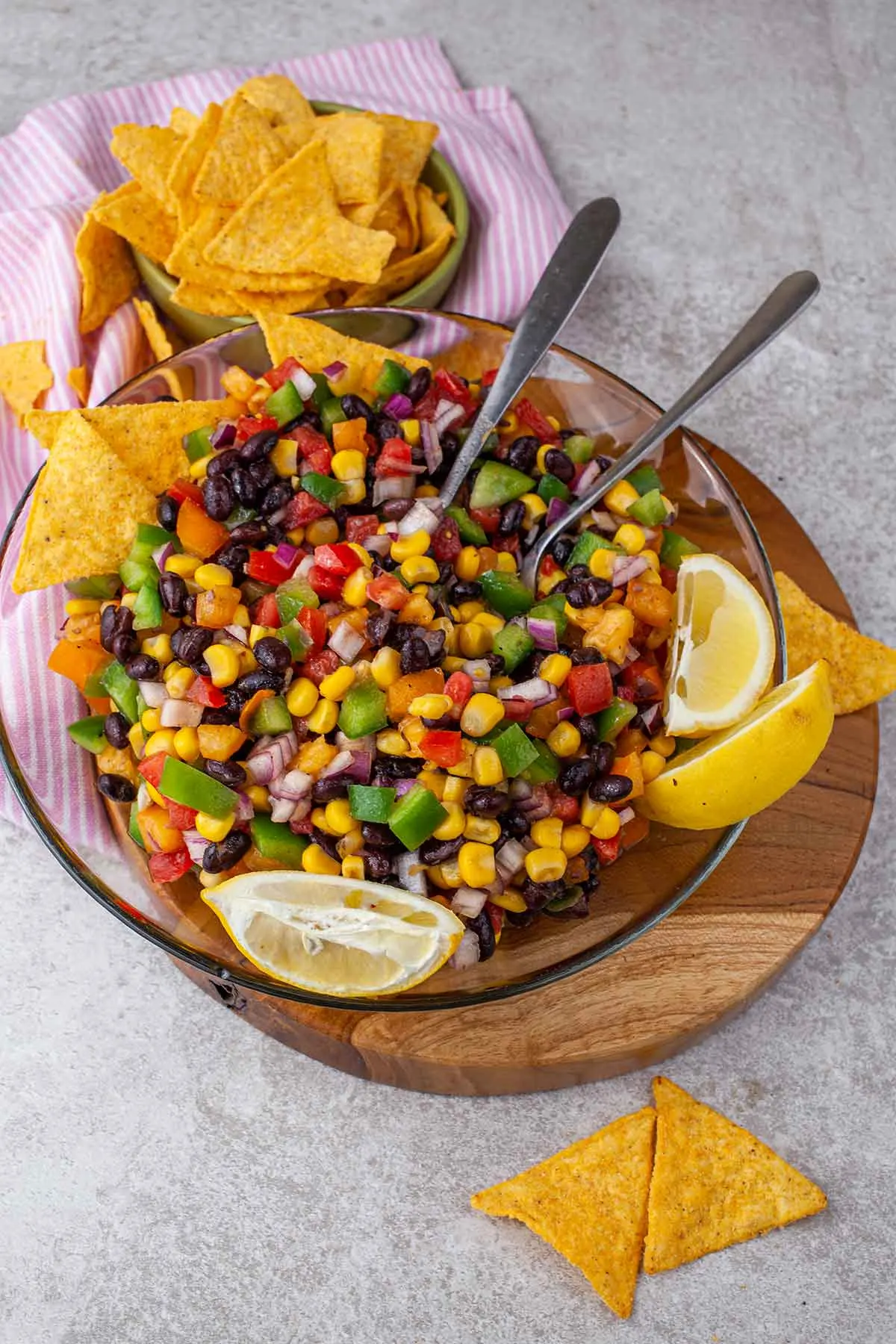 Why is it called cowboy caviar?
The Cowboy Caviar salad bears this name due to its similarity in appearance to fish roe (caviar). Although it does not contain fish roe, the combination of beans, vegetables and colorful sauces brings an association with the diverse and vibrant appearance of caviar.
This salad is also known under other regional names, such as Texas Caviar or Mexican Caviar due to its Tex-Mex origin and the ingredients used. The names vary depending on the geographical location and regional preferences, but the essence of the salad remains the same: a delicious and healthy combination of fresh ingredients full of flavors. Regardless of the name, Cowboy Caviar salad has become extremely popular in recent years due to its refreshing taste and its versatility in preparation.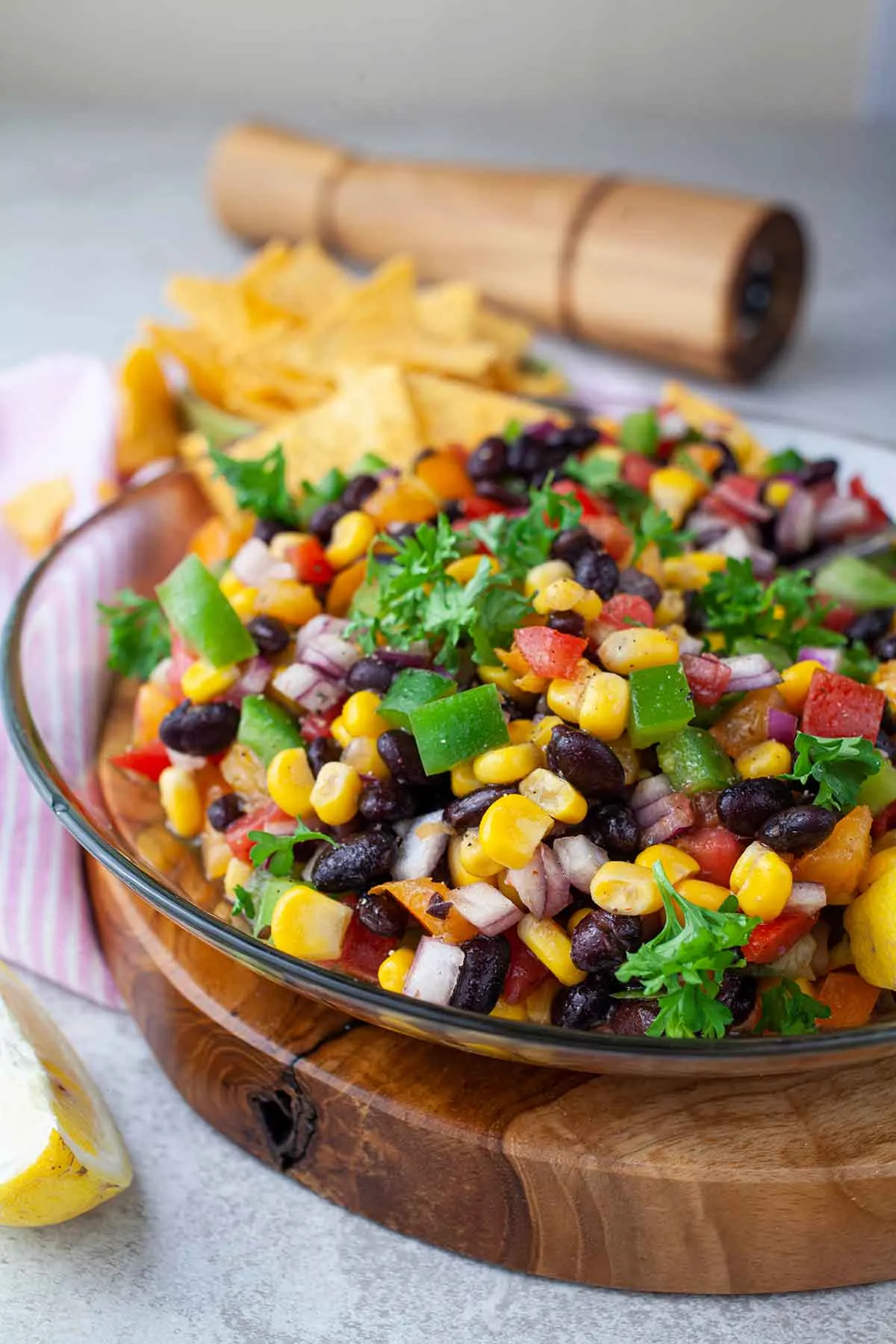 Ingredients
In case you are wondering what cowboy caviar salad is made of, here are the basic ingredients below
Beans: Black beans and red beans are usually used in Cowboy Caviar salad. They add texture and substance, being rich in protein and fiber.
Corn: Sweet corn adds a crunchy and sweet note to the salad.
Peppers: Colorful peppers, such as red, yellow and green peppers, give the salad an explosion of colors and a fresh taste.
Red onion: Red onion adds a bit of spiciness and delicious flavors.
Tomatoes: Fresh diced tomatoes bring a juicy flavor and a perfect balance of flavors.
Cilantro: Freshly chopped cilantro or cilantro adds a refreshing note and a distinctive taste.
Avocado: For extra creaminess and nutrients, avocado is often added to the salad.
Salad dressing: A simple dressing, prepared with olive oil, vinegar, lemon juice and spices, is used to bind all the ingredients together.
Corn chips: Sometimes, the salad is garnished with corn chips for extra crunch and flavor.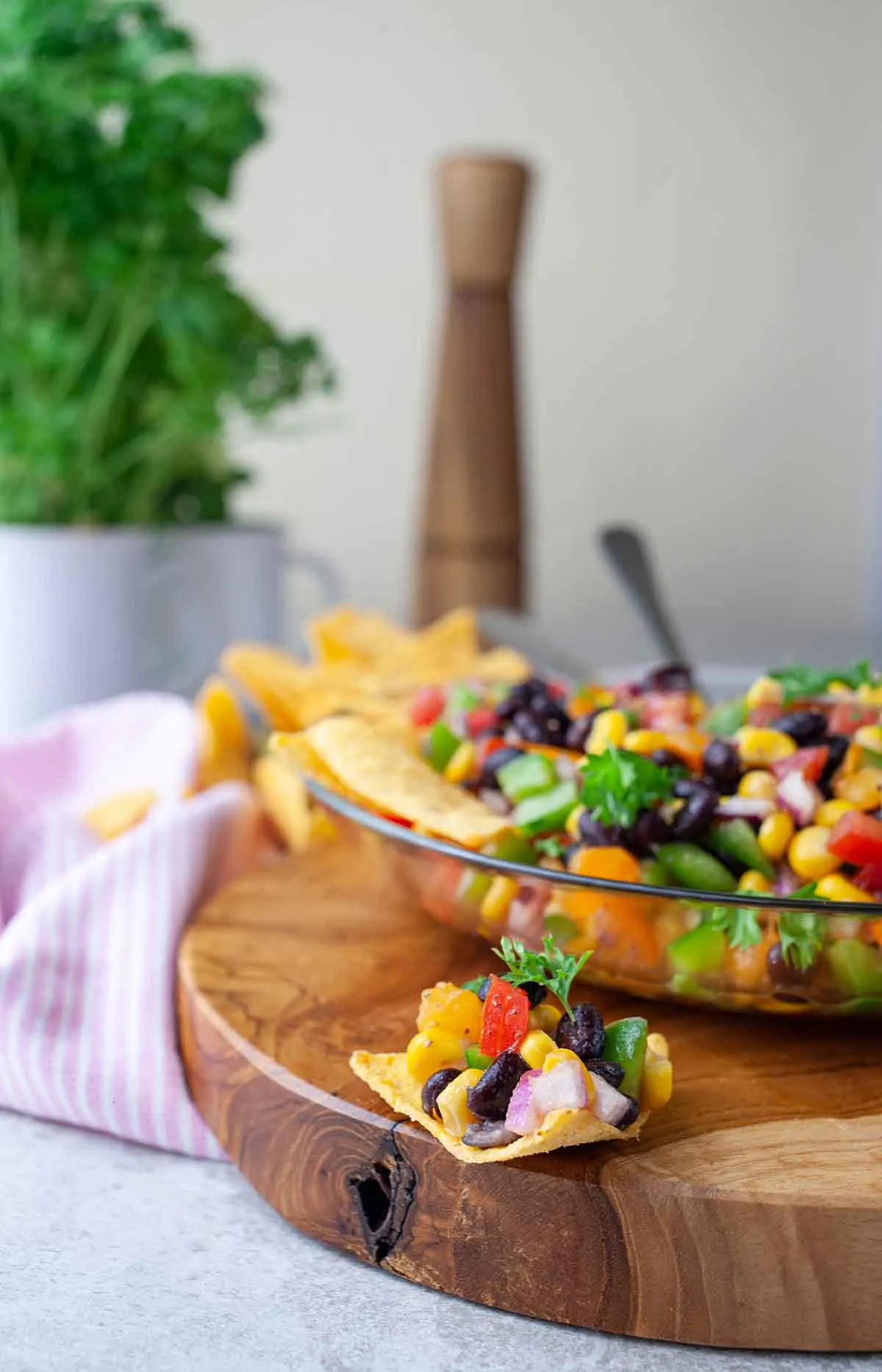 Cowboy caviar vs. Pico de gallo
Both the Cowboy Caviar salad and the Pico de Gallo are dishes originating from Tex-Mex cuisine and have in common the use of fresh ingredients and the bright colors that give them an attractive and appetizing presentation. However, there are also significant differences between the two preparations:
Similarities:
Fresh ingredients: Both Cowboy Caviar and Pico de Gallo are based on the use of fresh vegetables, such as tomatoes, onions, peppers and cilantro.
Intense flavors: Both salads are known for their strong and fresh flavors, offering an explosion of taste in every sip.
Light sauces: Both dishes use light sauces, such as lemon juice and olive or lime oil, to combine the ingredients and add a touch of freshness.
Differences:
Type of beans: A major difference between the two is the use of beans in Cowboy Caviar salad, while Pico de Gallo does not contain beans.
Texture and consistency: Cowboy Caviar has a more complex texture due to the addition of beans and corn, while Pico de Gallo has a smoother and lighter texture.
The presence of avocado: In some versions of Cowboy Caviar, pieces of avocado may be added, adding extra creaminess and sweetness, while Pico de Gallo does not usually contain avocado.
Method of serving: Pico de Gallo is often served as a condiment or garnish for tacos, nachos or other Tex-Mex dishes, while Cowboy Caviar is generally served as a stand-alone salad, but can also be used as a dip for chips or tortillas.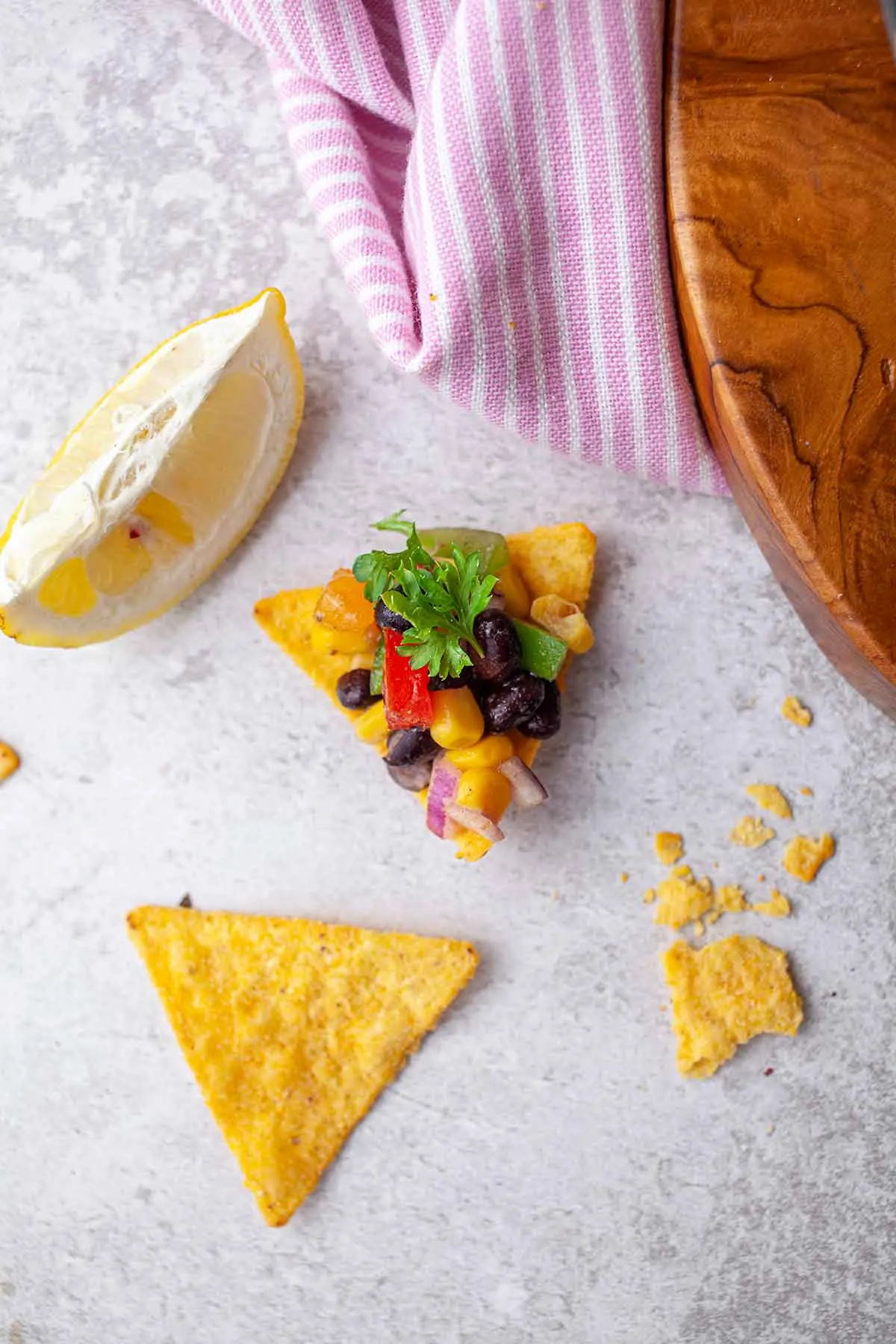 How to make the ultimate cowboy caviar recipe
I hope you like this recipe so easy to prepare. Here are some tips to make the best cowboy caviar recipe.
Choose fresh ingredients: Use fresh tomatoes, onions, peppers and cilantro to get the best flavors and a crunchy texture.
Make sure the beans and corn are well drained: If you use canned beans or corn, make sure you drain them well before adding them to the salad, to avoid them becoming too watery.
Match the flavors: Experiment with the flavors in the dressing, such as lime juice, olive oil and garlic, to get the perfect balance between sweet, salty and sour.
Let it rest: After mixing all the ingredients, let the salad sit in the refrigerator for at least an hour before serving. This time will allow the flavors to merge and offer a more intense taste.
Customize the recipe: Be creative and customize the recipe according to your preferences. You can add avocado, raw corn, pumpkin or other ingredients you like.
Choose quality chips or tortillas to serve alongside: Cowboy Caviar goes great with crisp chips or tortillas, so choose quality options to complete the taste experience.
Keep the salad in the refrigerator: If there is any salad left over, make sure you keep it in the refrigerator in an airtight container to keep it fresh for a few days.
Experiment with toppings: Before serving, you can add additional toppings such as feta cheese, diced avocado, sunflower seeds or nuts to add texture and interesting flavors.
By applying these tips, you will be able to prepare the ultimate Cowboy Caviar salad, full of Tex-Mex flavors and with an attractive presentation to enjoy a tasty culinary experience.
Yield: 4-6
Best Cowboy Caviar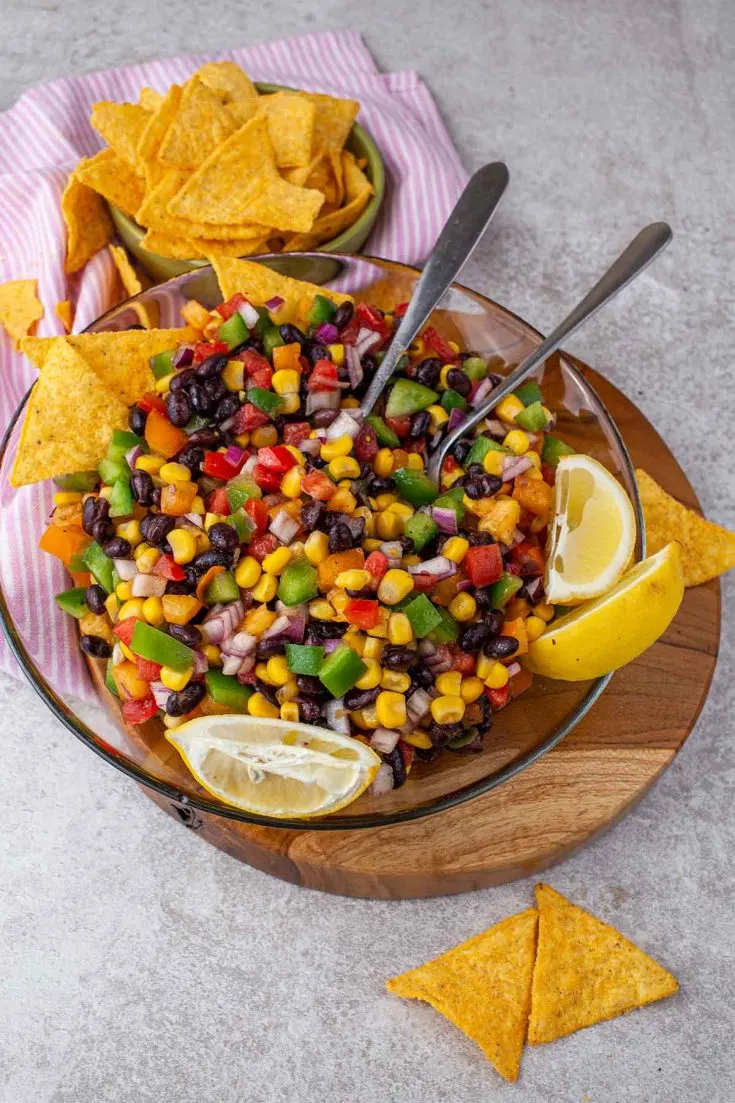 Discover the best cowboy caviar recipe - an explosion of Tex-Mex flavors, which harmoniously combines beans, corn, avocado, tomatoes and onions, turning a simple salad into an unforgettable delight.
Ingredients
For the salad:
1 green bell pepper, diced
1 medium red onion, finely chopped
1 jalapeño pepper, finely chopped
2 tomatoes, cut into cubes
1 ½ cups corn
1 ½ cup black beans
½ bunch parsley, chopped
For the dressing:
¼ cup olive oil
2 tablespoons of apple cider vinegar
1 tablespoon of lemon juice
1 tablespoon of maple syrup
1 crushed clove of garlic
½ teaspoon cayenne powder
½ teaspoon of sea salt
½ teaspoon black pepper
Instructions
Add the salad dressing ingredients into a large jar.
Close the jar with the lid and shake well to make the salad dressing.
Pour the dressing over the salad ingredients and mix well with a spoon.
Cover the bowl with a lid or foil and put it in the refrigerator for 10-40 minutes, to combine the flavors and be ready to serve.
Serve the salad as it is, with clams or with corn nachos.
Nutrition Information
Yield
6
Serving Size
1
Amount Per Serving
Calories

197
Total Fat

10g
Saturated Fat

1g
Trans Fat

0g
Unsaturated Fat

8g
Cholesterol

0mg
Sodium

180mg
Carbohydrates

24g
Fiber

5g
Sugar

5g
Protein

6g
I strive to keep the information as accurate as possible but make no warranties regarding its accuracy. I encourage you to make your own calculations using your preferred nutrition calculator.