Here's the perfect summer dessert: an easy sour cherry tart that's ready in no time! Perfect to share with friends or keep to yourself. Give it a try!
This easy sour cherry tart is part of my series of everyday recipes – unplanned, spontaneous, real food that I prepare for me and my husband (and sometimes our friends too, when they come to visit). No professional lighting or set-up for the pictures, just an honest snippet of our lives!
I don't really prepare desserts that often because I'm not a huge fan of sweets. I have said this countless times before but I've also made plenty of exceptions when I prepared vegan desserts for the blog or for special occasions or anniversaries. But I don't have a sweet tooth on a daily basis, which is why you won't find any cakes or muffins in my fridge on a regular basis.
But when I do prepare a dessert without a special occasion, it's usually because I have some fruit lying around that is about to get spoiled, which means I have to put something together quickly.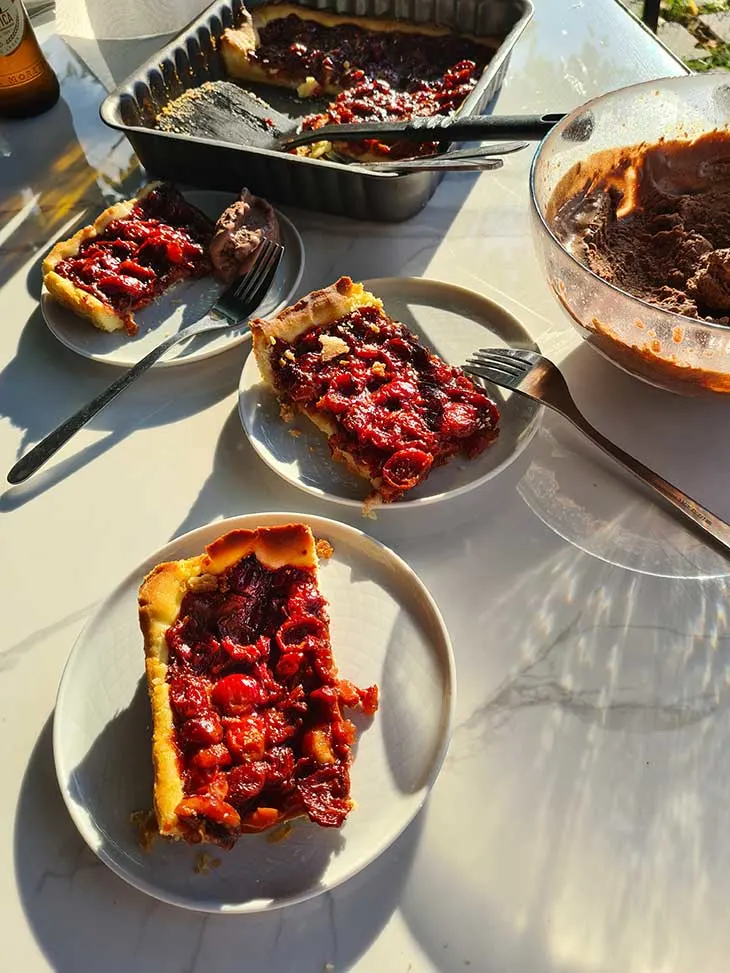 I really HATE wasting food and throwing produce away and now that I have my own garden, it's even harder for me to accept this. It's like a little piece of my heart breaks knowing how much time and effort I put into growing everything from scratch! It's just impossible for me to accept that I'm throwing my results in the garbage bin.
This was the case with these sour cherries as well. Although we have a very bushy and thick sour cherry tree in our garden, we only got a few kilograms of sour cherries this year because of the weather. Half of them we served fresh, as they were quite sweet and yummy, and I decided to use the rest in a dessert.
This is how this easy sour cherry tart was born. We served it together with our family, in our garden, at sunset. The tart was super delicious and the entire setting was very relaxing and fairytale-like. Eating outside, surrounded by nature is one of the best things to do, especially during summer. If you're lucky enough to have access to a garden or any green space, make sure you take advantage of that! 🙂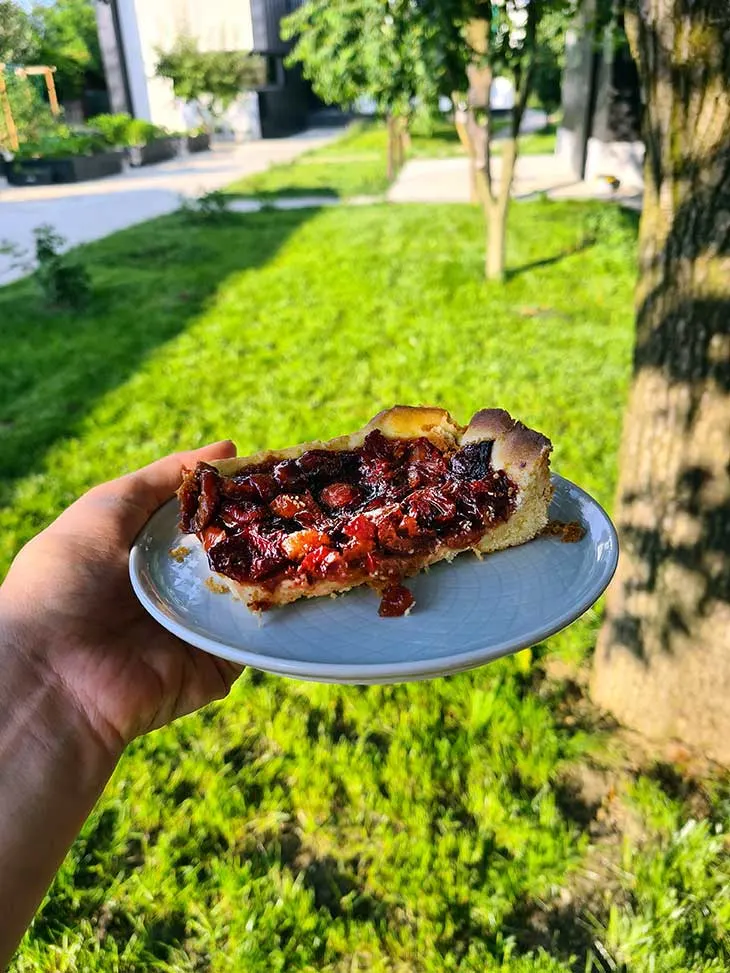 We served this sour cherry tart with homemade chocolate ice cream, which is also sugar-free. I prepared it in no time using the chocolate mousse from Sukrin and some vegan milk. It was just amazing! And it reminded me of the chocolate ice cream I used to eat when I was little. I just can't believe how easy it is to make your own ice cream at home, you simply have to try it!
In case you don't like the sour cherry and chocolate combo (why wouldn't you, though?!), you can also serve this amazing summer dessert with vanilla ice cream or any other flavor you like.
One of the best things about this sour cherry tart is the very first word from the title: the fact that it's EASY to make. And I really mean it! You just need a couple of ingredients and a little bit of patience because you need to leave the dough in the fridge for one hour before baking the tart.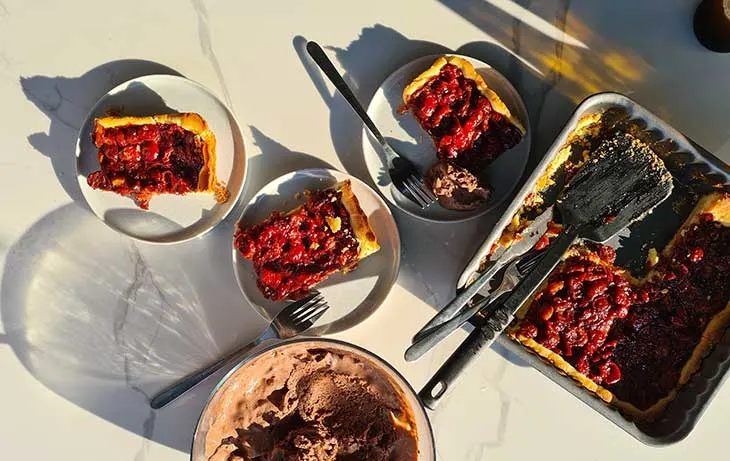 Yes, this sour cherry tart recipe is made with 100% homemade pastry, but don't worry! My recipe is extremely simple and quick – you must already know how much I hate long, complicated recipes, especially when it comes to desserts.
NOTE: Please keep in mind that this recipe uses butter for the batter, which means it's not vegan. But you can replace it with vegan butter and you're good to go! 🙂
This sour cherry tart is the perfect summer dessert and it can even work wonderfully as a sweet breakfast as well, next to a big cup of coffee. In case you don't have sour cherries on hand, you can, of course, prepare it with cherries too – it will be just as good!
Or you can use any other fruit you have on hand. For example, in case you have some strawberries that are soon to spoil, make the best out of the situation and use those instead of going to the supermarket or farmer's market to buy sour cherries specifically for this recipe! This tart is all about avoiding food waste, which is a habit that I hope you will develop as well.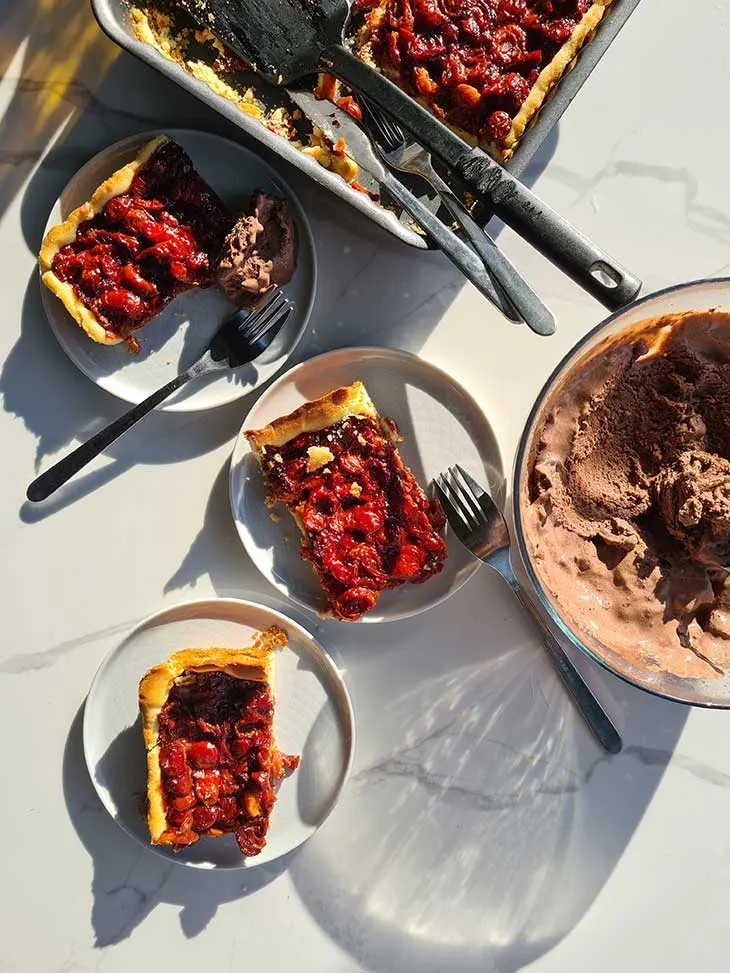 Enough talking! I know you're already eager to make this easy sour cherry tart soon, especially after looking at the pictures. If you decide to give it a go, don't forget to let me know how it went, I'm so curious to read your comments and opinions!
Until then, happy cooking!
Yield: 6 servings
Easy Sour Cherry Tart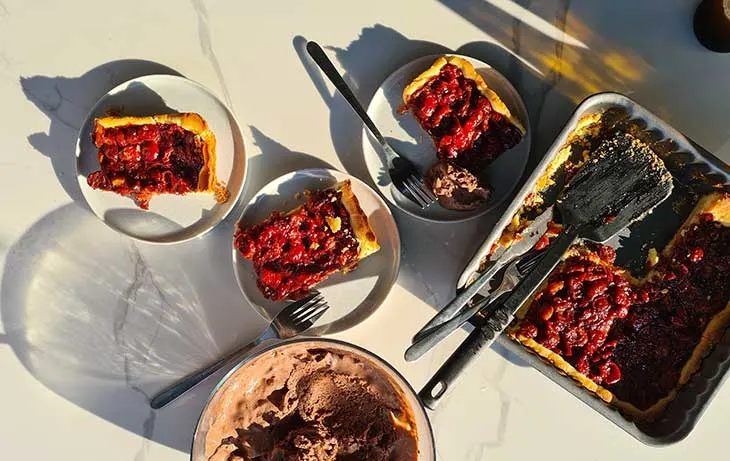 Here's the perfect summer dessert: an easy sour cherry tart that's ready in no time! Perfect to share with friends or keep to yourself. Give it a try!
Total Time
1 hour
50 minutes
Ingredients
For the dough:
250g (1 ½ cups) white flour
120g (½ cup) butter, 82% fat
1 egg
2 Tbsp cold water
For the filling:
500g (2 cups) sour cherries, pitted
6 Tbsp coconut sugar
1 Tbsp rum
4 Tbsp corn starch
Instructions
Cut the butter into small cubes and put it in a kitchen robot together with the flour.
Mix on "Pulse" until a dough is formed.
Add the egg (both yolk and white) and mix.
You may need to add a bit of cold water as well, so gradually add one Tbsp until you reach the desired consistency for the tart dough.
Get the dough out of the robot and form a ball. Wrap it in plastic foil and put it in the fridge for 1 hour.
After 1 hour, take out the dough ball and roll it out in a tart pan (I used a 20 cm one). I couldn't find my rolling pin so I greased my pan with a little bit of oil, wet my hands, and pressed the dough directly onto the pan with the help of a glass bottom. The lesson here is: there's always a solution in case you don't have the right utensils, space or if you're lazy like me! 🙂
Place the tart pan in the fridge.
Add the sour cherries to a pan and set the heat to high/maximum. Cover with a lid. The sour cherries will start to leave their juice in the pan.
Add the coconut sugar and rum and set the heat to medium. After 5 minutes, add the corn starch and mix.
Cook for 5 more minutes without a lid.
Add the sour cherries mix over the tart dough and add the pan to the oven.
Bake at 180C for around 20 minutes or until the dough turns golden.
Nutrition Information
Yield
6
Amount Per Serving
Calories

420
Total Fat

18g
Saturated Fat

11g
Trans Fat

1g
Unsaturated Fat

6g
Cholesterol

74mg
Sodium

145mg
Carbohydrates

59g
Fiber

3g
Sugar

19g
Protein

6g
I strive to keep the information as accurate as possible but make no warranties regarding its accuracy. I encourage you to make your own calculations using your preferred nutrition calculator.