Store-bought vegan butter may be good, but have you ever tried making your own at home? It's SO easy and delicious! Here's how to make vegan butter at home!
I can not contain my excitement for this recipe. Being vegan is not about limiting our options, it is about understanding the complex relationship between the mind and the body. If it's true that we are what we eat, then we can try to make our bodyes a nice place to be for a while.
Today we are making vegan butter. It is extremely easy and quick to make. It is very versatile as it can be on toast, sandwiches, crumpets, baked potatoes… you name it. While some of its ingredients are long-lasting (refined coconut oil as a base) some aren't (non-dairy milk) so this homemade-product can be kept in the fridge for a maximum of a couple of weeks.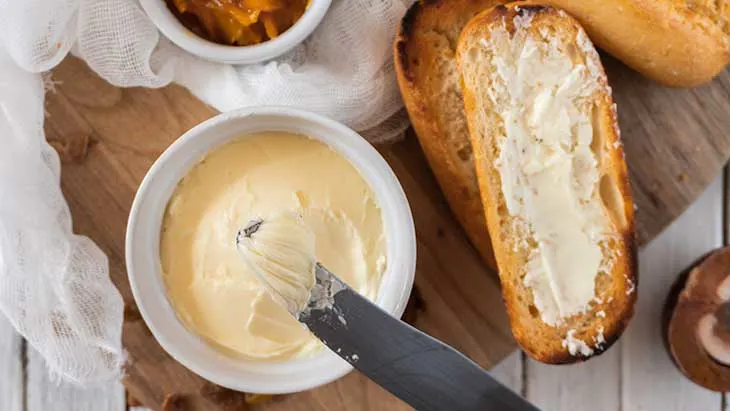 As I mentioned, the base of this recipe is refined coconut oil. Now, of course, you can use extra virgin coconut oil instead, but the flavor will be sweet and coconutty instead of buttery. Now, it's up to you and your preference, but if you crave and miss your butter on toast, trust me with refined coconut oil.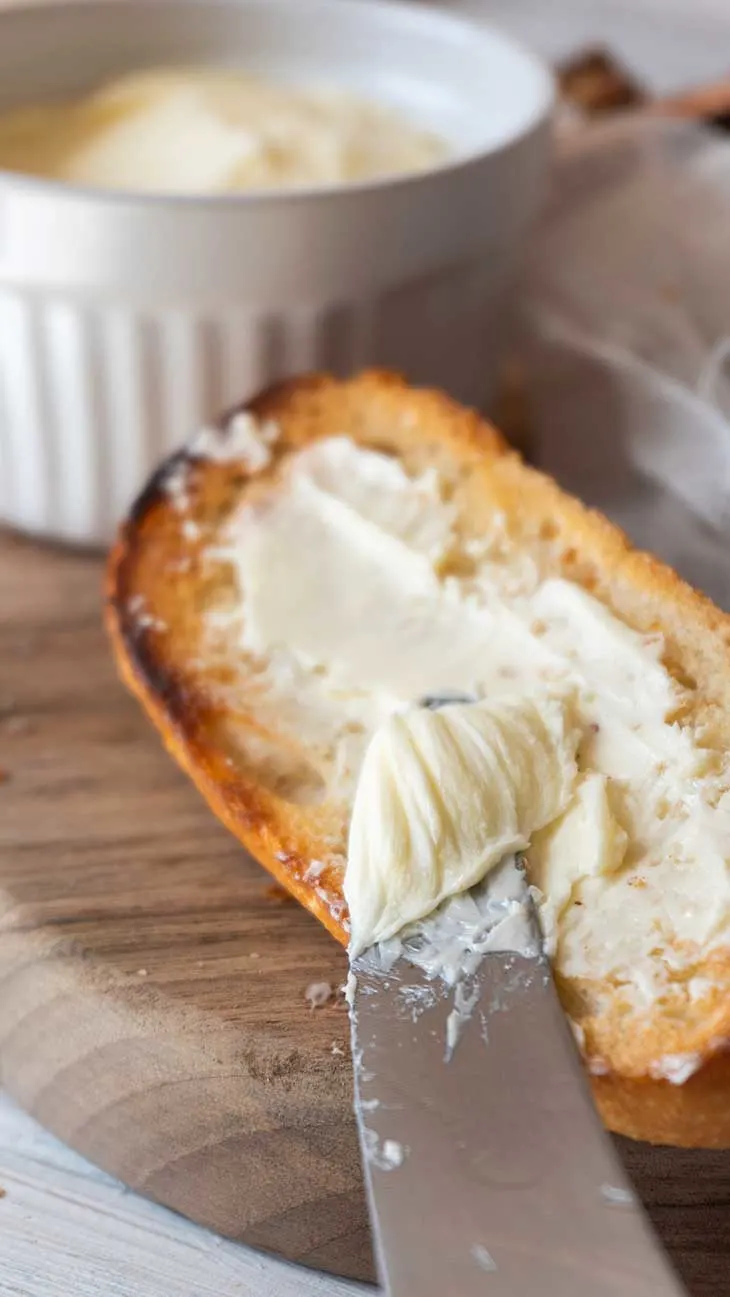 The health benefits of coconut oil include hair care, skin care, stress relief, maintaining cholesterol levels, high blood pressure, diabetes, weight loss, increased immunity, proper digestion and metabolism, relief from kidney problems, heart diseases, HIV and cancer, dental care, and bone strength. All the benefits of the oil are due to the presence of lauric acid and capric acid, and its properties such as antimicrobial, antioxidant, antifungal, antibacterial and soothing properties.
Now I know that some of you are skeptical about unrefined coconut oil, but keep in mind that unrefined doesn't automatically equal better. The key is to choose a quality brand that refines the oil properly. Quality sources make sure their coconut oil is clean, pure and uncontaminated. They don't use harsh solvents to refine their oil. They simply use an expeller press to remove coconut solids from your oil.
Now that we agreed to this one, let's discuss the nutritional yeast aspect. Not only it adds buttery flavor, but it's a really good source of vitamins, minerals, and protein.
Nutritional yeast is a complete protein, meaning that among the 18 amino acids it contains, nine are essential ones that your body cannot produce. It also provides the compounds beta-1,3 glucan, trehalose, mannan, and glutathione, which are associated with enhanced immunity, reduced cholesterol levels, and cancer prevention. It contains iron, selenium, and zinc and what is amazing about it is that one serving of nutritional yeast provides about four grams of fiber.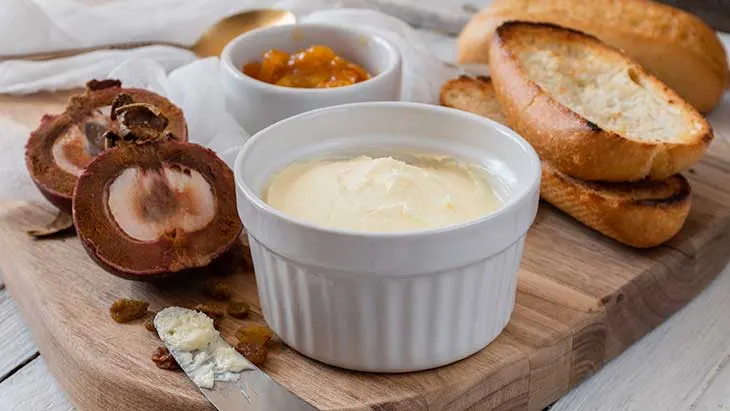 Nutritional yeast is a source of B vitamins, including thiamine, folate, B-6 and niacin, vitamins that help you extract the energy from food and produce red blood cells. Many types of nutritional yeast are also fortified with vitamin B-12, which is usually found exclusively in animal products. You only need it in a small amount so if you want to omit it, no problem! 🙂
Now before we get to work, keep in mind that dairy butter is 75% fat and 25% water, while vegetable oils are 100% fat, so replace the amount with 75% coconut oil and 25% water (e.g. for 1 cup of dairy butter, use 3/4 cup coconut oil and 1/4 cup water).
You'll only need your blender for this recipe and a bit of patience and I'll be explaining the step-by-step procedure down below. Spoiler alert: it's way easier than you thought! 🙂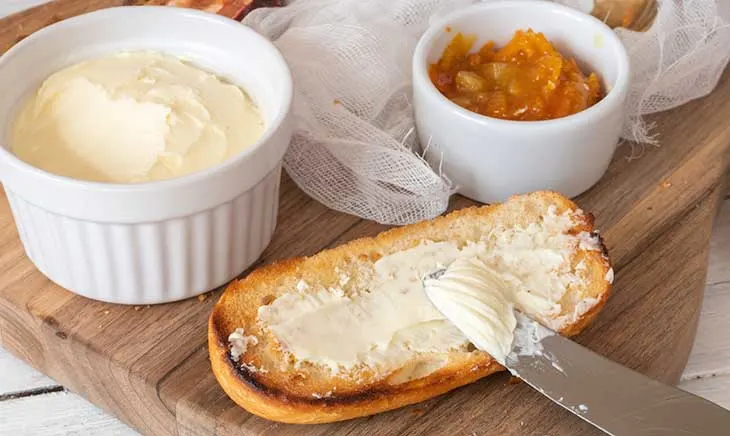 Let me know in the comments below what you think about this recipe. And, I am very curious: which type of oil would you use next to the ones I recommended?
---
Personalized meal plans and workout videos | Get your customized meal plan today! [x_button shape="square" size="mini" float="none" target="blank" href="https://shop.gourmandelle.com/?utm_source=mainsite&utm_medium=site&utm_campaign=inpost" info="none" info_place="top" info_trigger="hover"]I WANT A MEAL PLAN![/x_button]
---
Yield: 4
How to make vegan butter at home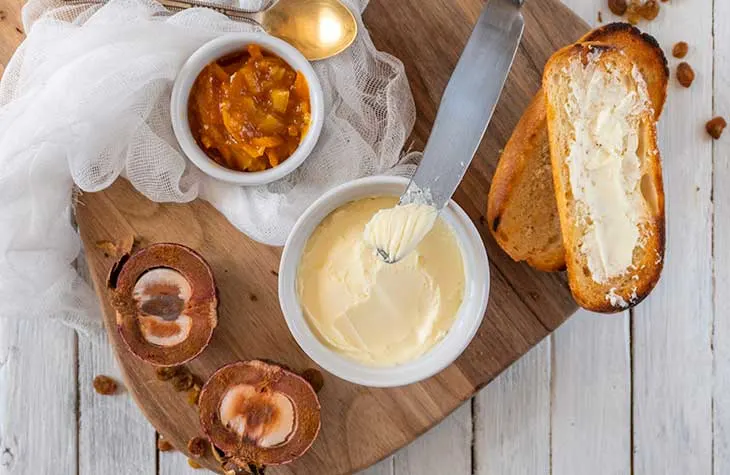 Store-bought vegan butter may be good, but have you ever tried making your own at home? It's SO easy and delicious! Here's how to make vegan butter at home!
Ingredients
250ml (1 cup) refined coconut oil, melted
2 Tbsps rapeseed oil
80ml (⅓ cup) soy milk, unsweetened
2 tsp nutritional yeast
1 tsp apple cider vinegar
a pinch of turmeric
Salt
Instructions
Add the apple cider vinegar to the milk and set aside to curdle.
Transfer the coconut oil, rapeseed oil, nutritional yeast and a pinch of turmeric to a blender.
Add the milk.
Season well with salt.
Blend until combined and smooth.
Refrigerate until it solidifies.
Nutrition Information
Yield
4
Amount Per Serving
Calories

517
Total Fat

56g
Carbohydrates

1.6g
Protein

1.6g
I strive to keep the information as accurate as possible but make no warranties regarding its accuracy. I encourage you to make your own calculations using your preferred nutrition calculator.