If you're looking for the ultimate comfort food, you found it! Here's how to make baked mashed potato muffins – quick and super delicious!
We all love food and most of us love cooking. We like having fresh meals, hot out of the oven and bursting with flavor. But what happens the day after? Let's be honest – unless you're having a party, it's almost impossible to finish up everything on the exact day you prepared it.
The refrigerator does the trick in terms of keeping the food from spoiling… but we all know how that affects the taste. We all know it. Reheated food is simply not the same. The taste is not right anymore, the texture is not right anymore. And we all know how that ends – you either eat your meal without any joy or satisfaction or… you feed it to your dog. Or worse yet – you throw it away. 🙁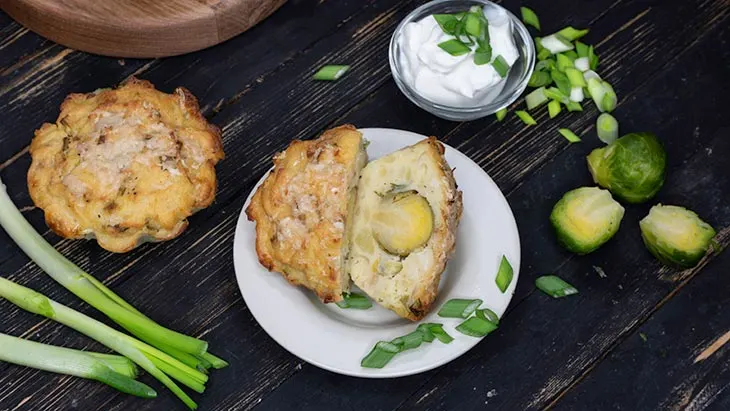 So let's face it: leftovers are kind of a problem. Well, what if I told you that those are not your only two options? There's more to life than waste and disappointment! You can always change your leftovers into a new meal, full of flavor and with a fresh new appearance.
Decades ago, the concept of wasting food was almost a sacrilege. Every piece of nourishment was precious, so there was no such thing as throwing away food! But today, with this influx of options available, we forgot how to cherish every bite that we have. And I am an advocate for changing that!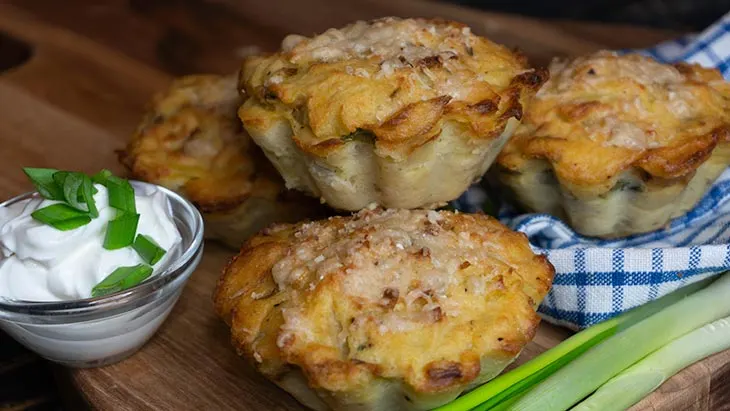 That is why today we are going to start with one of the most "popular" leftovers: the mashed potato! They are creamy, flavorful, delightful and… not that good the next day.
All that creamy texture tends to go away after one night in the fridge and the taste, while still good and quite tasty, is just not the same anymore. But this shouldn't be the end of it! There are so many ways you can use mashed potato leftovers, and my favorite by far is making baked mashed potato muffins!
They will maintain the creamy texture on the inside, while the outside will become nice and crispy. And the best part? No frying involved so everything will still be healthy and good for you.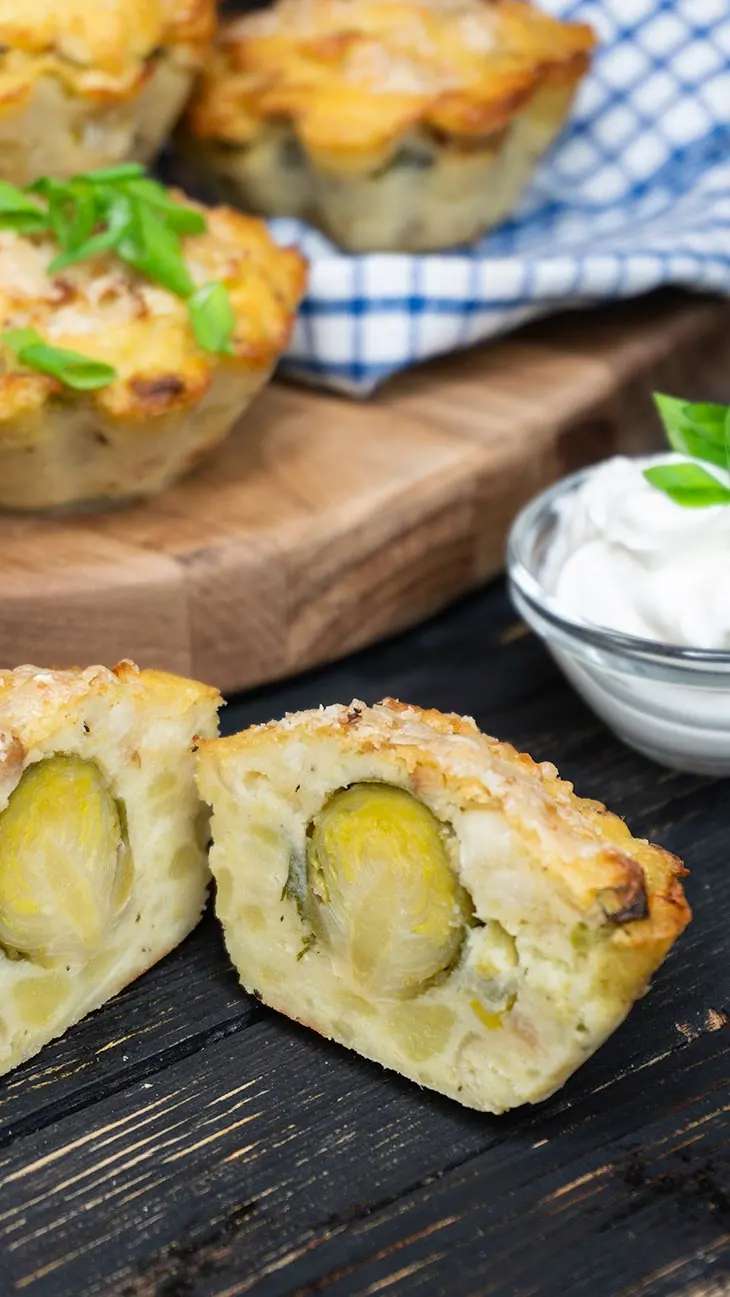 There are many varieties of this dish out there, so it's mostly a matter of taste. You like keeping things simple: maybe just add some vegan cheese, crumbs for coating and that's it! Or maybe you want to turn the potato muffins into something more nourishing that can be served as lunch or dinner.
Then go ahead and add some extra toppings like shredded carrots and peas. Just think what goes well with potatoes. Or what you personally like to add as a side to a hearty bowl of mashed potatoes. Whatever that is, I am sure you will be able to successfully incorporate it into the baked mashed potato muffins!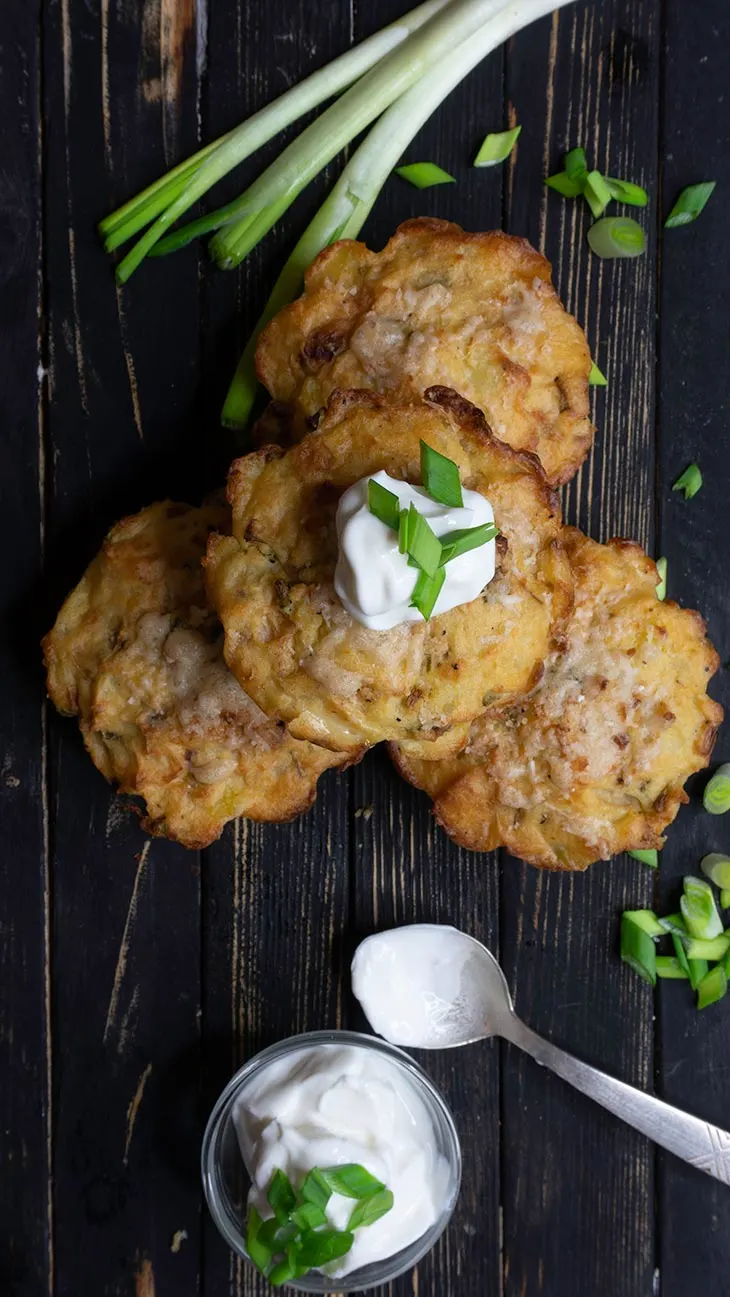 And if you aren't feeling particularly creative today, just follow this recipe! I've put together what I think is the best form of baked mashed potato muffins. And trust me, you will love it too! It's that kind of taste that gives you no option than to fall in love with it. 🙂
Of course, you are not restricted by the leftovers in order to prepare this recipe! If you're in the mood for some baked mashed potato muffins, you can always do it from scratch!
Either way, the preparation of this dish will take you less than an hour from start to finish! So you don't really need to worry about anything. All the ingredients are easy to find, the steps are easy to follow and everything will be ready in no time! There's no reason not to prepare this today! I promise the result will 100% fit the expectation. 😉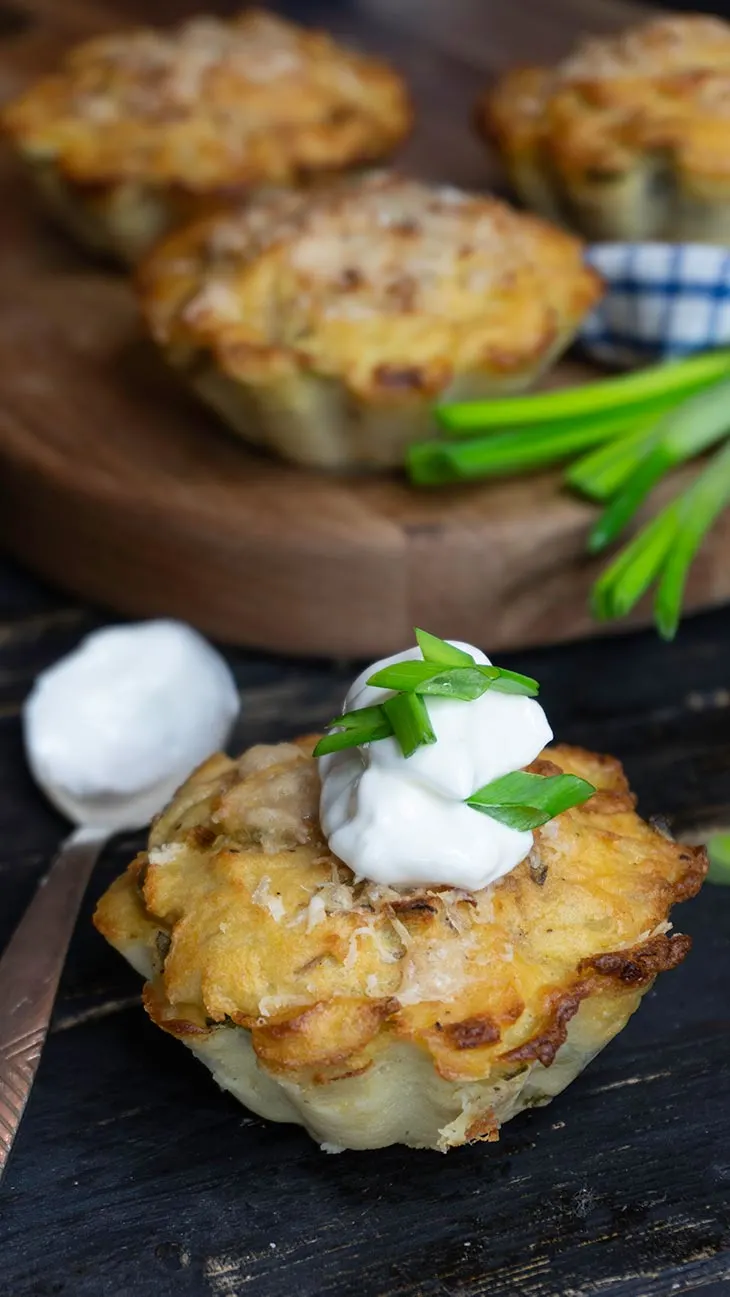 I think I've done enough talking and praising. And this recipe doesn't need much intro – the taste definitely speaks for itself! So gather the ingredients and follow the detailed instructions below. And don't forget to comment and tell me how it all went. I always look forward to hearing your opinions!
---
It's time to stop worrying about what you're going to eat! Whether you simply want to get in shape, eat less processed foods or you're struggling with food allergies and intolerances, I created the personalized meal planner app to help you. [x_button shape="square" size="mini" float="none" target="blank" href="https://gourmandelle.com/custom-meal-plans/" info="none" info_place="top" info_trigger="hover"]GET YOUR MEAL PLAN![/x_button]
---
Yield: 16
Baked Mashed Potato Muffins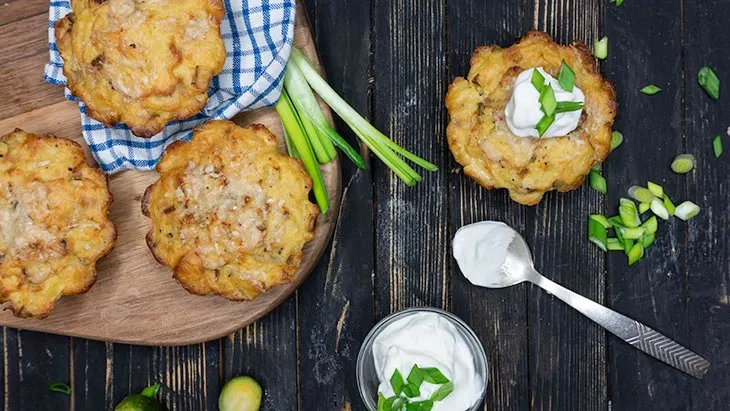 If you're looking for the ultimate comfort food, you found it! Here's how to make baked mashed potato muffins - quick and super delicious!
Ingredients
3 large potatoes
1 medium onion, chopped
50g (½ cup) green onion, chopped
2 garlic cloves, diced
120ml (½ cup) soy milk
1 Tbsp vegan butter
1 Tbsp vegan sour cream
2 Tbsp flour
110g (½ cup) vegan cheese, shredded
16 Brussel sprouts, one for each cake
2 Tbsp olive oil
Instructions
Peel and chop the potatoes. Boil in water until fully cooked through.
Drain and mash.
Add the soy milk and vegan butter. Season with salt and pepper.
Heat up the olive oil in a pan over medium heat.
Add the chopped onion and garlic, and cook until translucent.
Transfer the mixture to the mashed potatoes. Add the yogurt, flour, green onion, and vegan cheese. Mix to combine.
Brush the liners with oil. Fill half of them with the mashed potato mixture.
Put 1 Brussel sprout in the middle, then top up with more mash.
Bake at 180 degrees Celsius for 20-25 minutes.
minutes before they're done, add a bit more shredded cheese on top.
Nutrition Information
Yield
16
Amount Per Serving
Calories

58
Total Fat

2.8g
Carbohydrates

6.9g
Protein

1.3g