Are you an eggplant fan? Were you always wondering how to properly roast eggplants in the oven to achieve perfect results each time? Here's my ultimate recipe for perfect oven roasted eggplants!
Today is about healthy and tasty side dishes. Or a light dinner – if you prefer it so. Today we are going to prepare a super tasty recipe for perfect oven roasted eggplants. Needless to say, it's completely vegan, so no worries about that! 🙂
I often feel that eggplants are kind of underused in the kitchen. What I mean by this is that they don't get the attention they deserve. Eggplants are actually a super tasty and convenient veggie, that can be used in quite a variety of recipes. You can make a delicious spread out of eggplants, you can put them in a stew, you can bake them or – my choice for today – you can roast them!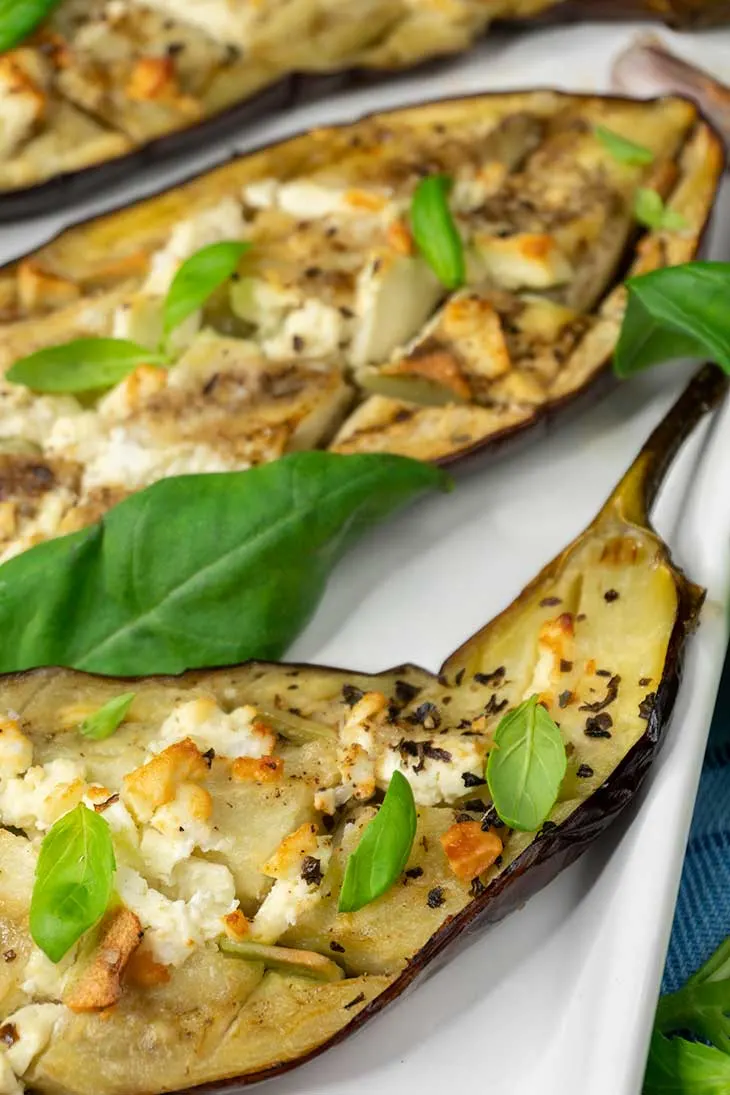 There are several key steps that you need to take in order to get the most perfect oven roasted eggplants. And it all starts with choosing your eggplant. We're not fussy here, any type of eggplant will do. But just make sure that it's in perfect condition. When you pick it up, it should feel heavy for its size. Also, you should try to gently squeeze it. The eggplant should feel quite firm to the touch, without any soft spots.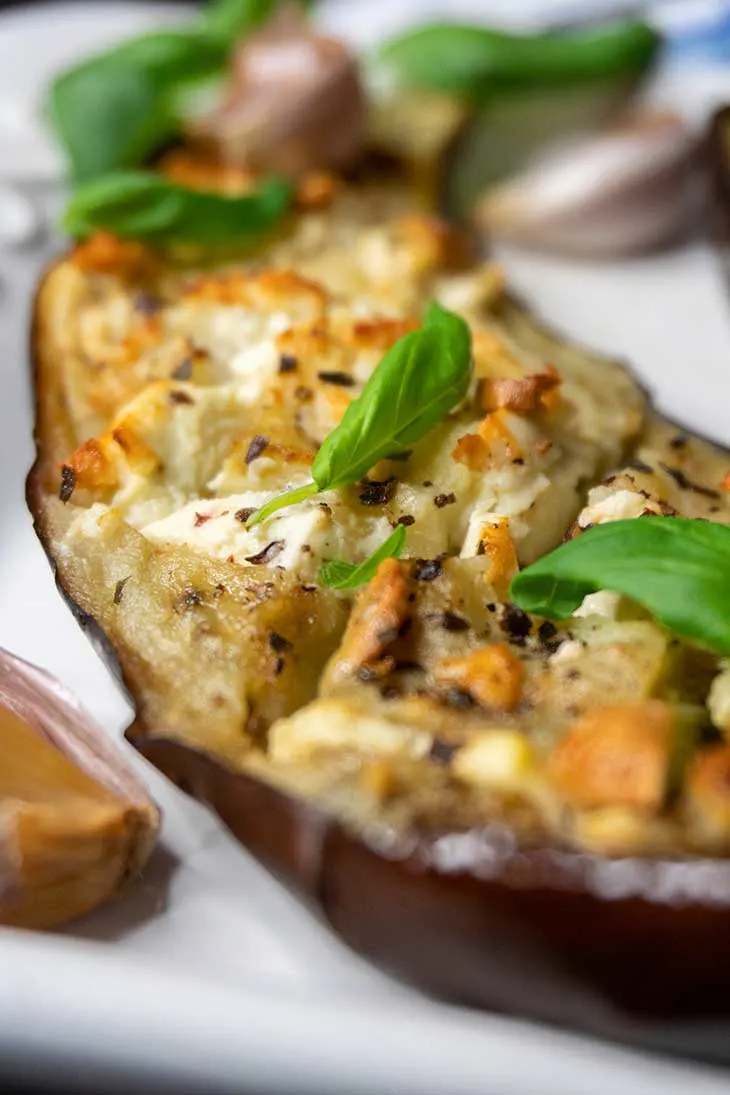 Okay, now that you've got your perfect batch of eggplants, what's next? Time to start prepping, of course! For this recipe, you can either cut the eggplant in cubes or slices. It's up to you – they will end up perfectly oven roasted either way. So if you want to make this as a side dish for something else, small dices would be a better choice. On the other hand, if you want to eat them as chips on their own, I'd say that slices are the way to go.
The thing to know about eggplants it's they're basically a sponge. Not only they are 90 percent water, but they will also absorb everything. And that's not especially useful when we are to get crispy roasted eggplant pieces since they will quickly absorb the oil. One way to avoid this is by salting the eggplant before adding any oil.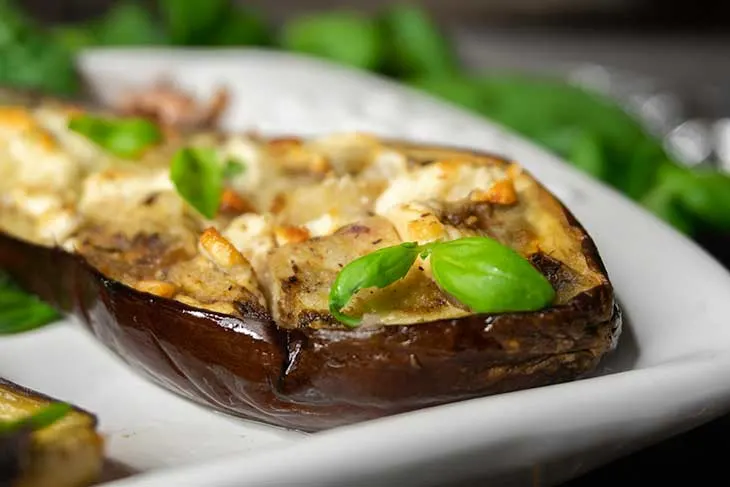 How to do this? Place the eggplant in a colander above your sink and sprinkle it with salt. Toss, then let it rest for 30 minutes. Meanwhile, you can prep the rest of the ingredients. Cutting the garlic for example, as we'll be using lots of that! Yum! When the time's up, rinse and dry the eggplant. Now you're ready to season it and be assured that the result will be nice and crispy.
Another thing to keep in mind? When you arrange the eggplant into the baking tray, remember the golden rule: one layer only! Remember I told you eggplants are 90 percent water? That means they tend to get mushy in the oven. Again, we can avoid that by spacing the eggplant on a single layer, preferably with enough space between each piece.
Maybe this sounds complicated, but it's all super easy. Summing up: you need to salt your eggplant and you need to space your eggplant pieces. That's it! Easy peasy, right? 🙂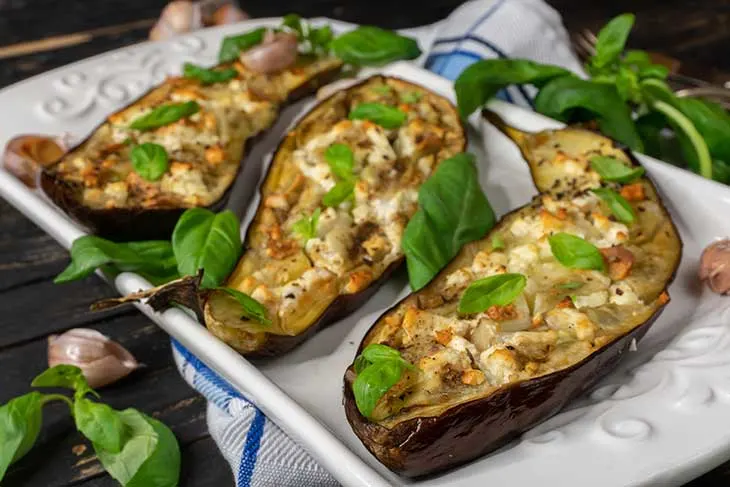 As the main seasoning for this recipe, I will use garlic. Remember when I said eggplant is super absorbing? This comes in handy when it comes to seasoning, as all the flavors will penetrate the eggplant and the result will be a super-rich taste. That's why we should love eggplants! I made them for a couple of friends and they were gone in no time.
Everybody was super excited and for a good reason! It's a great feeling when you discover a new thing you can regularly use in your kitchen. That's how I feel about eggplants – no week without them from now on!
Before I end my short intro, let me tell you two fun facts about eggplants that I found quite funny!
First, eggplants are actually berries! Just as blueberries and watermelons! But culinarily, they are vegetables since in the kitchen they are used in main dishes, not for their sweetness.
And second, eggplants are super popular in China. So much so, that they have a tradition involving them: before getting married, a woman must have at least 12 dishes that contain eggplants prior to the wedding!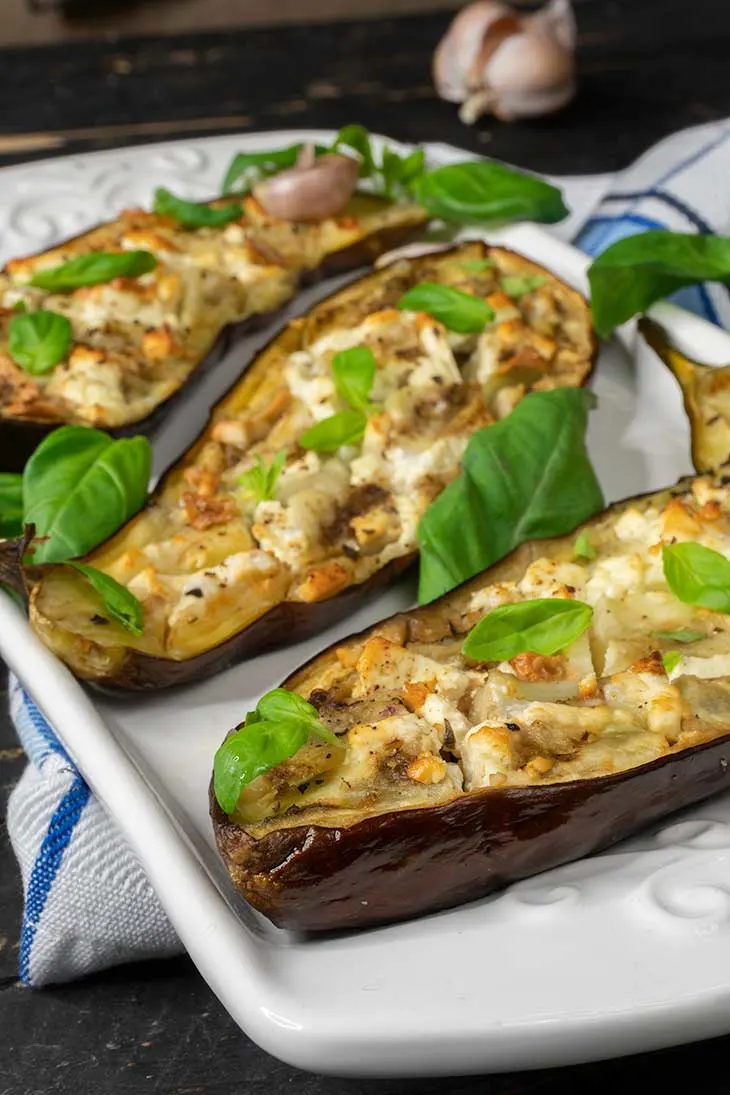 Fun, right? Now let's go back to our kitchen, gather our ingredients and utensils and let's get to work! This recipe is super easy and fast, so you won't even know how quickly it was over! Once you try these eggplants, be sure to leave a comment and tell me what you thought of them!
---
Personalized meal plans and workout videos | Get your customized meal plan today! [x_button shape="square" size="mini" float="none" target="blank" href="https://shop.gourmandelle.com/?utm_source=mainsite&utm_medium=site&utm_campaign=inpost" info="none" info_place="top" info_trigger="hover"]I WANT A MEAL PLAN![/x_button]
---
Yield: 4
Perfect Oven Roasted Eggplants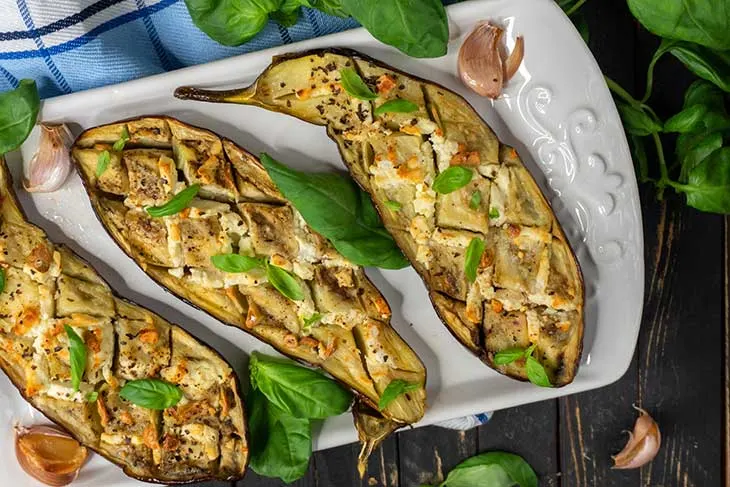 Are you an eggplant fan? Were you always wondering how to properly roast eggplants in the oven to achieve perfect results each time? Here's my ultimate recipe for perfect oven roasted eggplants!
Ingredients
2 eggplants
4 garlic cloves
1 Tbsp olive oil
fresh thyme
fresh basil
120g (4 oz) goat cheese - optional
salt & pepper
Instructions
Cut the eggplant in half lengthways.
Make cuts into the pulp, brush them with olive oil and season with salt and pepper.
Fill the cuts with slices of garlic with and goat cheese, sprinkle fresh thyme and bake at 180 degrees C for 25-30 min.
Serve with fresh basil.
Nutrition Information
Amount Per Serving
Calories

187
Total Fat

9.7g
Carbohydrates

22g
Protein

2.8g