Learn how to make a delicious recipe of vegan garlic noodles at home with minimum effort and no fuss involved! It's yummy, quick and full of garlic flavor!
Do you ever get curious about trying other people's cuisines? Are you tired of making the same avocado toast in the morning, lentil soup for lunch and lettuce wrap for dinner? People with routine lifestyles will often find themselves eating the same things over and over again. I always try to suggest new recipes to people, this being the main purpose of Gourmandelle! 🙂
Today we will be attempting a very fun and easy-to-make recipe that's so delicious you'll want seconds and maybe thirds! This recipe is for people who want to start experimenting with Asian cuisine but don't know where to start.
Noodles are a pretty essential part of Asian cuisine. There are endless recipes that contain noodles and it might seem a bit overwhelming to the uninitiated. Today, I want to show you a very simple noodle recipe with garlic, that is as scrumptious as it is time-saving!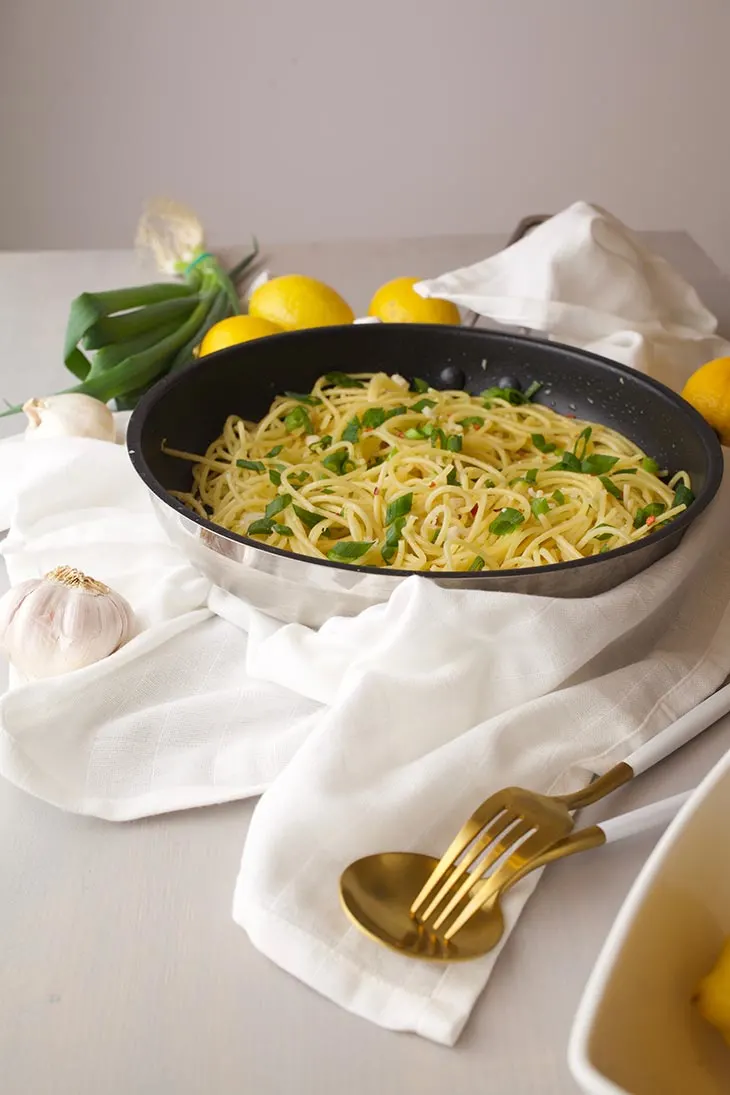 Picture this: you arrive home from work, tired and starving. You think about ordering food, but there's rush hour, and your food would arrive much later than you would be able to eat if you made something yourself. Not to mention that it would also cost third times the cost of today's ingredients.
I think there's a great potential for self-discipline if you start thinking like this and cook for yourself when you think you don't have the energy for it. But you definitely have the energy to make some noodles! 🙂
In this vegan recipe of garlic noodles, we will be replacing the parmesan cheese that goes into the regular recipe with your favorite vegan parmesan recipe. I personally like to make it with cashews but because I want today's recipe to be as quick and efficient as possible, we will use store-bought parmesan, which is just as good!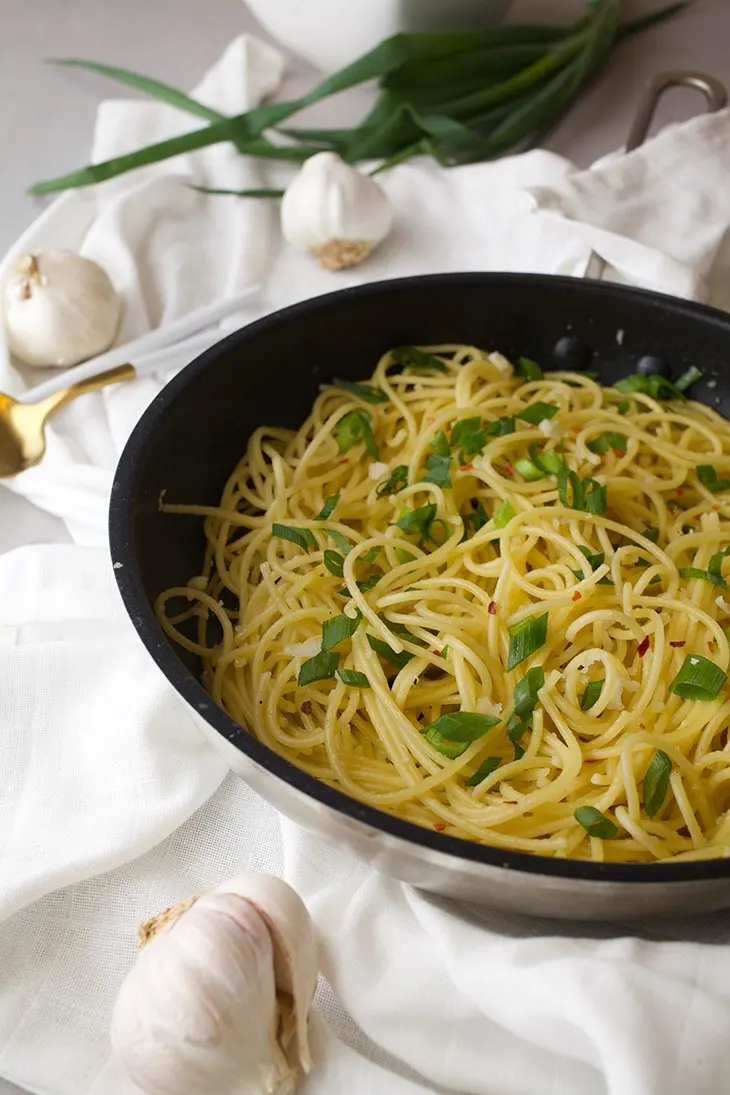 Either way, the garlic is the main ingredient in this recipe, the 'parmesan' is just supposed to hold the ingredients together. The overall freshness of this recipe is brought by the green onions. Overall, the ingredients work together with the garlic to create something very savory and super yummy!
I first got acquainted with garlic noodles after a conversation with a friend that went to Japan. After five days of eating sushi and ramen, she was longing for something a bit more akin to her usual diet. That's when she found a really cool noodle shop on a bustling street, and the garlicky smell pulled her in. She said that the garlic noodles she tried there were unlike any other pasta recipe she ever tried, so I decided to try and recreate it myself!
I like making this recipe every time I'm left with some spare noodles or spaghetti in my cupboard and I don't know what to make with them. Leftover noodles give me an excuse to use up the leftover garlic in my fridge. That's what I call an absolute win. Also, I love eating this recipe with chopsticks, like people in Asia would do! This is a good opportunity to learn how to use them.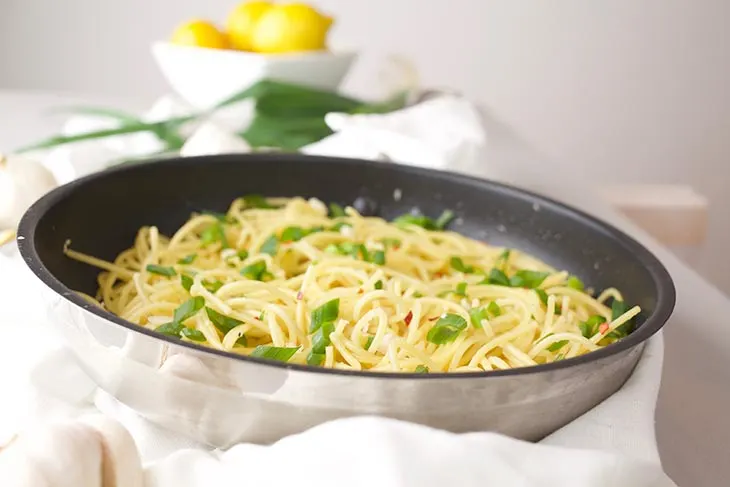 Buttery, semi-sticky noodles are very easy to eat with chopsticks. You would be surprised to find out, but I had my fair share of trouble when I first tried using chopsticks to eat. As a westerner used to the knife and fork, chopsticks are a whole other deal! 🙂 But still very fun!
You can vary the portions of noodles you cook by adding more noodles and doubling the garlic quantity.
If you want a make a big bowl full of awesome noodles for your friends, more power to you! I love cooking for my friends, and I always surprise them with recipes like this. Noodles are easy to make, and you can make a lot of them, so it only makes sense to cook them for a lot of people. In Ancient China, they would make a bowl of noodles and a whole family would eat from the same bowl. Which is fascinating! 🙂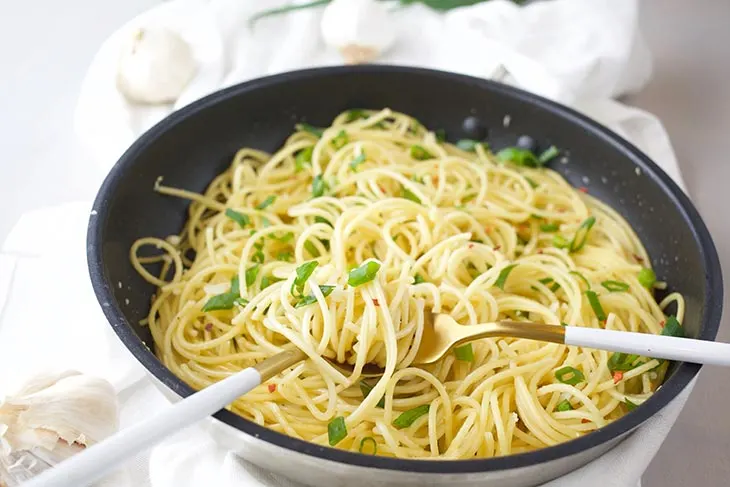 I hope you'll enjoy making this recipe for vegan garlic noodles. I have a deep love for this recipe, so I hope you will find it as delicious as I do! If you have any comments, thoughts or questions, as always, don't hesitate to leave a comment! I wish you the best of luck on your noodle making. Enjoy!
Yield: 4 +
Vegan Garlic Noodles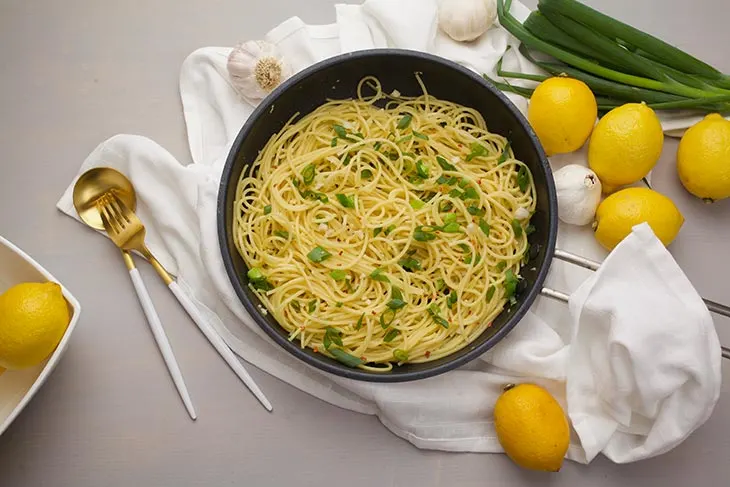 Learn how to make a delicious recipe of garlic noodles at home with minimum effort and no fuss involved! It's yummy, quick and full of garlic flavor!
Ingredients
400g (4 cups) noodles / spaghetti, use GF if needed
85g (6 Tbsp) vegan butter
1 garlic head, cloves peeled and minced
vegan parmesan cheese, grated, to taste - alternatively, add nutritional yeast flakes
4 Tbsp coconut milk
2 Tbsp lemon juice
3 Tbsp green onion, chopped
2 tsp red pepper flakes
salt, pepper to taste
Instructions
Cook your pasta al dente according to the package directions.
Meanwhile, heat a skillet on low and add the butter to melt. Then, add the garlic.
Cook for about 3 minutes.
Stir in the vegan parmesan and the coconut milk.
Add the pasta to the skillet and cook until done.
To serve: sprinkle with lemon juice, pepper flakes, and green onions.
Enjoy!
Nutrition Information
Yield
4
Amount Per Serving
Calories

346
Total Fat

19g
Carbohydrates

36g
Fiber

2g
Sugar

1g