Delve into the Japanese cuisine with this amazing recipe for vegan ramen – it's easy, full of flavor and fully customizable according to your taste!
The Japanese have proven throughout history that they seem to be good at everything – technology, architecture, infrastructure and not in the least bit – food! Japanese cuisine is world-famous for being light and delicious. Japan is actually one of the top-rated countries in terms of healthy eating, and I think there's a lot to be learned from them!
First of all, Japanese cuisine relies very heavily on fish and seafood. Their red meat consumption is at an all-time low, and even when they eat beef, it is considered the highest quality beef in the world. However, what I like the best about Japanese cuisine is that it displays a great number of already vegan dishes. They are proficient in cooking all kinds of vegetables, fruits, and even seaweed!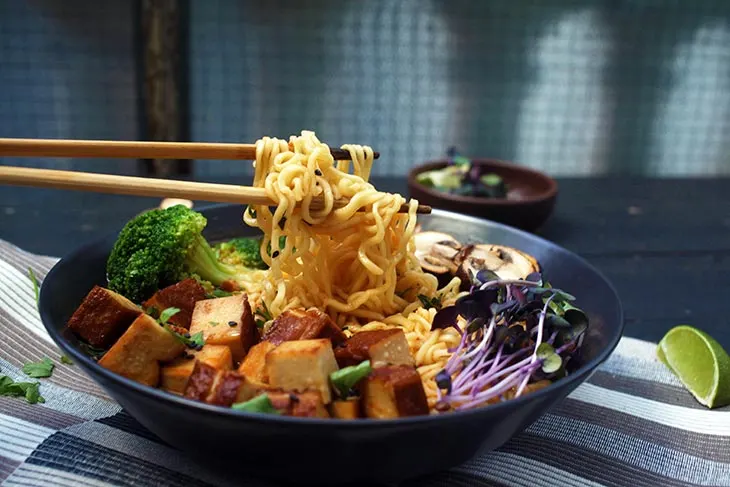 Among the highlights of Japanese cuisine is ramen. Ramen is like a soup that you eat and you don't ask for the second course, because it's an extremely filling dish. Traditionally, ramen gets served with hot noodles, pork or any other finely chopped meat, vegetables, like onions and parsley and seaweed, and half a boiled egg.
Now, it's not difficult to make this dish vegan, which is what we are going to do today! 🙂 You just subtract the meat and egg, and you're left with a wonderful blank canvas, ready to experiment!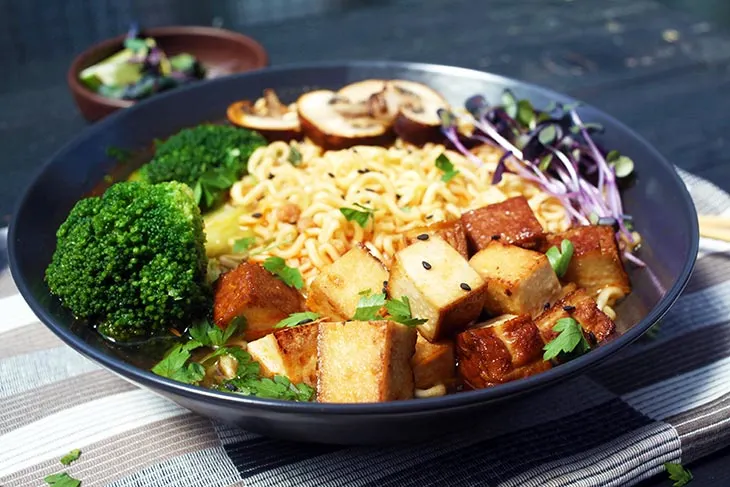 That isn't to say that vegan ramen is going to leave you hungry – on the contrary, you will have your stomach filled just from one bowl, I guarantee!
There are a lot of different ways to make vegan ramen, as many as there are for regular ramen! For instance, instead of meat, you can supplement with grilled or baked tofu – take, for instance, my recipe for sticky garlic tofu, they fit in ramen like a glove!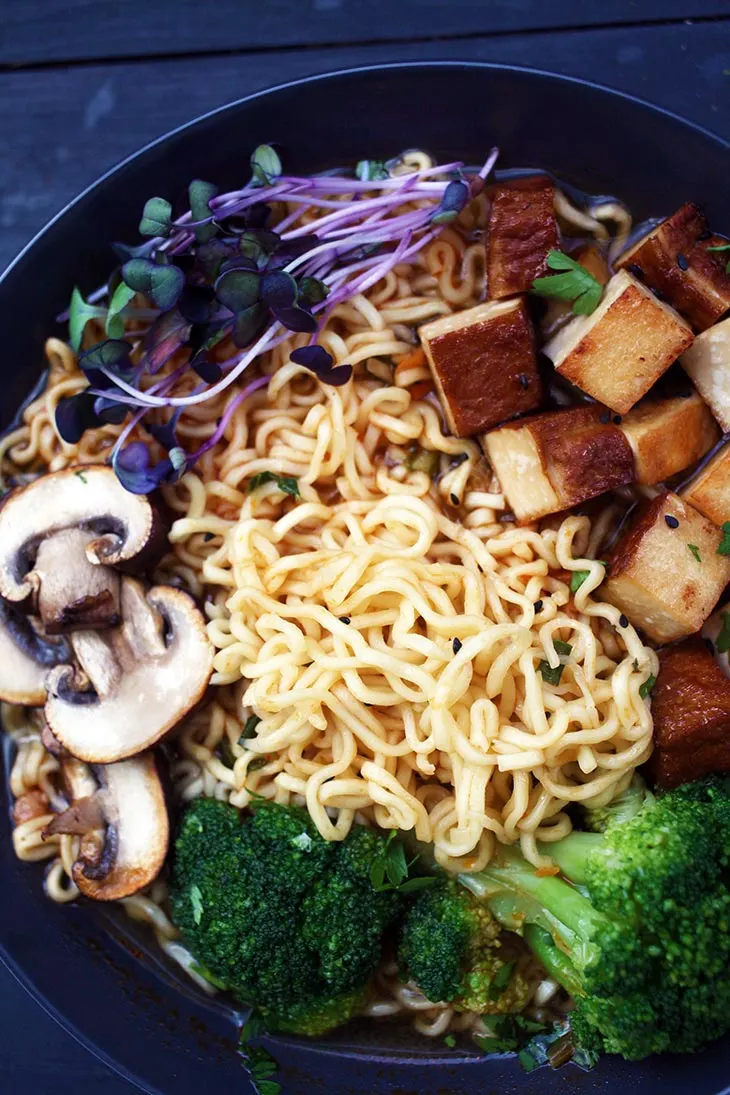 Another point of interest is the vegetables you will be using. Most ramen recipes don't use more than two or three different veggies, and that includes the seaweed most of the times, so don't go making your grandma's recipe of chicken soup, because this isn't like that. Ramen is supposed to be a little more subtle. Hence the finely chopped onion and the seaweed that is usually used in the traditional recipe.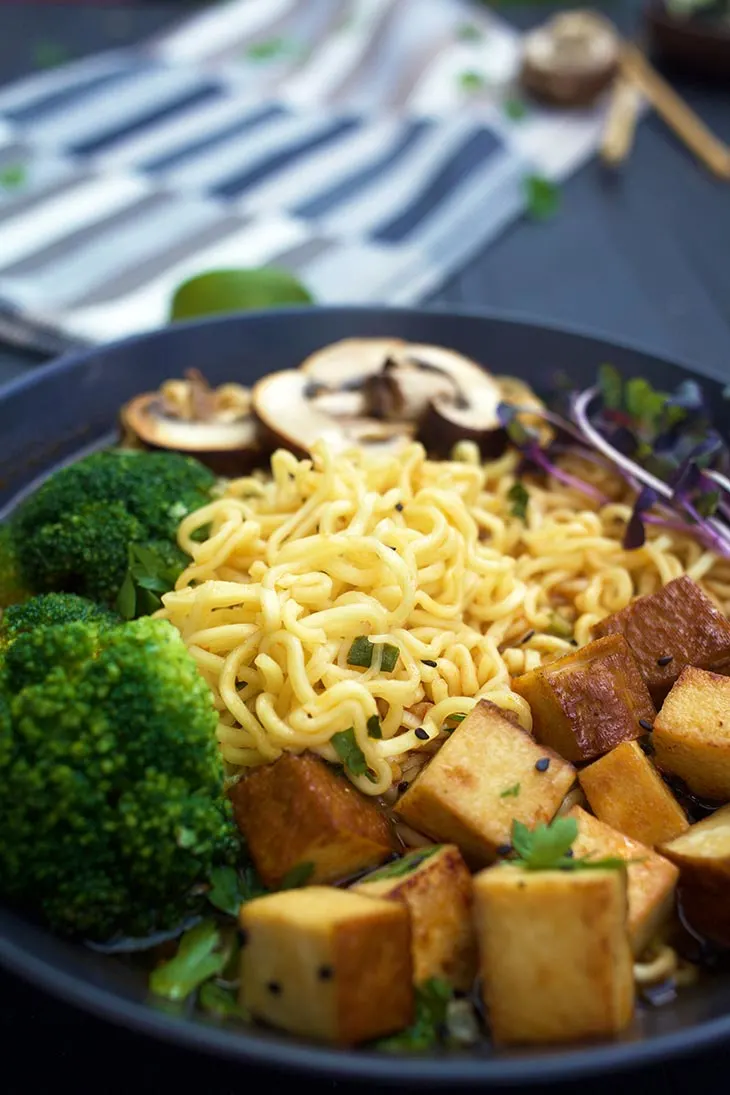 Mushrooms can be a fine addition to a bowl of vegan ramen. Two reasons – first, mushrooms are protein packed goodness, and if you want to make a whole meal out of a bowl of ramen, you want to ensure the proteins are there.
Second, mushrooms have a similar textural quality to some meats, and it can supplement the overall flavor and texture to make the dish feel more like a standard bowl of ramen if that's what you're into. Personally, I like mushrooms by themselves a lot and I think they have the power to enrich many recipes! 🙂
Ramen, be it vegan or not, is not such a difficult recipe but it takes a bit to cook, due to the multiple phases of cooking. Thus, if you feel like you have the time, you can try it out for yourself. I would advise starting out with this simple ramen recipe and then building along as you learn more about Japanese cooking.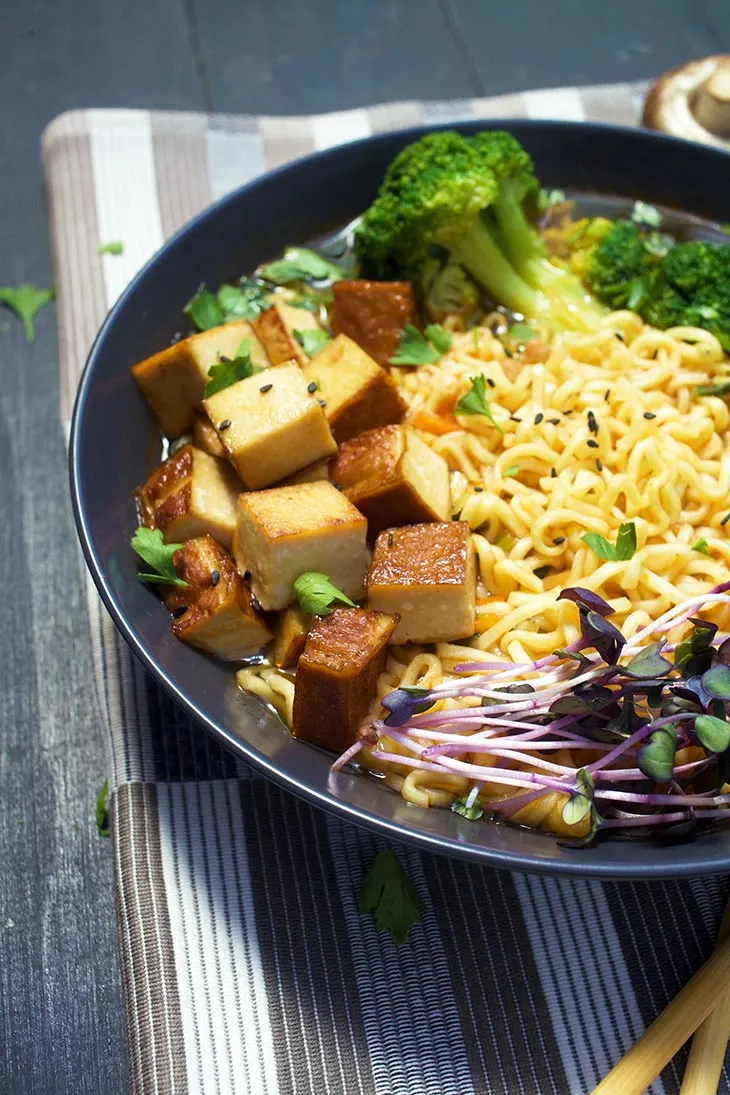 I've once made this ramen recipe for one of my friends and she said that it was much better than what ramen she's had in Japanese restaurants here in Romania! 🙂 And it's surprising to me because I don't think any of us would be able to do it exactly like the Japanese.
They have their special ways of cooking and doing most things, that are so careful and they pay a lot of attention to details, which sets them apart from the rest of the world. But that doesn't mean we shouldn't at least attempt to capture that sort of ambition and love in our work!
In Japan, ramen is considered the worker's lunch. Ramen restaurants have their busiest hours when everyone goes out on lunch break. Ramen and Japanese cuisine have been rising in popularity abroad, too, in recent years, and that makes me very happy! I hope we will find the joy that they have in healthy eating habits and portion control. 🙂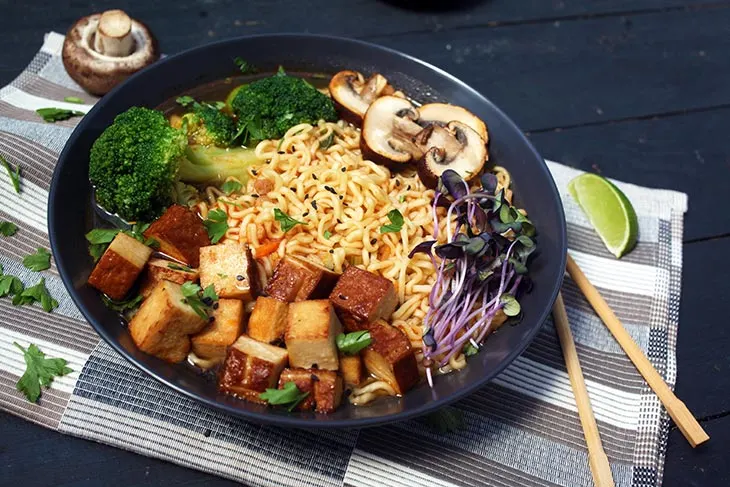 I wish you all the best in making this vegan ramen recipe! If you have questions, thoughts or comments don't hesitate to write to me about it in the comments! I always love hearing from you! Until then, I bid you farewell, good luck, and bon appetit!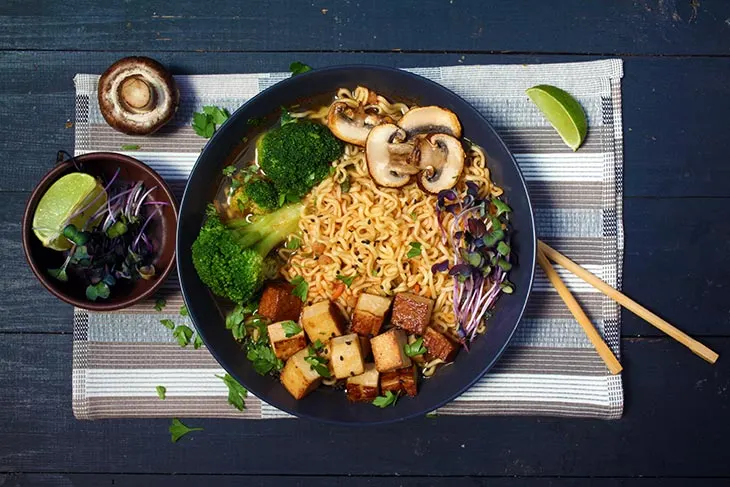 Delve into the Japanese cuisine with this amazing recipe for vegan ramen - it's easy, full of flavor and fully customizable according to your taste!
Ingredients
2L (8 cups) vegetable broth
3 Tbs soy sauce or tamari
1 onion, finely chopped
2 cloves of garlic, minced
½ inch piece fresh ginger, finely chopped
1 tsp miso paste
70g (1 cup) mushrooms, sliced
250g (1 cup) firm tofu, cubed
90g (1 cup) broccoli florets
150g (2 cups) ramen noodles
120g (1 cup) radish sprouts
5g (⅓ cup) cilantro, chopped
1 lime, wedges, for serving
1 Tbsp sesame seeds
Instructions
Cook the vegan ramen noodles according to the instructions on the package.
Set aside.
In the meantime, finely chop the onion, the garlic, and the ginger. Sauté in a large pan. Set aside.
Heat a pot on medium. Add the veggie broth, the sautéed onion, garlic, and ginger. Stir in the miso paste.
Then carefully transfer it into a high-speed blender and process until fairly smooth. Transfer it back to the pot and simmer on low.
Meanwhile, heat some sesame oil in the pan and fry the tofu slices for about 2 minutes on each side on high heat.
Add 1-2 tsp of soy sauce, as well as some salt and pepper.
Remove the tofu, add a little more sesame oil and fry the sliced mushrooms.
To assemble:
Add the cooked noodles, broccoli, mushrooms, tofu, and sprouts in a bowl.
Stir in the hot broth and sprinkle with some chopped cilantro and sesame seeds.
Serve with lime wedges. Enjoy!
Nutrition Information
Yield
2
Amount Per Serving
Calories

489
Total Fat

9g
Carbohydrates

75g
Fiber

3g
Sugar

9g