This white bean hummus recipe is even better than the traditional chickpea hummus! It's velvety smooth and has an incredible taste!
If you've never tried using white cannellini beans for hummus, you have no idea what you're missing! I actually prefer using white beans instead of chickpeas for hummus because the texture is so much better. The taste is pretty much the same because all the condiments and other ingredients remain unchanged, but the texture is velvety smooth without the whole peeling process that is needed for chickpea hummus.
Just look at the photos and notice the extra-smooth texture. It was like eating clouds made of hummus! :))
This easy hummus recipe is ready in just 10 minutes. You'll need a good blender or food processor to get the texture perfect. Also, please remember not to put the tahini paste into the blender before processing the white beans! If you blend tahini for too long and the blender starts to heat, it turns bitter. I learned it the hard way and ruined a whole batch of hummus… Add the tahini only when you've reached the desired smooth consistency and then process just to incorporate it for a couple more seconds.
I didn't have any pita bread so I served this white bean hummus on whole-grain bread slices which I previously baked in the oven for a couple of minutes to make them crispy and then rubbed a half-cut garlic clove on them. The garlic flavor is subtle, but it really makes a difference.
If you're looking for more Middle Eastern recipes, check out my blog every day this month. I'm hosting a Middle Eastern cuisine challenge.
Hope you'll like this white bean recipe! Don't forget, if you give my recipes a try, take a photo and tag me on Instagram @gourmandelleblog and use the hashtag #gourmandellerecipe. I will feature you on my Facebook page and/or Instagram Stories!
Yield: 6+
White Bean Hummus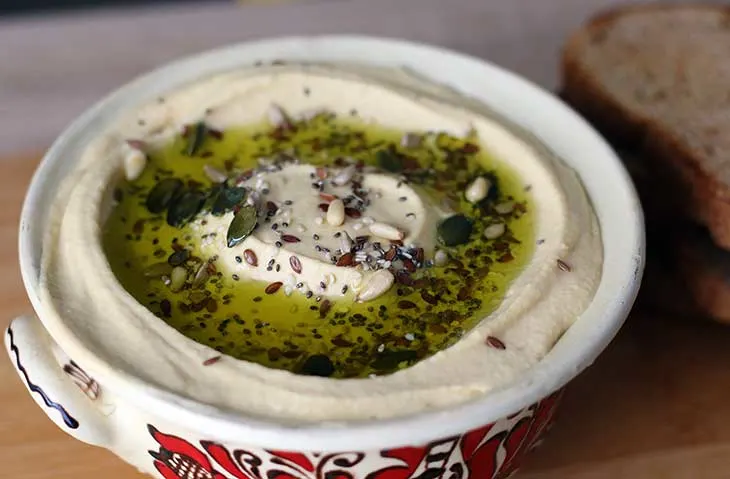 This white bean hummus recipe is even better than the traditional chickpea hummus! It's velvety smooth and has an incredible taste!
Ingredients
2 cans (400g | 14 oz each) white cannellini beans
half a small lemon's juice
4 Tbsps tahini paste
3 garlic cloves
3 Tbsps olive oil
sea salt, to taste
½ tsp ground cumin
3 Tbsps mixed seeds, pine nuts, chia, sunflower, pepitas, sesame, and flax seeds
Instructions
Drain the beans and add them to the blender or food processor. Add the garlic, lemon juice, a little bit of salt and cumin. Blend until smooth.
Add some water - 1-2 tablespoons, if needed, to make it smoother. Taste and see if it needs more garlic, lemon juice or salt.
Only when the beans are extra-smooth, add the tahini paste. You don't want to blend the tahini paste too much because it will turn bitter.
Process for a couple more seconds to incorporate the tahini.
Lightly toast the seeds in a small pan.
Drizzle with olive oil.
Add seeds on top of the white bean hummus.
Nutrition Information
Yield
6
Amount Per Serving
Calories

261
Total Fat

16.3g
Carbohydrates

20.3g
Protein

8.2g