Learn how to make hummus from scratch so that it will have the perfect taste and extra-smooth texture every time! These valuable tips will help you make the best homemade hummus ever!
Hummus might just be one of my favorite recipes ever! That's why today I want to look at it in-depth and show you just how amazing it is. There's a lot more to it than just being delicious. Like everything else in life, it has a cultural background and I know that I can say we're all very grateful someone came up with it.
A little bit of history about hummus!
I think it has value to have knowledge on the origin of the things we like the most in life. First of all, the word "hummus" means "chickpea", so no points for creativity there. It's actually very difficult to pinpoint the origin of this delicious dip and there has been a lot of debate about it. All we know is that many countries claim to be the place where it came from; such as Palestine, Egypt, Greece, and several Middle Eastern countries, but no one's sure. Its different variations make it that much harder to figure out.
What we do know is that it has been around for a very long time and it's most popular in the Middle East and along the Mediterranean. Some food experts have gone as far as to say that it's one of the oldest known prepared foods, while others claim that it goes back to the 12th century. But actually, the earliest recipes were found by historians in cookbooks that were written in Cairo in the 13th century. So no one can really give you a consistent point in time.
We also know that the chickpeas that happen to be the base ingredient for the dip were cultivated in ancient Mediterranean and the Middle East. It was also one of the first crops in Mesopotamia, and it was common in ancient Palestine, ancient Rome and ancient Greek. In fact, it was one of the foods that Plato and Socrates studied for its nutritional value.
Some general, fun facts about hummus
People actually fight over what the best hummus is! Apparently, people in Israel take hummus very seriously. They will fight over which hummusia (hummus restaurant) makes the best hummus. Jewish men, in particular, will also endlessly argue about the absolute Hummus. With a capital H.
There's literally no difference in the way hummus is made except when it comes to how much cumin and sesame paste is used. Some people substitute olive oil for butter or add some Greek yogurt and hot peppers. But very few people stray from the holy alliance that is chickpeas, cumin, garlic, sesame paste and lemon juice.
It's an aphrodisiac! Chickpeas are full of protein and vitamins which help you feel good; in fact, some people refer to them as the "Queen of Aphrodisiacs". It's full of iron, zinc, magnesium and potassium which are known to boost libido and physical energy.
It's incredibly healthy and versatile. I'll get into some detail about how healthy this dip is later on. Plus, it's not only for pita bread. You can have it with vegetables, chips, pretzels, and more.
No less important or fun: People eat it all over the world!
I LOVE the Lebanese cuisine. If you love it too, check out Ottolenghi: The Cookbook. His recipes are truly inspiring!
Nutritional data
Admittedly, hummus is not a low-calorie dip. I mean, there are about 166 calories in only 100 gr. However, that doesn't make it any less healthy. In fact, the protein density is way higher than the amount of calories. It doesn't contain added fats, sugar or any of that stuff. Another thing in favor is that it has a high carbohydrate and fiber content. Carbs provide all of the energy you need to live your life and go through your day, while fiber makes you feel full for a lot longer and it's overall beneficial for your health.
The sesame paste and the olive oil add some benefits of their own to the hummus. You can rest assured that the fat you find in your hummus in monounsaturated and polyunsaturated. If they have a stronger presence in your diet, it will help you lower blood cholesterol levels. Hummus is also rich in essential vitamins and minerals, like vitamin B, C, D, A, B12, B6, and also iron, magnesium, and calcium.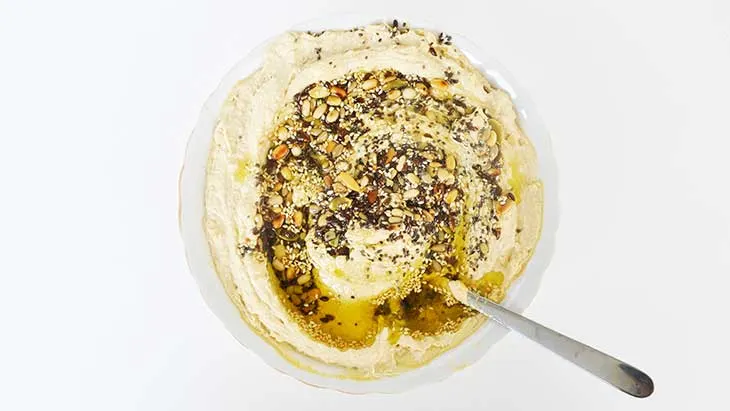 Hummus recipe
I know that after reading all this you probably want to run and make you some delicious hummus. Before you do, keep in mind these tips: choose quality ingredients, for example, if you're using canned chickpeas, make sure that they taste good on their own. Check that your sesame paste has not gone bad, it does so very quickly. Think about what you're serving your hummus with when it comes to adding salt; you want it to be just right and you have to take in consideration how salty the pita or chips are.
This is my newest hummus recipe, and unlike my previous ones, this time, I made it from scratch. This means no more canned chickpeas!
I will tell you a couple of tricks which you can use to make it extra smooth and boil chickpeas quickly. Hope you'll give it a try!
Tip no. 1: Boil chickpeas with a teaspoon of baking soda. This will help the chickpeas boil faster,
Tip no. 2: Always peel chickpeas. This will make your hummus extra-smooth!
Tip no. 3: Add ice-cold water. When processing hummus, add some ice-cold water. This will make your hummus even smoother.
Tip no. 4: Don't over-process tahini! It's best to add it last and just pulse once or twice to combine. If you process tahini for too long, it will go bitter.
P.S. Try my other hummus recipes as well!
Yield: 4
How to make hummus from scratch | Hummus with seeds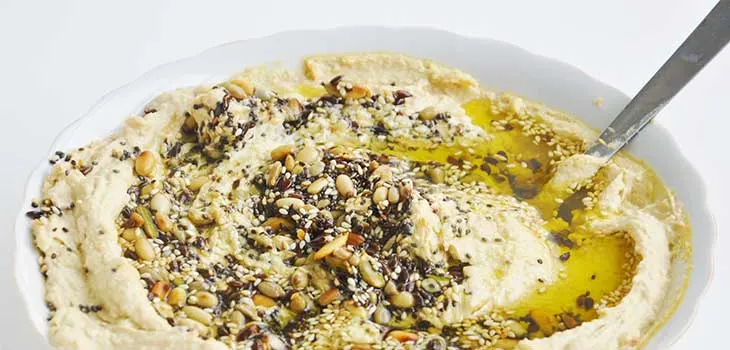 Learn how to make hummus from scratch and make it turn out extra smooth! This is the basic hummus recipe served with toasted mixed seeds on top.
Total Time
1 hour
10 minutes
Ingredients
250g (1 ¼ cup) dry chickpeas/garbanzo beans, soaked overnight
half a lemon's juice
4 Tbsps tahini paste
3 garlic cloves
3 Tbsps olive oil
sea salt, to taste
½ tsp ground cumin
3 Tbsps mixed seeds, pine nuts, chia, sunflower, pepitas,sesame, and flax
½ tsp baking soda
Instructions
Soak chickpeas in water the night before you want to make this hummus.
Fill a large pot with water and add soaked and drained chickpeas. Add 1/2 tsp baking soda in the water.
Boil chickpeas until tender (1 hour).
Drain chickpeas and fill the pot with cold water. Start stirring and gently massaging chickpeas. This will take their peels off. Drain and refill. Do this 5-6 times until most of the peels are off.
Add all ingredients, except seeds and oil, in your food processor and blend until smooth. Add a little bit of ice-cold water in order to make it as smooth as you want.
Process on high speed for 5 minutes until hummus is extra-smooth.
Lightly toast seeds in a small pan.
Drizzle with olive oil.
Add seeds on top of hummus.
Nutrition Information
Yield
4
Amount Per Serving
Calories

328
Total Fat

23.5g
Carbohydrates

20.7g
Protein

8.2g