In need of a quick fix? Here's how to make faux tuna salad – simple, healthy and super yummy, you won't even believe it!
Busy times require smart solutions. In this modern society, we don't always time for that lengthy recipe that requires lots of prepping, simmering and cooking. And while I am an advocate for slowing down and taking time for things that matter, I know that having busier periods is unavoidable.
So there's no shame if maybe today you are not in the mood or you don't have time for that slow-cooked dinner. And if today is one of those days for you, look no more – I have the solution! I am going to share with you a really lovely and tasty recipe for faux tuna salad! 🙂
It's a hit! I love it because it is so convenient. All the ingredients are easy to obtain and everything will be ready in less than 20 minutes! So all you need is a quick walk to the kitchen and you will end up with a super tasty salad that will fulfill your cravings for a quick lunch, breakfast or dinner fix!
Of course, there's no tuna involved, as the name suggests. This recipe, as everything presented on this food blog, is completely vegan! Delicious and sustainable! Instead of tuna, our recipe here will be based on chickpeas.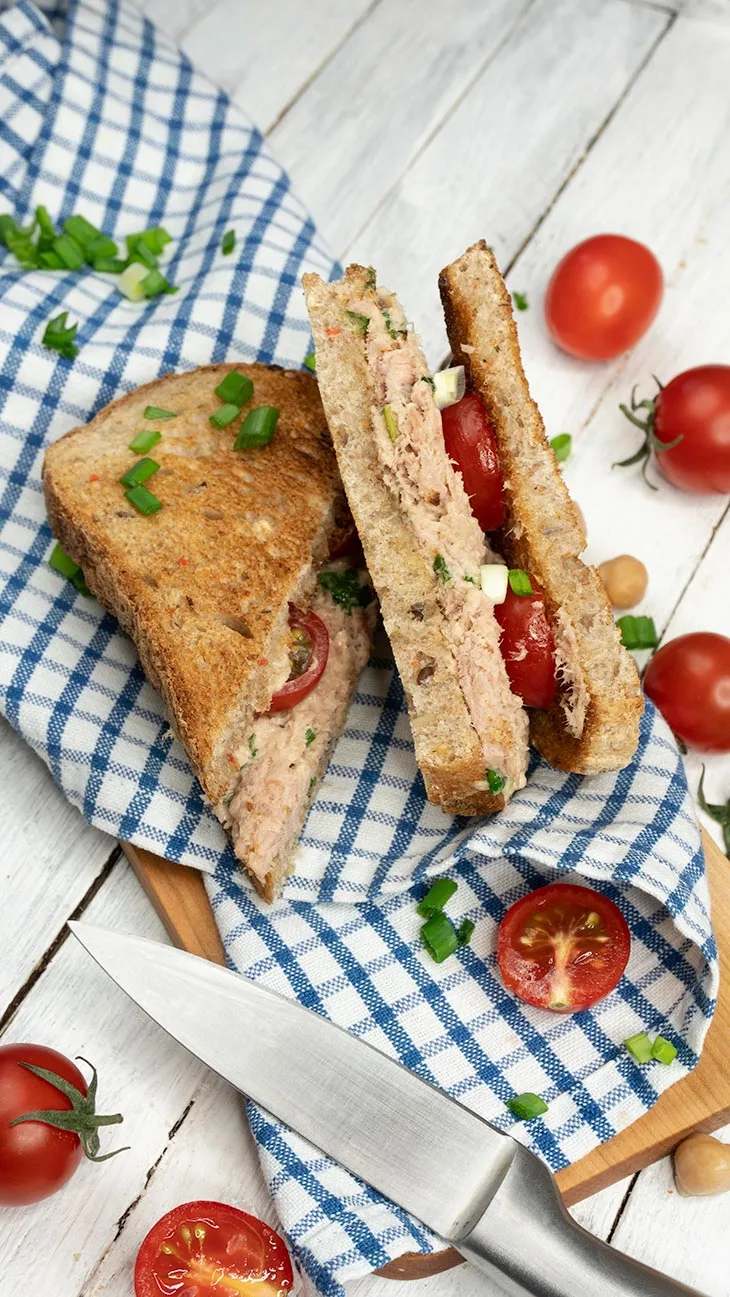 A classic tuna salad has two main ingredients: tuna and mayonnaise. But many other topics have become usual. Pickles, celery, relish, and onions are among the most frequent added ingredients.
Here, I will show you my favorite mix of ingredients and toppings. But if you don't have the exact same ingredients in your kitchen, don't worry! There's no need to look for a different meal idea or rush to the supermarket. Two words: adapt and improvise!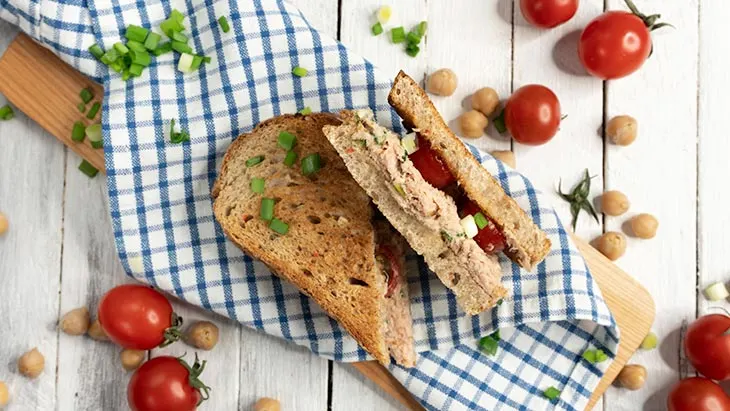 One of the things that I like most about this faux tuna salad is its versatility! As long as you have the two main ingredients (and flaxseed oil, which gives the awesome fish flavor to this dish), you're good to go!
Now a little bit about the history of the classic dish! I am sure you are already familiar with it and you have tried it in various versions. But did you ever wonder how it became so widely popular?
And did you know that the appearance of the staple tuna salad sandwich is closely tied to… the emancipation of women? That's true – just take a look! It all starts in the 19th century.
Unlike today, people back then were really against wasting food. Any leftovers, be it scraps of chicken, fish or ham, would be mixed with mayonnaise and served on a piece of lettuce.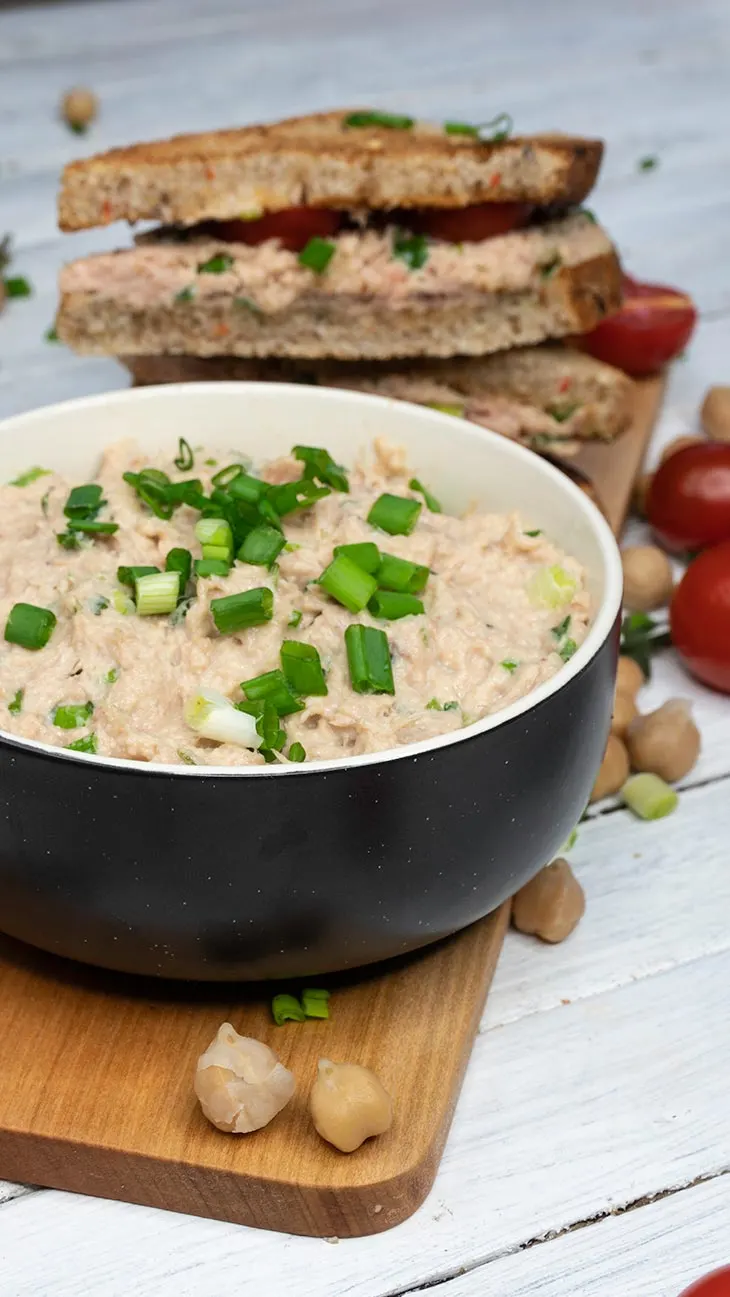 At first, the fish of choice for this leftovers salad was trout or salmon. Most Americans didn't know of tuna yet. Then, towards the end of the 19th century, women began to spend more time in public places such as museums, department stores or museums.
Social conventions still forbade women from dining in the same saloons as men, lunch restaurants opened for the new clientele. And they served women the same things they served to each others at home: salads.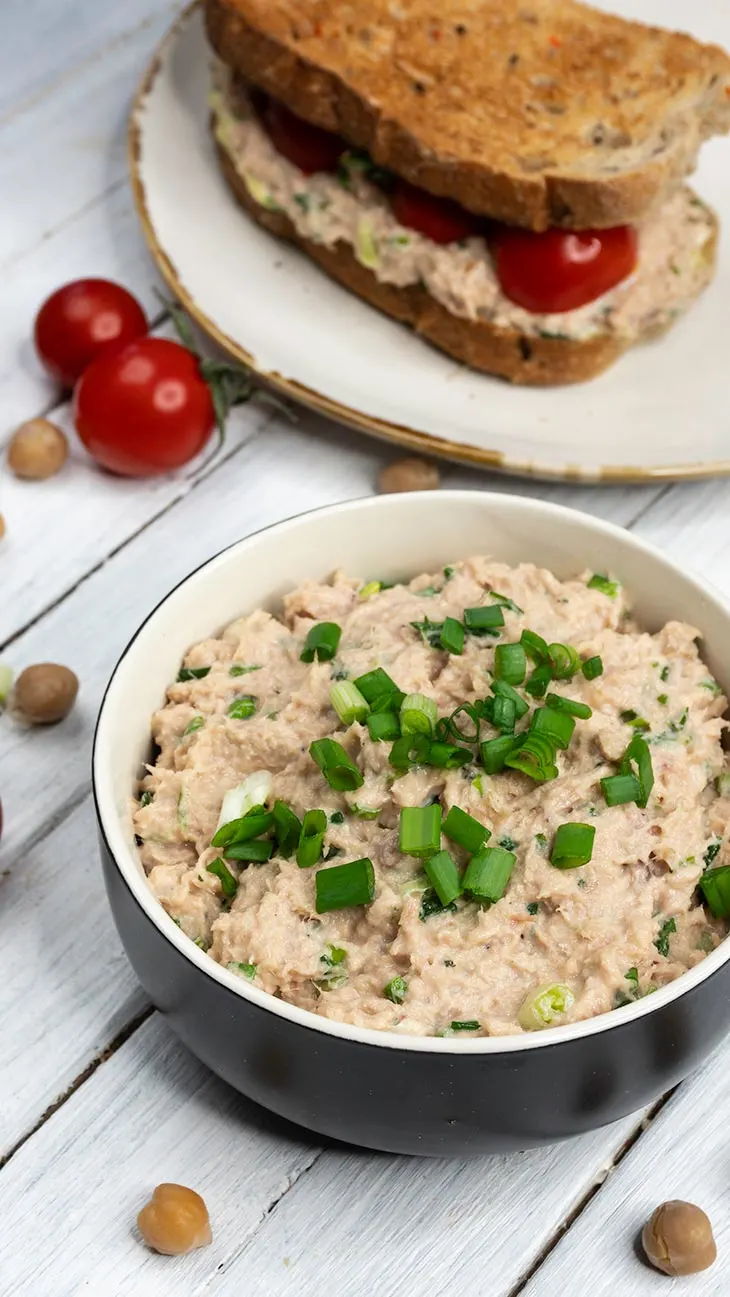 When women started working in public offices, lunch canteens started serving fish salads on lettuce. And in order to make the process even faster, they came up with the idea of serving the salads between two slices of bread.
Then, the canned tuna was introduced in the beginning of the 20th century. Tasty, and affordable, it spread widely. Now restaurants could skip cooking the fish and serve canned tuna in the salads instead.
And that's how tuna salad became a classic meal! Of course, we can fast forward a couple of more decades… when the wave of 'veganizing' dishes became a big thing. And the tuna salad became… faux tuna salad – with chickpeas instead of tuna!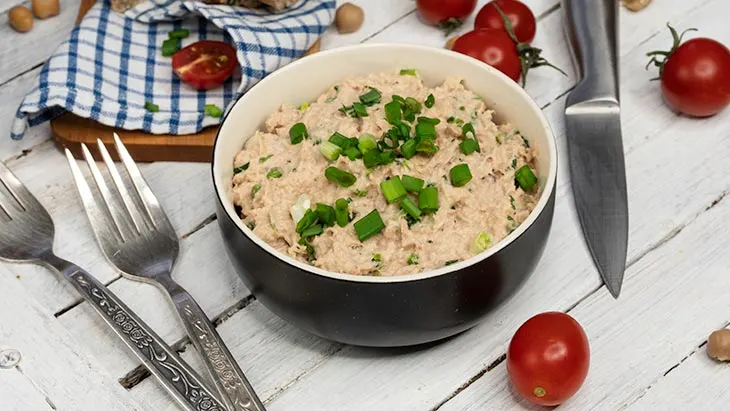 I am sure you are going to really enjoy this recipe for faux tuna salad. It keeps the texture and versatility of the classic dish that we all love. You can have it at home as a quick lunch, pack it to go, make it for a dinner party.
It's the kind of dish everybody will find delightful. Plus, it's super healthy! And there are so many ways to serve it. You can make a sandwich, serve it on lettuce, add some lemon and have it as it is, or use it as a side salad for some other main dish. Either way, you won't regret the choice!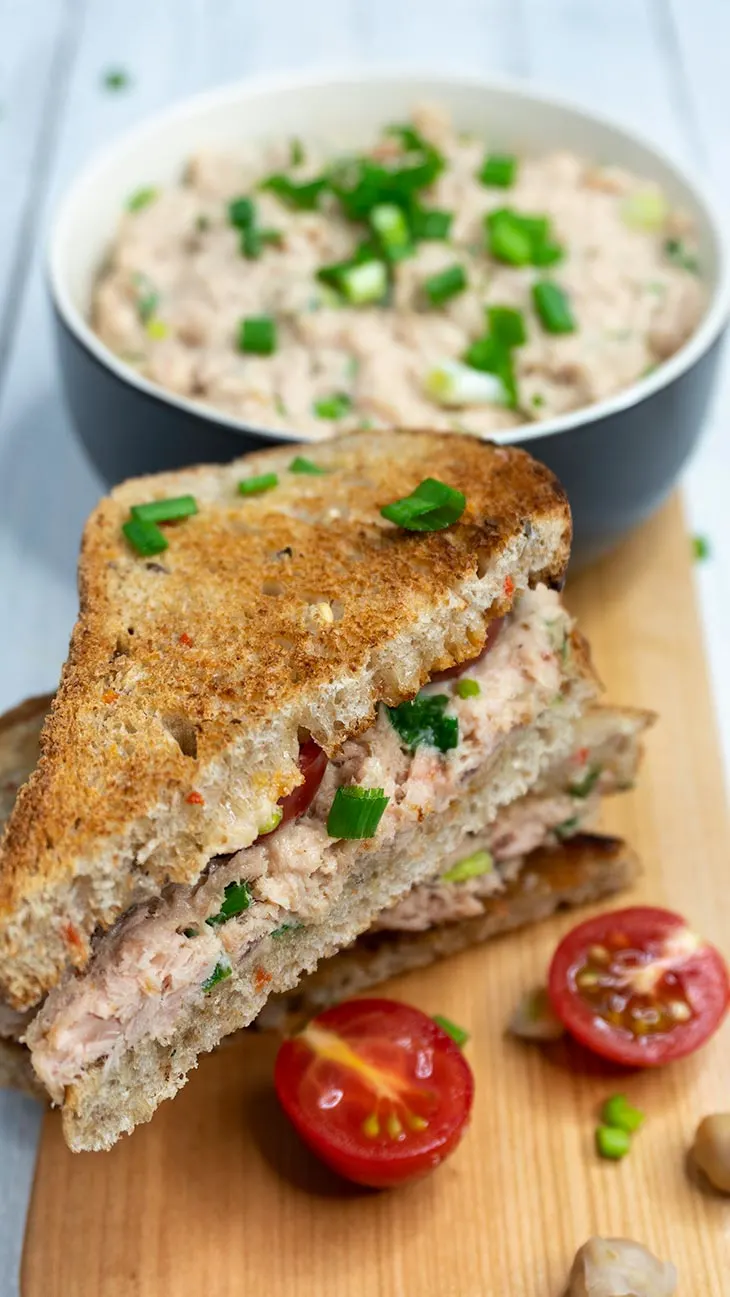 All this being said, let's head to the kitchen and make this beautiful dish come true. Follow my instructions and everything will be great – it's a foolproof recipe! When everything is done, please leave a comment and tell me how it all went, I'd love to hear all about it!
Yield: 2
Faux Tuna Salad / Vegan 'Tuna' Sandwiches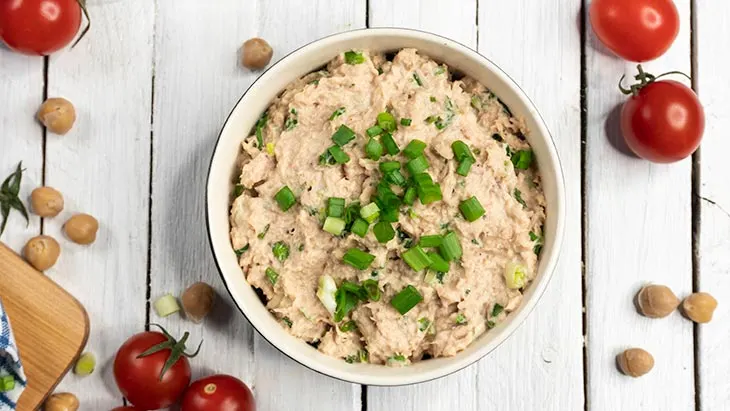 In need of a quick fix? Here's how to make faux tuna salad - simple, healthy and super yummy, you won't even believe it!
Ingredients
2 cans (800g | 28 oz) chickpeas, drained
1 celery stalk, finely chopped
2 green onions, chopped
1 very small red onion, diced
3 cherry tomatoes
2 slices of bread of your choice
60g (¼ cup) vegan mayo
1-2 Tbsps flaxseed oil
80ml (⅓ cup) water
1 tbs vinegar
1 garlic clove
salt and pepper
Instructions
Crush the chickpeas in a bowl with a fork. Don't mash them completely. Season with salt and pepper.
Add the chopped celery, diced red onion, and green onion.
In a blender, combine the mayo, water, vinegar, flaxseed oil, and garlic and pulse until creamy. Season with salt and pepper.
Add 3 tbs of the obtained mayo to the chickpeas and mix well.
Toast the bread, spread some of the remaining mayo on it, top with the "tuna" and halved cherry tomatoes.
Enjoy!
Nutrition Information
Yield
2
Amount Per Serving
Calories

257
Total Fat

15g
Unsaturated Fat

0g
Carbohydrates

27g
Fiber

2g
Sugar

5g