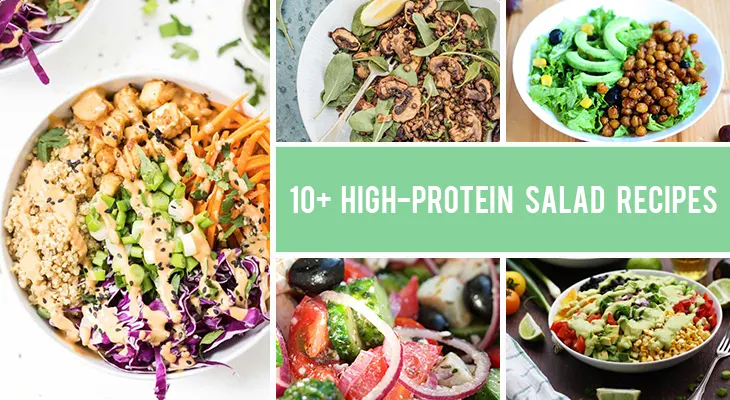 Are you craving some high-protein salad recipes? Here are 10 delicious recipes that will help you create a protein-packed salad, both tasty and nutritious in a single bowl!
The following high protein salad recipes are created especially for those times when you need a power boost from your snack. These are some simple recipes you can make at home or at work, and have them between your meals, or even for the main course!
The ingredients for these protein salad recipes are pretty basic – some of them you probably have in your kitchen or pantry right now! You can follow along with the original recipe or even come up with different variations yourself!
So, because I want to inspire you to live a healthier life, I want to give you some ideas for how to boost the protein content in your salads – from using protein-rich ingredients, to finding the ideal protein salad dressing. That's why I created this list or 10+ high-protein salad recipes that excel at both taste and texture! You can find here some salad recipes for all tastes, which means I am absolutely sure you will find the perfect one for you too!
Click on the links below for some delicious protein salad ideas! As usual, many thanks to all the amazing food bloggers who created these recipes! 🙂
High-Protein Salad Recipes
The Greeks are known around the world for their easy to make, healthy recipes. Greek recipes are really the best when it comes to using the most out of the least ingredients, and this protein salad is no exception. You can enjoy this salad as a main course or as the side for a summer barbecue, bringing some freshness next to a warm dish. This recipe will also teach you how to make the most delicious vegan feta cheese at home!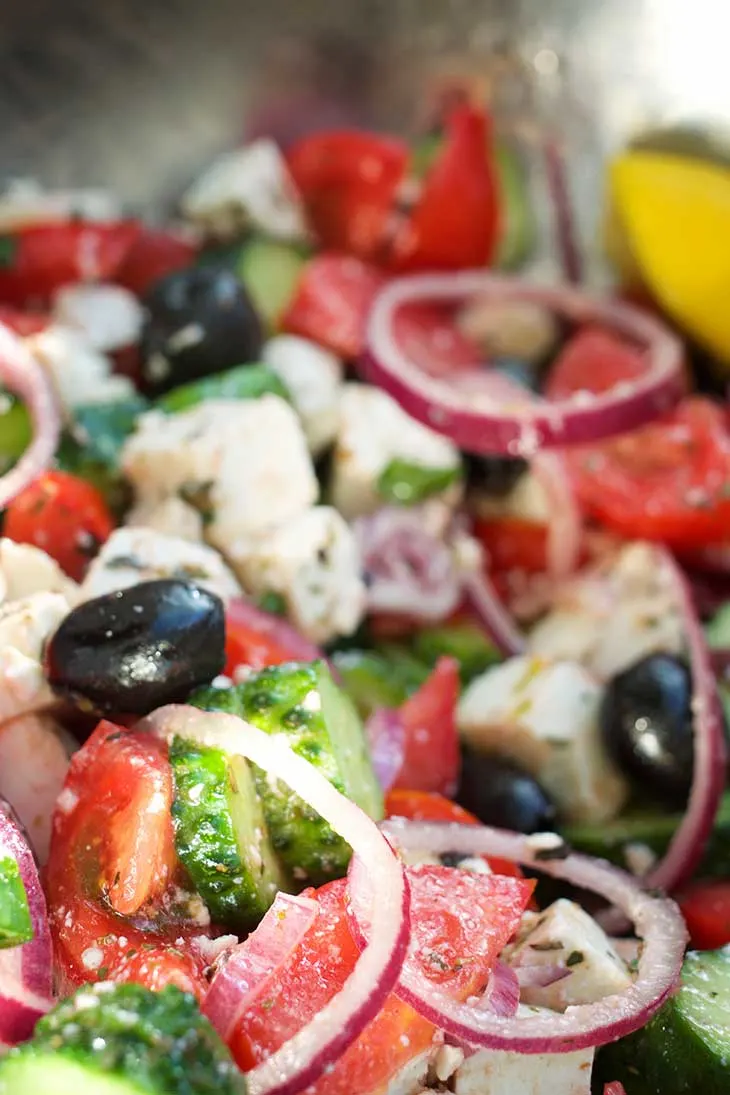 Chickpeas are great to eat on their own as a snack, but they're also a great source of protein in a salad! They can be made into croutons, that are much better for the body than the traditional bread kind. There are plenty of ways to add chickpea croutons to your salad, and an endless number of ways to enjoy it!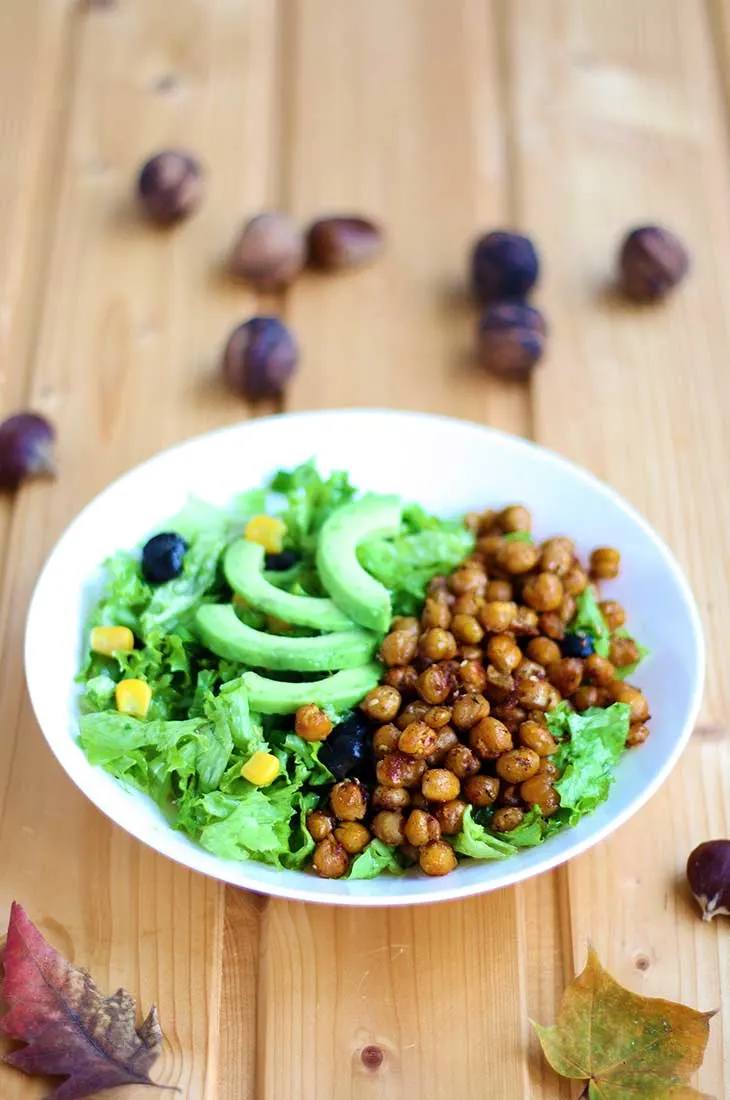 Edamame is an underrated ingredient for salads. Some people might find it less desirable than, let's say, fresh cucumber, but this recipe will show you how you can make it work with mango and avocado. This salad has pretty much got a bit of everything – rich protein, healthy fats and energizing carbs. Just what you need on a warm summer evening when a cool light snack is all one could ask for!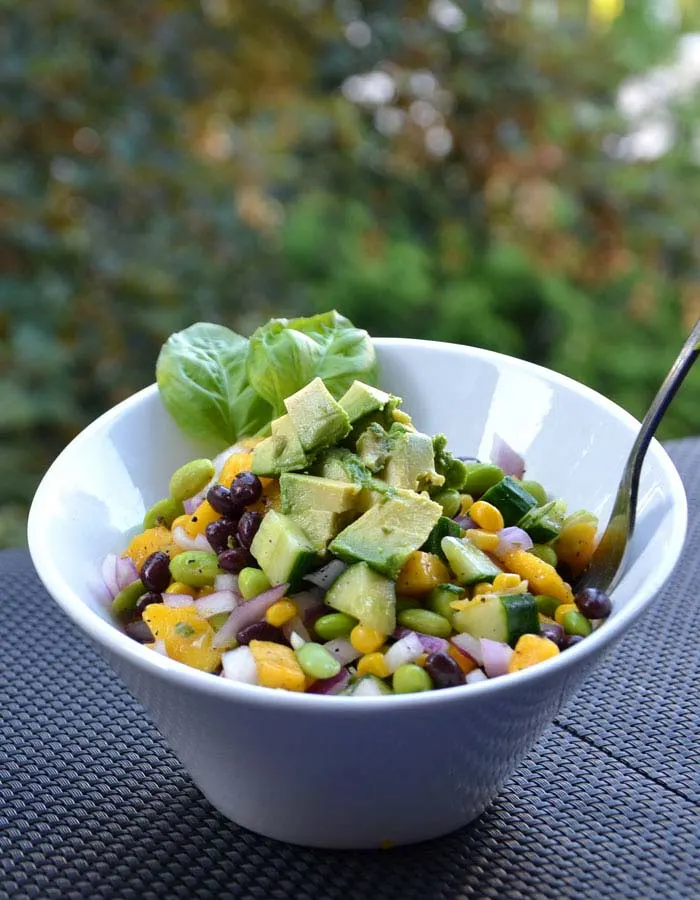 Mushrooms are pretty much the go-to ingredient of any protein-rich vegan course. And it's no wonder they're a favorite of salad lovers, too! This salad is very filling and easy to make, so you'll want to get to slicing those mushrooms soon! The mushroom salad goes best with vegan mayo, turning it into the best combination of sour and sweet you'll ever taste in a salad!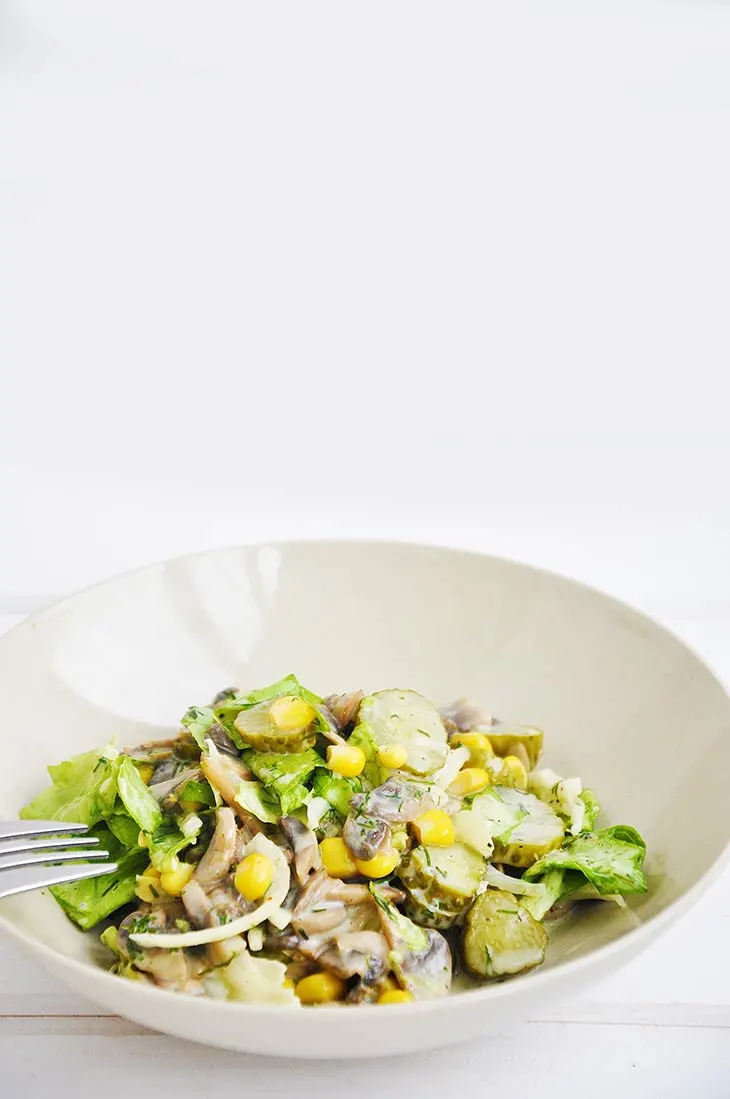 This is a very light, gluten-free salad with a Mexican twist! It uses many ingredients that are popular in the summer, and it is a good source of protein and good fats. The avocado dressing is a must-try and probably one of the best protein salad dressing choices.! If you're bored of plain salads you have to try making this at home – you won't regret it a bit!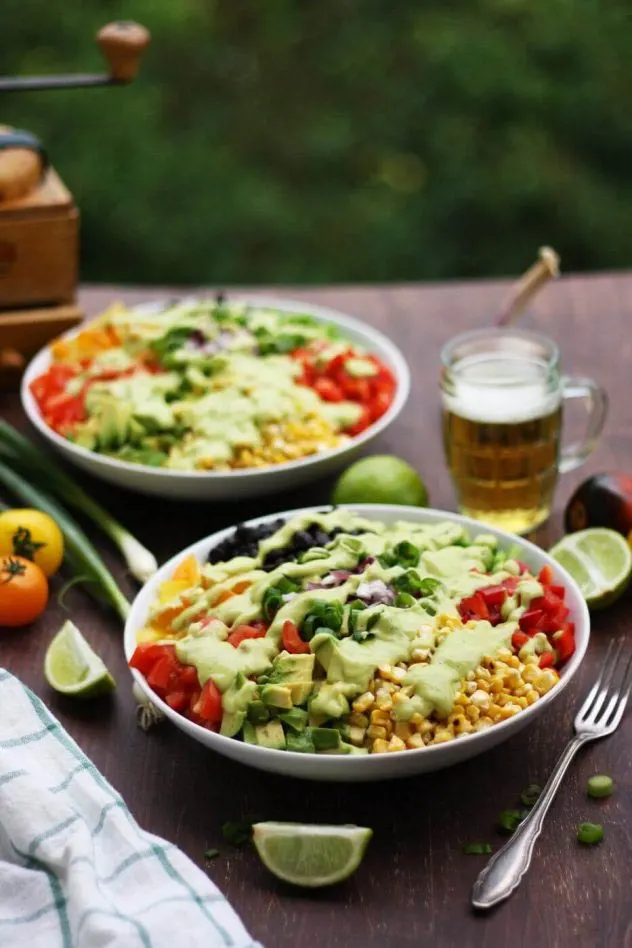 This salad mix is the perfect example of what you can accomplish with a week's worth of leftovers. This type of quinoa bowl can work even when you use the most basic of ingredients – peanut butter, any random veggies, almond milk – you name it! The quinoa will bring everything together and provide a good source of protein for salad. The baked tofu makes this a hearty meal and worth considering for a summer lunch as well!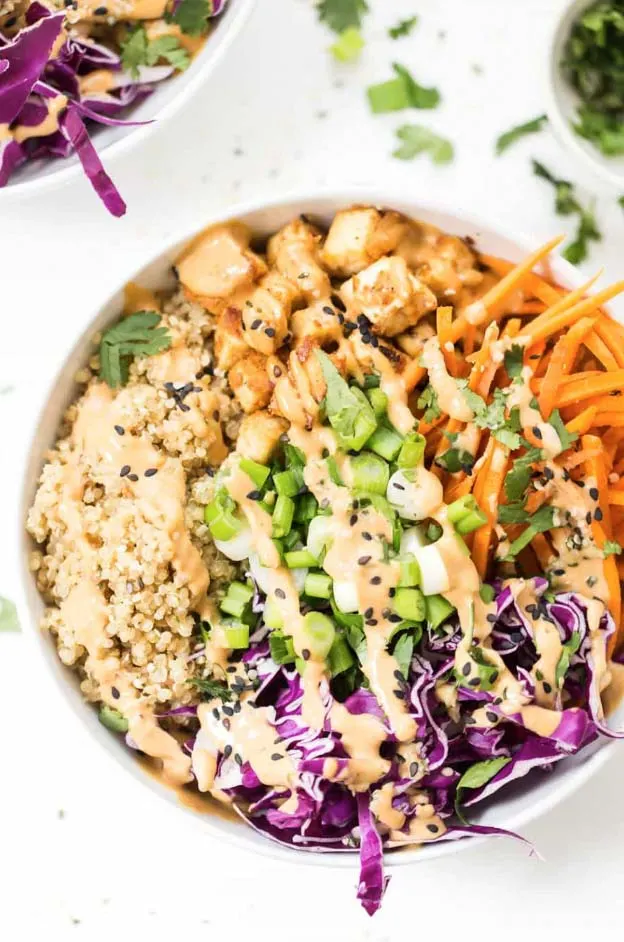 Pesto is arguably one of the most delicious things ever, and putting it in a salad will only compliment everything else in it. This recipe is high in protein, delicious and undoubtedly very green. You'll feel great Mediterranean vibes from this salad!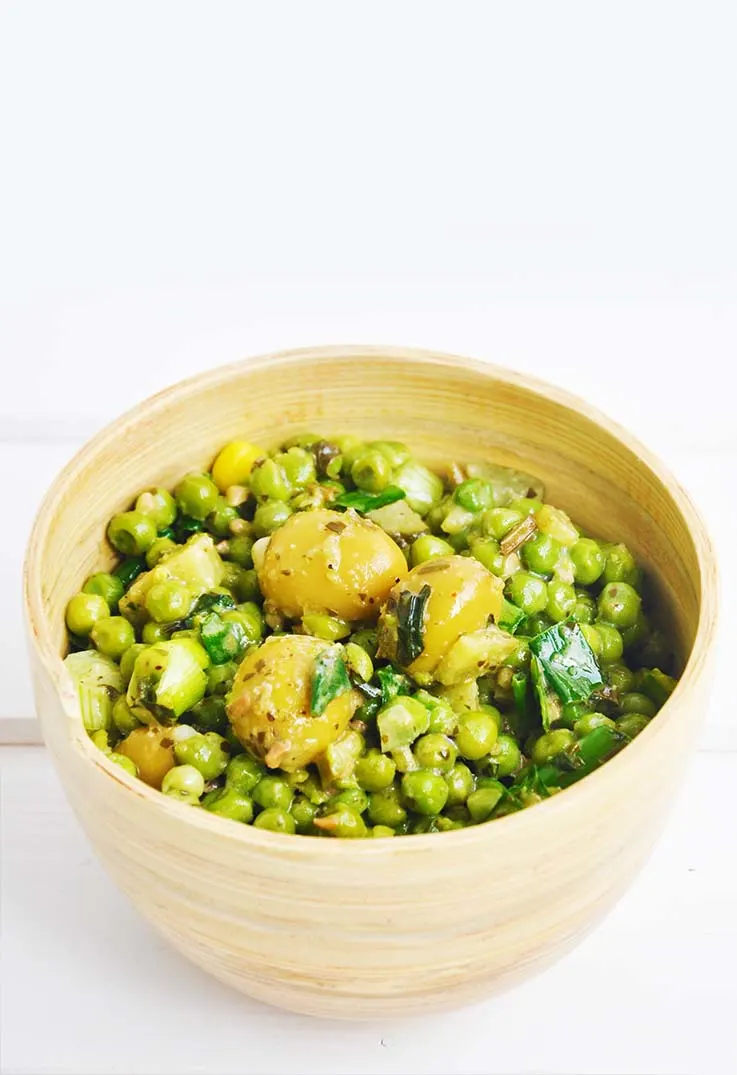 This wonderful carrot-based mix of plants and dressings is a whirlwind of oriental goodness! It's as appealing to the taste buds as it is to the eyes – just look at that mix of colors! This dish is perfect for early autumn, and goes great as a side for the family barbecue, or even enjoyed by itself! Chickpeas are a great source of protein in your salad, the applesauce offering a delightful twist. Try it yourself!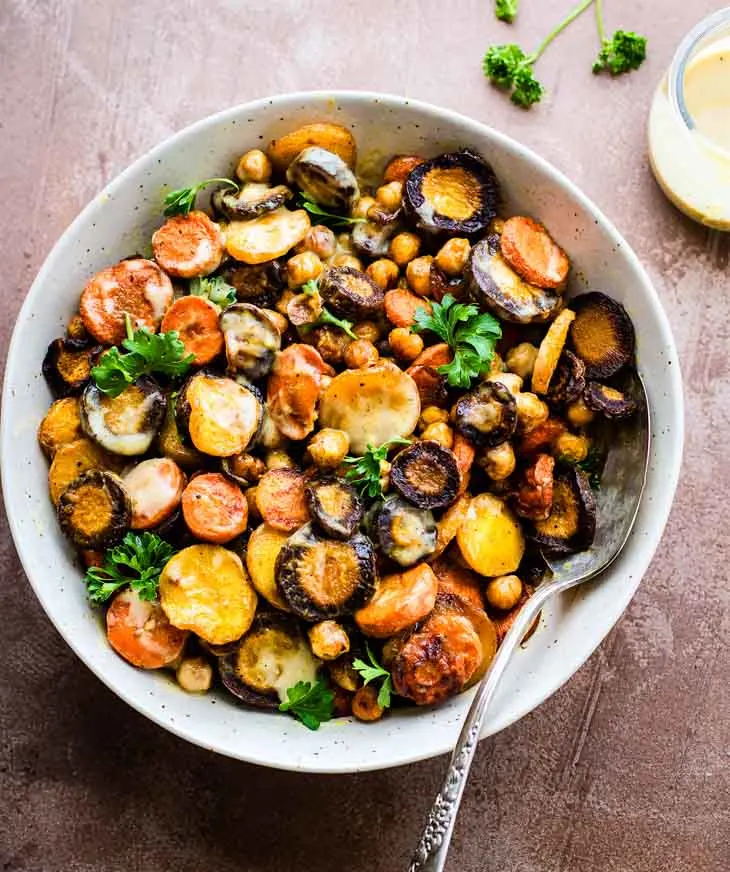 Here's a quick and easy Middle Eastern recipe! Quinoa is rich in protein, and it's generally a good alternative to rice. It also features a very easy to make lemon and garlic dressing, which you can use in other recipes, too! Try this if you're looking for ideal protein salad dressing recipes!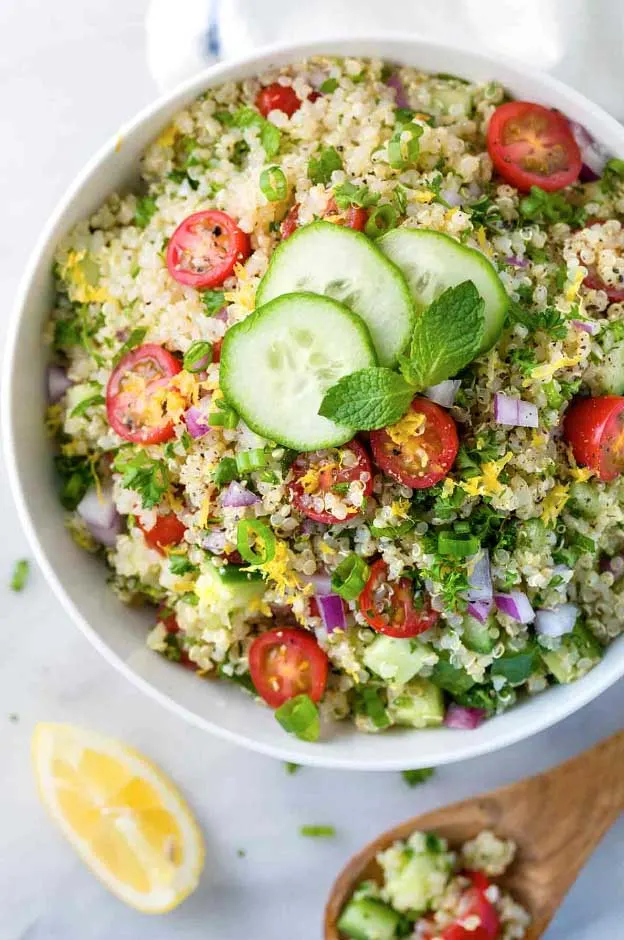 This is a tasty salad you can make out of ingredients you probably already have in your kitchen! This is one recipe that involves a bit more cooking than the others. Button mushrooms are full of protein, and they add a lot of flavor to your salad if you caramelize them just right. You can add vegetable stock to the lentils while cooking to add more flavor. Try this salad by itself or with some shredded vegan cheese on top – the choice is yours!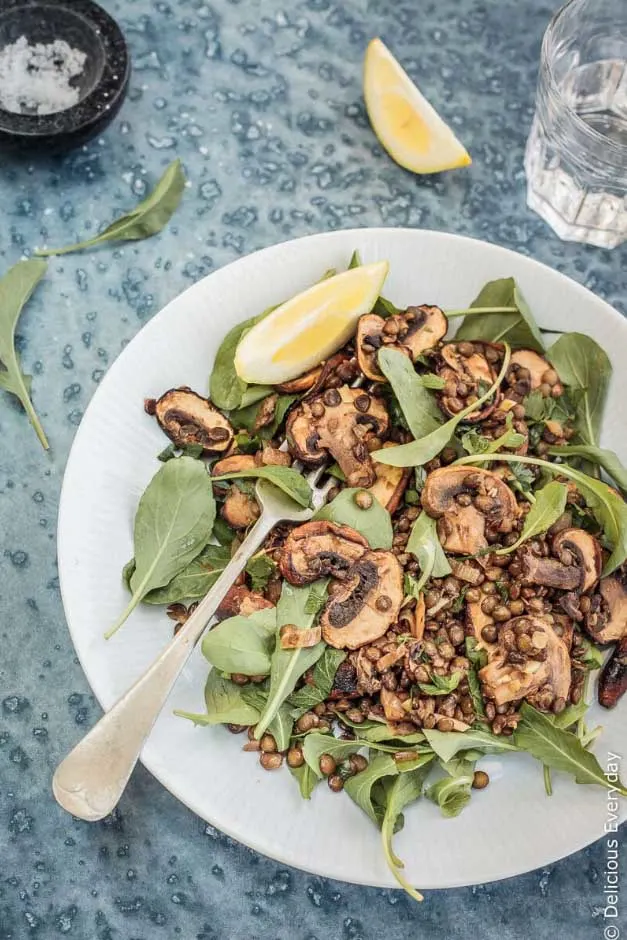 This is a simple lentil salad that you can make at home in no time! You can choose whether to roast the vegetables or use them raw – it ends up delicious either way. The lentils tie everything together in a vegetable mix that's tasty and full of protein!