Here's a crazy idea: vegan bacon made from… coconut flakes! Can you believe it? If not, try this recipe for vegan coconut bacon and get ready to be mind-blown!
Over the course of history, people have been experimenting with cooking like crazy. It's only fair – after all, food is what brought us together as a species in the first place. And after people noticed that cooking improves the taste of their food, a large room for improvement has been created. Hence all the experimentation that goes on in the kitchens of the world.
All major food discoveries have had some deliberate purpose behind them, and every region-specific cuisine is the result of hundreds of years of cultural influences and scientific research. So then you might wonder, what is the thought process behind replacing bacon with…coconut?
Let's back up a bit – what is bacon? Bacon is probably one of the most popular foods in existence. It is, quite frankly, a piece of American history. Farmers used to take pieces of salt-cured pork and slice them up and throw them in a pan with some eggs in the morning.
The number 1 rule for breakfast in the old days was that it had to be made of things that require little effort to prepare. This is why bacon is so popular – all you have to do to get tasty bacon is take it out of the packaging and throw it in a sizzling hot pan. But what if you're following a vegan diet or don't like fatty foods, and yet want to enjoy the crispiness and saltiness of bacon without the obvious health considerations?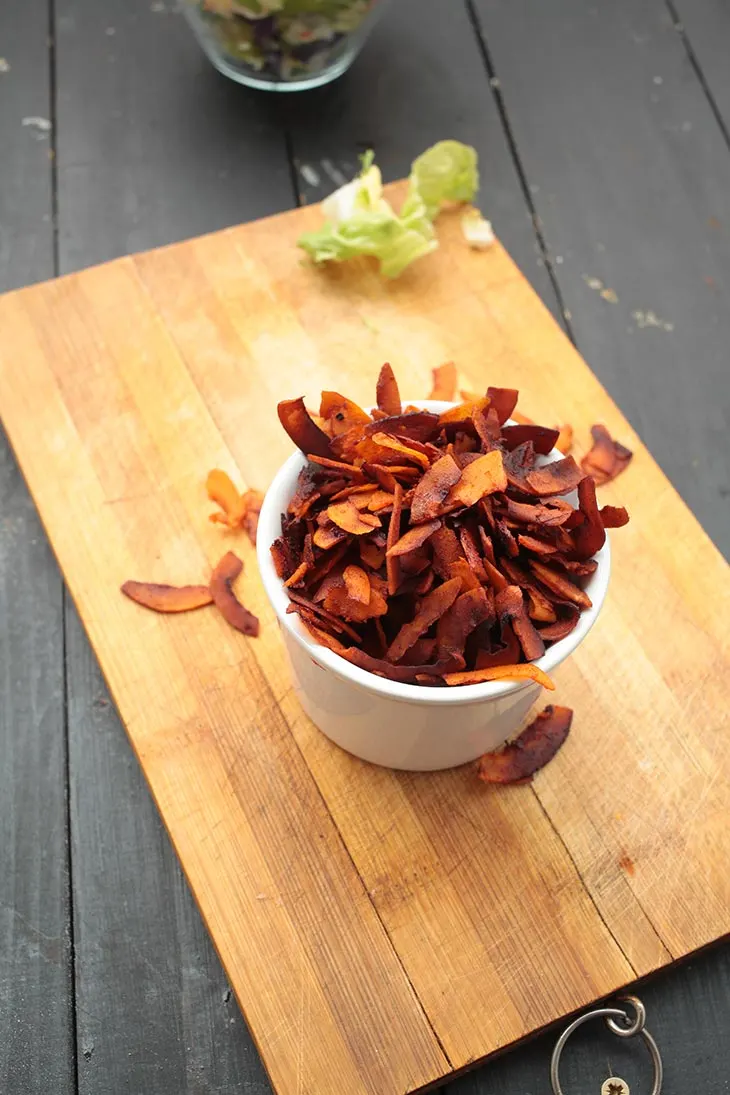 Well, there are plenty of ways to make bacon replacements out of vegan ingredients. Today, however, we will explore a more "unorthodox" way of doing it. I say "unorthodox" because when you hear "coconut" you probably don't automatically think "great, tastes like pork!".
Coconut is a delicious ingredient by itself, being used in many vegan recipes, in the form of flakes, oil, or milk. It's even used predominantly in vegan recipes, like cakes, protein bars, and other desserts. Come to think of it, you've probably never heard of coconut being used for anything else than desserts. But today we're going to make bacon out of it, and trust me when I say that it's gonna be the best vegan bacon you've ever tasted! 🙂
I should start by saying that this recipe isn't going to look exactly like fresh strips of bacon. Because we are going to be using coconut flakes, which are smaller in size and larger in number, it will look more like finely chopped bacon, ready to be put in a salad – a healthy salad!
The taste, however, should be similar to everyone's favorite pork product, even if texture-wise the finished product might come out a bit creamier than real bacon, due to the coconut flakes' natural oils.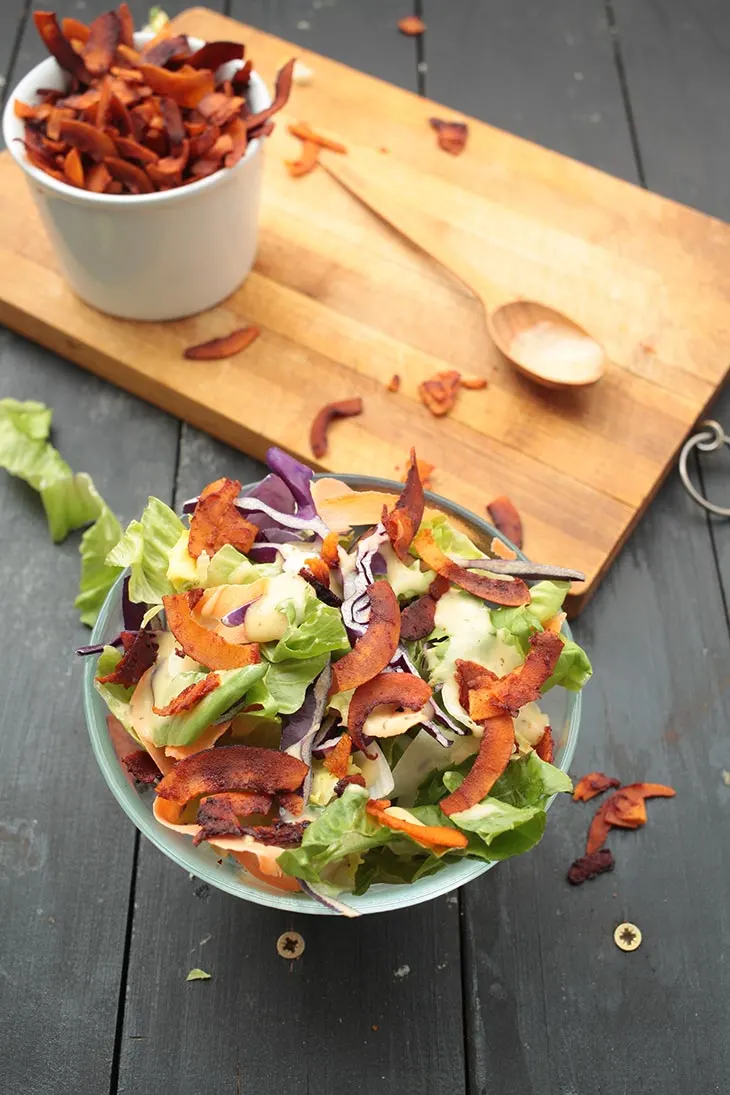 Still, just like my other vegan bacon recipes, it's a worthy recipe to try, because it's ready very quickly and it's got a much better nutritional value than real bacon. There is room for experimentation in the marinade sauce, which I made from garlic powder, smoked paprika, soy sauce and other magical ingredients that you will find out once you read the recipe below!
What you do with it and how you serve this particular recipe for vegan bacon is all yours to decide! Due to its flaky nature, you can serve in a salad or a Buddha bowl. You can mix it with other ingredients like tofu and baby spinach leaves, and it will serve as the main flavor source.
You can add this type of bacon to your kids' lunch in the form of a sandwich. Of course, you can have your vegan bacon traditionally, for breakfast, along with toast and your favorite egg replacement. The point with easy recipes like this is to have fun and customize them to your preference! 🙂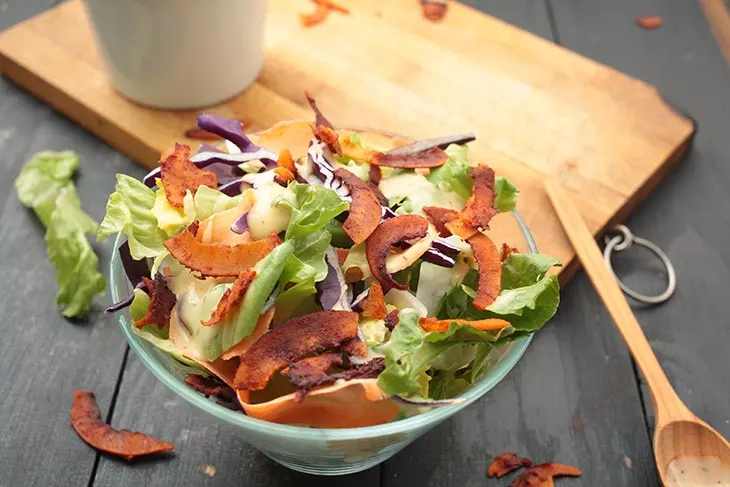 Your kids are the ones who are definitely going to enjoy this recipe! You can create many kid-friendly recipes with this healthy version of bacon. You can spruce up their parties by adding it to the creamy dip or serving it as a mid-day snack. The possibilities are endless, and I'm sure the whole family will love your vegan bacon!
I hope you will have fun trying this recipe out. Please tell me how it came out, I can't wait to hear some feedback!
Yield: 1
Vegan Coconut Bacon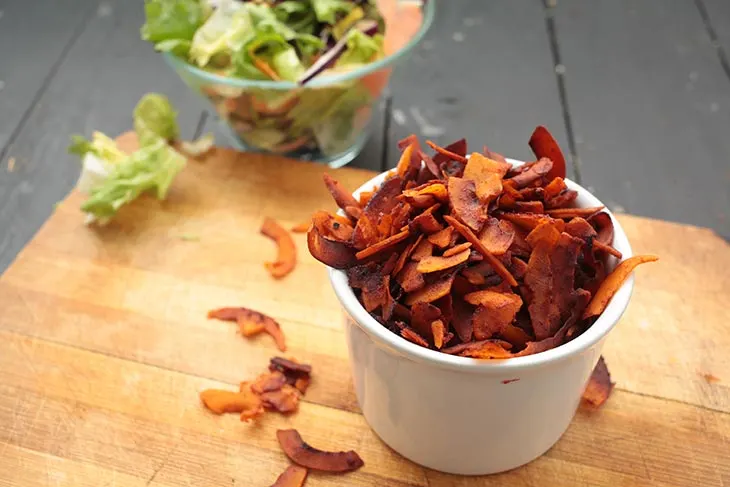 Here's a crazy idea: vegan bacon made from... coconut flakes! Can you believe it? If not, try this recipe for vegan coconut bacon and get ready to be mind-blown!
Ingredients
100g (1 cup) large shredded coconut
1 Tbsp olive oil
1 Tbsp soy sauce
½ tsp smoked paprika
⅓ tsp garlic powder
1 tsp coconut sugar
⅓ tsp pinch of sea salt
½ tsp black pepper
Instructions
Preheat the oven to 120C.
Lay a baking paper on a baking tray.
Use a large jar or a bowl. Add all the ingredients and shake or toss to cover up all the coconut flakes.
Spread the coconut flakes mixture evenly on the baking tray.
Bake for about 7 minutes or until golden.
Remove from oven and let cool.
Use the coconut bacon in salads, soups or as a topping for bruschetta.
Nutrition Information
Yield
1
Amount Per Serving
Calories

637
Total Fat

45.7g
Carbohydrates

51.4g
Protein

4.8g