These Thai peanut noodles are ready in less than 20 minutes and are bursting with flavors! Plus, they're high in proteins!
Peanut sauces are a staple in the Thai cuisine. I simply love them so I couldn't miss showing you my favorite Thai peanut noodles recipe as part of this month's Asian recipes challenge.
The base of Thai peanut sauces is, of course, peanut butter. You can use store-bought or simply make it yourself in a blender using some roasted peanuts (here's how I make homemade peanut butter.)
Every time I make peanut sauce I also add a little bit of sesame oil. I use it for sushi as well and add it to almost any Asian recipe I cook. It completely changes any dish it is added to. Also, sriracha is another favorite and can't miss from my spicy Asian-inspired recipes. If you're not used to cooking with hot sauces, add tiny amounts and grow from there. I love spicy food and have a high tolerance for it, but if you don't usually eat spicy food, add less sriracha.
You can also make peanut sauce in a larger batch and store it in the fridge. This is what I usually do. You can use the leftovers as a dip sauce for fresh or cooked veggies, tempura, spring rolls, or add it to any stir-fry. It also goes really well in salads!
To make these Thai noodles more filling and high in proteins, I added some smoked tofu chunks. I love smoked tofu! It tastes like bacon! Here's another recipe I've used it in – vegan BLT sandwich. It is delicious!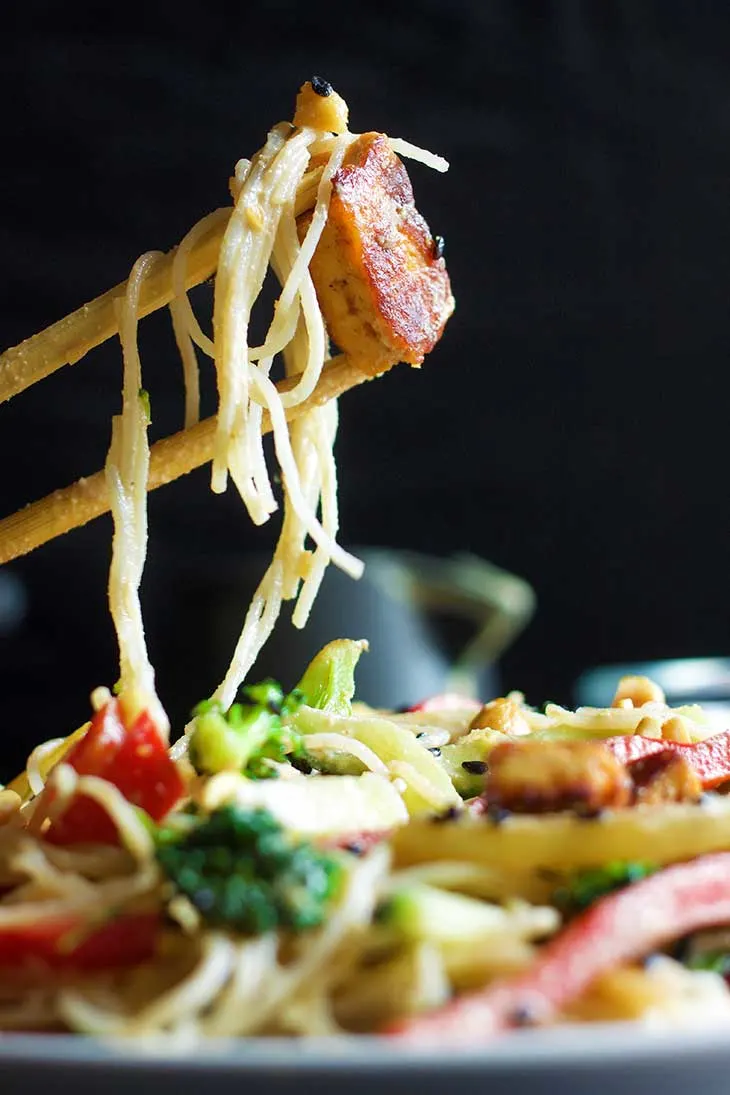 Yield: 2 +
Thai Peanut Noodles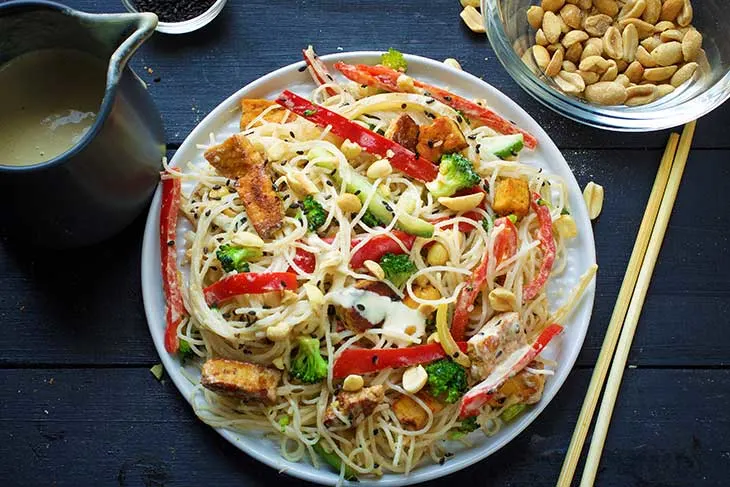 These Thai peanut noodles are ready in less than 20 minutes and are bursting with flavors! Plus, they're high in proteins!
Ingredients
200g (7 oz) rice noodles
1 large red bell pepper, sliced into thin strips
2 small cucumber, sliced into thin strips
90g (1 cup) broccoli, cut into small florets
1 large yellow onion, sliced
60g (½ cup) lightly salted roasted peanuts, roughly chopped
250g (1 cup) lightly toasted smoked tofu, sliced
black sesame seeds, for garnish
1 tsp coconut oil
Peanut Sauce
80g (⅓ cup) creamy peanut butter
60ml (¼ cup) warm water
3 Tbsp soy sauce or tamari
2 Tbsp maple syrup
1 Tbsp Sriracha
1 ½ Tbsp fresh ginger, peeled and minced
1 Tbsp garlic, minced
1 Tbsp sesame oil
Instructions
Soak the noodles in hot water according to directions listed on the package.
Meanwhile, prepare the peanut sauce. In a food processor, combine all sauce ingredients and blend til' smooth.
In a wok pan, on medium heat, add a teaspoon of coconut oil.
Add bell pepper, onions, broccoli, and stir-fry for about 3 minutes.
Add toasted tofu and noodles and mix everything.
Sprinkle with black sesame seeds and serve with the peanut sauce drizzled on top.
Nutrition Information
Yield
2
Amount Per Serving
Calories

1377
Total Fat

63.3g
Carbohydrates

145.7g
Protein

56g