Make this easy vegan sponge cake for Christmas this year and enjoy a delicious, refined sugar-free dessert with a super-fluffy consistency!
I wanted to make a festive dessert this weekend so I can fully enjoy the holiday spirit while sipping on hot chocolate and watching Christmas-themed movies. 🙂 I decided to make this easy vegan sponge cake with red currants. The recipe is incredibly simple and was inspired by an older recipe of mine, the vegan chocolate cake. This time I wanted to achieve a fluffy, soft texture, so I tweaked the recipe and the result was just as I imagined! 🙂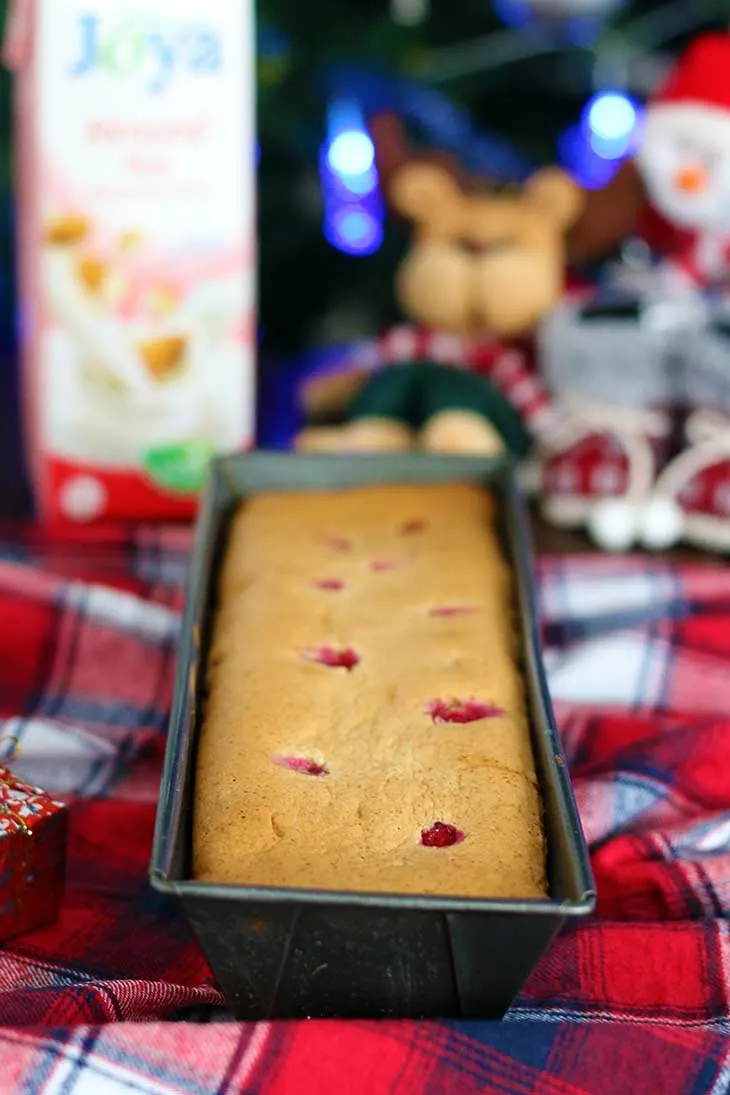 I baked this vegan sponge cake in a rectangular tin for pound cakes and because my tin was a bit too small for the recipe quantities I used, I put the rest of the mixture into two souffle forms. You can give this vegan sponge cake any form you want and even add some toppings and frostings to it to make it even more Christmas-y. 😀
Imagine this recipe with some white, vanilla frosting, dusted with sugar or topped with even more red currants! If you bake it in a cake tin, you can also add frosting in the middle and transform it into a Victoria sponge cake! 🙂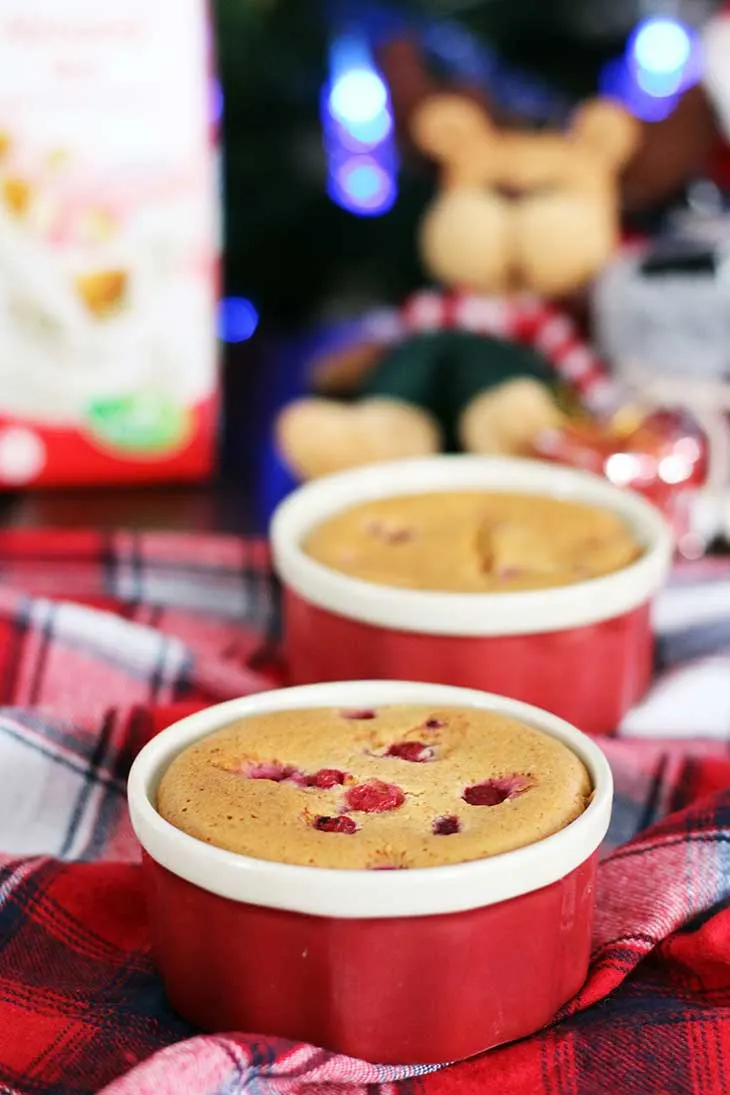 Also, please let it cool before slicing. I didn't, as usual I'm impatient and wanted to take the photos quickly, and it may look a bit too fragile. It's not. After cooling at room temperature it will slice perfectly. 🙂
Maybe I'll make this again this Christmas and add some frosting as well. I will have to test some good vegan white frosting recipes without margarine. I hate margarine and will never use it! So if you know any good and somewhat healthy vegan frosting recipes, please do tell! 🙂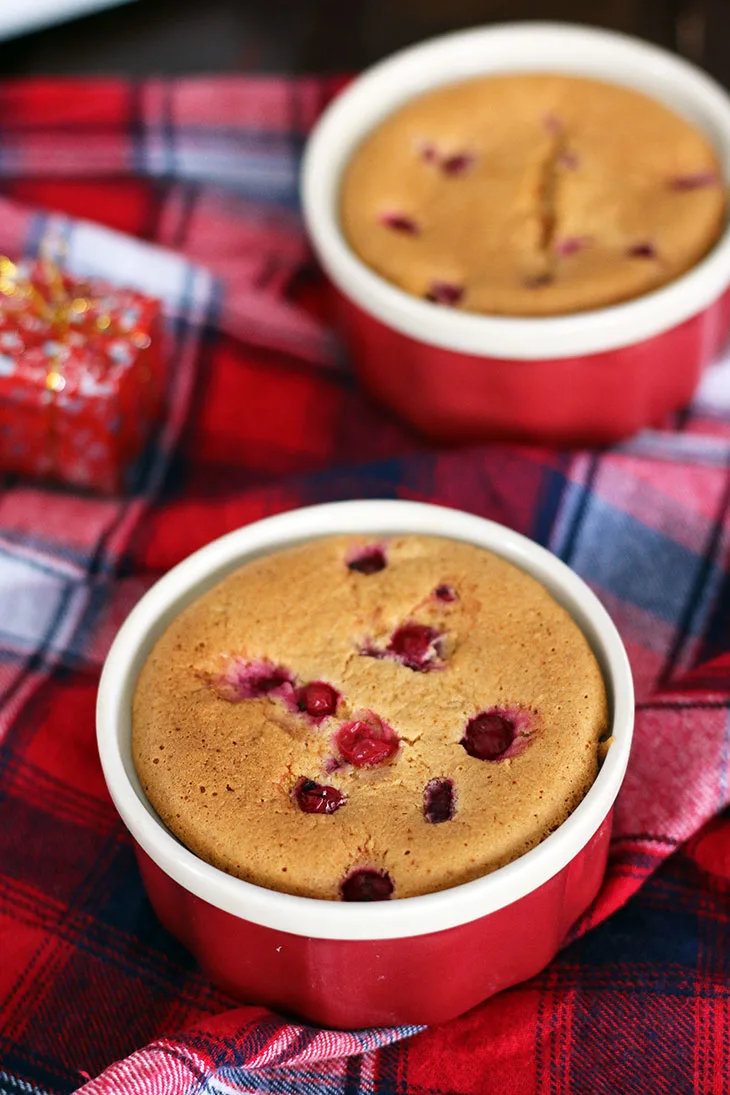 If you want to try some other Christmas-inspired desserts, check out my vegan pound cake recipe and vegan chocolate-cherry cake. Hope you'll like them!
Don't forget, if you give my recipes a try, take a photo and tag me on Instagram @gourmandelleblog and use the hashtag #gourmandellerecipe. I will feature you on my Facebook page and/or Instagram Stories! 🙂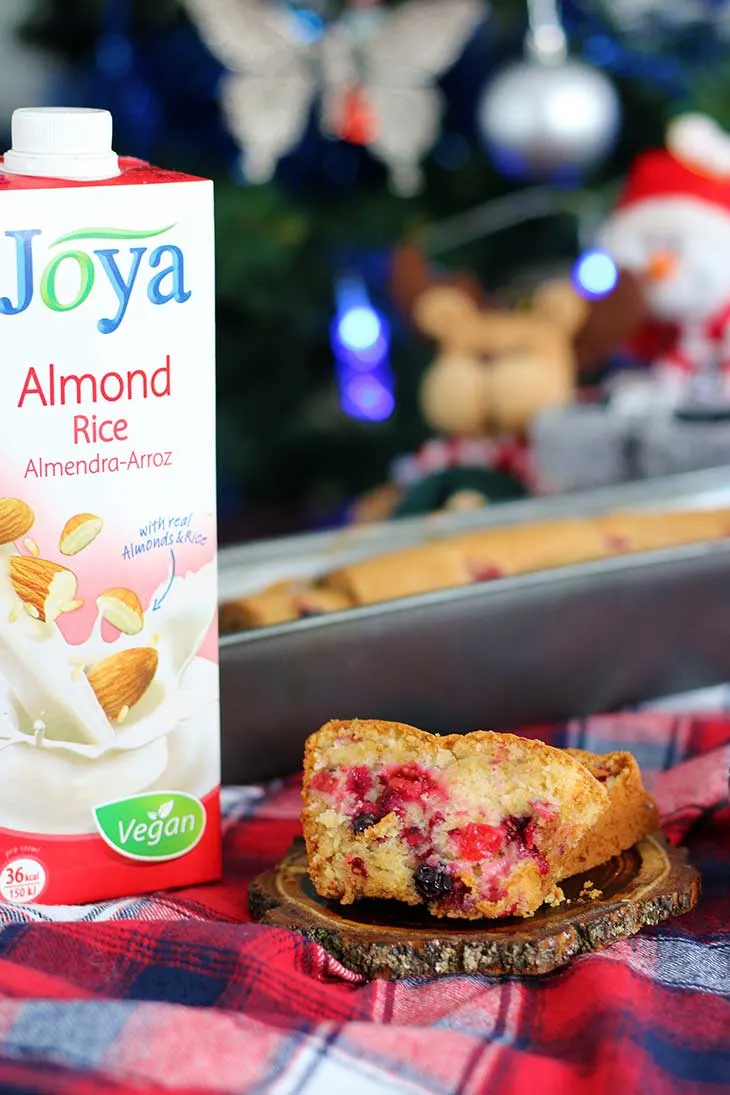 Yield: 8+
Vegan Sponge Cake with Red Currants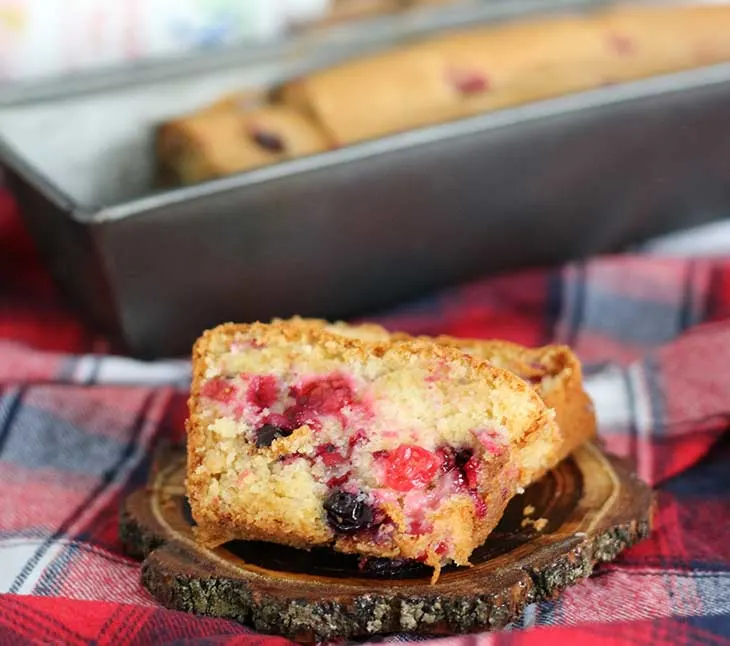 Make this easy vegan sponge cake for Christmas this year and enjoy a delicious, sugar-free dessert with a super-fluffy consistency!
Ingredients
220g (1 ¾ cups) all-purpose flour - or you can use a gluten-free flour mix, such as Mix It Schar or Mix Patisserie by Schar
100g (½ cup) fructose (or stevia powder, if you use brown sugar, double the quantity if you use sugar)
1 tsp baking powder
1 tsp baking soda
240ml (1 cup) almond milk (or other non-dairy milk. I used my favorite brand, Joya)
2 tsp vanilla extract
80ml (⅓ cup) oil
1 Tbsp apple cider vinegar
250g (2 cups) red currants, frozen or fresh
Instructions
Preheat the oven to 350F (180C).
Sift the flour into a mixing bowl, then add the fructose, baking soda, baking powder and mix.
Add the liquids: almond milk, vanilla extract, oil and vinegar and whisk together.
Add the red currants and mix.
Grease a tin (I used a rectangular, tall, pound cake tin, but you can use a round cake tin as well).
Pour the mixture in and top with some more red currants.
Bake for 30 minutes, or until a toothpick inserted in the center of the cake comes out clean.
Let it cool before serving. I didn't wait, so that's why it may look a bit too fragile in the photos, but trust me, when it's cool, it's just perfect!
Nutrition Information
Yield
8
Amount Per Serving
Calories

335
Total Fat

11g
Carbohydrates

55g
Protein

3.7g