Are you ready for one of the tastiest and most flavorful tarts out there? Here's how to make a vegan onion tart that's bursting with unique flavors!
I love tarts. I will start today's blog entry by saying it loud and clear. I loooove tarts! They are a perfect combination of baked pastry with hearty and nourishing ingredients. Well, not always, that's true, tarts can be sweet too, in which case they are still totally delicious but, we all know it – not that nourishing. (Still love them though!)
But today we are going to focus on the healthy stuff. And that means savory tarts! Today I want to show you a recipe for the greatest vegan onion tart! 🙂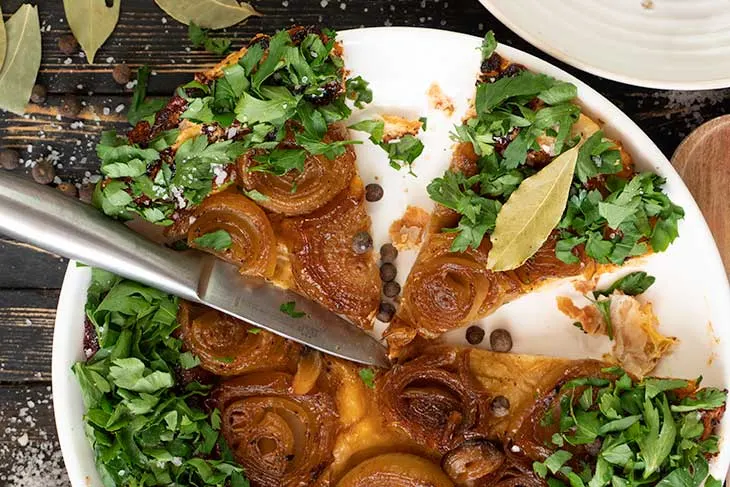 I must admit that for me this is a quite new recipe, but it was love at first sight! I ate a version of this tart in a restaurant and I saw the potential, but then I decided to try to make it even better. And it turned out better than great and it's now one of my favorite tart recipes! And saying that really means something.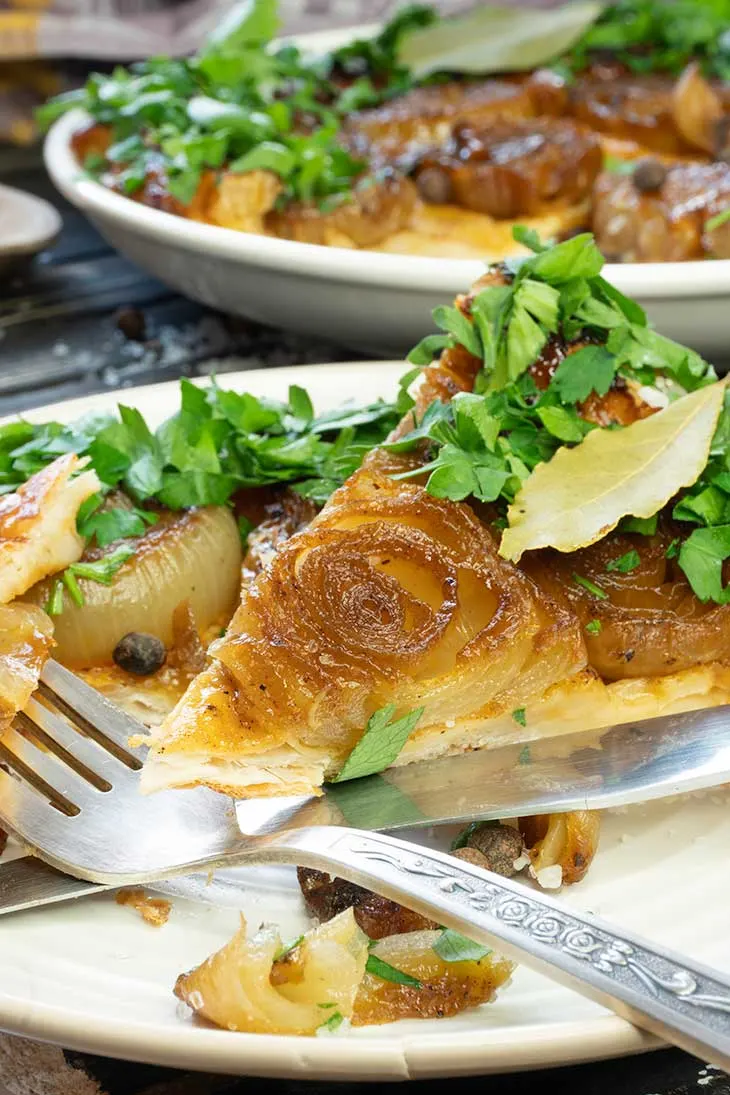 While I generally love tarts, I wouldn't dare to say that all tarts are equal. But this one is really something special. The onion gives this recipe a really unique flavor and I think that you will really really enjoy it!
And I'm not alone in my passion for tarts. In old times, tarts were considered a food for the aristocracy – as opposed to pies that belonged to the commoners. While this is not at all true anymore, with both pies and tarts being accessible to everyone and equally delicious if prepared right, it's still a fun thing to know.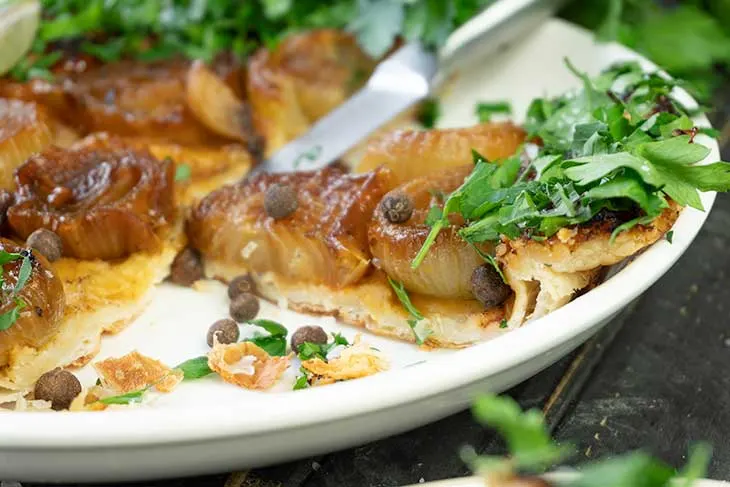 According to food historians, tarts can be traced back to 500 BC in Ancient Greece. Of course, back then the tarts weren't at all what they are today. Back then, tarts meant only layered food on a flat piece of bread.
Tarts, as we know them today, appeared in the Middle Ages somewhere in France. They were originally savory with mainly meat fillings. I am happy that thanks to the cultural and culinary evolution, there are now plenty of sweet and vegan tart options available.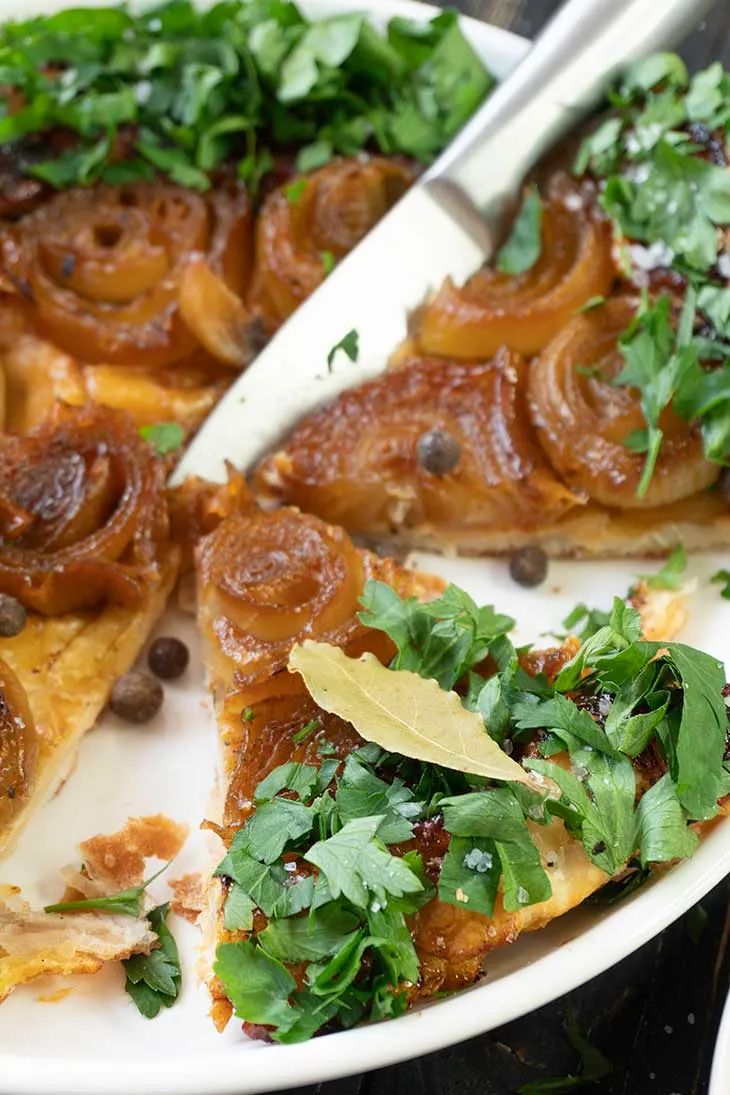 Our tart today is all about veggies. Or to be honest, it's all about onions. Of course, we've got other ingredients too, but the star of the recipe is the onions. And for me, the best kind of onions are caramelized onions!
The caramelization process is a sensitive one, so make sure you do everything right! The entire journey starts with choosing the right onions. Well, we're not that pretentious and any kind of onions will do but my suggestion is sweet (Vidalia) onions. Caramelized onions should have a distinctly sweet flavor and using these onions will help a lot achieving that specific taste. But, of course, any onions can work!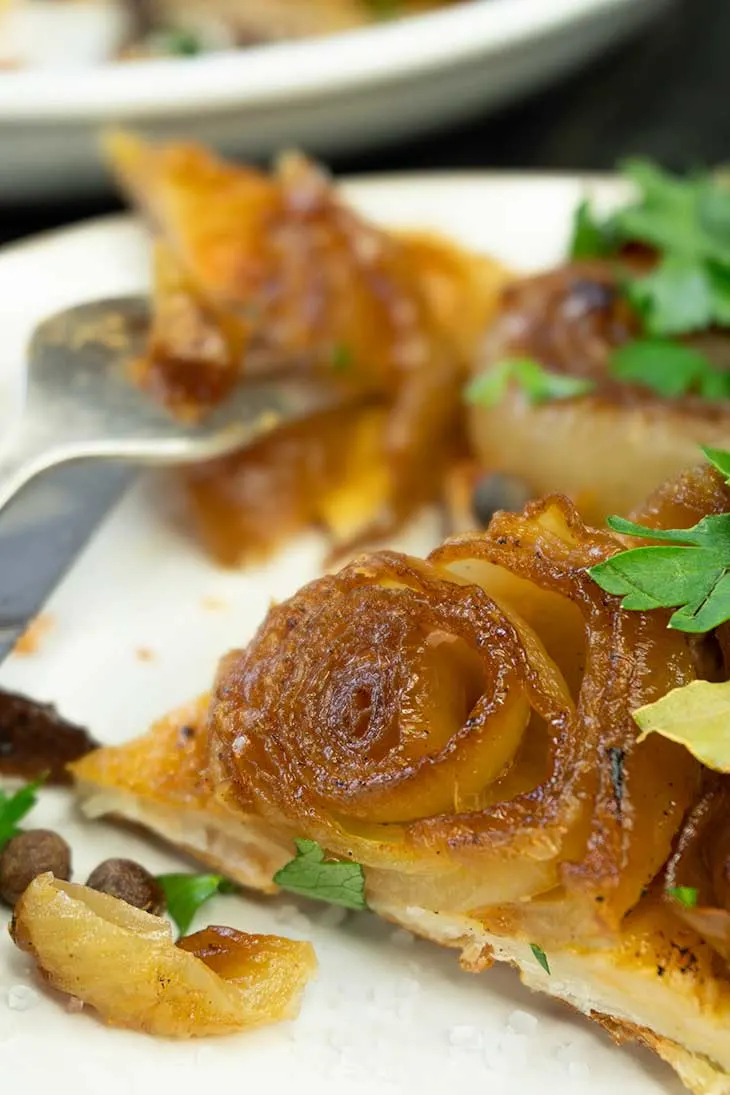 Another important step for making the best-caramelized onions: cutting them right! We don't want them in chunks, but if the slices are too thin, then they will shrink and disintegrate and we won't be able to feel their taste so well. So we need thick slices – this way they will remain juicy and delicious.
For the caramelization process, you might want to add a little bit of sugar. It's not mandatory, but it really helps the process. One last tip: keep the lid on your pan while caramelizing the onions for the first 10 minutes or so – this will ensure that the onions become succulent and bursting with flavor. Remember that this recipe is all about the onions so we really need to get them right!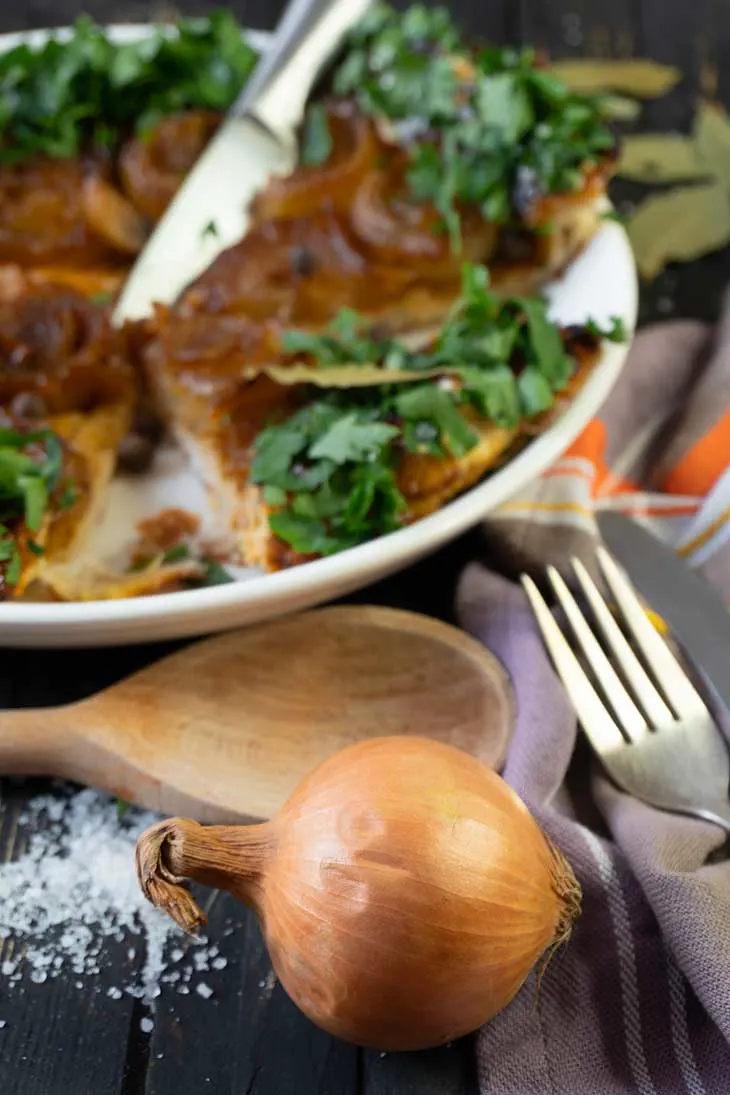 While you need to pay attention to certain things while making this recipe, don't get scared! It's not at all complicated and anyone could do it with a little patience and care! Take your time and you will be rewarded because the taste of this tart is simply amazing. It's the kind of dish that makes you come back for more. Another warning: it's also the kind of dish that tends to disappear really, really fast – nobody resists it once they get a taste!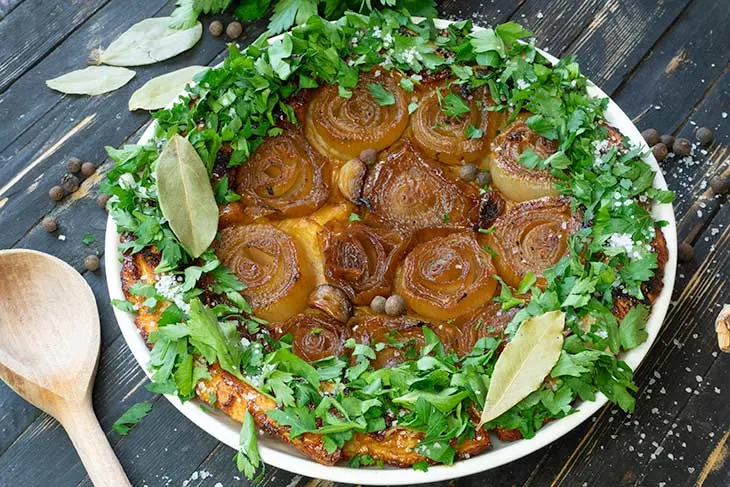 Jokes aside, this tart will keep well in the fridge so it could easily last you the whole week. It's the kind of dish that gets better after a day or two because all the ingredients will blend together and the taste becomes more and more flavorful. 🙂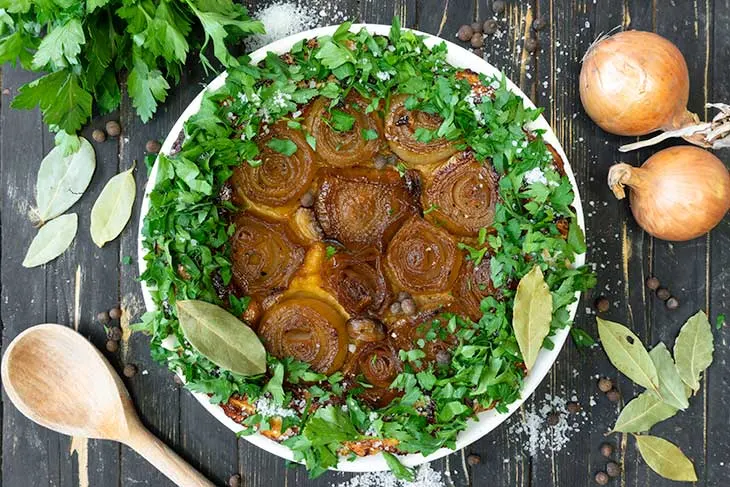 All that being said, it's time to get to work! Gather your ingredients, pots, and pans and let's start! I can't wait to read your comments about this recipe because I have a feeling that you will really like it – so don't forget to let me know how it turned out for you!
Yield: 8
Vegan Onion Tart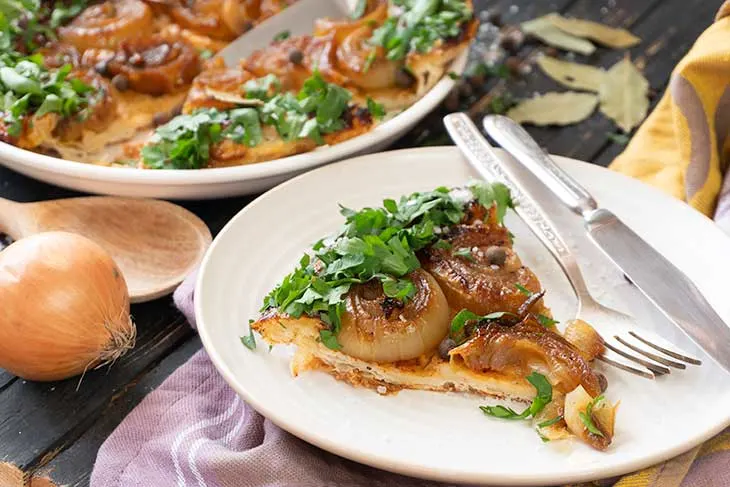 Are you ready for one of the tastiest and most flavorful tarts out there? Here's how to make a vegan onion tart that's bursting with unique flavors!
Ingredients
1 vegan puff pastry
4 medium onions, cut into thick circles
30g (2 Tbsp) vegan butter
2 Tbsp sugar
2 Tbsp apple cider vinegar
2 Tbsp lime juice
120ml (½ cup) water or veggie stock
3-4 bay leaves
2 tsp garlic powder
1 tsp smoked paprika
60g (1 cup) fresh parsley, chopped
salt and pepper
Instructions
Heat a large oven-safe pan over medium-high heat.
Add the butter, sugar, bay leaves, garlic powder, smoked paprika, and lime juice.
Cook for 30 seconds before adding vinegar and veggie stock.
Cut the onion into thick circles and place them in the pan.
Season with salt and pepper. Cover, lower the heat to medium-low and cook for 10-12 minutes.
Uncover and let the liquid reduce by 2/3.
Place the puff pastry dough on top and bake at 180C for 20 minutes or until the dough is golden brown.
Flip it on a plate and garnish with a generous amount of chopped parsley.
Nutrition Information
Yield
8
Amount Per Serving
Calories

104
Total Fat

3.9g
Carbohydrates

15.3g
Protein

1.7g