Are you craving a super delicious dip that goes well with a ton of snacks? You are in the right place – here's how to prepare a delicious vegan French onion dip!
The weekend is approaching fast and I am thinking of organizing a movie night with my friends. And this calls for party food! I think deep down I'm excited about the movie night just because of the food. Snacks, dips, cookies – it's show off time! 🙂
I decided that for this occasion I would prepare my amazing French onion dip. It's a recipe that I've perfected over the years and it's a real crowd-pleaser. Together with the perfect crisps, it's a match made in heaven! 🙂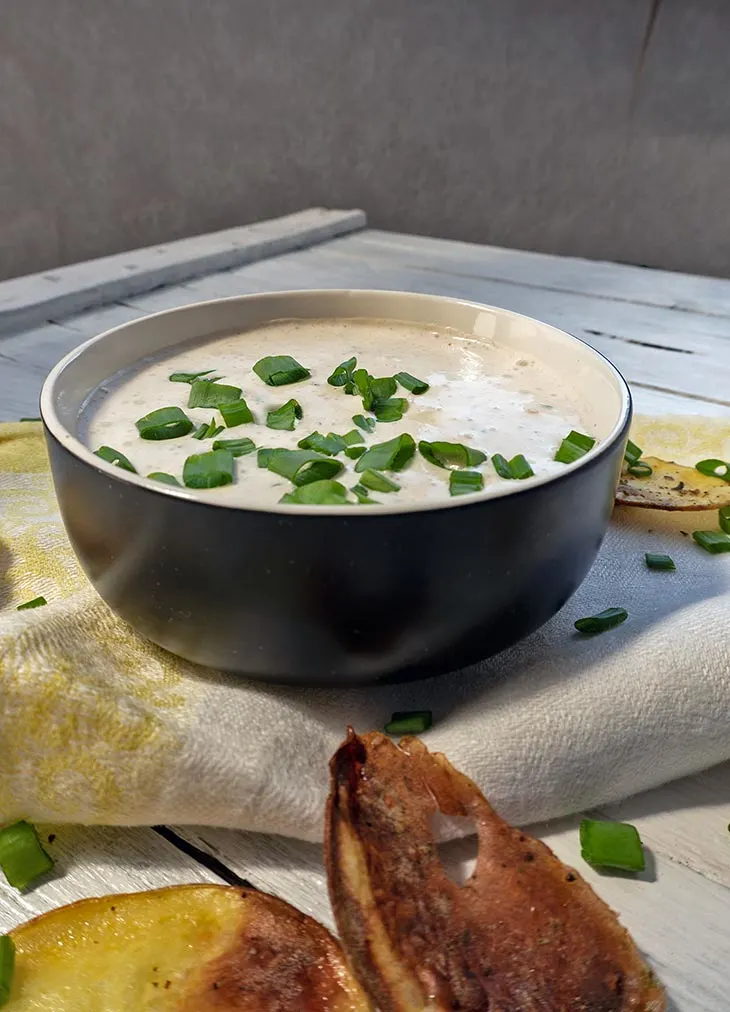 The French onion dip is a classic in the dip world, and you may already know it. But I promise that this recipe is really something else. First, because it's completely vegan and super healthy!
You won't be worrying about additives or ingredients coming from unknown sources as you would with the store-bought version! I only use natural ingredients, and you are in full control of their quality. The better the quality, the better the taste – that's what I always say!
Despite its name, the French onion dip is, in fact, an American invention. It dates back to the 50s when some unknown French cook living in Los Angeles added some instant onion soup to a bowl of sour cream! Personally, I wouldn't recommend going anywhere near a pack of instant soup but back then, the combination was a complete success!
The newly created dip spread quickly and it even appeared in local newspapers. It even appeared on television! The Lipton company, who commercialized, among others, instant soup, promoted the mixture on a TV show. And later, they even printed the recipe on the package of their instant onion soup in 1958. Crazy times, dare I say!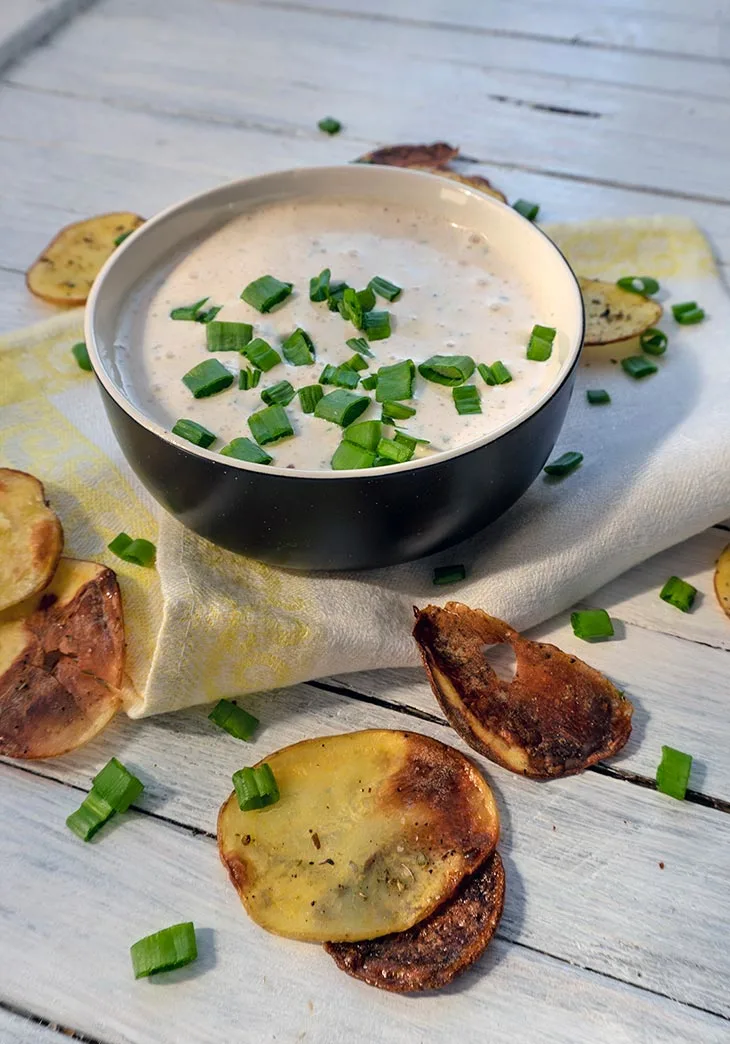 That's how it became to be called Lipton California dip and later it just remained under the name of California dip. They started to call the mixture French onion dip only in the 60s but didn't become more than California dip until the 90s.
Fortunately, homemade versions appeared. They replaced the instant soup with more reliable ingredients and caramelized onion became a must for this recipe. And this is exactly how we are going to prepare it today. Guilt-free and delicious.
Do you love caramelized onion? So do I, and who doesn't? It's such a unique and flavorful taste that can't be beaten by anything else! 🙂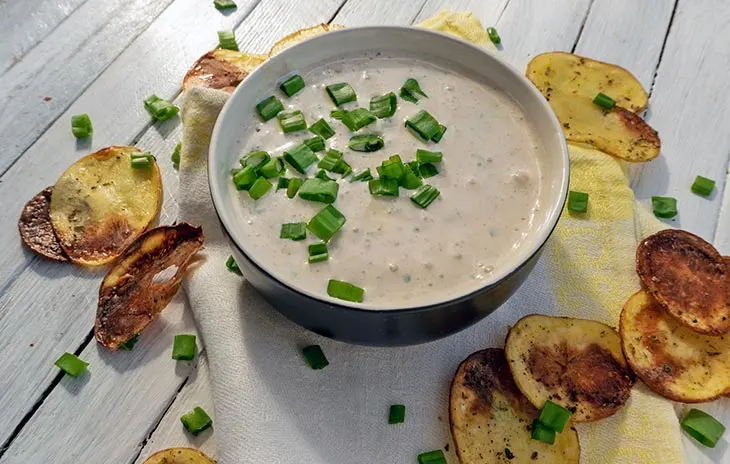 Now, you may wonder: What about the sour cream? That's not vegan, right? Well no, but it can be! For this recipe, you can use any non-dairy sour cream base. But in case you really want to make a hit, I recommend my recipe for vegan sour cream. It's extremely delicious and super easy to make! And it will be the perfect base for the french onion dip, I assure you!
If you plan to make your own sour cream for this, just be careful to prepare in advance! My recipe for sour cream features cultured probiotics (that's the right way to do it!), and it will have to sit for 48 hours in order for the (good kind of) bacteria to develop.
But the good news is that you can totally prepare the whole thing a few days in advance. Because the dip will be fine in the refrigerator for a few days – even better, it will give the flavors time to mix together and everything will become even tastier!
As I said in the beginning, I plan to make this as a dip for a party, so we will probably use it with some potato chips. But there are so many more options! If you'd like to keep things 100% healthy, you can use it with any kind of vegetable chips (maybe you'd like to check out my recipe for vegan avocado chips). Or maybe some tortilla chips, pretzels… even some sliced fresh vegetables would do!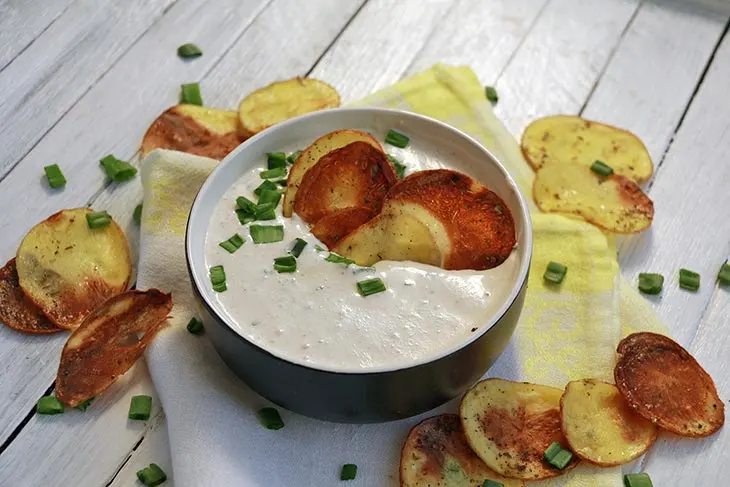 It's completely up to you how you want to enjoy this yummy dip. Maybe you'd like to use it as a sauce for a veggie burger… and if you're looking for a crazy idea: I even know someone who puts French onion dip on pizza! 😉
No matter how you serve it, it will surely be delicious. Not let's start preparing, because I can't wait to munch! Don't forget to comment and let me know if you enjoyed it, bon appetit! 🙂
Yield: 4
French Onion Dip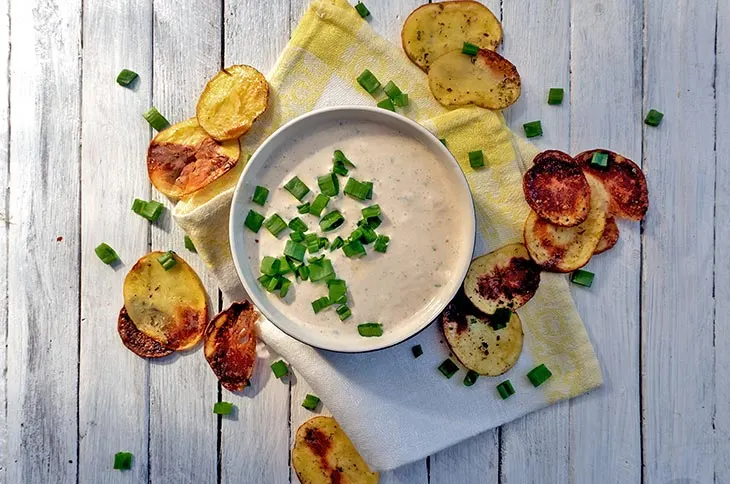 Are you craving a super delicious dip that goes well with a ton of snacks? You are in the right place - here's how to prepare a delicious vegan French onion dip!
Ingredients
3 large white onions, chopped
3 garlic cloves, minced
300g (1 ¼ cups) vegan soy yogurt - unflavored
1-2 Tbsp vegan butter
2 Tbsp vegan mayo
50g (1 cup) green onion
50g (1 cup) fresh chopped parsley
1 Tbsp sunflower oil
1 Tbsp brown sugar
salt and black pepper, to taste
Instructions
Heat the butter and sunflower oil in a pan over medium heat.
Add the garlic and onions. Season with salt and pepper.
Once they develop some color, add the brown sugar and lower the heat. Cook until caramelized.
Pour the sour cream, mayo and the caramelized onions into a food blender and blend until smooth.
Transfer into a bowl, add the chopped green onion and parsley, mix until combined.
Serve with potato chips (homemade is the best).
Enjoy!
Nutrition Information
Yield
4
Amount Per Serving
Calories

439
Total Fat

16g
Unsaturated Fat

0g
Carbohydrates

13g
Fiber

3g
Sugar

8g