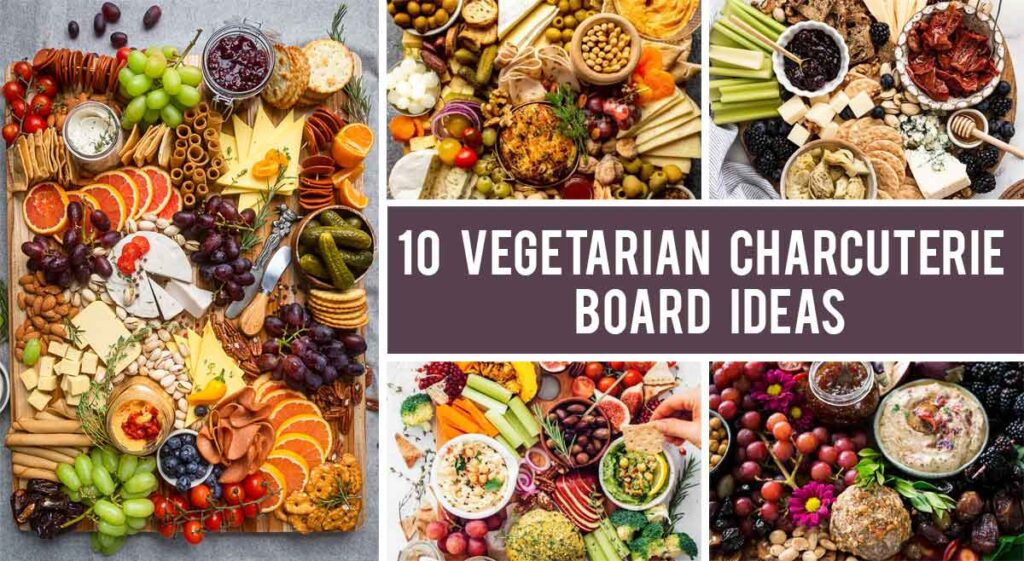 In case you have a party coming over, I have just the right solution for you! Here are 10 vegetarian charcuterie board ideas to impress your guests!
I love hosting dinner parties. I'm always looking for ways to make them special. Charcuterie boards are a great way to impress your guests, but they can be meat-heavy. So, why not try making a vegetarian charcuterie board instead? Let me inspire you in the article below. Plus, I'll also offer you 10 vegetarian charcuterie board ideas that you can try ASAP!
What is a charcuterie board?
The word "charcuterie" comes from the French word for meat — a reference to the many types of meat that are typically included on this type of board. The expression "charcuterie board" is usually used when we talk about an appetizer board that includes cold cuts, but not only.
While you can certainly have sliced meats on your board (such as prosciutto and Italian salami), there are other components and small bites that are integral to creating an authentic charcuterie board: pâtés, different kinds of dips, olives, fresh fruit, veggies and other salty nibbles like pickled vegetables or cheeses.
There are many variations on the traditional charcuterie board, including vegetarian versions, which I absolutely love! And all of them work exceptionally well with wine.
Why make a charcuterie board for your next party
A charcuterie board is a great way to please all your guests, whether they're vegetarians or omnivores. It's also an impressive-looking appetizer that can be made by anyone with just a few basic ingredients and tools.
Before you get started on your own, here are a few reasons why making your own charcuterie platter will impress everyone at the party:
It's visually stunning. Whether you're serving it before dinner or setting it out along with drinks after people arrive, having this beautiful display of food makes sure that everyone stops and takes a bite!
It includes varied ingredients for all tastes. You can make all kinds of boards with your favorite ingredients, from cheese to fruit and veggies!
These boards are incredibly easy to make. There are no specific measurements needed; just measure out some cheese cubes into rows and drizzle some olive oil over top!
Last but not least, a vegetarian charcuterie board is a great way to please all your guests! 🙂
How to make a vegetarian charcuterie board
To create your vegetarian charcuterie board, you'll need a variety of cheeses and some fruit, olives or nuts, bread (or crackers), pickles or preserves, and mustard or jam. Here are some ideas:
Vegetables – carrot sticks, cucumber, bell peppers, cherry tomatoes
Fruit – grapes are a great hit when it comes to classic charcuterie boards! You can also use strawberries, berries, figs, melon
Cheese – any type of soft or hard cheese you prefer, from Brie to Swiss cheese
Nuts – walnuts, cashews, hazelnuts, pistachio, and everything in-between
Pickles
Bread and crackers
Dried fruit – cranberries, apricots, figs, etc.
Olives of all kinds – black, green, and Kalamata
Jams and preserves
How to arrange it – tips
Once you've selected the ingredients that interest you most, slice them into bite-sized pieces. If using cheese that comes from a wheel (the classic method for displaying cheese on a charcuterie board), make sure to cut off enough slices to cover every inch of your board in a uniform way.
If using any type of hard cheese like cheddar or Swiss — which can be difficult to cut through cleanly — you may want to consider cutting it into sticks instead so they'll fit better onto the board. For softer cheeses like Brie and goat cheese (which are often too soft to slice neatly), simply arrange them on top of each other so they form one large rectangle shape.
You could also take this opportunity to create a variety of cheese styles in one dish; for example, by alternating between hard and soft cheeses or by making sure that every type of cheese is represented.
Once you've finished setting up your board, it's time to add any additional ingredients that might complement the cheese.
Recipe inspiration
You can make a vegetarian charcuterie board for any occasion, like a dinner party or even a casual get-together at home with friends and family. You can also make it for any meal, like brunch or lunch, or even dinner! And there are so many different types of people in this world, so if you want to impress everyone with your amazing cooking skills, then any of the 10 vegetarian charcuterie board ideas below will surely impress your guests!
Take a look and give them a try!
Vegetarian Charcuterie Boards
Links to full recipes are in each recipe title.
Here's one of the best vegetarian charcuterie board you can make for autumn – or any other season, after all! Recipe created by Healthy Little Vittles.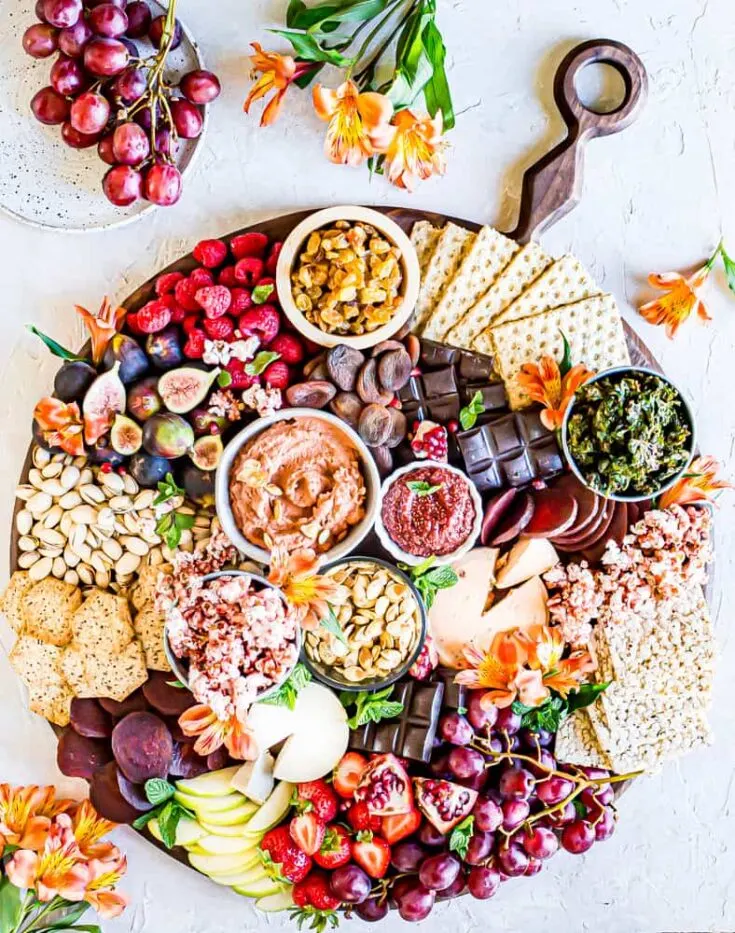 Here's one of the best vegetarian charcuterie boards for vegetarians, plus lots of useful tips for how to arrange it for the most visually pleasing results! Recipe created by The Fiery Vegetarian.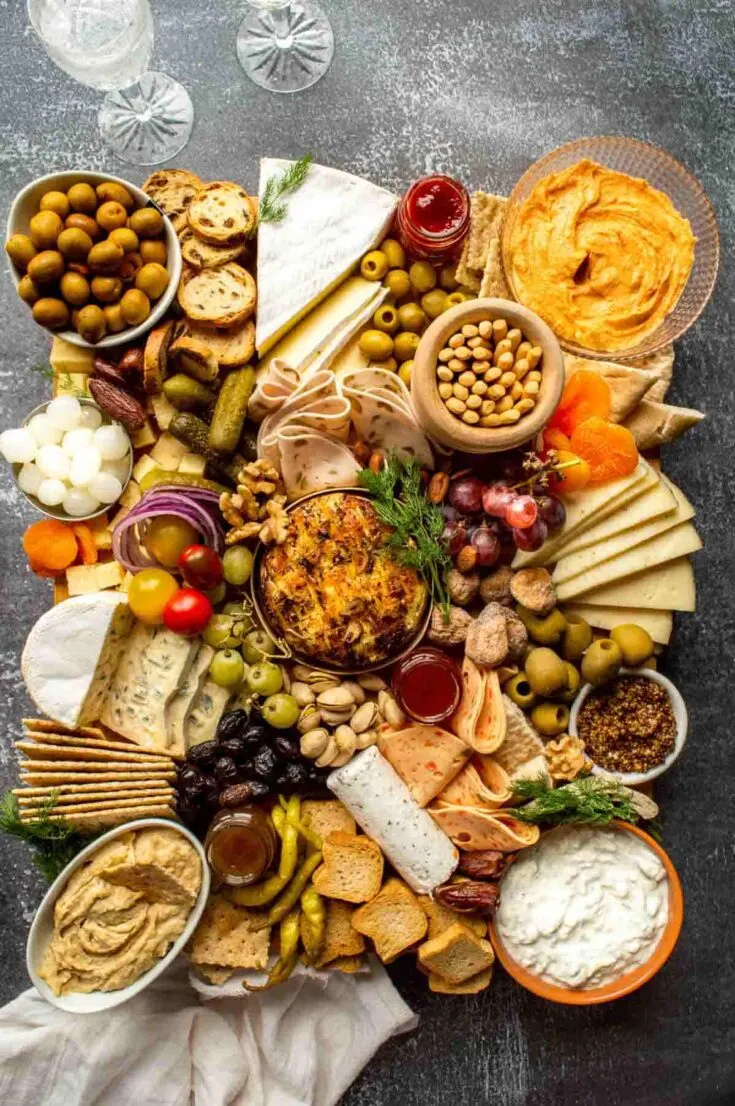 If you're looking for a simple charcuterie board that doesn't take a lot of effort or time, this recipe is for you! Recipe created by Fork in the Kitchen.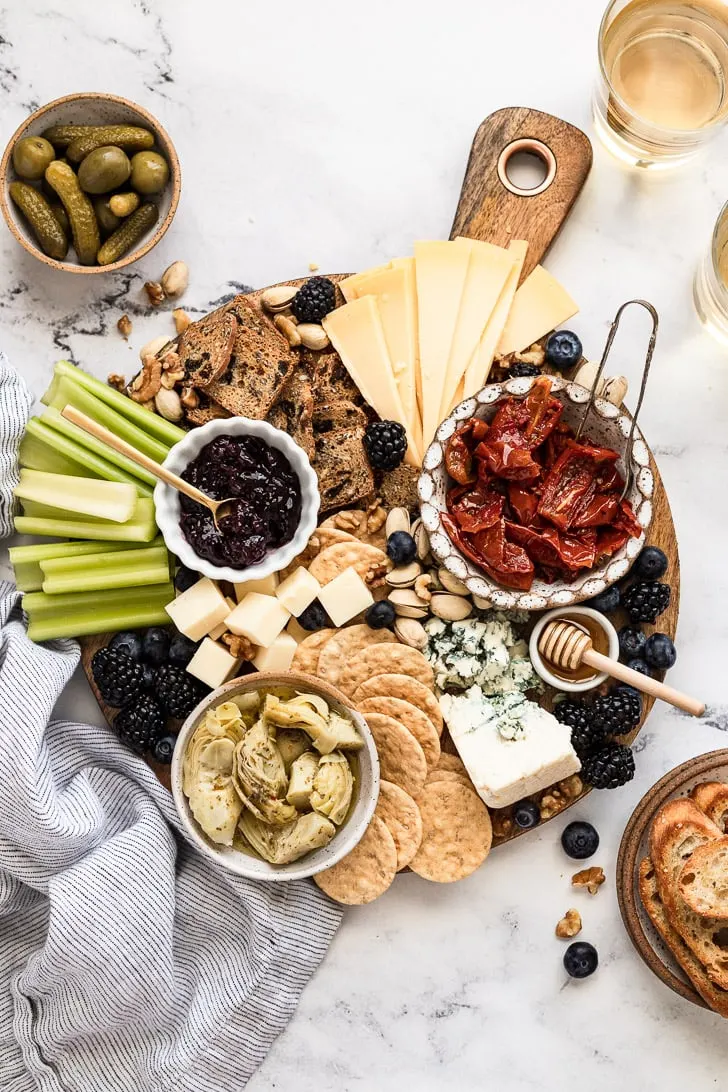 In case you're looking for a vegan option, you should definitely try this charcuterie board. It's both stunning and super delicious! Recipe created by Make It Dairy-Free.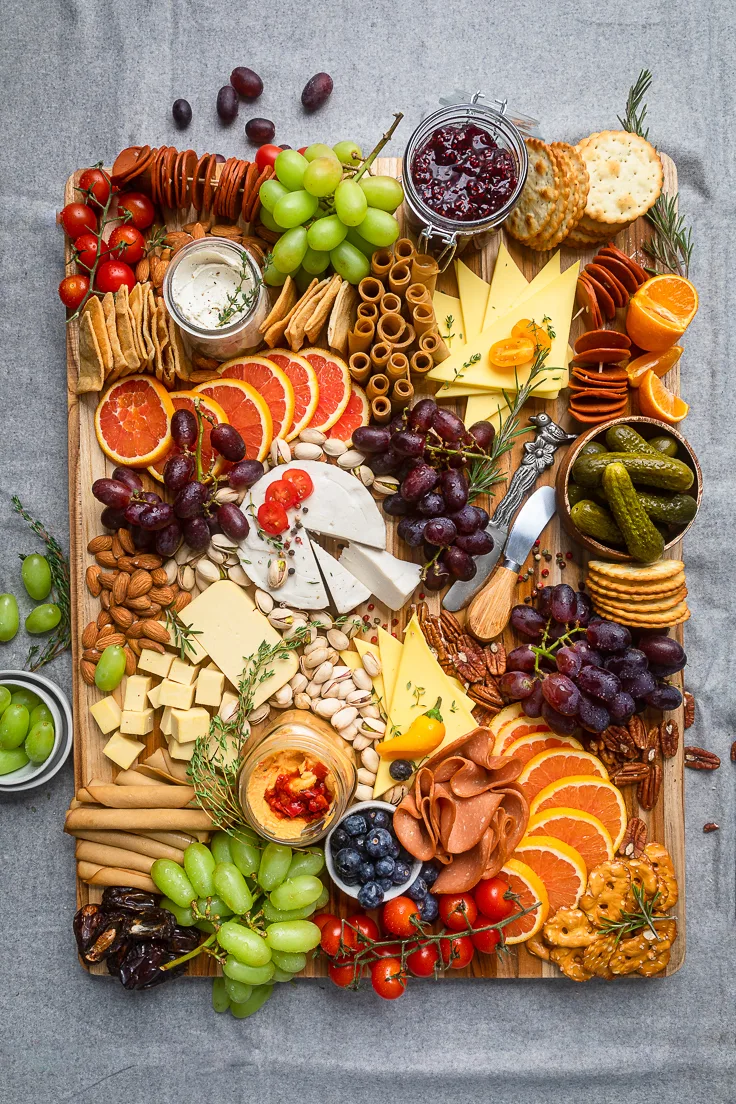 In case you want to create a delicious charcuterie board around different types of hummus, take a look at this one, it's definitely impressive! Recipe created by Nutriciously.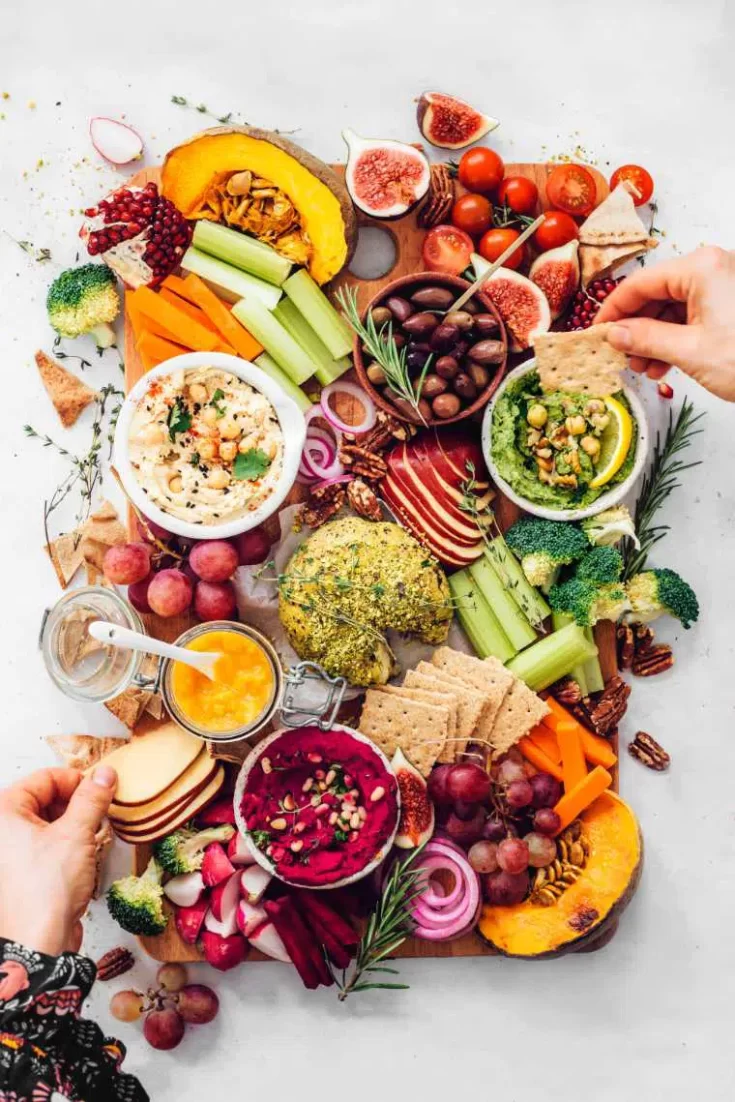 Here's a purple-themed vegan charcuterie board full of creamy spreads and fresh fruit! Recipe created by Brooke Lark.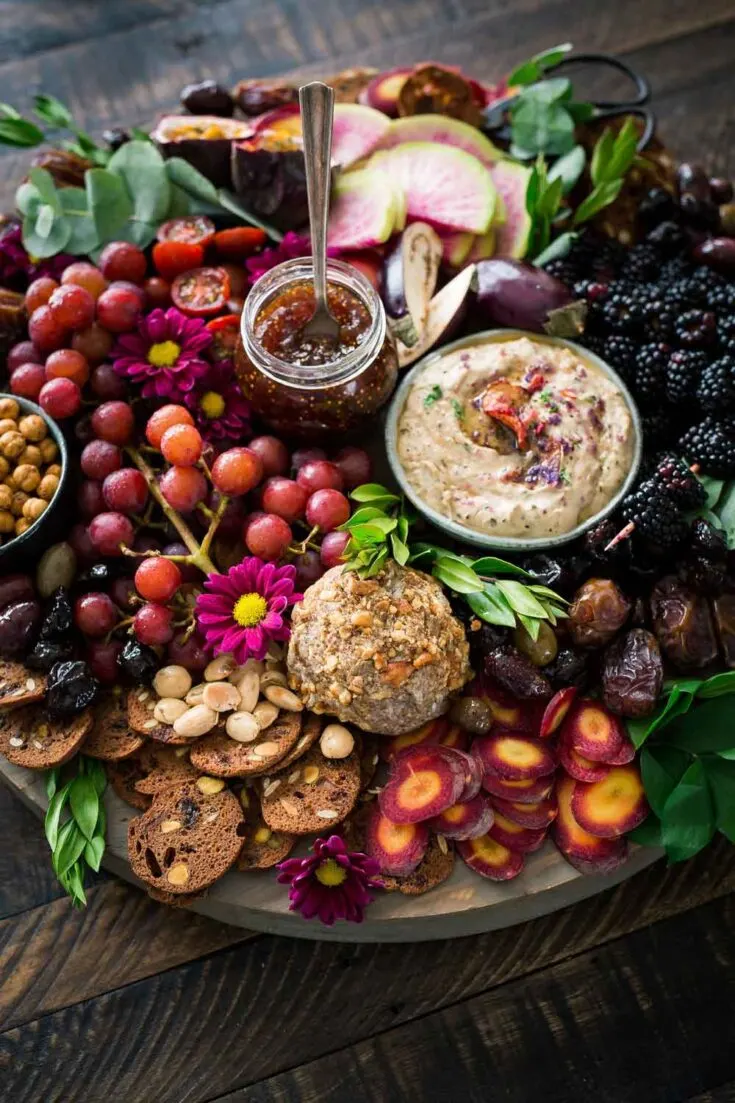 Here's another healthy vegan charcuterie board that includes all the good things: hummus, falafel, olives, fresh veggies for dipping, and more! Recipe created by Clean Eating Kitchen.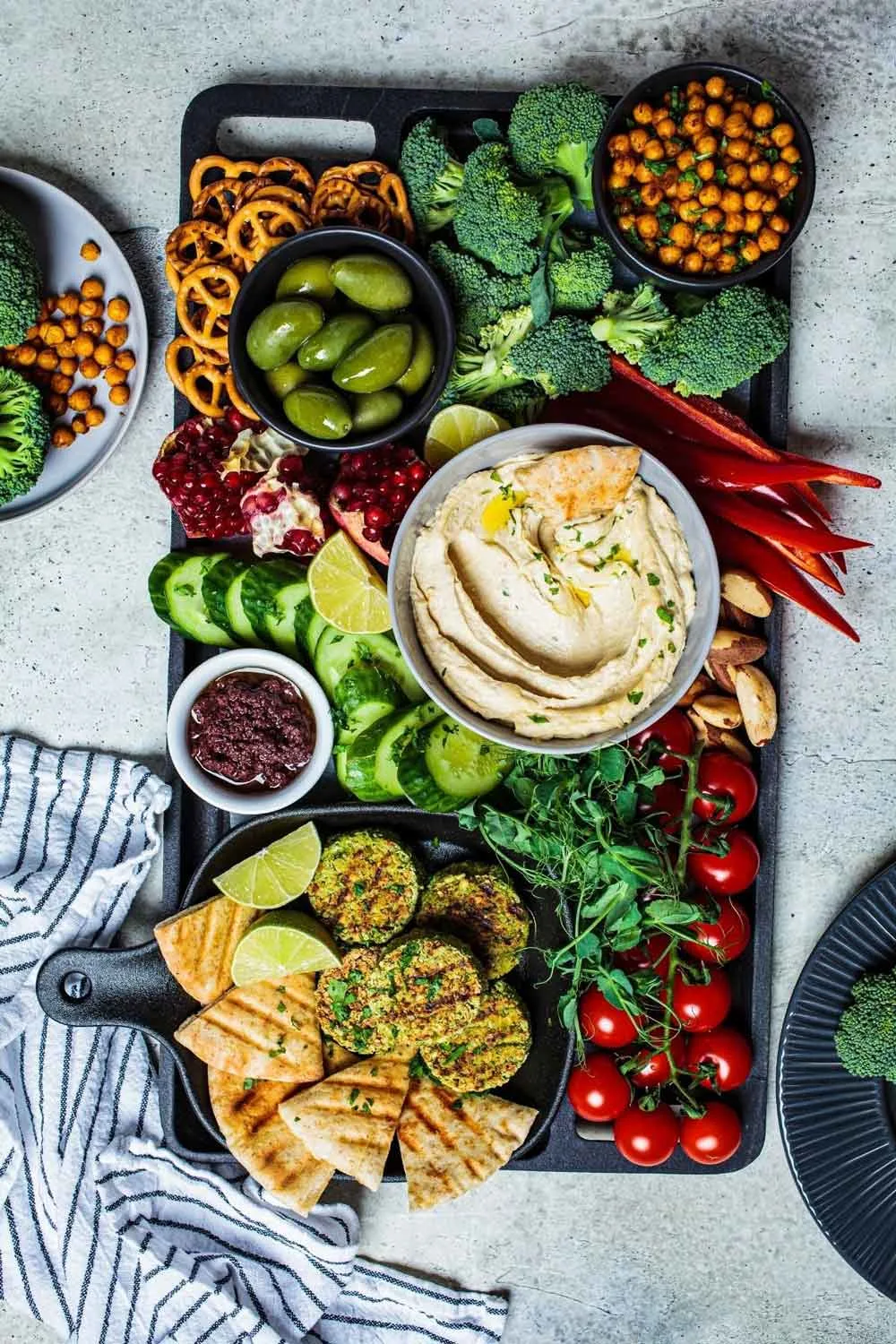 Here's another great option for a vegan charcuterie board that includes dips, fresh fruit, veggies and some vegan meats too! Recipe created by Minimalist Baker.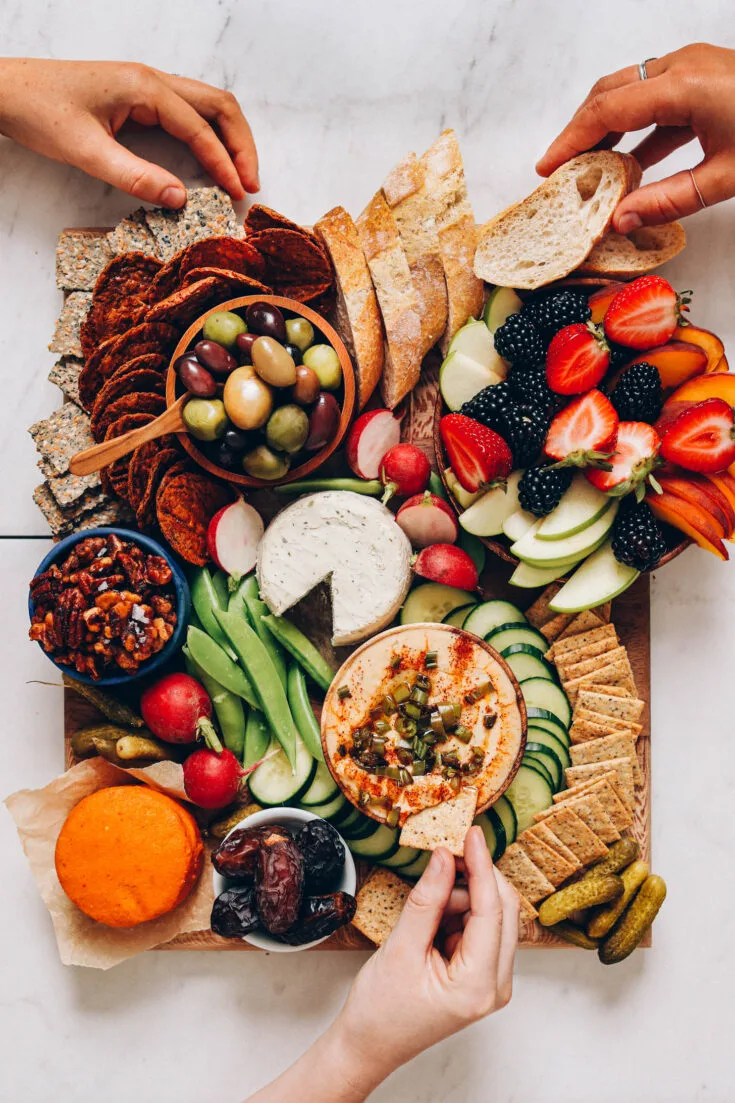 You will definitely impress all your friends with this plant-based charcuterie board full of delicious ingredients! Recipe created by Fresh and Balanced.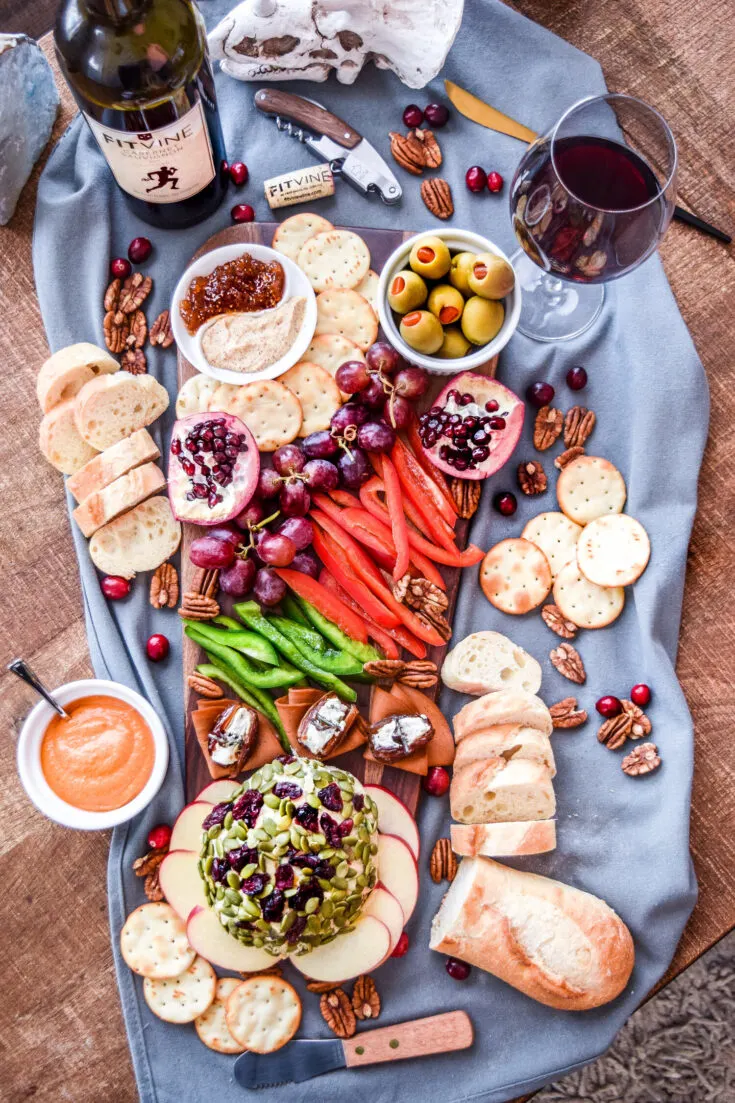 Cheese lovers? Here's the best charcuterie board for you and your guests. Everyone will be impressed! Recipe created by Gimme Some Oven.