Looking for a light, yet comforting dish? Here's how to make tomatoes stuffed with bulgur and cheese, the ultimate summertime treat. Give it a try!
Bulgur wheat is made from parboiled wheat that's been dried and cracked into small granules. Bulgur has a nutty flavor and chewy texture that works well in salads, pilafs, soups, casseroles — even stuffed vegetables! I just love this ingredient, so let me tell you a couple of things about it down below! 🙂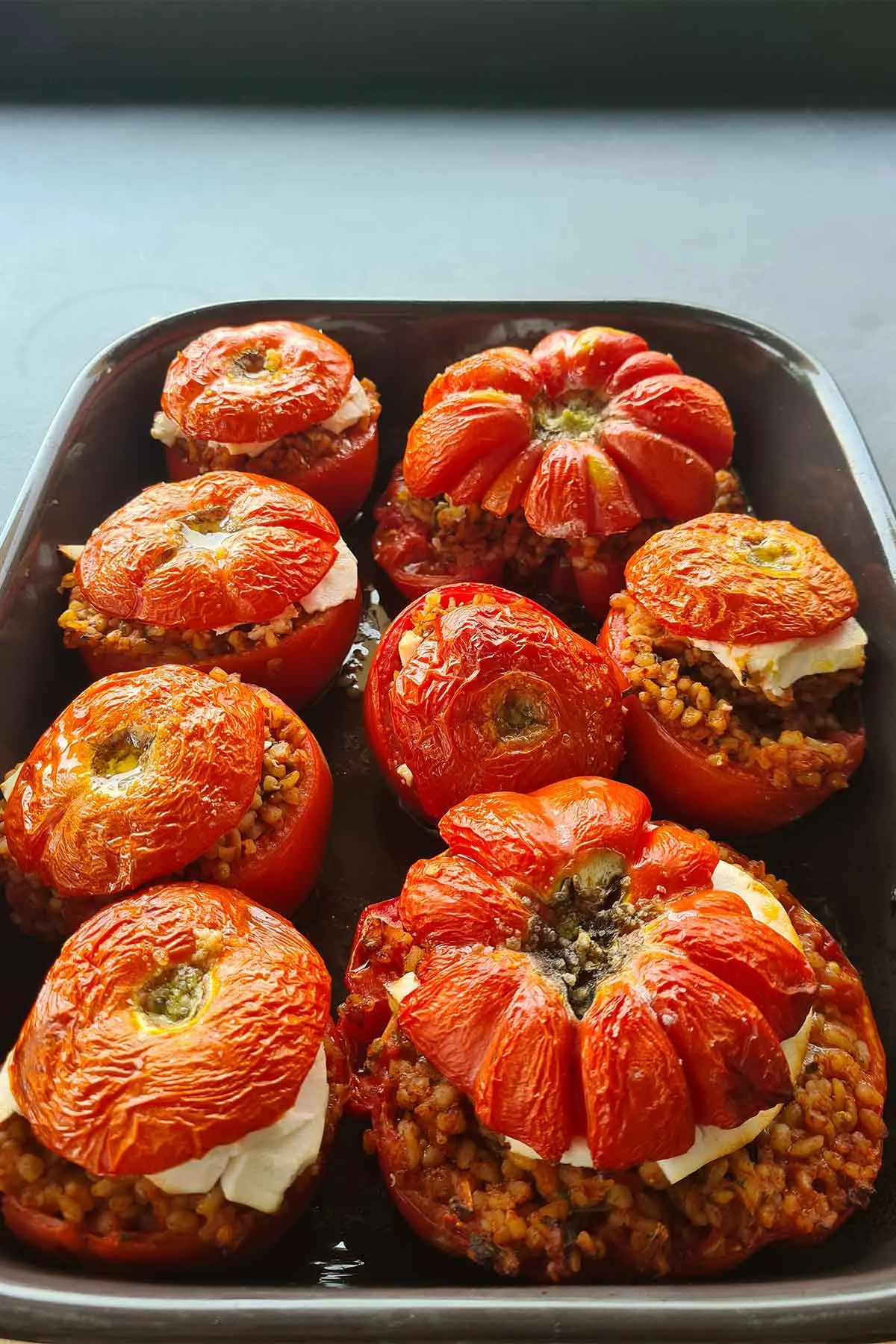 Bulgur wheat is a common ingredient in Middle Eastern cooking. In fact, it is often used as an alternative to rice for making pilafs. Bulgur wheat has been around for millennia, and its popularity continues to grow today. It's a delicious grain that cooks quickly and easily absorbs the flavors of other ingredients with which it's cooked — a perfect combination if you're looking to add some variety to your meals!

Bulgur is a healthy, versatile, and easy-to-prepare grain that makes a great addition to any meal. It's high in protein, fiber, and iron, so it's an excellent choice for vegetarians or those looking to reduce their meat intake.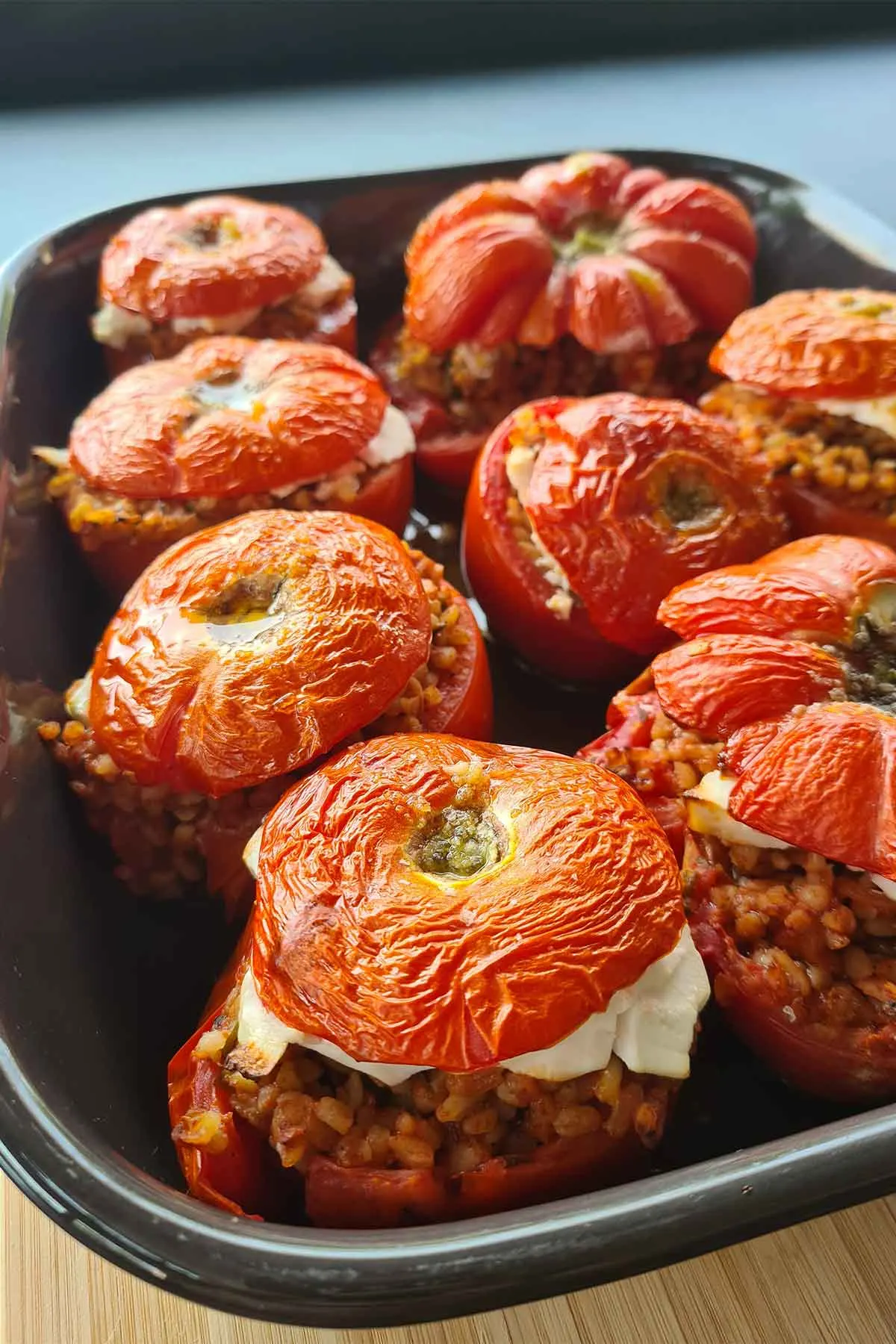 Bulgur is the perfect grain to stuff tomatoes with. It's easy to prepare and has a nutty flavor that goes well with tomato, making it a great addition to any summer meal. Bulgur is also high in fiber so you can enjoy your bulgur stuffed tomatoes without worrying about the healthiness of your dish.
This recipe will show you how to make baked stuffed tomatoes with bulgur and feta for one of the best summertime main dishes! In fact, this is a recipe I've made last summer with the big tomato harvest from my garden, but I completely forgot to share it here on the blog as well. So here you go! 🙂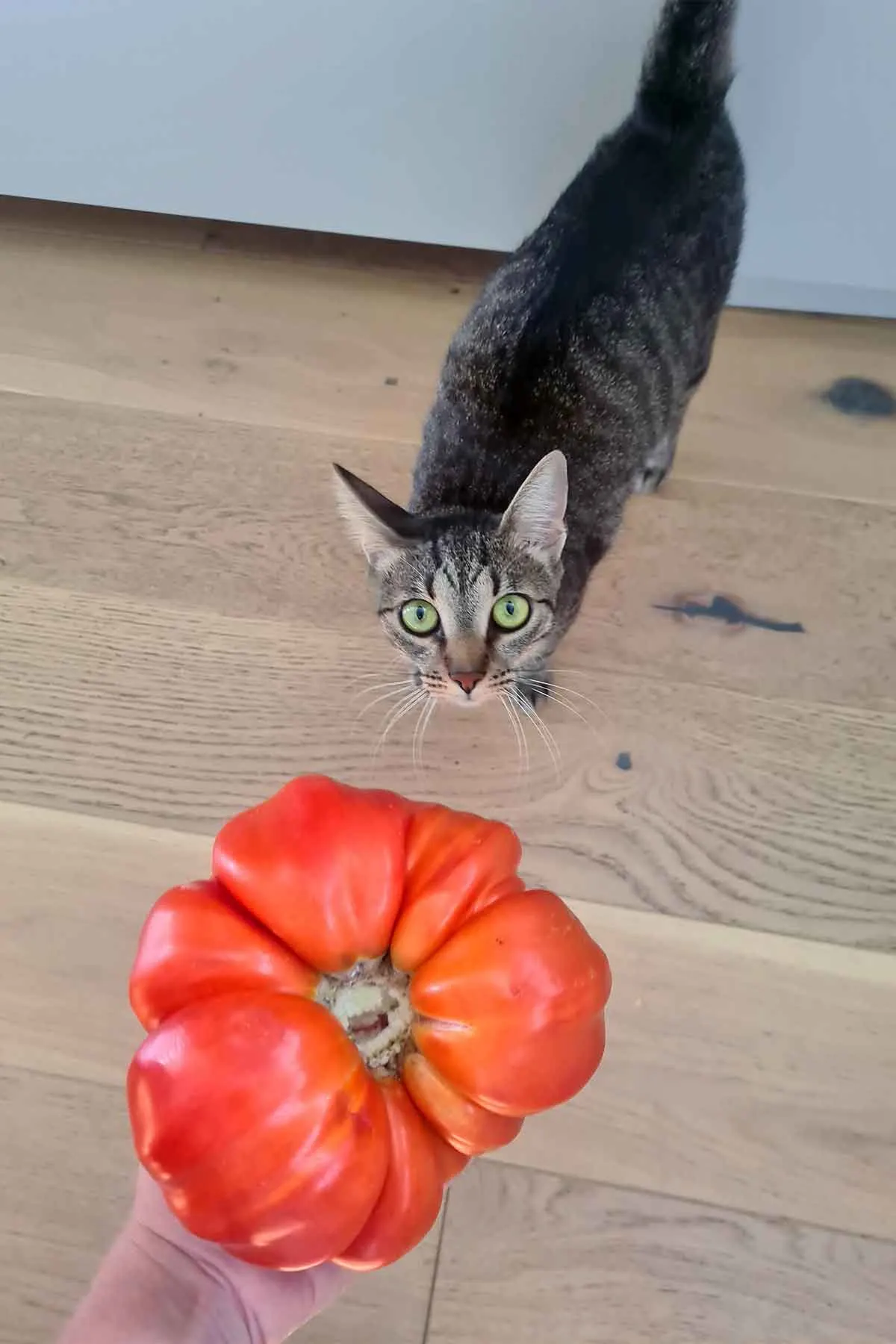 Stuffed vegetables are a great way to use up leftovers and they're super easy to make. When you stuff your veggies with a filling, you know exactly what's going into them because the filling is right under their skin! It's also nice that stuffed veggies can be served as either a main course or a side dish. If you're looking for something healthy but still delicious, stuffed vegetables are perfect for you.
Stuffed tomatoes are one of my favorite types of stuffed veggies for a number of reasons. Stuffed tomatoes make for a versatile dish that can be enjoyed in a variety of cuisines. Stuffed tomatoes can be found in the Middle East, Greece, Italy, India, and Mexico. There are many variations of this classic dish.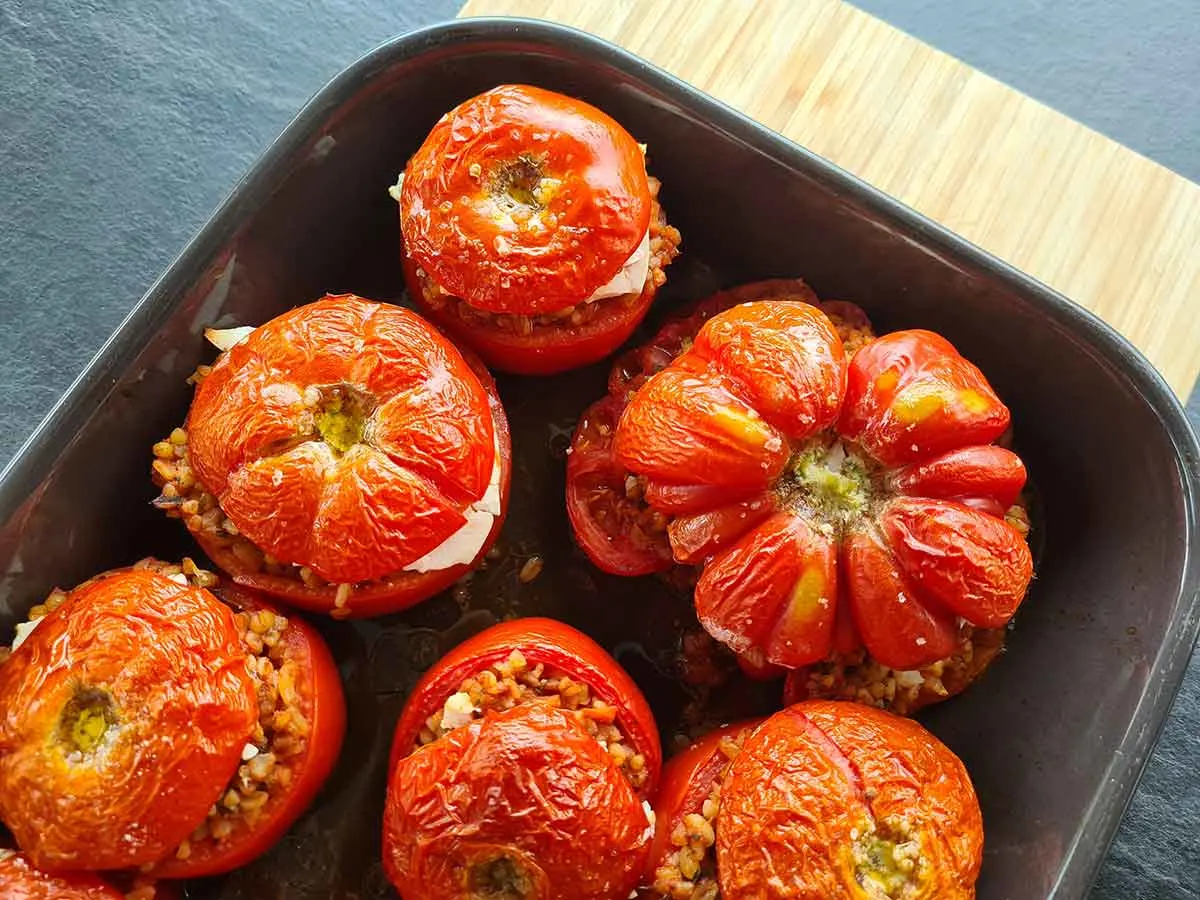 Stuffed tomatoes are a fantastic dish that's perfect for spring, summer, and fall. It's also a nice change from the usual potato or pasta dishes.
You can stuff them with practically anything. Bulgur, rice, quinoa, and beans are great bases but you could also try lentils or vegetables. Herbs such as dill or parsley will add some extra flavor to your dish if you want it to be a bit more aromatic.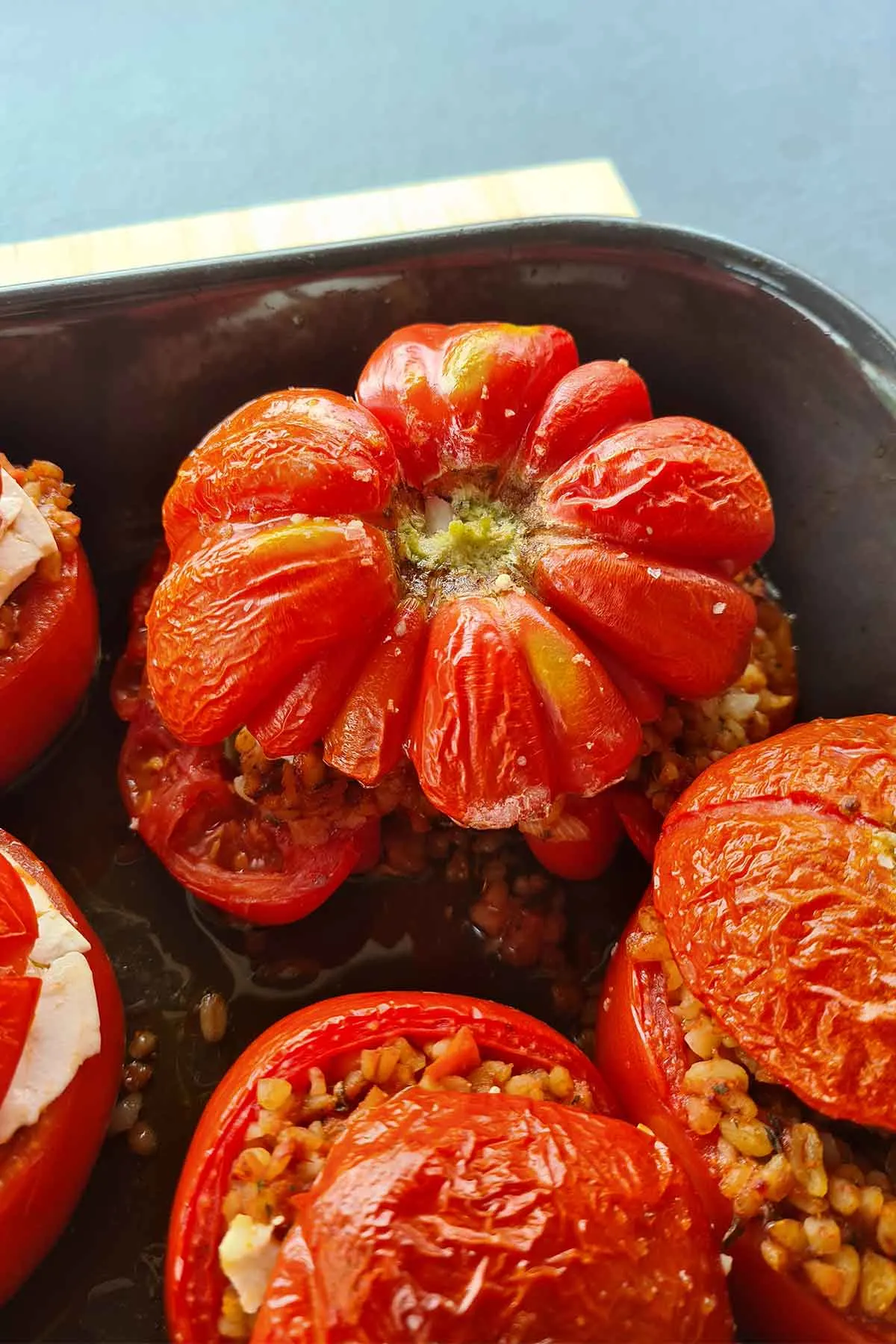 Bulgur is my favorite grain because it's both a healthy, filling food and it tastes great. In this recipe, I used bulgur wheat together with feta cheese as the stuffing for tomatoes, but you can use any type of leftover herbs or vegetables and stuff them into whatever vegetable you have on hand! The key to making stuffed vegetables healthy is to pack in lots of greens and good protein.
These little guys are perfect for lunch or an afternoon snack because they are easy to eat and full of flavor!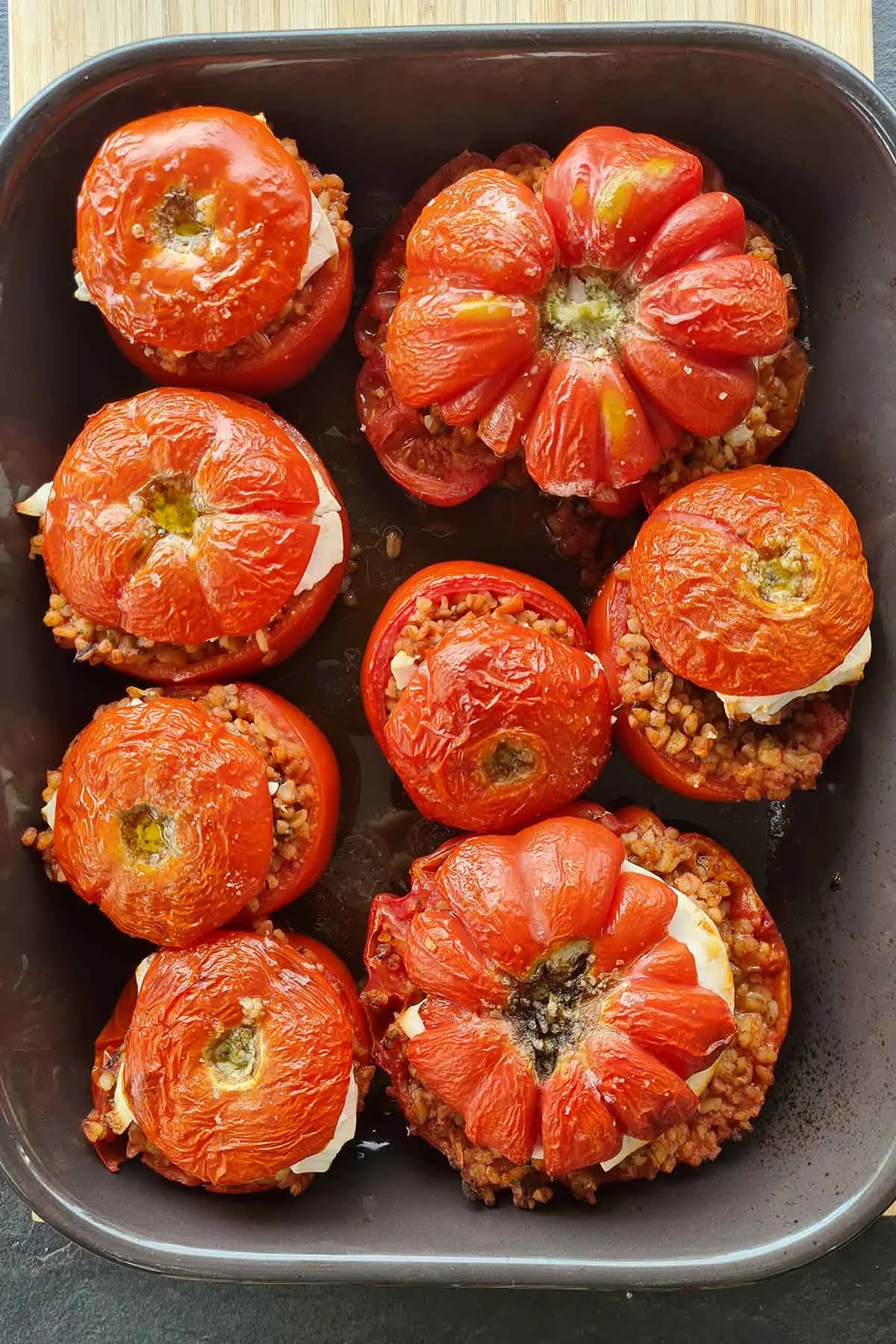 If you want to give this recipe a try, you'll find the complete ingredient list and step-by-step instructions below. I really hope this recipe will inspire you to make stuffed vegetables more often, they're so good and perfect for meal prep as well!
And if you decide to try these tomatoes stuffed with bulgur and cheese, don't forget to leave me a comment down below to tell me how it went.
Happy cooking! 🙂
Yield: 8+
Tomatoes Stuffed with Bulgur and Cheese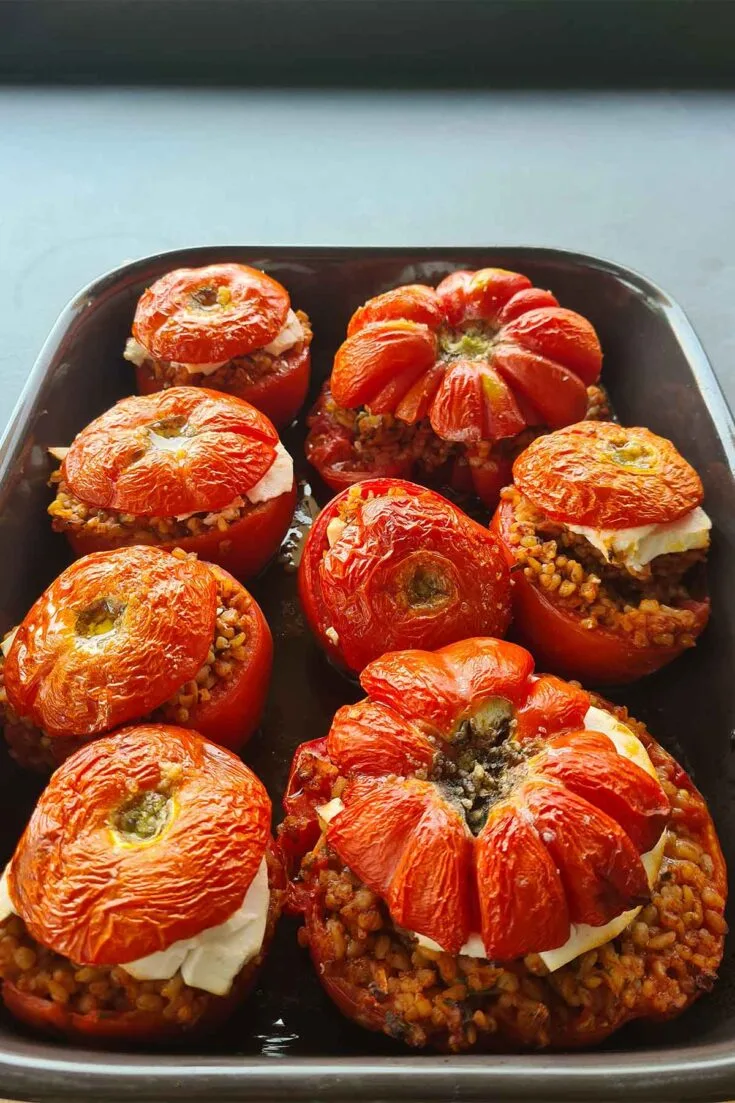 Looking for a light, yet comforting dish? Here's how to make tomatoes stuffed with bulgur and cheese, the ultimate summertime treat. Give it a try!
Ingredients
8 large tomatoes, firm

150g (3/4 cup) bulgur

300ml (10 oz.) hot water

300ml (10 oz.) hot water

4 garlic cloves

4 garlic cloves

1 onion

1 onion

20g (0.7 oz) sliced olives
20g (0.7 oz) sliced olives

100g (3.5 oz) feta cheese, sliced

100g (3.5 oz) feta cheese, sliced
1 tsp thyme
1 tsp thyme
1 tsp oregano
1 tsp oregano
salt and pepper, to taste
salt and pepper, to taste
olive oil, for drizzling
olive oil, for drizzling
Instructions
Place the bulgur in a bowl and pour boiling water over it. Let it soak for 15 minutes.

In the meantime, cut the tops of each tomato and scoop out the pulp.

Chop the pulp and put it into a separate bowl.

Chop the onion, mince the garlic cloves and put these into the tomato pulp bowl.

Season with spices. Once the bulgur is hydrated, add the bulgur as well, salt, and pepper to taste. Mix well.

Place the tomatoes in an oven pan.

Fill each tomato with the bulgur mixture. Place one slice of feta cheese on top and put the tomato "lid" on each tomato.

Drizzle them with olive oil.

Bake in the preheated oven at 200C for 30 minutes.
Nutrition Information
Yield
8
Amount Per Serving
Calories

107
Total Fat

5g
Saturated Fat

2g
Trans Fat

0g
Unsaturated Fat

3g
Cholesterol

11mg
Sodium

182mg
Carbohydrates

13g
Fiber

3g
Sugar

6g
Protein

4g
I strive to keep the information as accurate as possible but make no warranties regarding its accuracy. I encourage you to make your own calculations using your preferred nutrition calculator.