This Kalamata white bean dip is a simple, vegan appetizer recipe I created for a picnic a few weeks ago. I'm sure you'll love the smooth texture and za'atar flavor!
Beans are a great part of our diets simply because there are so many kinds and so many things to do with them! They're delicious and they provide a wide array of health benefits, but they're such an integrated part of our eating habits that we might not be aware of the symphony of benefits that they provide for us in each bite.
That's why today I want to make it all about beans! So we'll take a look at the wonderful characteristics that make beans such an important part of our healthy lives, plus share with you this awesome bean dip recipe! (Scroll down if you want to go straight to the recipe.)
Beans are part of the huge Fabaceae family, made up of about 19.000 species and they're considered legumes. They also have close relatives that are very common on our plates, such as runner beans, broad beans, peas, soya beans, peanuts, clover, lupins, sweet peas, and alfalfa.
Many bean varieties can be traced back to the pre-Columbian period and Meso-Americans thought of them as a sacred gift. There are three plants that used to be grown together and are known as the "Three Sisters" for this time period; beans are one of them, along with corn and squash. They were very popular because they're plants that grow and harvest easily, plus they're very productive.
Thanks to European contact, many bean varieties were integrated into Mediterranean and western European cuisine. Eventually, they also came to be quite common in the rest of the world. Beans are high in protein, fiber, starch, and minerals such as potassium, iron, selenium, and molybdenum. They're also rich in vitamins and calcium. The benefits can vary from variety to variety, but overall they're inherently healthy and beneficial.
Health Benefits of Beans
Let's begin with the fact that beans are packed with fiber! Both soluble and insoluble. This is great news because that means it helps you feel full for a lot longer. That way you will feel satisfied with your meals and you won't stray from your portions if you're following a diet. How much fiber you'll find in your beans really depends on the variety, but overall they won't let you down. This fiber presence also keeps your digestive system on point. Soluble fibers slow down digestion, and insoluble fibers are great against constipation.
Beans also have a low glycemic index, which means they'll help your blood sugar stay steady and the same goes for your blood pressure. They're also great for your heart health! Beans are low-fat foods and they will reduce your cholesterol levels which in turn will reduce the risk of cardiovascular disease. Fiber also helps your heart health; people who consume an additional 7 grams of fiber a day reduce the risk of heart-attacks by 9%.
Beans also happen to be a very rich source of potassium and magnesium; they can help you reduce blood pressure, and they also aid never function. They're also a great source of iron! Iron deficiency is a common one and it leads directly to anemia; you can prevent it by eating beans.
Depending on the bean variety, you'll also get thiamin, niacin, vitamin B6, folate and riboflavin. These are B vitamins that boost good cholesterol, they boost energy and they reduce inflammation. Beans also contain isoflavones and phytosterols which are cancer-fighting plant chemicals, so they can help reduce the risk of cancer.
General and Fun Facts about Beans
Beans have been cultivated by humans for over 6.000 years!
Beans are a sign of good luck in the country of Nicaragua; they're given to newlyweds as part of the wedding traditions.
Beans can be made into: burgers, cakes, drinks, pies, fudge, muffins, jewelry, furniture, toys, and even musical instruments.
They are one of nature's healthiest foods!
Ancient Greek philosopher and mathematician Pythagoras disliked beans to a deep, philosophical level because he believed they held the souls of the dead.
Talking about Ancient Greece, minor public officials were chosen by drawing beans. A white bean was mixed with black beans and whoever got it, got the post.
Beans are very popular in Britain. So much so that about 38.5 tons of baked beans are eaten every hour!
What to Do With Beans?
Beans are extremely versatile, that means you can have a lot of fun with them in the kitchen. They can stand alone and make for great soups and dips, but they can also be combined with other vegetables and legumes to make great salads, soups, casseroles, scrambles, and many other things.
You can make chili, curry, burritos, tacos, taco bowls, enchiladas, and you can also mix them up with rice to make a quick, delicious lunch. They also go great with toast, the British way. You can get quite creative with beans and you won't be disappointed with the results.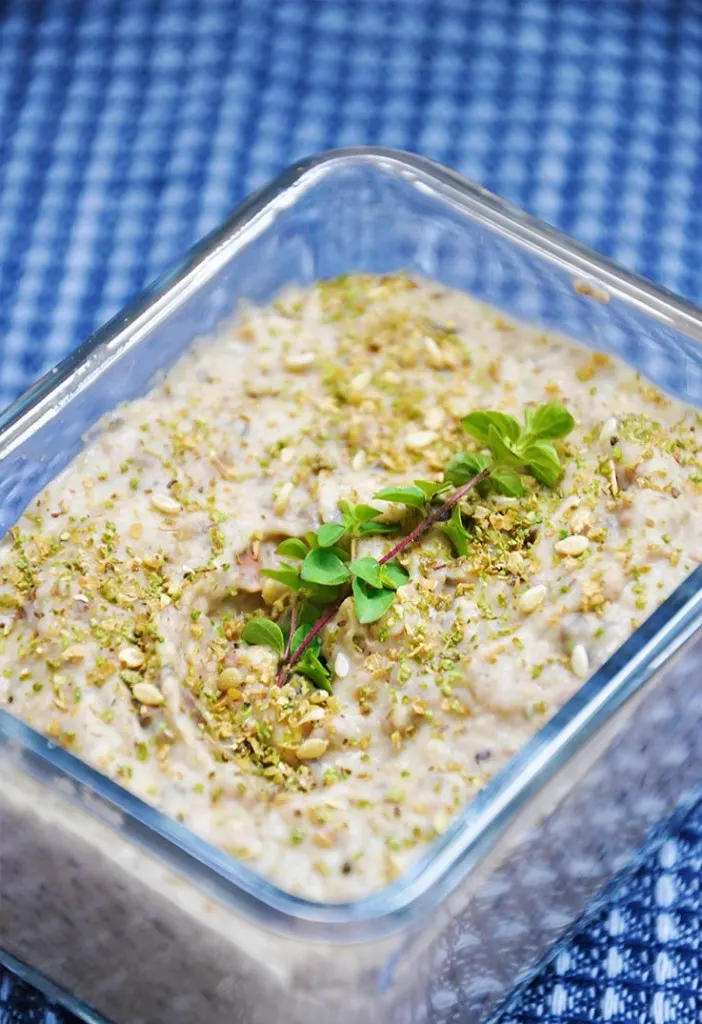 Now, about this kalamata white bean dip… It was really good! I just had some kalamata olives in the fridge, and as usual, a pantry filled with beans cans, so I decided to make a bean dip out of them. I use canned beans a lot. I don't have a lot of time to spend in the kitchen, so I try to cook as fast as possible. If you plan this meal ahead, you can use dry beans and cook them yourself.
The blend of flavors was just perfect! This recipe does not need any more salt added, as the Kalamata olives are salty enough. Also, be sure to use white pepper. I started using it a lot recently, as I find its flavor to be more subtle and pleasant. Za'atar is one of my favorite spice blends and I found out it goes great in hummus and bean dip.
P.S. I searched the web for similar recipes and I love how Dara served her recipe! Pita bread and veggies are just perfect for this! 🙂
Hope you'll give this recipe a try! 🙂
Yield: 6+ servings
Kalamata White Bean Spread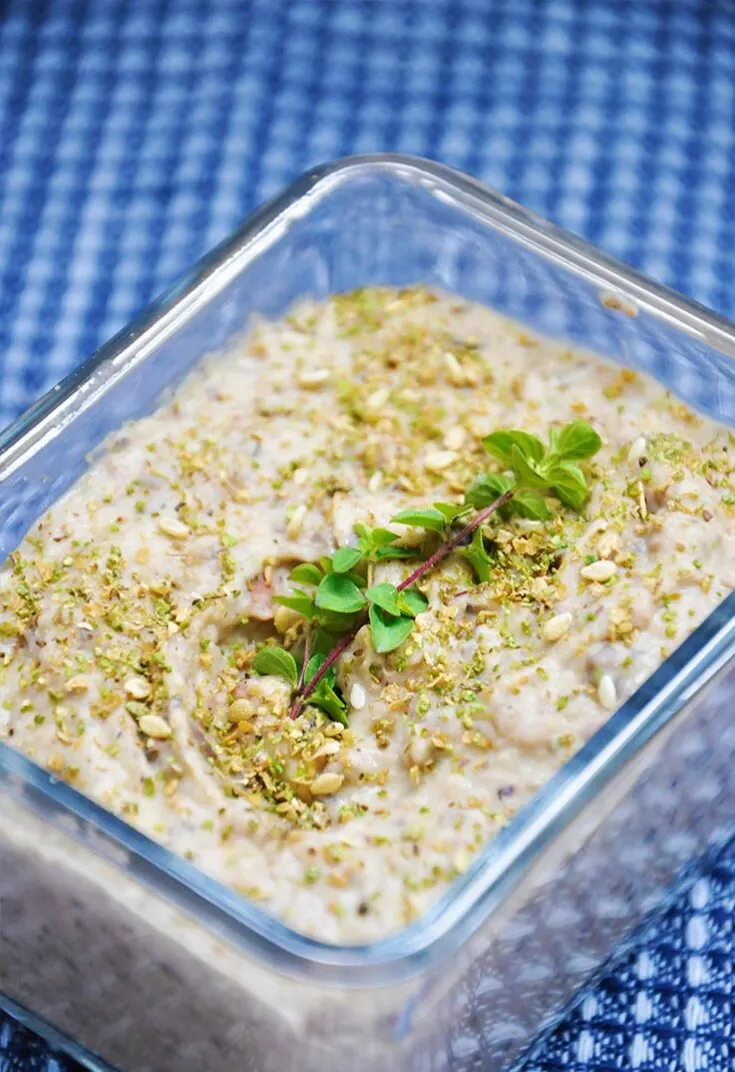 This Kalamata white bean spread is a vegan appetizer recipe I created for a picnic. You'll love the smooth texture, salty taste and za'atar flavor!
Ingredients
1 can (800 g | 28oz) white beans, rinsed and drained - you can use dry beans and boil them yourself too; In that case use about 350g-400g (12-14oz) dry beans
90g (½ cup) kalamata olives, sliced and pitted
half a lemon's juice
3 garlic cloves, mashed
2 Tbsps olive oil
½ tsp ground white pepper, use white pepper only; it has a more subtle flavor
1 Tbsp za'atar
water
Instructions
Put all ingredients in your food processor.
Add just a little bit of water (3-4 Tbsps).
Process until smooth.
Serve with crunchy toast or fresh veggies!
Nutrition Information
Yield
6
Amount Per Serving
Calories

84
Total Fat

5g
Carbohydrates

8.3g
Protein

1.6g