In the mood for a comforting cream soup? Here's how to make the best vegan cream of parsnip soup – uniquely delicious, healthy, and quick!
Parsnips – one of the most underrated root vegetables, if you ask me. At least here in Romania! Here, they're mostly used as a staple veggie when making soup, together with carrots, celery, onion, and some other roots. We just cut it into cubes, boil it in the pot, then add the rest of the ingredients for the soup.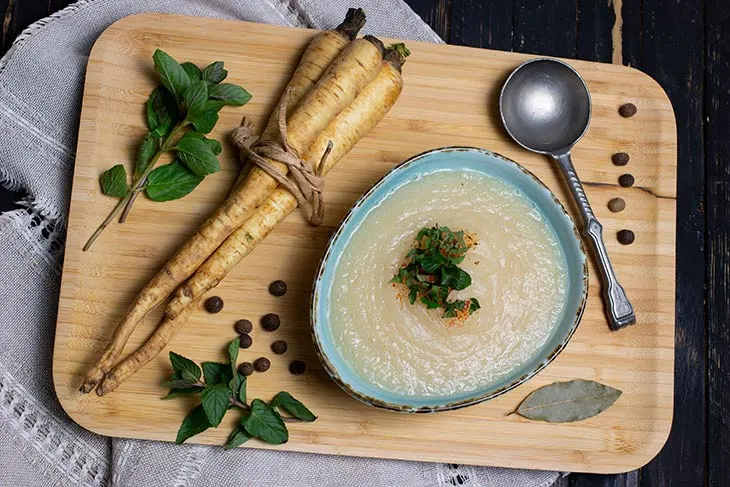 But the parsnip can be SO much more than that! 🙂 Parsnips look like a bigger version of a white carrot, but their flavor is really unique and it has nothing to do with carrots. Although parsnips are usually boiled, as I mentioned above, their true flavor shines when they're roasted.
Did you ever try it before? If not, you have no idea what you're missing on! Parsnips have a superb earthy flavor and an interesting texture as well, becoming creamy and yummy once they come out of the oven. I don't even know to describe the flavor – a bit sweet and you can taste some herby flavor as well, as they're similar to parsley as well. So something out of this world, basically!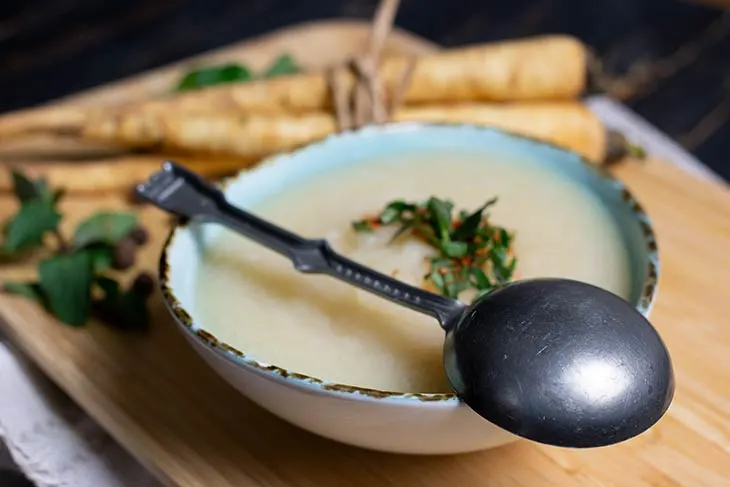 In case you want to experiment with parsnips, I'm here to help. The best way to start is by making this unique cream of parsnip soup. I have three arguments that I will use to convince you:
It's super flavorful and not boring at all;
It's extremely cheap to make;
It's ready in no time and with not much effort!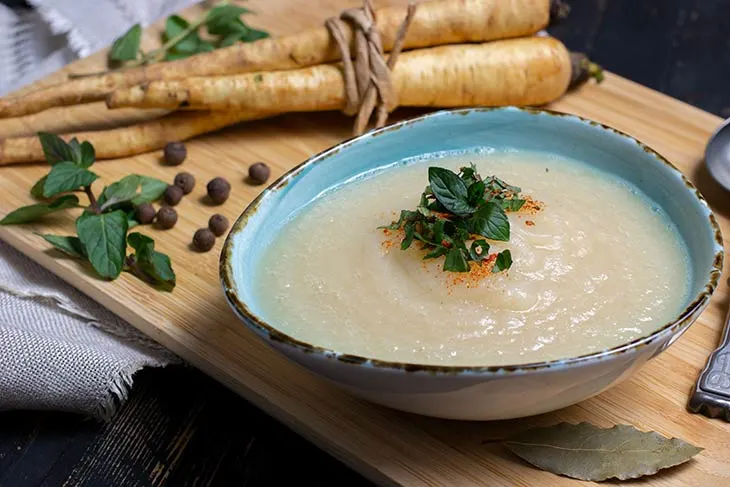 That being said, you should be convinced by now. If not, no worries, I have a few more interesting facts up my sleeve.
Let's talk a bit about parsnips. Although they're oftentimes overlooked in the kitchen, parsnips have amazing nutritional value: they're full of fiber, minerals, and vitamins, such as vitamin K, C, and more. They're also a very good source of folate, which plays a key role in blood cell formation and cell health.
Plus, parsnips are cheap. Incredibly cheap! So making them the base of a cream soup could be one of the best ideas you have this week. This is why I am recommending this recipe to all families on a budget and to all students as well. Talkin' about convenience, right?
These being said, I really think that we should give parsnips another chance and help them shine as they deserve!
If you decide to make this delicious cream of parsnip soup, I recommend serving it with some bread croutons or some crunchy crackers. This will complement the soup's texture perfectly and it will transform the dish into a delicacy! Speaking of serving, you can also season it with some ground pepper and salt at the end and maybe add some herbs as well – parsley would work wonders in this combo.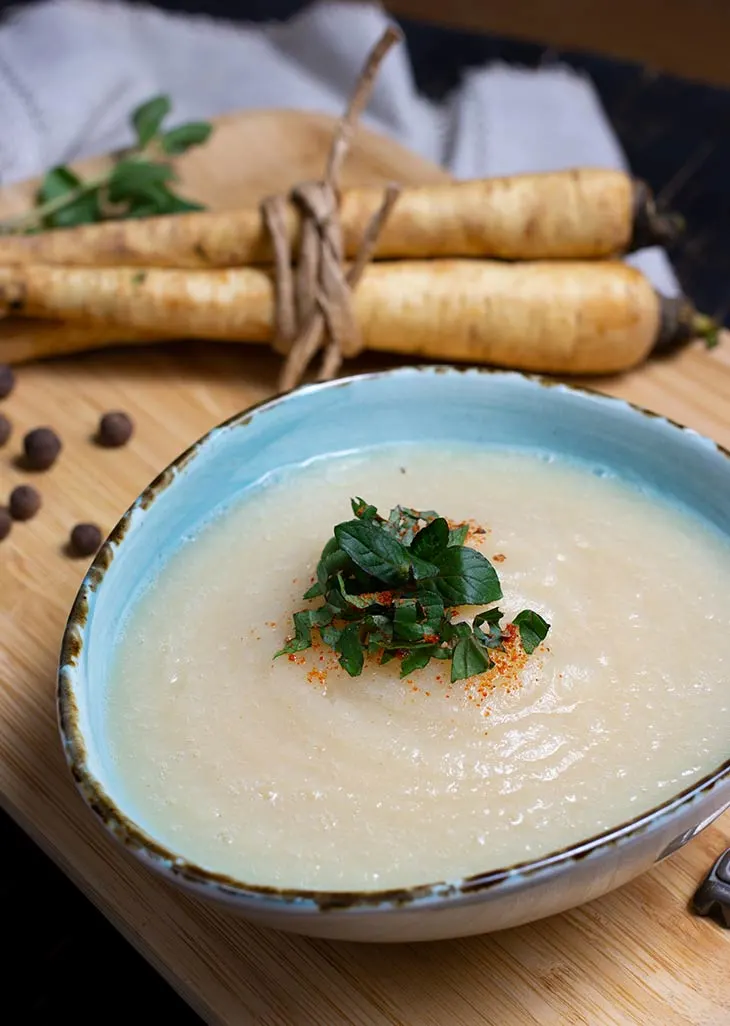 Even if parsnips are delicious by themselves, especially if you roast them, the magic trick in this recipe is done by the herb and spice combo: cloves and rosemary. They go very well with the parsnip and they create an amazing flavor!
This yummy cream of parsnip soup makes for the best comfort food during this time of the year. I think it's the perfect autumn and winter soup, as all the ingredients needed will be widely available in supermarkets and at the farmer's market during the cold seasons as well. Plus, what could be better than serving a big bowl of creamy soup on a rainy day? Nothing! 🙂
If you like roasted vegetables as much as I do, such as roasted butternut squash, for example, then you should give this recipe a try. The smell of roasted parsnip will make your kitchen a magical place while you'll be preparing this recipe. And trust me, you'll keep asking yourself: 'Why didn't I think of this before?!'. But don't worry, it's never too late to give soup another try.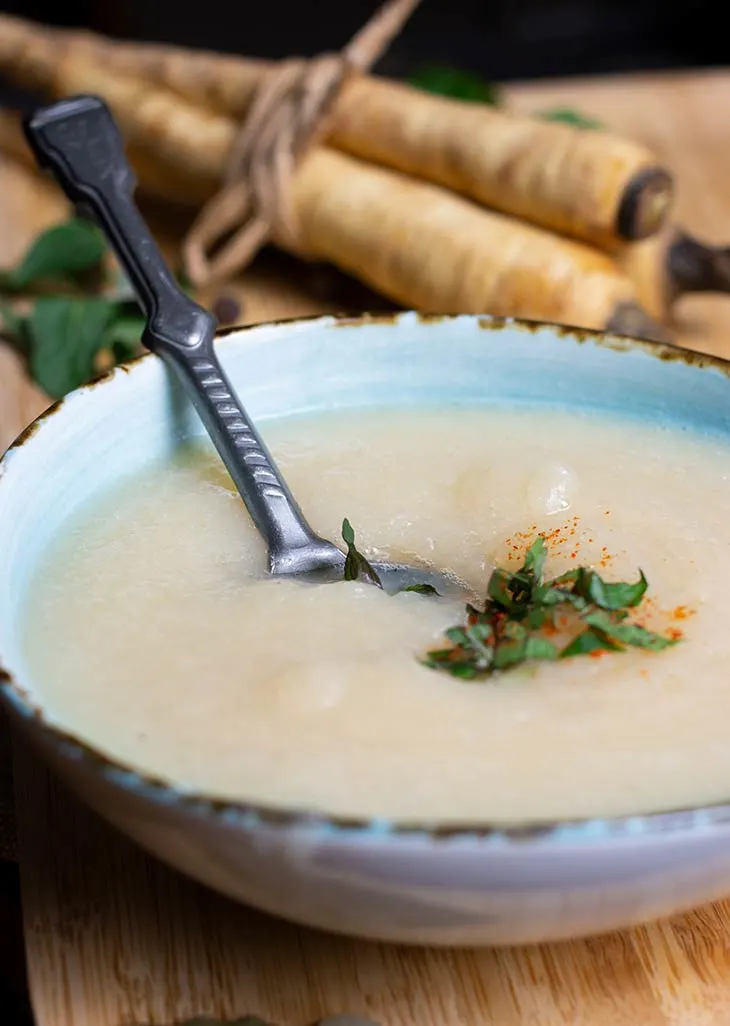 I think that's about everything I wanted to add about this wonderful cream of parsnip soup. I really hope you'll try it soon and that you'll fall in love with it as deeply as I did. Happy cooking!
Yield: 4
Cream of Parsnip Soup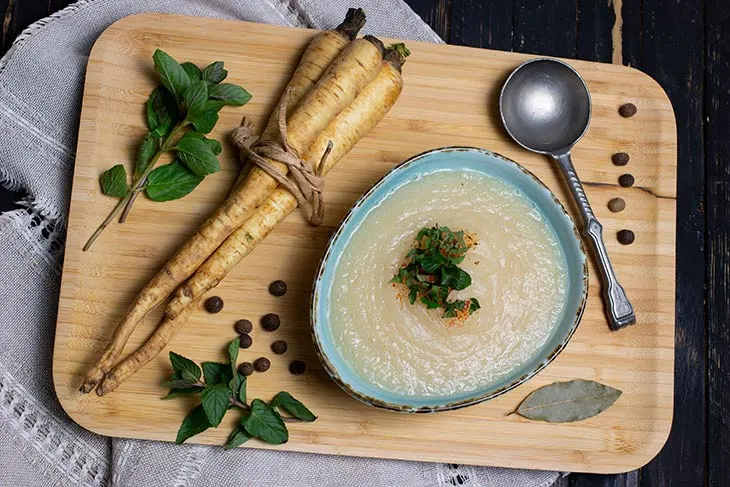 In the mood for a comforting cream soup? Here's how to make the best vegan cream of parsnip soup – uniquely delicious, healthy, and quick!
Ingredients
4 large parsnips
1 yellow onion, chopped
2 garlic cloves, chopped
1 fresh rosemary spring
1L (4 cups) veggie broth or water
250ml (1 cup) vegan cooking cream , I used Alpro rice cuisine, but you can use any brand
2 Tbsp extra virgin olive oil
Salt
Pepper
Instructions
Cut the parsnips into cubes, transfer to a tray with the onion, garlic and rosemary.
Add the olive oil and mix well.
Roast at 200 C for 30-40 minutes or until the parsnip is fully cooked through.
Transfer to a blender and blend adding the veggie broth and cooking cream gradually until you reach the desired consistency.
Season with freshly ground black pepper and salt, if needed.
Nutrition Information
Yield
4
Amount Per Serving
Calories

286
Total Fat

11g
Saturated Fat

3g
Trans Fat

0g
Unsaturated Fat

7g
Cholesterol

10mg
Sodium

253mg
Carbohydrates

44g
Fiber

6g
Sugar

10g
Protein

5g
I strive to keep the information as accurate as possible but make no warranties regarding its accuracy. I encourage you to make your own calculations using your preferred nutrition calculator.