Let's be honest now: who doesn't love a moist slice of banana bread? It's such a perfect dessert! And this recipe for the perfect vegan banana bread will definitely blow your mind!
This time I have an amazing, big recipe for you! Well… about the size of a bread pan, but still. I can proudly say that I am completely obsessed with this vegan banana bread because it's just, ah! I'm left speechless!
When I got this dessert out of the oven I was literally jumping up and down in my kitchen, all excited that I was going to stuff my face with it. And don't get me started on the smell that spread in the entire house – absolute bliss!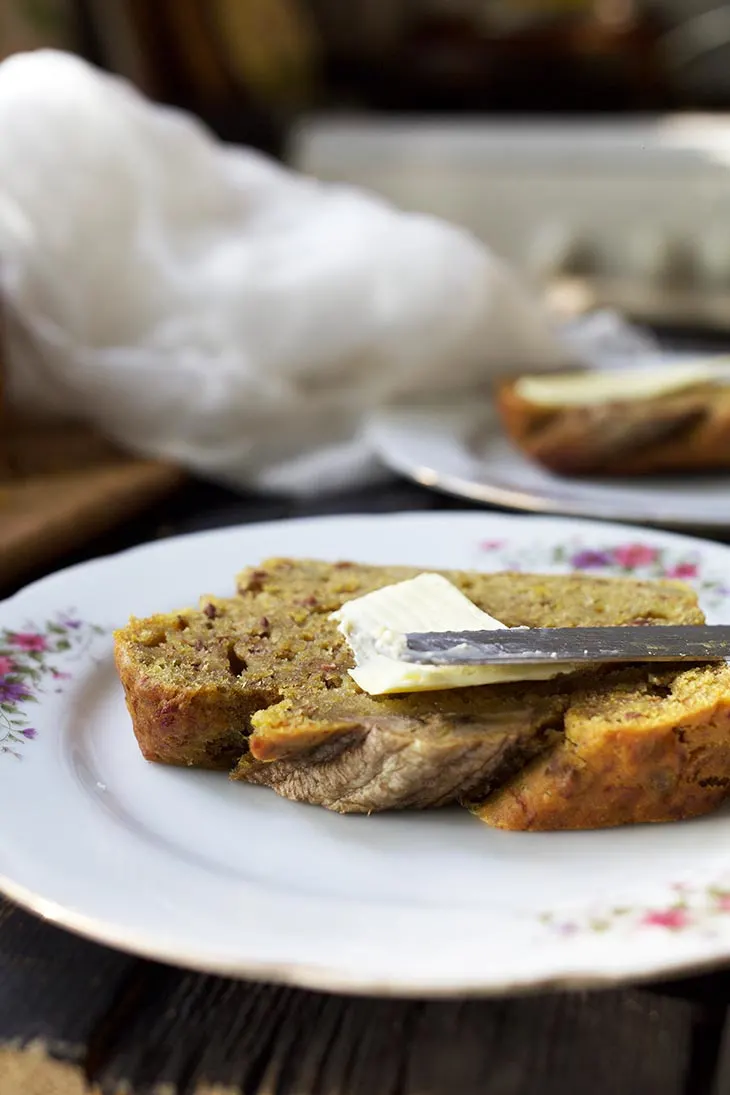 As you can probably tell, I am completely in love with how this recipe turned out, and I must say that I perfected my method in such a way that the "poor" banana bread won't get to see too much of the light of day before it gets devoured entirely (with love, of course!).
Bare with me, because today I am going to teach you how to get the most perfect, moist and dense vegan banana bread ever. So, get ready for some banana bread aromatherapy, 'cause things are about to get super flavorful! 🙂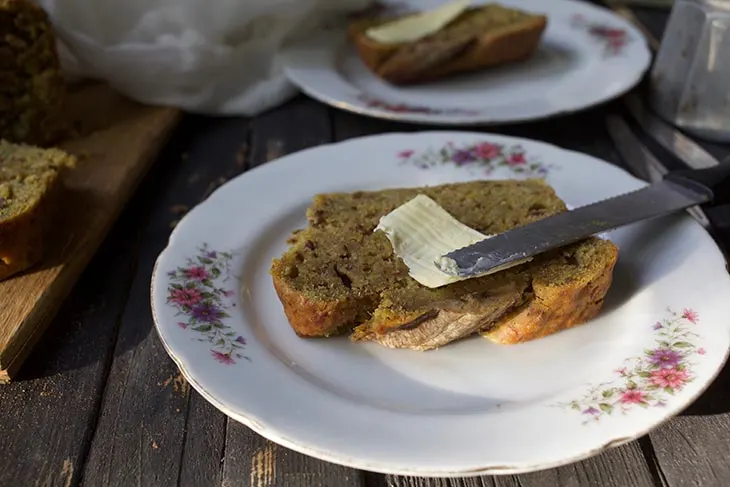 You might be asking – why would this vegan banana bread be better than the original, non-vegan version? Well, let's begin with the health factor: this banana bread is all-natural, plant-based and clean because it won't contain any eggs or dairy.
If you are a little bit skeptical, there are some egg replacements that work just fine as binders for the dough. In this case, I am talking about chia seeds, flax seeds, psyllium husks and even the bananas themselves!
I used flaxseed today, but any of these will work just fine. To obtain the gooey texture that the egg has, mix one 1 tablespoon ground flax seeds with 2.5 tablespoons of water. Mix together, and let sit to set up and thicken, and voila!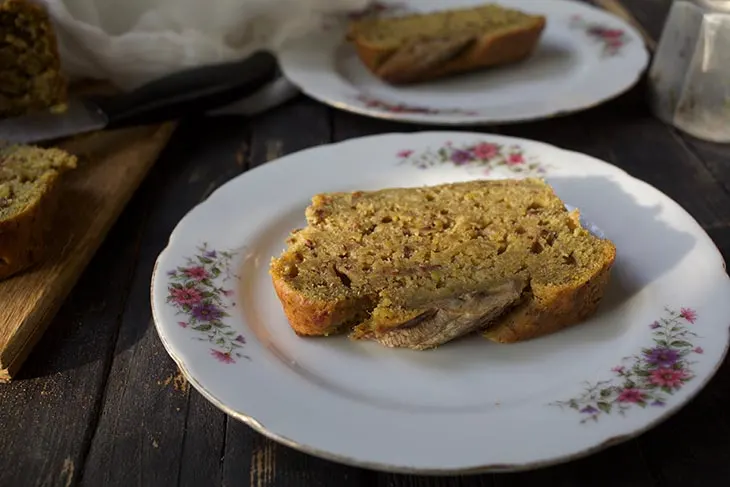 Now, in today's recipe, bananas get to star in the main role (well, of course, we're making banana bread after all!), and they're going to act as a binder and as a sweetener as well! This is what it's going to make our banana bread so tender on the inside, golden brown on the outside, naturally sweet, and incredibly hearty.
But please, be warned: this vegan banana bread might steal your heart in no time and become the healthy treat of your dreams, so be careful! 🙂
I forgot to mention that, if you're a compulsive bowl cleaner or spatula licker like me, then this vegan banana bread is perfect for you because it's so full of flavor, you won't believe it!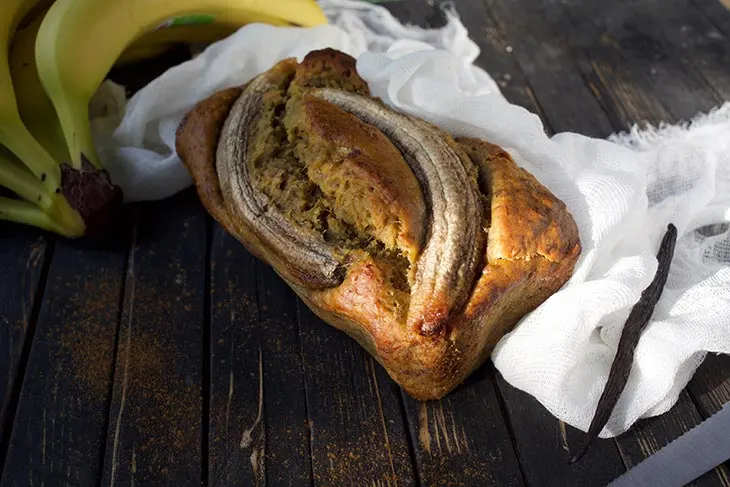 Oh, and if you want to add the crunch factor, you can add some nuts – walnuts, for example, which also have a healthy dose of Omega-3 fatty acids. Or pumpkin seeds, like I used in today's recipe! Besides being yummy, healthy and full of nutrients, nuts give a very nice aesthetic to the banana bread as well.
Nothing quite beats a thick slice of banana bread with a little nut butter and a cup of milk or tea in the morning, believe me! 🙂 This is my go-to breakfast lately as I pair it with almond butter that I spread on, for a boost of healthy fats and protein.
Of course, it will make good pair with any nut butter (yes, I'm thinking of creamy peanut butter and even with jam if you're feeling extra adventurous!).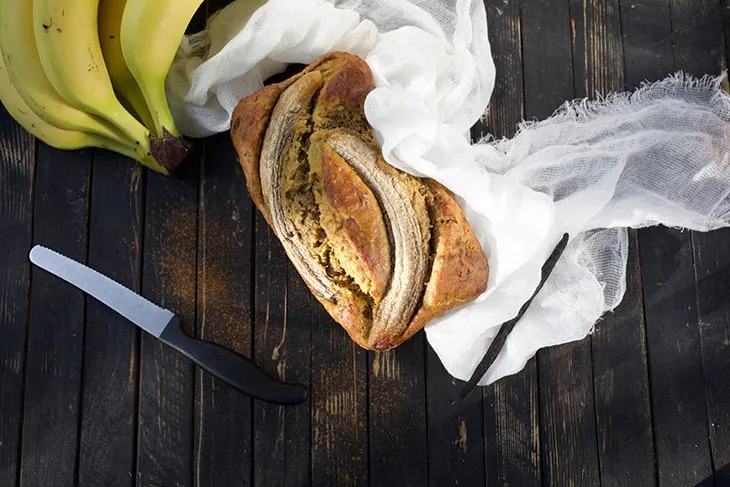 I hope you'll try this recipe soon! I'm sure this would make the absolute perfect dessert or breakfast on-the-go because it's healthy, hearty and versatile at the same time! Happy snacking!
Yield: 6 +
Perfect Vegan Banana Bread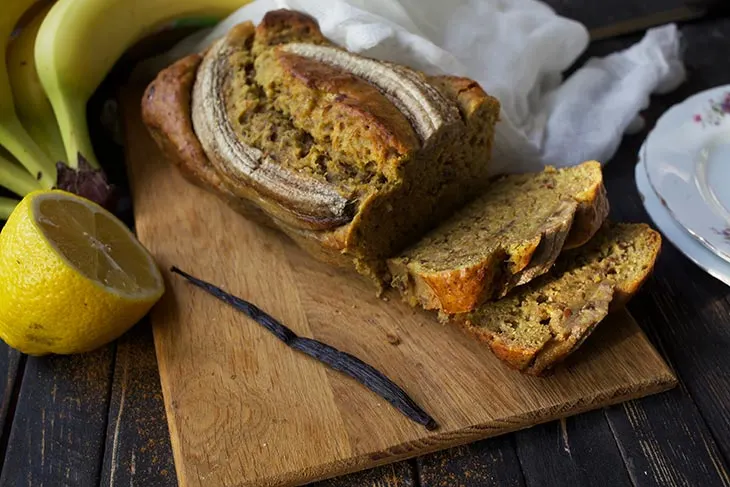 Let's be honest now: who doesn't love a moist slice of banana bread? It's such a perfect dessert! And this recipe for the perfect vegan banana bread will definitely blow your mind!
Ingredients
4 very ripe bananas, mashed
240g (2 cups) all-purpose flour
1 tsp cinnamon
1 tsp ginger powder
½ tsp cardamon
3 Tbsp maple syrup
1 flax egg = 1 Tbsp flax meal + 2 ½ Tbsp warm water
4 tsp coconut oil, melted
1 tsp baking powder
½ Tbsp baking soda
2 Tbsp flaxseeds
2 Tbsp pumpkin seeds
1 vanilla stick, seeds of
a pinch of salt
Instructions
Preheat the oven to 200 C.
In a large bowl, add the mashed bananas, maple syrup, flax egg, coconut oil, and vanilla.
Mix until well-combined.
In another large bowl add the flour, cinnamon, ginger, cardamom, baking powder and soda, seeds, salt. Mix to combine.
Stir the wet ingredients into dry ingredients.
Pour the mixture into a baking dish.
Top with a halved banana.
Bake for about 45 minutes or until the toothpick comes out clean.
Nutrition Information
Yield
6
Amount Per Serving
Calories

329
Total Fat

8g
Carbohydrates

58g
Fiber

5g
Sugar

17g