Get ready, as I have the perfect recipe for you this summer – this fresh corn salad is everything you need to satiate your hunger on hot weather days!
When the sun is up and burning strong, we might not really feel like having food that's warm and/or in need to be heated. That's when this delicious sweet fresh corn salad comes to satiate our hunger!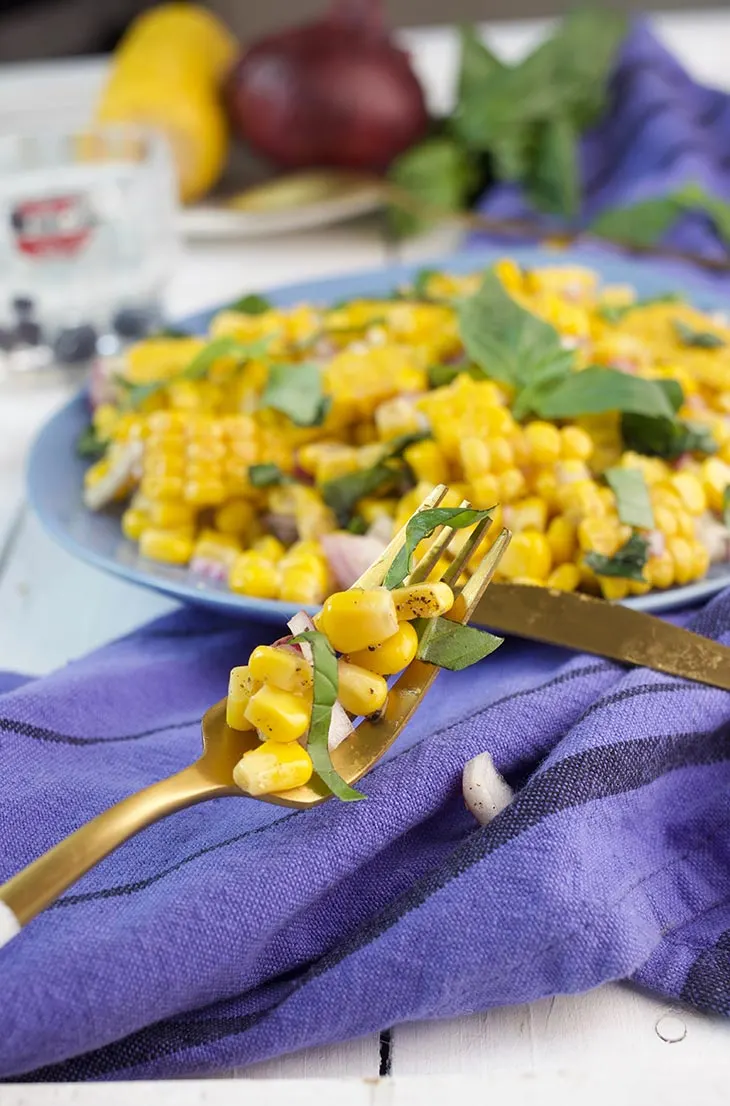 This recipe is absolutely perfect for when we're hungry and struck by the heatwave! You can prepare it in advance so that you can pop it out of the fridge when you're in need of a quick meal, especially if you're in a hurry!
This fresh corn salad is very fast to put together and it's also the perfect light salad for summertime. Also, you can take it with you as a gift at picnics, summer parties/gatherings or barbecues, where I am more than sure that people would appreciate its freshness.
Here's a quick tip: for a more efficient outcome, try to get fresh corn and use it promptly! Freshly picked corn has the sweetest, most delicious taste, but it starts to lose that flavor as time goes by.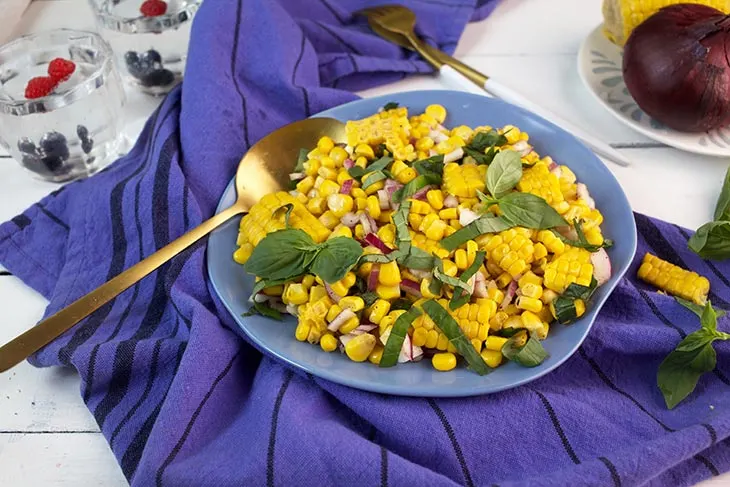 Even though you can always opt for a bag of frozen corn or even canned, this salad is worth having the fresh option taken into consideration instead because of our main ingredient.
The fresh type of kernels has a different feeling to the tooth that the canned one just doesn't, unfortunately! So, let's stick to fresh options here because we're going to enhance this by adding fresh basil and lemon. It's all about the summer tastes in this one!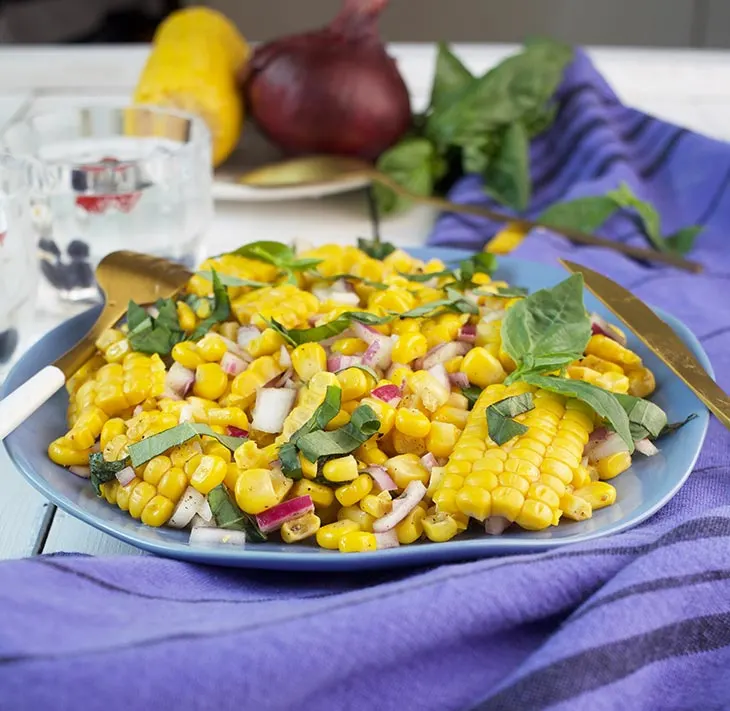 Every time I make this salad, I am delighted by its taste and by the harmony between the sweetness of the corn, the freshness and deep addition of the fresh basil and ground coriander seeds, and lastly by the kick that the lemon juice and zest provide and manage to bind all the composition together! It's just heaven, I swear! 🙂
As I mentioned earlier, you can make a bigger batch to last you longer and a pro tip of this is that, after you leave it in the fridge to rest (for about an hour or two), it will taste even better because it will absorb all the flavors of all the ingredients we used and they'll get to "know" each other!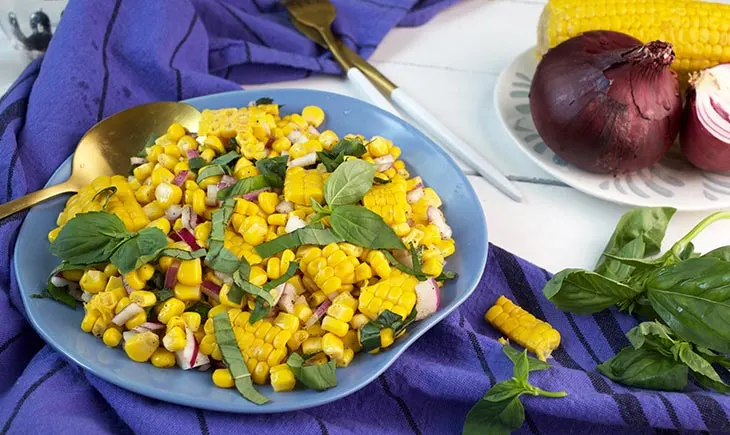 Now, there are several ways to cook corn on the cob as you can grill them, bake them, and boil it. I have already mentioned this recipe requires fresh corn, but if you want to make grilled corn cob instead, make sure to soak them a little bit in water first and then place them directly on the grill. This method will bring out the sweetness of the corn, as it enhances its natural sugars!
Another alternative (and probably the quickest as well) is to boil it, because you just place it in a pot, cover it with water, bring it to a boil and leave it for about 15 minutes. You can also add some sugar if you're feeling a little bit adventurous, I won't judge, really!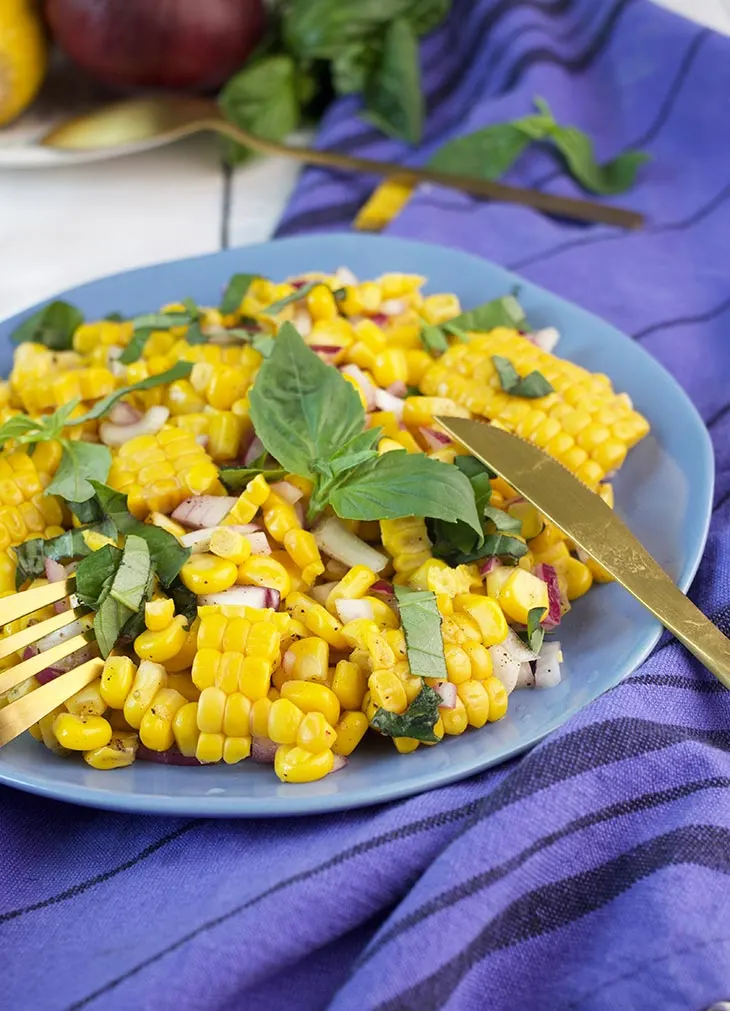 Now, other than being super delicious, corn is a fully nutritive ingredient as well! The insoluble fibers in corn feed the good bacteria in your gut, which aids in digestion and helps keep you regular, and that is a very good reason to add it more to salads! Not to mention it's low in sodium and a good source of potassium and vitamin C.
As all good summer recipes should be, this one is super simple, bursting with bright, fresh flavors, and ready to be served with anything, if you want to have it as a side dish. I mean, look at it and tell me that you wouldn't crave some of this colorful and aromatic refreshing recipe as well!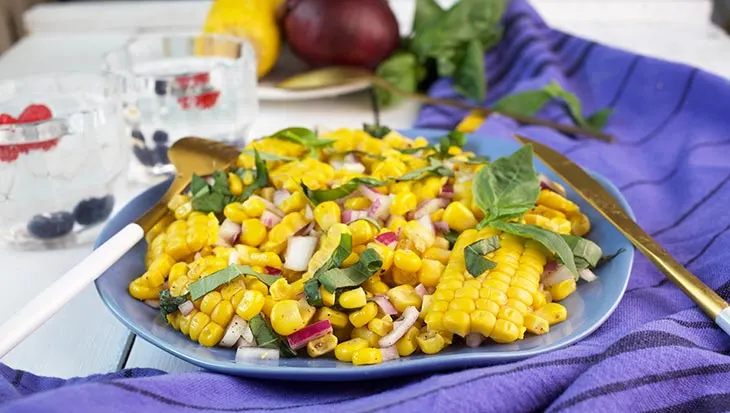 As always, if you decide to try this recipe, make sure to let me know how it went and if you have any comments and questions, I'm happy to help!
Yield: 2
Fresh Corn Salad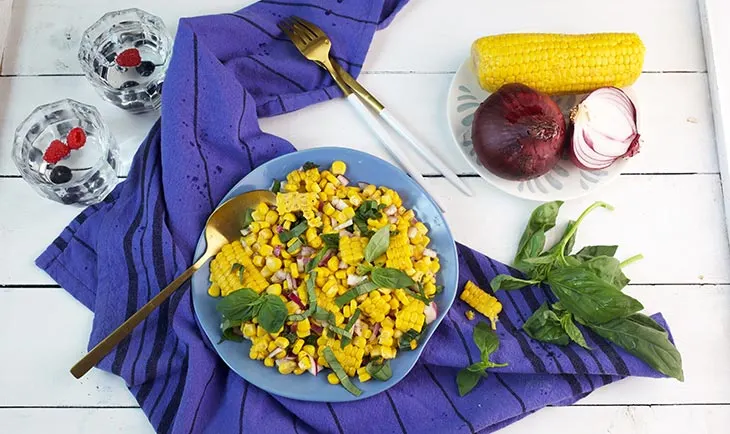 Get ready, as I have the perfect recipe for you this summer - this vegan fresh corn salad is everything you've been dreaming of during all the hot summer days!
Ingredients
330g (2 cups) fresh corn, shucked
1 small red onion, chopped
2 Tbsp fresh lemon juice
2 Tbsp good olive oil
½ tsp salt
1 tsp lemon zest
1 tsp dry mint leaves
½ tsp freshly ground black pepper
½ tsp ground coriander seeds
2 Tbsp fresh basil leaves, chopped
Instructions
In a large mixing bowl add the shucked corn, red onion, and basil leaves.
In another small bowl add the lemon juice, olive oil, salt, lemon zest, ground black pepper, ground coriander, and mint.
Mix to combine and add to the corn mixture.
Toss to incorporate and serve with some extra basil garnish. Bon appetit!
Nutrition Information
Yield
2
Amount Per Serving
Calories

290
Total Fat

16g
Carbohydrates

36g
Fiber

3g
Sugar

9g