This vegan blueberry pie is the definition of a sweet treat. In case you don't believe me, just give it a try. You'll be amazed at how easy it is to make!
Blueberry pie – one of those amazing desserts that's sure to please everyone. How can you not love it? It's such a classic. You can't go wrong with this! 🙂
However, I've met a lot of people who feel intimidated by this amazing dish. If you're one of them, I'm here to guide you and offer you a foolproof recipe that's not only easy to make but also delicious! Oh, and 100% vegan!
Blueberries are native to North America, so the saying "As American as blueberry pie" is actually rooted in history, as the blueberry pie was first eaten by early American settlers. Later on, the food spread to the rest of the world – and we're so very thankful it did.
The little berries have been growing in America for more than 13.000 years, and the Native Americans used to call them "star berries" because of the shape of their blossom. Americans owe a lot to this tiny fruit – it's said that blueberries were one of the reasons that the first settlers made it through their first long winter. Moreover, Native Americans used every part of the plant to cure and treat various illnesses.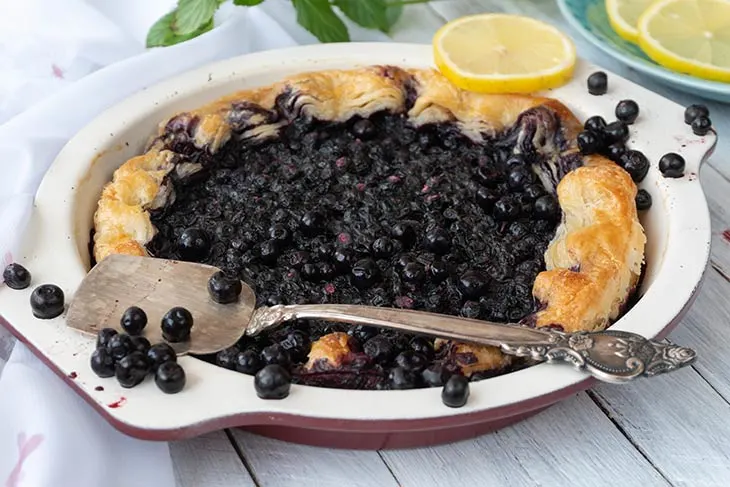 I believe this is good enough proof as to why blueberries are so amazing health-wise, but if not, I'm going to list some facts!
They can help heart and skin health, bone strength, and regulate blood pressure. When eaten frequently, they may help prevent cancer and various mental illnesses. Moreover, they're really low in calories but really high in nutrients, making them a silhouette-friendly food.
One cup of blueberries contains only 84 calories, and let me tell you, one cup equals quite a big portion when it comes to this fruit. They help boost your gut microbiome, resulting in improved digestion and regularity. And when it comes to vitamins, I think it comes as no surprise that they have plenty – any fruit does: they're rich in vitamin C, vitamin K, and manganese.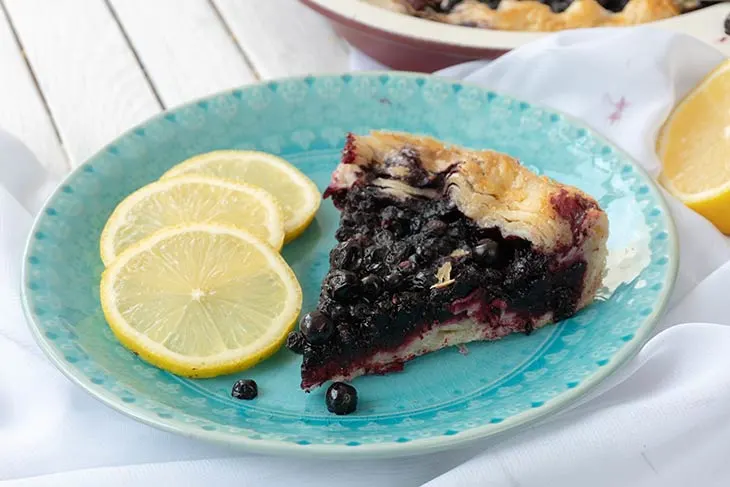 Last but not least… they're delicious! 😉 Blueberries are an amazing addition to almost any dessert I can think of. They're super versatile, making them such a widely-used ingredient in snacks of all sorts, such as granola, muesli or oatmeal bars. They're also great in the morning, as a topping for your daily bowl of porridge or cereal.
And when talking pies, blueberries come with a great asset: they don't have a pit. I mean, sure, who doesn't love a classic cherry pie now and then? I'm a cherry pie lover myself, and if you are too, you know that it's a pain to pit all those cherries. Not the case with blueberries.
You can simply buy them fresh, wash them thoroughly and you're good to go, you can start cooking the pie filling. Frozen blueberries also work great, though I prefer fresh whenever it's possible.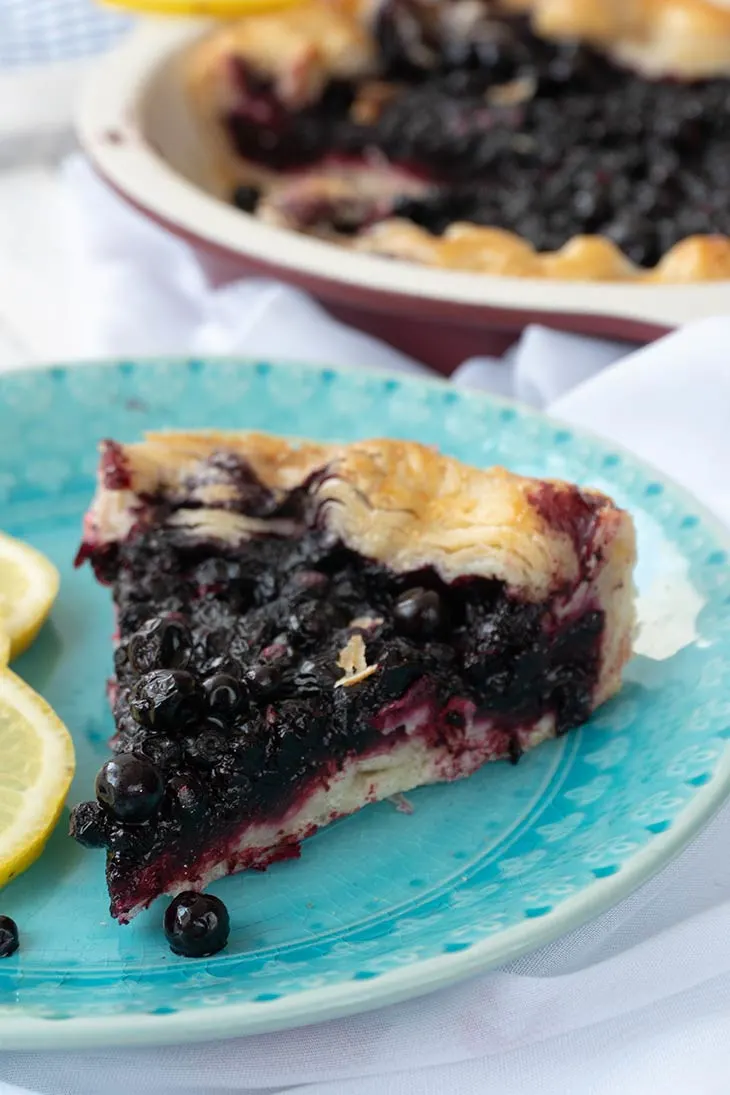 I love making this pie whenever I feel like having a hearty dessert, one that's sweet, but not overly sweet – just filling and amazing. Plus, I always feel that by choosing a dessert full of fruit you pick the lesser of two evils – at least you get some fiber, vitamins, and minerals from all those fruits, while still dealing with that sweet tooth.
A piece of blueberry pie now and then never hurt anybody. And this recipe's super easy to 'veganize' – you'll see! 🙂
If you feel like you don't have time for the crust, you can buy a pre-cooked one. However, I prefer making my own and I advise you to do the same – this way, you know all of the ingredients that went inside and you have a little bit more control over what goes inside of your body.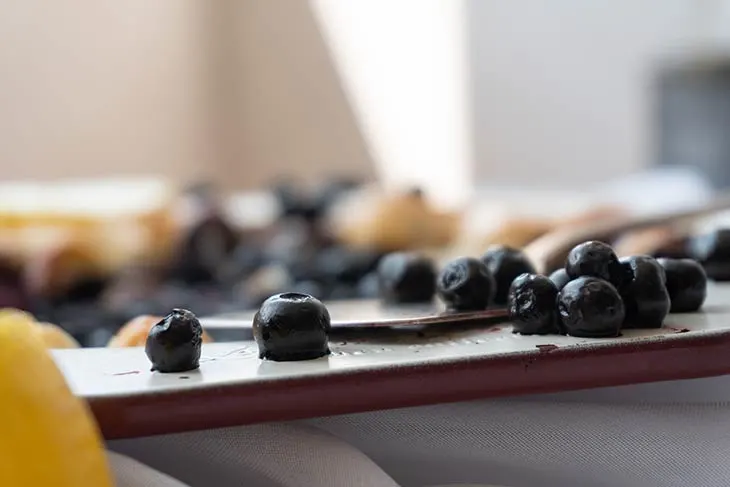 Plus, it's way easier to prep than you can imagine! It's vegan, it's cruelty-free, it's crunchy and it's delicious. What more can you ask for? I like to go heavy on the filling, and I hope you do too – this way, your pie is going to taste amazing and you're going to get the most out of those blueberries.
I can't think of anyone that would not like this dessert, honestly! 🙂 This is the kind of thing that you can safely serve to non-vegans as well. It's just as delicious as traditional blueberry pie. You can serve this as it is if you want to go old-school, and it would be simply wonderful.
It honestly doesn't *need* anything more. However, if you want to really treat yourself one day, serve the pie hot and add a scoop of vanilla ice cream on top. It's a classic combination and one that you can't possibly go wrong with. There's nothing better than this mix of hot and cold.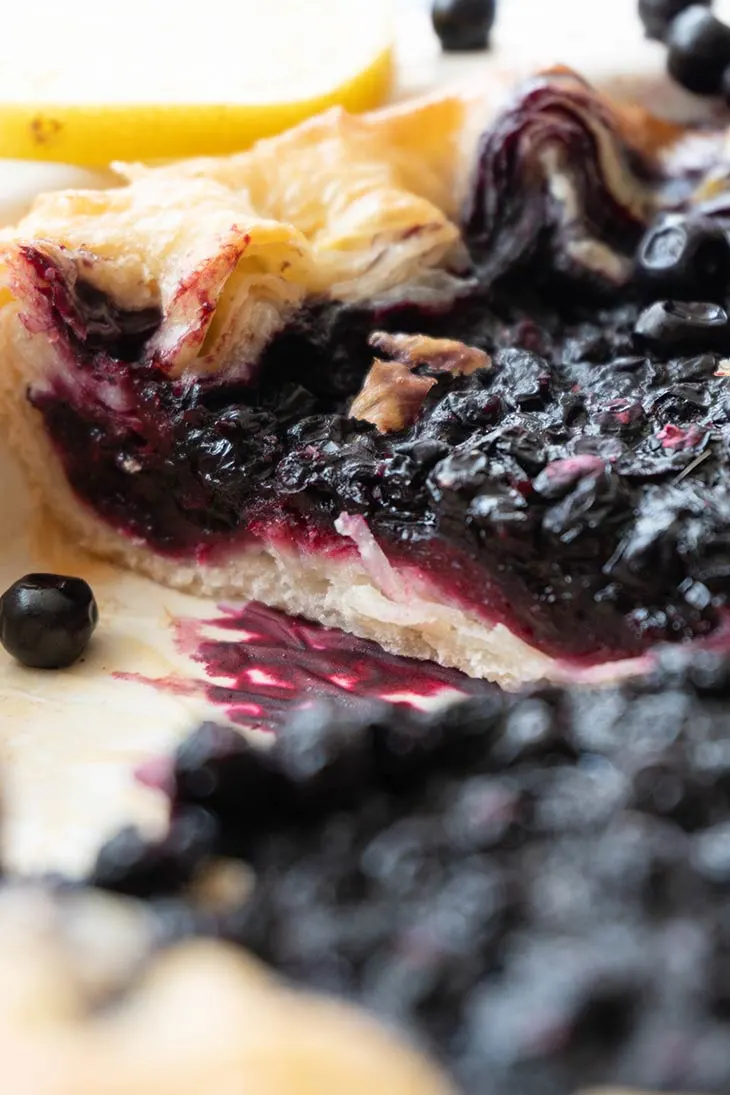 I hope this blueberry pie is gonna be the next dessert that you're going to try. You're gonna love it – I know for a fact!
---
Personalized meal plans and workout videos | Get your customized meal plan today! [x_button shape="square" size="mini" float="none" target="blank" href="https://shop.gourmandelle.com/?utm_source=mainsite&utm_medium=site&utm_campaign=inpost" info="none" info_place="top" info_trigger="hover"]I WANT A MEAL PLAN![/x_button]
---
Yield: 8 servings
Blueberry Pie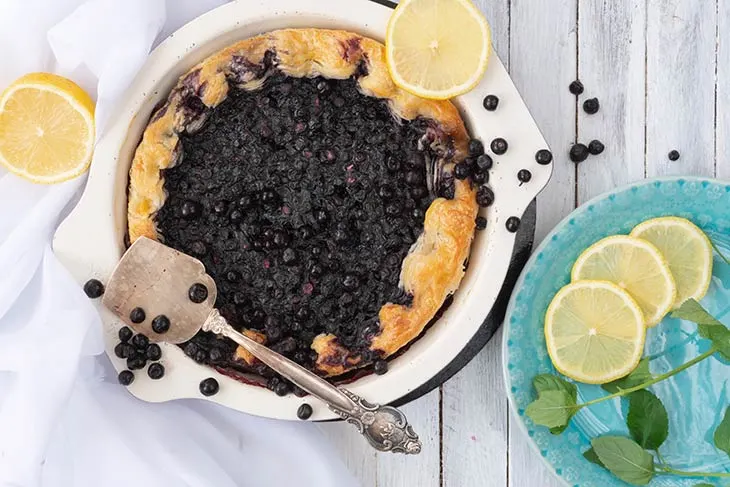 This vegan blueberry pie is the definition of a sweet treat. In case you don't believe me, just give it a try. You'll be amazed at how easy it is to make!
Ingredients
1 frozen pie crust
400g (2 cups) frozen blueberries
50g (¼ cup) coconut sugar
1 Tbsp lemon juice
½ lemon, zested
1 ½ Tbsp corn starch
Instructions
In a bowl, combine the blueberries, sugar, lemon juice, lemon zest, and corn starch. Mix gently to not crush the blueberries.
Spread the pie on the baking pan and pour the blueberry mixture over it.
Bake at 180 degrees C for 20 minutes.
Nutrition Information
Yield
8
Amount Per Serving
Calories

147
Total Fat

6g
Saturated Fat

2g
Trans Fat

0g
Unsaturated Fat

3g
Cholesterol

0mg
Sodium

91mg
Carbohydrates

23g
Fiber

2g
Sugar

10g
Protein

1g
I strive to keep the information as accurate as possible but make no warranties regarding its accuracy. I encourage you to make your own calculations using your preferred nutrition calculator.