Have you heard of blondies before? If not, you have to try this amazing dessert that's similar to the opposite of a brownie. The vegan blondies are super yummy and full of chocolate chips!
I'm going to start this article by assuming that everyone has heard of (and enjoyed) a brownie. This rich, chocolatey dessert has made a lot of us very happy, and stood at the root of great culinary pleasure – that, I am sure of. But fewer people know that the opposite of brownies exists, and it is equally delicious. Yep, I'm talking about blondies! 🙂
A lot of people make the mistake of believing blondies to be normal brownies, but with white chocolate instead of regular one. Classic blondies do not contain that much chocolate. They're actually vanilla-based.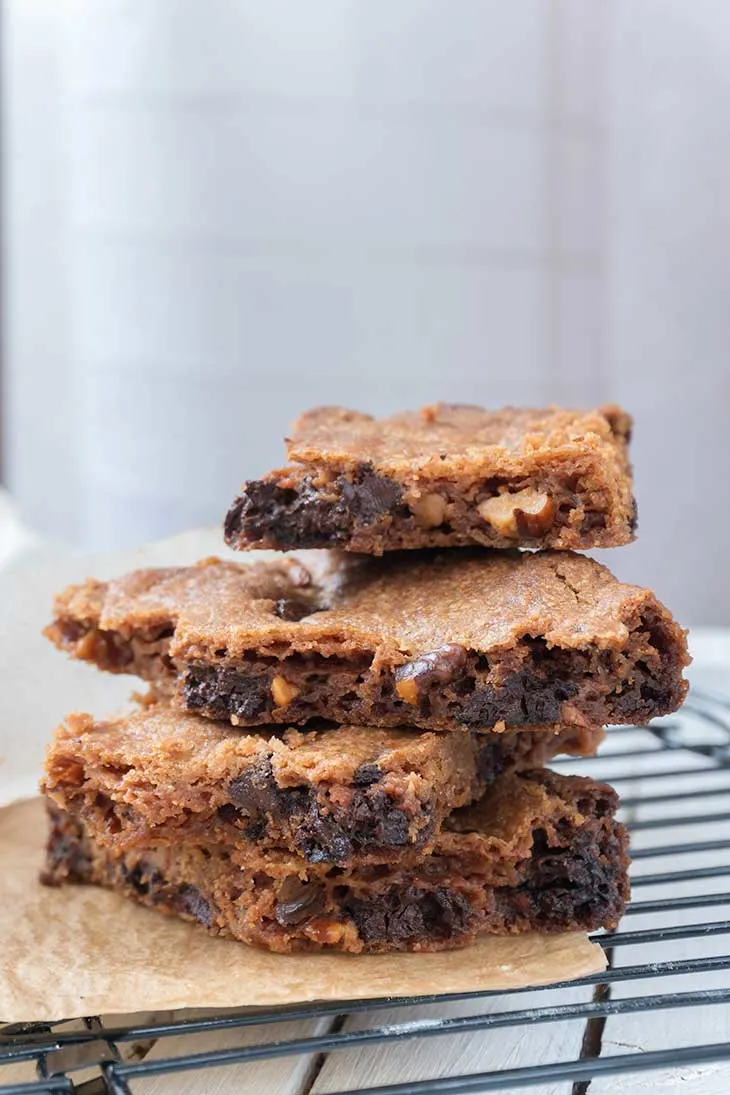 They're usually made with vanilla flavoring and brown sugar. A typical blondie usually contains flour, brown sugar, butter, eggs, baking powder, and vanilla. Just like their very different twin, the brownie, it can contain certain types of nuts, such as walnuts or pecans. Blondies can also contain white or dark chocolate chips, but they are not centered around chocolate, and that makes all the difference. Other popular additional flavors are, basically, things that go amazing with vanilla. I'm talking coconut, nuts, even toffee bits.
Blondies may also be called blonde brownies or butterscotch brownies, which can lead many people into confusion and make them think that brownies were first, and blondies came after. In reality, the opposite is true! It seems like blondies have existed for as long as ten years before the classic brownie. But, just as brownies, blondies originated in the United States. Unfortunately, we don't know exactly who came up with this great idea.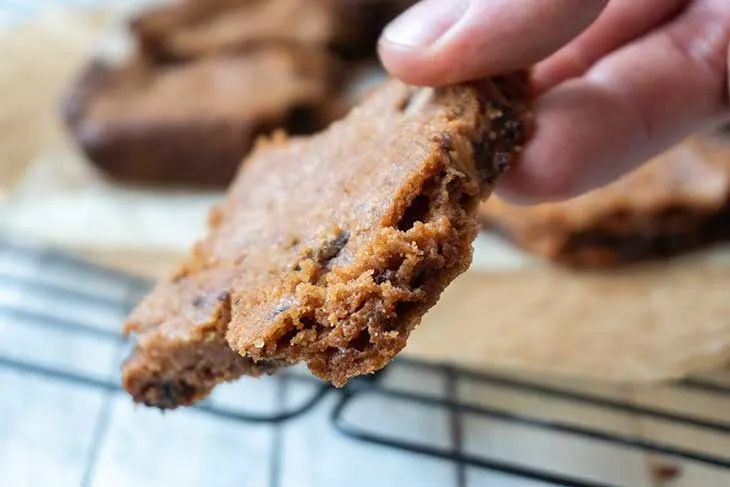 Both blondies and brownies are classified as cookie bars, which are just what it seems: cookies cut squarely. They're softer than regular cookies but tougher than a cake. Both are super sweet and decadent, the kind of dessert that you would fairly only need a few bites of in order to feel satisfied… but it's so good that you can't stop! 🙂
As it usually happens with this kind of rich dessert, people are pretty skeptical when it comes to "veganizing" the recipe. Surely something must be lost in the process, right? Wrong.
I made a vegan blondie version and let me tell you, it was just as amazing as a regular one. We just have to substitute the milk for any plant-based option, and the egg for our usual flaxseed (or chia seed) faux egg. Easy-peasy! We're also going to use some chocolate chips in the mixture. Either white, dark, or milk chocolate works perfectly well – just make sure that it's vegan.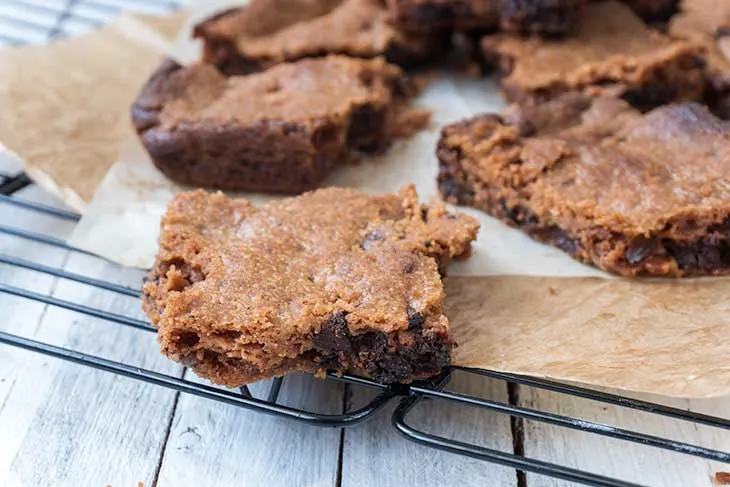 This is a really simple recipe that you can potentially do by only using one bowl and a tray. Having a kitchen robot certainly helps in mixing all of the ingredients, but it's not really necessary.
I just love this dessert! 🙂 It's sweet, chewy, and has a rich flavor of both vanilla and caramel. I think it's amazing as a 4 o'clock pick-me-up – you know… when your attention drops and you feel those sugar cravings. But it's amazing in the morning as well. Have it with some unsweetened coffee – it's going to balance the taste and you'll get the best of both worlds.
This is one of those desserts that freeze surprisingly well, so what I recommend you to do is bake a big batch when you feel you have more time. You can simply pop them in the freezer and enjoy them when you have a sweet tooth or when guests come over.
If you're not satisfied with a tiny square, though, what I really recommend is serving this as a big, satiating dessert. This means topping your brownie with a scoop of ice cream (vanilla or butterscotch work best), then, if you really feel decadent, squeeze a bit of caramel syrup on top. I'm telling you, guys. This is heaven! 🙂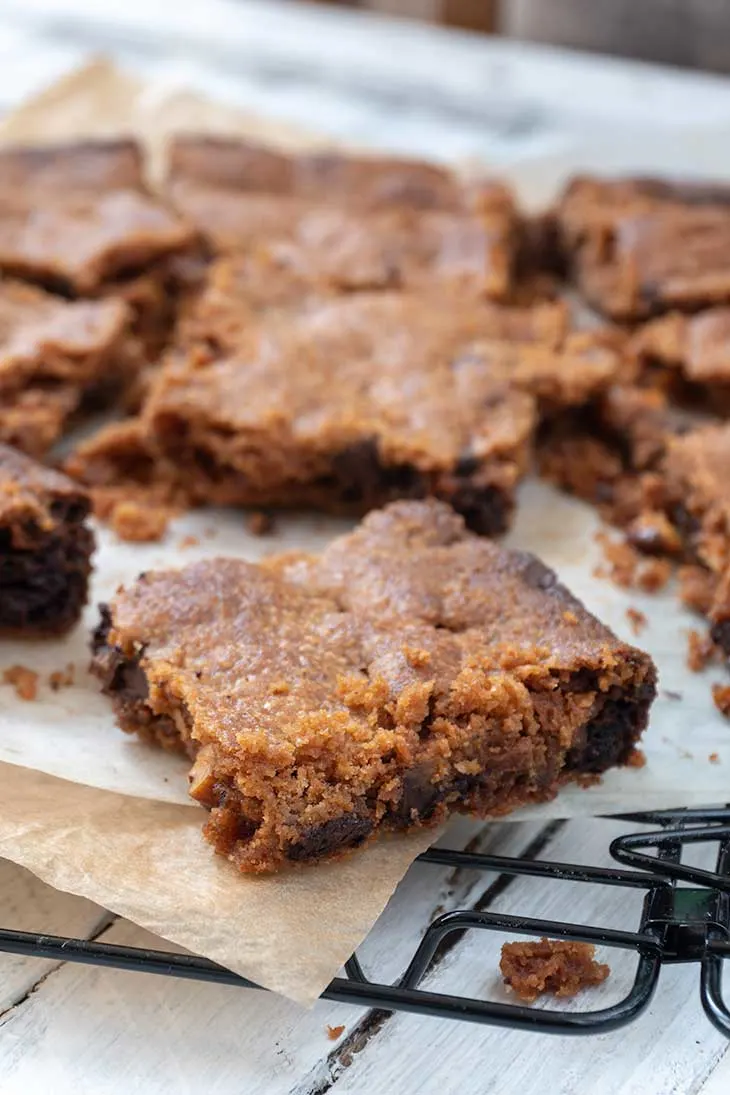 This blondie recipe is amazing if you crave something comforting and sweet. What's amazing about the fact that is freezing so well is that you can always make it only for yourself and you can save the rest for later. Make sure to try it out and, as always, tell me if you found it delicious!
---
Personalized meal plans and workout videos | Get your customized meal plan today! [x_button shape="square" size="mini" float="none" target="blank" href="https://shop.gourmandelle.com/?utm_source=mainsite&utm_medium=site&utm_campaign=inpost" info="none" info_place="top" info_trigger="hover"]I WANT A MEAL PLAN![/x_button]
---
Yield: 9
Vegan Chocolate-Chip Blondies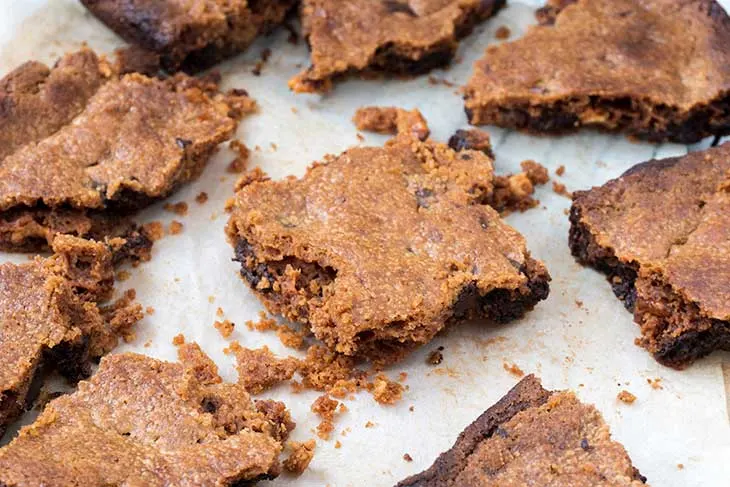 Have you heard of blondies before? If not, you have to try this amazing dessert that's similar to the opposite of a brownie. It's quick, super yummy and full of chocolate chips!
Ingredients
120g (1 cup) flour
150g (¾ cup) brown sugar
85g (6 Tbsp) vegan butter
50g (⅓ cup) walnuts, chopped
50g (⅓ cup) dark chocolate, chopped
1 tsp baking powder
½ tsp cinnamon
2 tsp vanilla extract
¼ tsp salt
Instructions
In a bowl, cream the butter and sugar using a hand mixer.
Add the vanilla and combine.
In a separate bowl, combine and mix the flour, baking powder, cinnamon and salt then add them to the butter and sugar mixture.
Mix with the hand mixer.
Fold in the chopped walnuts and chocolate.
Transfer to a greased and lined baking pan and bake at 170 degrees C for 20-25 mins.
Let it cool completely before cutting.
Nutrition Information
Yield
9
Amount Per Serving
Calories

200
Total Fat

9g
Carbohydrates

28g
Protein

2g
I strive to keep the information as accurate as possible but make no warranties regarding its accuracy. I encourage you to make your own calculations using your preferred nutrition calculator.