This is the best vegan banana 'nice' cream I have ever tasted! It has the perfect combination of textures and flavors.
Yes! This is by far one of the best vegan banana ice creams ever! It has both crunch and creaminess. I can even dare to say it is comparable with my all-time favorite (non-vegan) ice cream, Nirvana with Pralines!
This ice cream is creamy, but the candied nectarines will also give it the right amount of crunch. The caramel, chocolate and biscuits toppings turn this recipe into a perfect dessert for any occasion. You can even turn this into an ice-cream sandwich! That's what I did! But I didn't add this part in the video because the result was too messy. I exaggerated with the caramel drizzle! 😛
Want to turn this recipe into popsicles? Use this popsicle mold set!
What I like about this recipe is that it is really easy to make! You'll need a high power blender, though. Making banana cream out of frozen bananas can be a tough task for some blenders. Also, you won't need an ice cream machine for this. The freezer will be enough! 🙂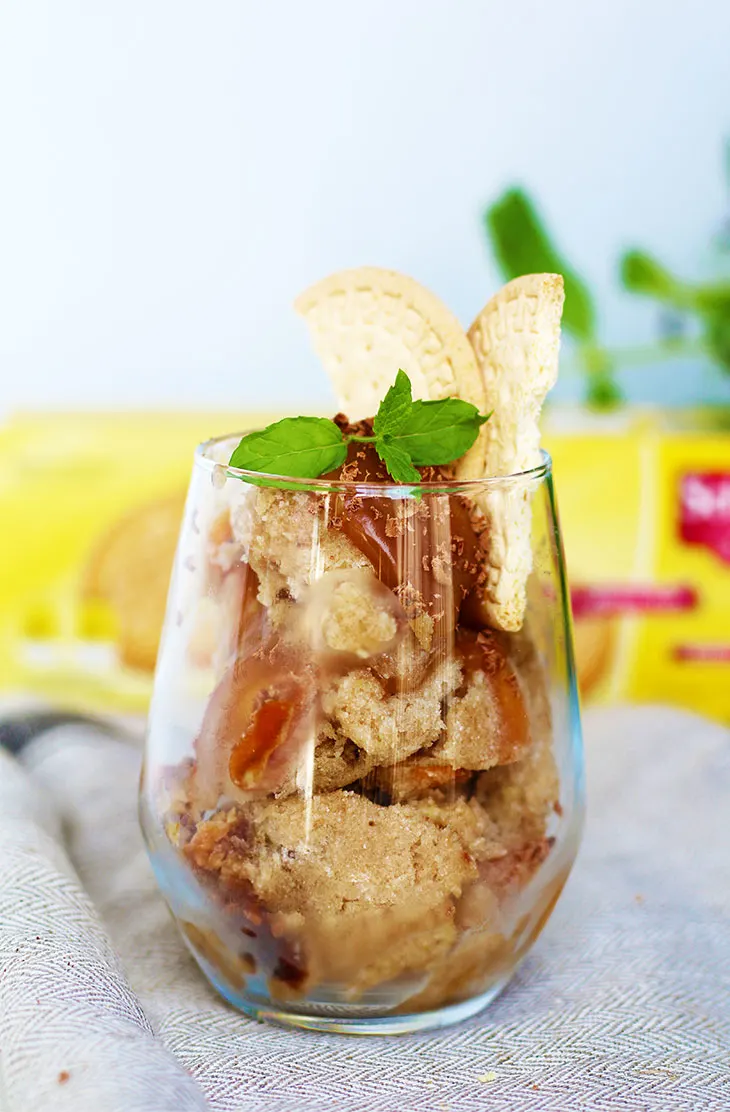 I also made a video for this recipe. You can see it step by step how I did it and how easy it. I'm still having trouble shooting the videos. I can't seem to find a single place with good lighting in all the house… My tripod is not high enough and I can't shoot properly. 🙁 I hope I'll find a solution for this soon.
In the video, you'll see only 3 bananas added, but as you can notice from the recipe below, I used 6 frozen bananas. I realized that 3 bananas didn't fill the tray and wanted to make more ice-cream, not just for a couple of servings. Also, I used the tiniest, ugliest nectarines ever! :)) You can use larger nectarines as mentioned in the recipe below.
Anyway, hope the video is good enough to inspire you to give this recipe a try! Let me know how it turned out for you! 🙂
[x_video_embed type="16:9″ no_container="true"][/x_video_embed]
Yield: 5
Banana 'Nice' Cream with Candied Nectarines and Caramel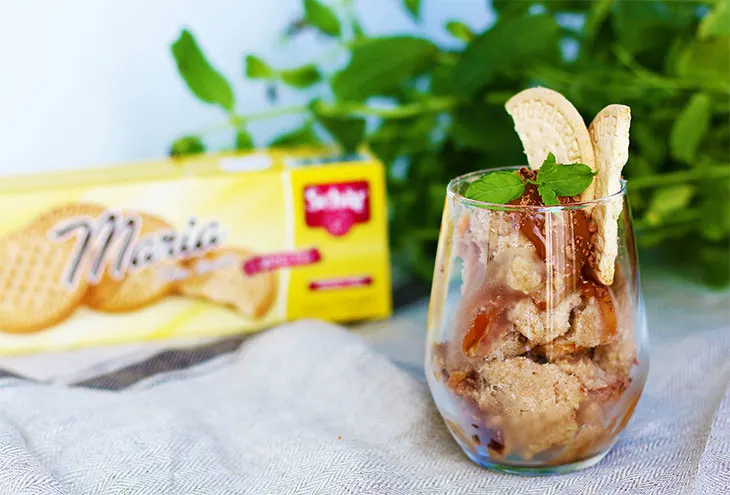 This is the best vegan banana 'nice' cream I have ever tasted! It has the perfect combination of textures and flavors.
Total Time
5 hours
25 minutes
Ingredients
6 bananas, ripe and frozen whole
4-5 large nectarines, pitted, chopped (I used multiple smaller ones)
3 Tbsps coconut oil
150g (¾ cup) brown sugar
Toppings:
biscuits, I used gluten-free biscuits, Maria by Schar
grated vegan dark chocolate
fresh mint
Instructions
Slice frozen bananas and chop nectarines.
Blend bananas in a high power blender. I used my Optimum 9200 for this. No liquids were needed.
Pour banana cream in a small tray.
Heat oil in a saucepan. Add sugar. Stir until sugar starts to melt.
Add chopped nectarines.
Cook on low-medium heat, while stirring continuously, until nectarines get a soft, jam-like consistency (~7 mins).
Pour cooked nectarines over the banana cream. Spread evenly.
Place in freezer for at least 5 hours, or overnight. For the first 3 hours, stir the ice-cream using a spoon, every hour. This way it will maintain its creaminess.
Serve with caramel sauce, grated dark chocolate, fresh mint, and biscuits.
Nutrition Information
Yield
5
Amount Per Serving
Calories

394
Total Fat

13.2g
Carbohydrates

66.4g
Protein

2.3g