Make these eggplant fritters in just 30 minutes! They are bursting with flavors and have a delicious, crunchy texture! Serve them with a mashed potatoes side and you're in for a treat!
I love eggplants! I guess that's pretty obvious seeing how many eggplant recipes I have on the blog! 😀 I love them baked, fried, in patties, in casseroles, stuffed, and pretty much cooked in any way possible. I guess my passion for eggplants has started when I was little and tried for the first time the popular Romanian "zacusca", which is a red pepper and eggplant spread, and also eggplant caviar.
I still remember that day! It was Sunday and the whole family was eating together. My grandma placed two bowls with these eggplant spreads on the table and asked me if I wanted to give them a try. My first reaction was to say that I don't like them, even though I have never tried them before! But I am glad she finally convinced me and I fell in love with their flavor ever since. 🙂
It is eggplant season and not a week goes by without trying a new eggplant recipe. Yesterday I stuffed them with some mushrooms and herbs; it was somewhat similar to my stuffed eggplants recipe, but I skipped the rice, and today I decided to make some eggplant fritters with the leftover eggplant pulp.
It's not the first time I use eggplant in patties. Remember my lentil and eggplant patties recipe? 🙂 But this time I tried something different, I combined them with chopped mushrooms and some special spices and herbs, and the result was amazing!
These crunchy eggplant fritters are really easy to make. I suggest you make some stuffed eggplants a day before and save the scooped out eggplant pulp for these. All you have to do is chop, mix and lightly fry! Enjoy! 🙂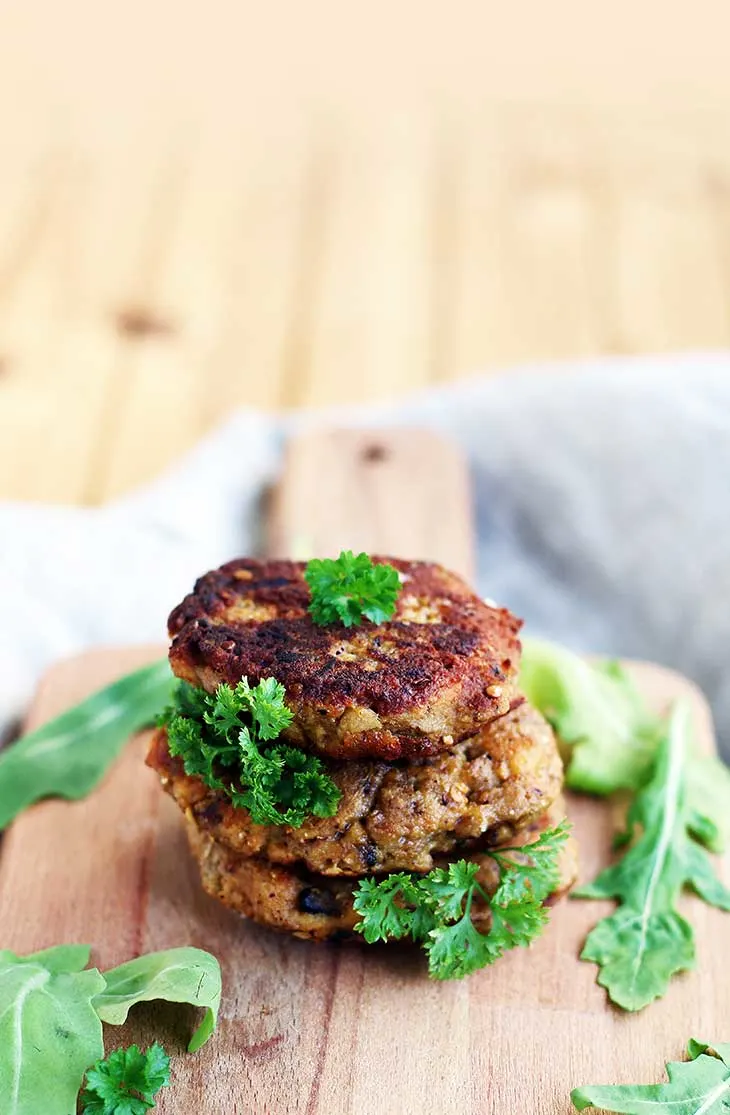 Yield: 6-8 fritters
Crunchy Eggplant Fritters with Mushrooms and Herbs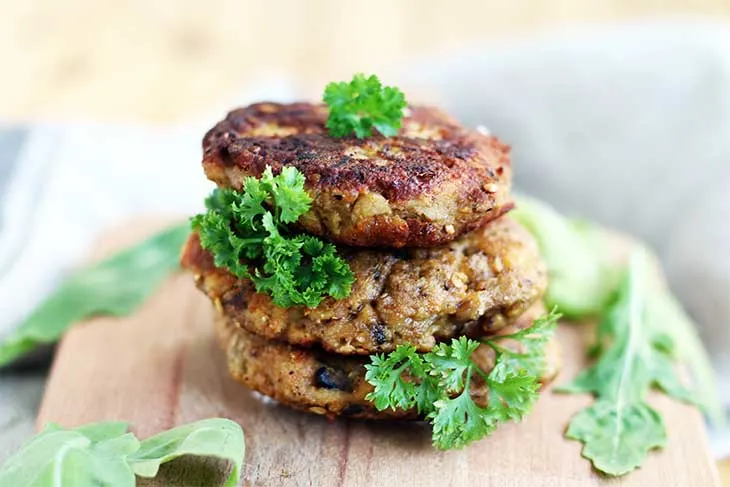 It's eggplant season! Make these crunchy eggplant fritters in just 30 minutes! They are bursting with flavors and have a delicious, crunchy texture you'll love.
Ingredients
scooped out pulp from 3 medium eggplants, chopped
6 medium button mushrooms, chopped
3 garlic cloves, mashed
2 Tbsp sesame seeds
~4 Tbsp chickpea or rice flour
2 Tbsp psyllium husks, If you don't want them vegan, you can just add a large egg, beaten
2 Tbsp dill, chopped
1 tsp thyme
1 tsp sumac powder
½ tsp cumin
sea salt and pepper, to taste
oil
Instructions
Thinly chop eggplant pulp, then chop mushrooms.
Heat 2 tsps of oil in a pan. Add chopped eggplant, mushrooms, mashed garlic, spices, and herbs.
Cover with a lid. Let it cook for 7 minutes.
Remove lid and occasionally stir. Let them cook for another 5 minutes, then remove from heat.
Move the cooked mixture to a bowl. Add chickpea or rice flour, sesame seeds and psyllium husks or ground flax seeds. Mix well and lightly mash them.
Heat some oil in a large, non-stick pan. Don't use too much oil, just enough to grease the bottom of the pan.
Add 1 Tbsp of eggplant fritters mixture in the pan, and lightly press it to give it a more flattened shape.
Cook on both sides, ~2-3 minutes on each side. Repeat this for all the fritters.
Place them on a plate covered with some paper towels.
Serve!
Nutrition Information
Yield
6
Amount Per Serving
Calories

118
Total Fat

8g
Carbohydrates

10g
Protein

1.6g