This is the easiest, no-bake peanut butter cake you will ever make, and the best thing about it is that it's healthy too! Check it out! Video recipe included.
Long time, no see! 🙂 So many things have happened since the last posted recipe on the blog. Have you noticed the new website redesign? It's nothing too drastic. I just made some subtle changes and improved its functionality. Now you have a Recipe Index with filters, so you can easily browse through all of my recipes. Isn't it awesome?! 🙂
Other than this, I started making more video recipes, but I must be honest… it's exhausting! I have the tiniest balcony and that's pretty much the only place in the whole house where I have decent lighting. If you could see me working, you'd laugh your ass off! :)) But I enjoy every minute of it. I love working for the blog and I wish I could put even more effort into this.
I made a video for this no-bake peanut butter cake recipe too. You can watch it below. This time, the weather was on my side. It was cloudy, rainy, and the perfect temperature. When it's sunny the balcony turns into a sauna…
Now, about this peanut butter cake recipe… This is an old recipe of mine. I first made it about 3 years ago, when I was invited to a presentation and asked to come with some raw or semi-raw sweets for the crowd gathered there. I made my Raffaello bonbons and this awesome peanut butter cake. Everybody loved the recipe!
Because it was such a success, I also made it when ProTV did an interview with me about food blogging in Romania. You can watch it here (in Romanian). Since then, I think I made it 2 or 3 more times. Yes. It is THAT GOOD! 🙂
I don't know why I never posted it on the blog. I guess I didn't have time to photograph it properly. I remembered about it a while back when someone who was at the presentation called me and asked me for the recipe. She remembered how amazing it was and wanted to make it for her birthday. Yesterday, I decided that a recipe this good should be shared with everyone, so here it is – my famous no-bake peanut butter cake recipe.
Hope you'll like it as much as I do! 🙂 Enjoy!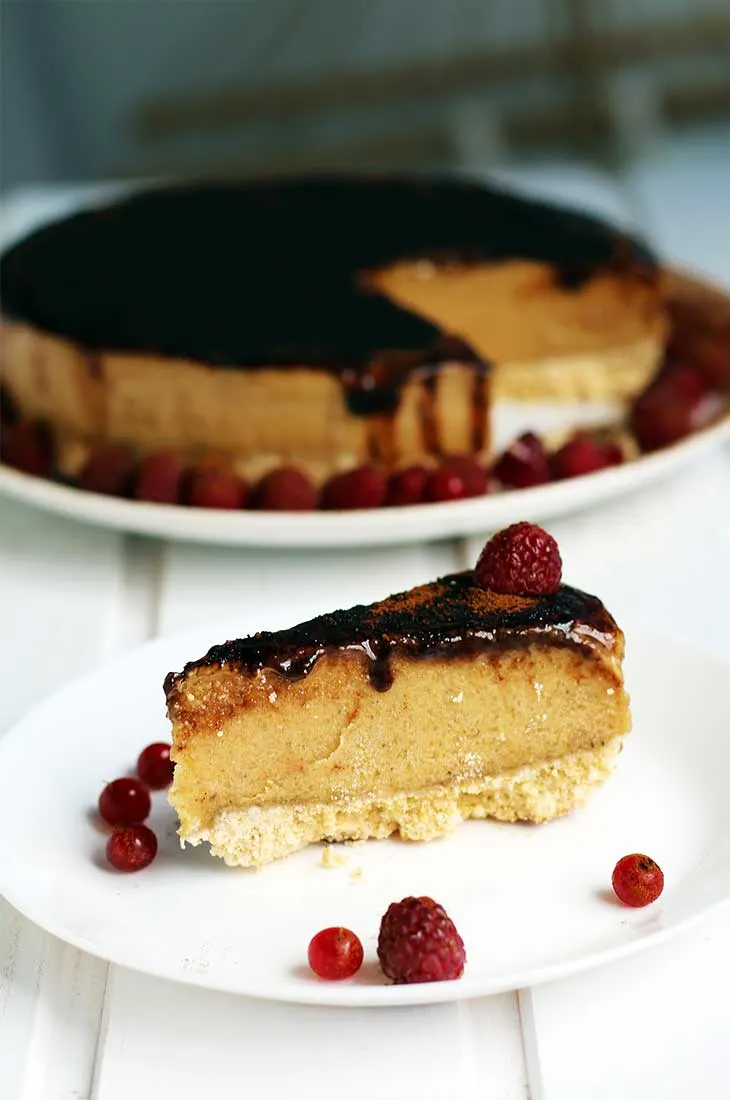 No Bake Peanut Butter Cake Video Recipe
[x_video_embed type="16:9″no_container="true"][/x_video_embed]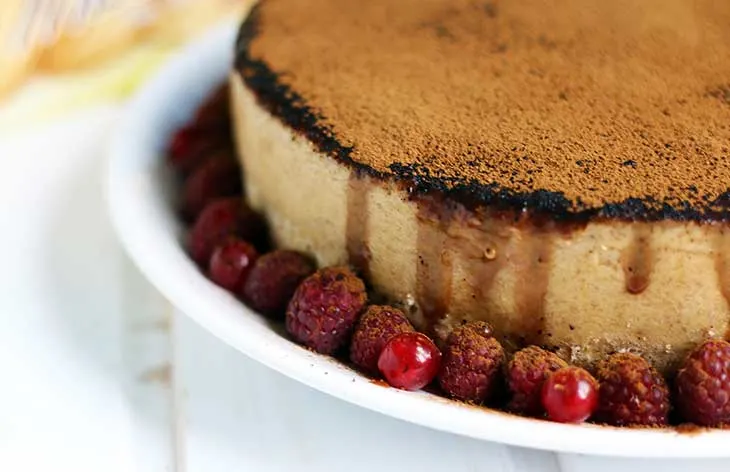 Yield: 12
No Bake Peanut Butter Cake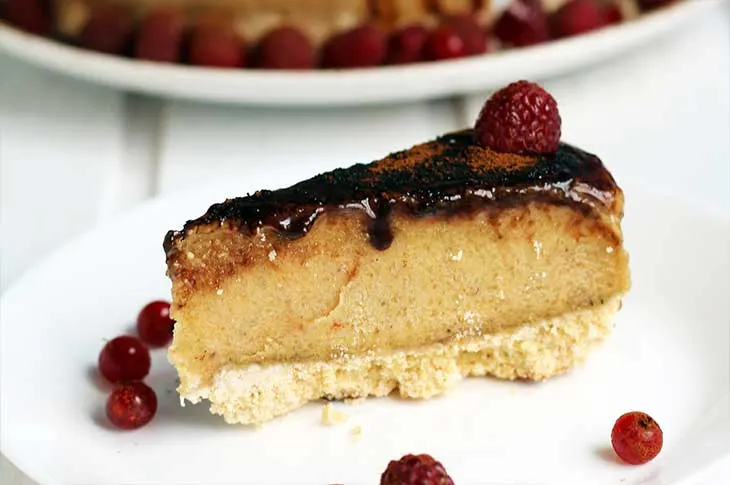 This is the easiest, no bake peanut butter cake you will ever make, and the best thing about it is that it is healthy too! Check it out! Video recipe included.
Ingredients
Crust:
300g (10.5 oz) gluten-free biscuits, I used Maria Biscuits by Schar
5 Tbsps coconut oil, melted
Cream:
10 bananas, medium, extra-ripe, with dark spots on them
3 very generous Tbsps peanut butter (preferably raw)
3 Tbsps honey, or other sweeteners like agave or maple syrup for vegans
4 Tbsps psyllium husks
1 tsp vanilla powder
Toppings:
50g (½ cup) chocolate, melted (I used a coffee flavored chocolate)
1 Tbsp carob powder or cocoa powder
Instructions
Put biscuits in a blender or food processor. Pulse 3-4 times, until they are ground, like breadcrumbs (not flour!).
Cover the base of a cake tin (with detachable walls) with plastic wrap. This will help you remove the cake from the tin easily, later when it's ready.
Add the ground biscuits in the tin and pour in the coconut oil. Mix well. Don't worry if it looks like the crust doesn't stick together. It will, after the coconut oil will get back to its solid state.
Add all bananas to the blender. Blend until smooth.
Add sweetener, peanut butter, vanilla powder and psyllium husks.
Blend 1 more minute.
Pour the cream into the tin, over the biscuit crust. Spread evenly.
Place it in the freezer and let it completely freeze. I left it there up until the next day.
Once frozen, remove the cake tin and place the cake on a plate.
Melt some chocolate and pour over the cake.
Dust some carob or cocoa powder on top, and you're done!
Let it thaw a bit (10-12 mins) before eating. It has a nicer, creamier texture this way.
Nutrition Information
Yield
12
Amount Per Serving
Calories

213
Total Fat

8.3g
Carbohydrates

32g
Protein

2.5g
All You Need To Know About Peanut Butter
I think it's safe to say we all love peanut butter! It is such a regular part of our lives; it is also delicious and it's very easy to just whip up a PB&J sandwich when you're in need of a quick meal. You can even just pop open the jar and dip your favorite foods to make a healthy and yummy snack.
But what else does peanut butter offer us on top of amazing flavor, a wide array of savory/sweet recipes, and practicality? That's what we want to find out today! So let's take a look at everything you need to know about peanut butter.
Origins of peanut butter
The use and consumption of peanut butter can be traced back to the Aztecs and Inca who used to ground peanuts into a paste so they could use it as a remedy for toothache. However, modern peanut butter can be credited to three inventors: Marcellus Gilmore Edson, a Canadian who patented peanut butter in 1884 and whose production process was to mill roasted peanuts between two heated surfaces. Dr. John Harvey Kellogg patented a process for creating peanut butter from raw peanuts in 1895. Then there is Dr. Ambrose Straub who patented a machine to make peanut butter in 1903.
These three inventors are responsible for making peanut butter a well-established and nutritious ingredient that's present around the world and in at least 94% of American households today.
Benefits of Peanut Butter
Peanut butter also has quite a few things to offer in terms of benefits for your health. First of all, it is fully packed with protein; only two tablespoons of peanut butter offer you 7 grams of protein. This protein is packed with amino acids that your body uses to both build and repair muscle tissue. On top of that, protein boosts your metabolism and it helps you feel full for longer.
Just like olive oil, peanut butter contains saturated and unsaturated fats at the same ratio. Monounsaturated fats present in this delicious spread can help you lower the risk of heart disease because it lowers your cholesterol. It can also help you prevent type 2 diabetes! In two tablespoons of peanut butter, you'll find 7.4 grams of monounsaturated fat and 4.5 polyunsaturated fat that make a total of 16 grams of fat; all healthy!
Peanut butter is also rich in fiber, for each tablespoon of it you get 1 gram of dietary fiber. Your body needs fiber to regulate the digestive system through healthy bowel movements, and it also makes you feel full for longer which is great if you're on a weight loss journey.
There's also a lot of potassium in your peanut butter; about 238 milligrams in only two tablespoons. Potassium is very helpful to counter the negative effects that sodium can have on your body. That's why unsalted varieties of peanut butter are healthier.
General Facts
The law in the United States estates that any product labeled "peanut butter" must be 90% peanuts.
Two peanut farmers have been elected president of the USA, i.e. Thomas Jefferson and Jimmy Carter.
Astronaut Alan Shepard brought a peanut with him to the moon.
Six cities in the U.S are named Peanut, located in California, Pennsylvania (Peanut, Upper Peanut and Lower Peanut), Tennessee, and West Virginia.
Because they grow underground, peanuts are sometimes called ground nuts" or "ground peas".
It takes less than 5 gallons of water to produce an ounce of peanuts.
The fat in peanut butter is healthy fat!
It takes around 540 peanuts to make just 12 ounces of peanut butter.
How to Make Peanut Butter
What You'll Need: 2 cups of raw, shelled peanuts, 1/2 teaspoon of salt (add more to taste if necessary), 1-2 tablespoons peanut oil or another kind of oil, 1-2 tablespoons of honey or other sweetener (optional). Also, you'll need a baking sheet, a food processor or blender, and a spatula.
What You'll Do: Roast the peanuts in the oven to 350°F on a baking sheet until lightly golden and glossy with oil, about 10 minutes. This is optional, it will give the butter a deeper flavor and it will help release peanut oil. Put the peanuts in your blender or food processor and chop them. If you want chunky peanut butter, set aside half a cup of chopped peanuts. Then continue processing and remember to stop and scrape down the sides so it all gets processed evenly. Process until you have glossy and soft peanut butter. Add the rest of the ingredients; salt, oil and sweetener and you can even add some extras if you want, like chocolate chips, Nutella, etc.
Process for 1 to 2 additional minutes until it's completely smooth. Check the taste and if you want it chunky, add the chopped peanuts you saved earlier and stir.