This is the easiest, no-bake peanut butter cake you will ever make, and the best thing about it is that it's healthy too! Check it out! Video recipe included. 
Long time, no see! 🙂 So many things have happened since the last posted recipe on the blog. Have you noticed the new website redesign? It's nothing too drastic. I just made some subtle changes and improved its functionality. Now you have a Recipe Index with filters, so you can easily browse through all of my recipes. Isn't it awesome?! 🙂
I am also working on launching my upgraded meal planning service. It will be like no other meal planning service online! The recipes will make the difference. I can't wait for it to be ready! It's a lot of hard work involved and I hope you will like it when it's ready. It will be affordable as well! What would you need in order to be 100% happy with a meal planning service? I would love to know and it would help me create the best meal planning service out there! Leave me a comment below. 🙂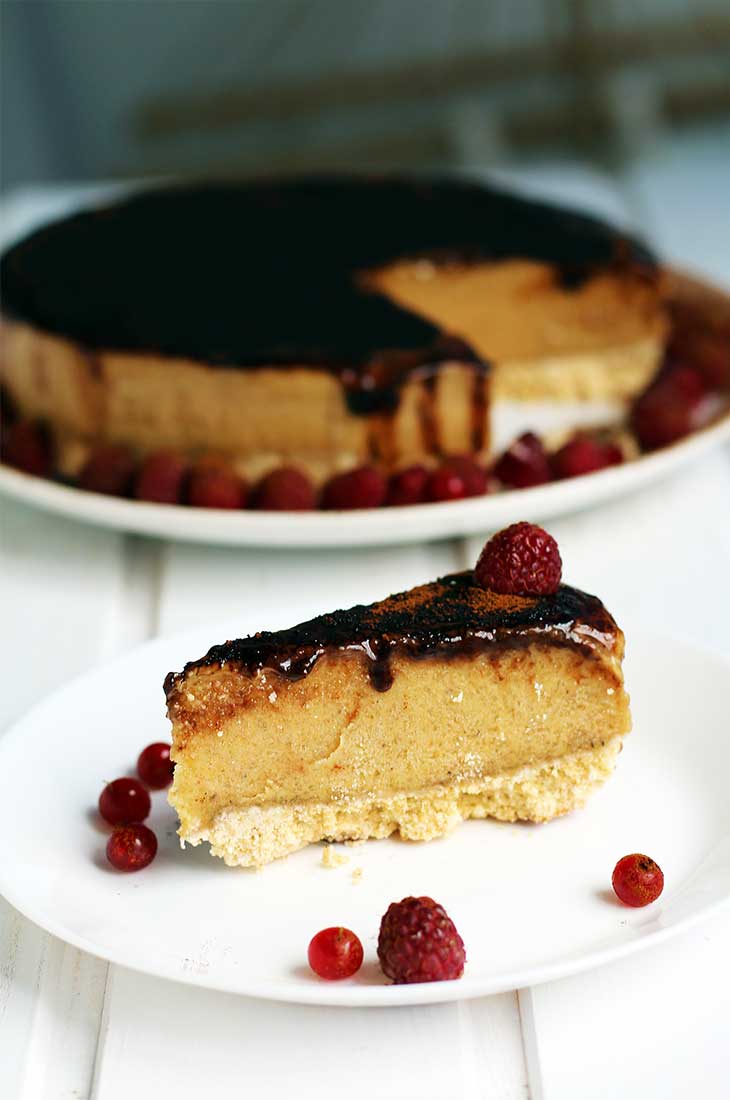 Other than this, I started making more video recipes, but I must be honest… it's exhausting! I have the tiniest balcony and that's pretty much the only place in the whole house where I have decent lighting. If you could see me work, you'd laugh your ass off! :)) But I enjoy every minute of it. I love working for the blog and I wish I could put even more effort into this.

I made a video for this no-bake peanut butter cake recipe too. You can watch it below. This time, the weather was on my side. It was cloudy, rainy, and the perfect temperature. When it's sunny the balcony turns into a sauna…
No Bake Peanut Butter Cake Video Recipe
Now, about this peanut butter cake recipe… This is an old recipe of mine. I first made it about 3 years ago, when I was invited to a presentation and asked to come with some raw or semi-raw sweets for the crowd gathered there. I made my Raffaello bonbons and this awesome peanut butter cake. Everybody loved the recipe!
Because it was such a success, I also made it when ProTV did an interview with me about food blogging in Romania. You can watch it here (in Romanian). Since then, I think I made it 2 or 3 more times. Yes. It is THAT GOOD! 🙂
I don't know why I never posted it on the blog. I guess I didn't have time to photograph it properly. I remembered about it a while back when someone who was at the presentation called me and asked me for the recipe. She remembered how amazing it was and wanted to make it for her birthday. Yesterday, I decided that a recipe this good should be shared with everyone, so here it is – my famous no-bake peanut butter cake recipe.
Hope you'll like it as much as I do! 🙂 Enjoy!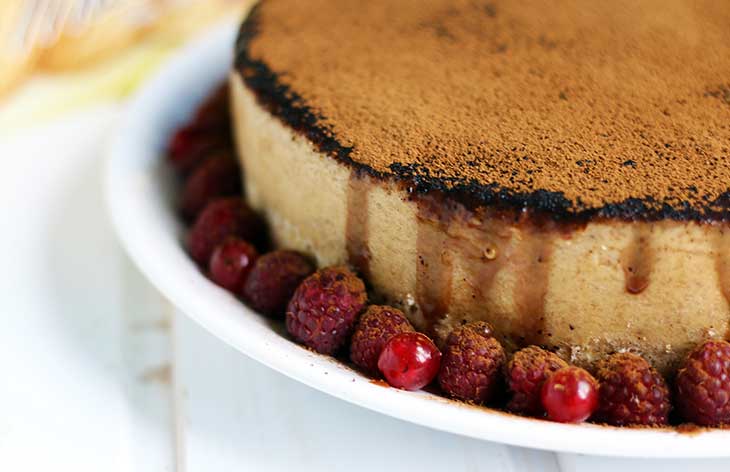 No Bake Peanut Butter Cake
This is the easiest, no bake peanut butter cake you will ever make, and the best thing about it is that it is healthy too! Check it out! Video recipe included.
Ingredients
Crust:
5 Tbsps coconut oil, melted
Cream:
10 bananas (medium, extra-ripe, with dark spots on them)
3 (very generous) Tbsps peanut butter (preferably raw)
3 Tbsps honey (or other sweeteners like agave or maple syrup for vegans)
4 Tbsps psyllium husks
1 tsp vanilla powder
Toppings:
50g chocolate, melted (I used a coffee flavored chocolate)
1 Tbsp carob powder or cocoa powder
Instructions
Put biscuits in a blender or food processor. Pulse 3-4 times, until they are ground, like breadcrumbs (not flour!).
Cover the base of a cake tin (with detachable walls) with plastic wrap. This will help you remove the cake from the tin easily, later when it's ready.
Add the ground biscuits in the tin and pour in the coconut oil. Mix well. Don't worry if it looks like the crust doesn't stick together. It will, after the coconut oil will get back to its solid state.
Add all bananas to the blender. Blend until smooth.
Add sweetener, peanut butter, vanilla powder and psyllium husks.
Blend 1 more minute.
Pour the cream into the tin, over the biscuit crust. Spread evenly.
Place it in the freezer and let it completely freeze. I left it there up until the next day.
Once frozen, remove the cake tin and place the cake on a plate.
Melt some chocolate and pour over the cake.
Dust some carob or cocoa powder on top, and you're done!
Let it thaw a bit (10-12 mins) before eating. It has a nicer, creamier texture this way.