Satisfy your biggest hunger with a portion of healthy, vegan loaded fries for lunch or dinner and get inspiration for the best toppings!
French fries have been around since forever. We've heard of them being served as a side to burgers in most fast food places, they're also a great piece of American history – despite the name. French fries date back to the 1800s when Thomas Jefferson first remarked that they were "fries made in a French manner". God knows what he meant.
Still, tradition is bound to be tested by innovation every once in a while. This is why fries have evolved from a side dish to a main when someone thought "well, why don't we just put some stuff on top of the fries to make them more savory and filling?".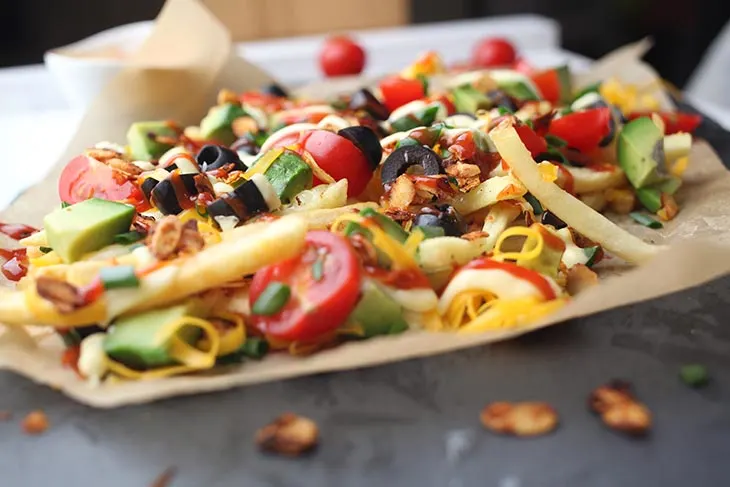 Ever since then, loaded fries recipes have become a trend. Loaded fries are, as their name implies, traditional french fries loaded with a bunch of other ingredients on top, which justifies them being considered a whole meal. Cheese, meat, vegetables, anything goes as long as your mind can imagine it.
This has become both a blessing and a curse. People tend to get creative in the kitchen, and that's a good thing. At the same time, ordering some fries can become a lot richer in calories when you order them squashed with a load of heavy red meat and dozens of sauces.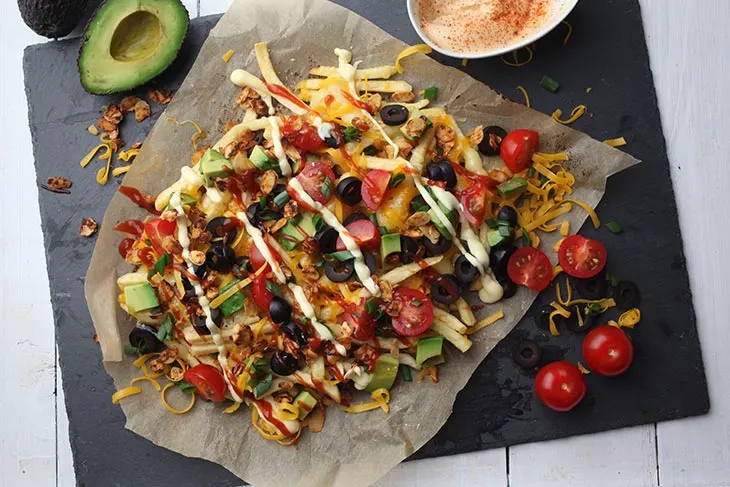 This is where my recipe for vegan loaded fries comes into play! Whether you're in the mood for a savory vegan recipe that will satisfy the largest of hunger, or you're willing to experiment with french fries, these loaded vegan fries will provide you with what you need.
And what you need is up to you! Whether you're coming home from work, starving, or you're just looking for something special to eat for lunch on a weekend, this recipe is what you're looking for!
Traditionally, people load their fries with a couple of ingredients that match in taste and go well together in texture. Beans and cheese are a favorite, for example.
But this being a vegan recipe, we will have to go with your favorite cheese substitute – maybe vegan mozzarella, or whatever you desire. It would be best to use a creamier cheese replacement so that it can melt between the fries and provide you with that finger-licking-good feeling! Though if you're eating this in a restaurant, please don't actually lick your fingers! (Or do it, who am I to judge?)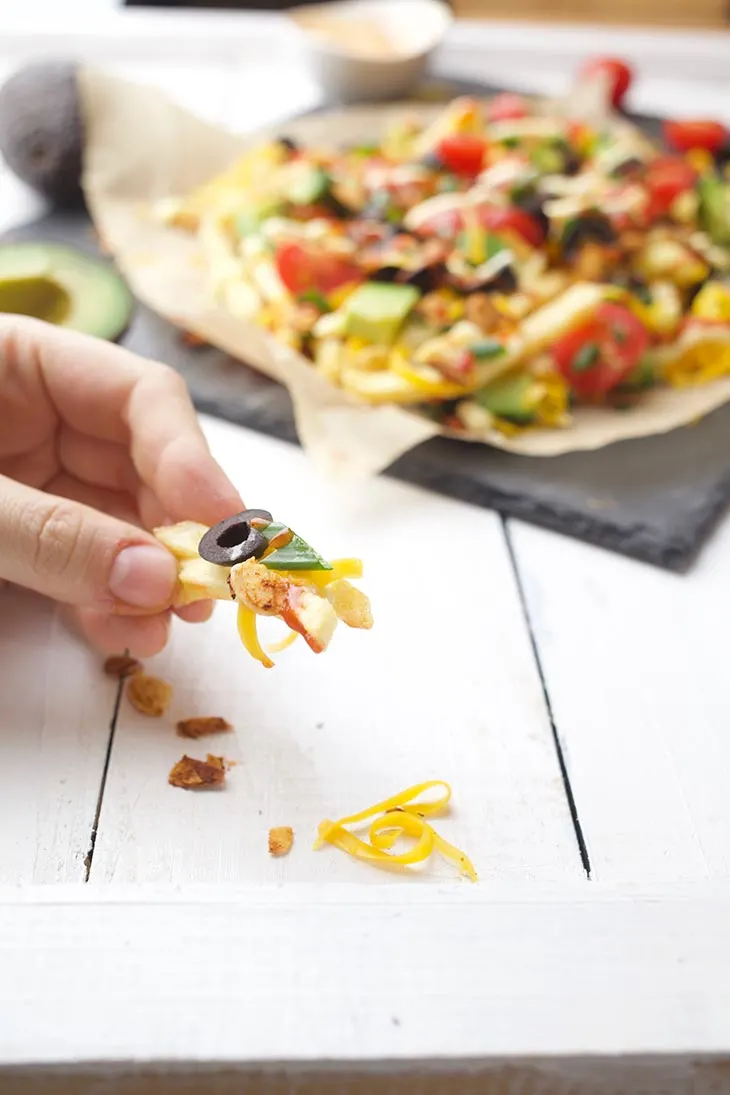 Depending on what recipe you follow, the duration of making some vegan loaded fries might take somewhere between 20-40 minutes, depending on what you choose to load them with.
I personally love my vegan fries loaded with some jalapeno, olives, avocado, vegan cheese, and cherry tomatoes, but what you do is up to you! The procedure itself is very easy, too. It only involves baking to a minimum (yes, we will bake our fries so they'll be healthy and delicious!) so it isn't as time-consuming as it would be.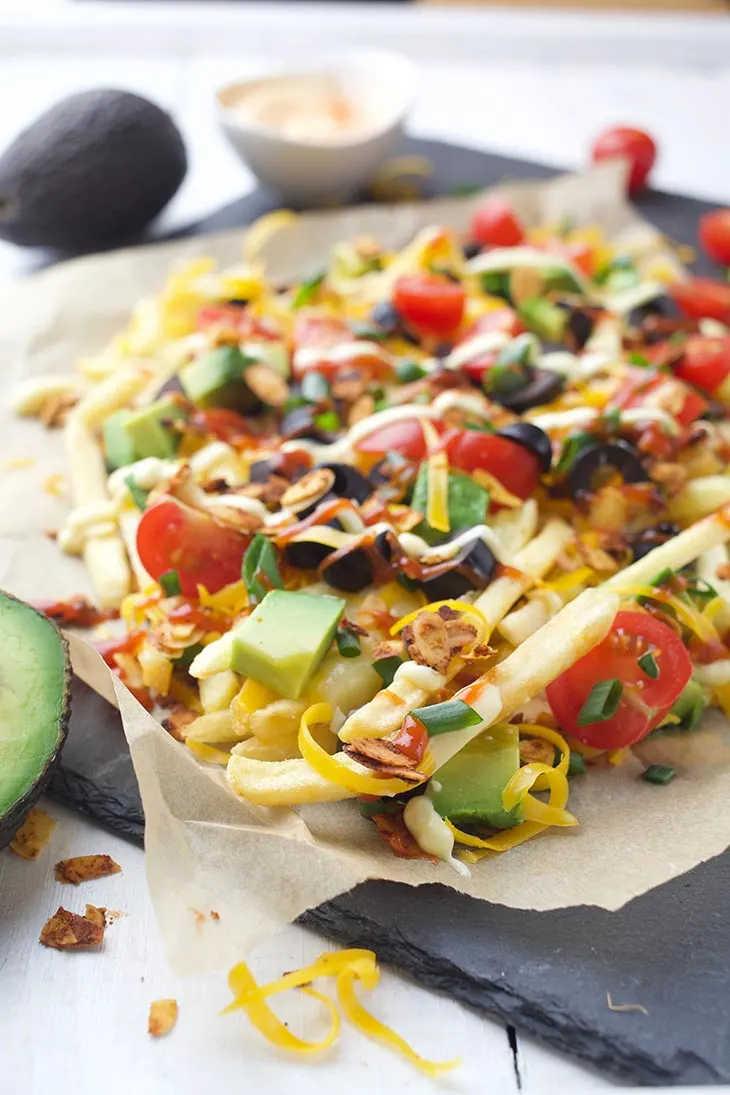 Being a vegan recipe, the preparation will take even less because you don't have to cook meat. But I do have a vegan bacon suggestion for you that will go extremely well in this combination! 🙂
This dish is a real party starter! You can serve the vegan loaded fries at a party buffet and I guarantee that everyone will ask for seconds! Even non-vegans will ask about these fries as if they were at a grill party. If you have more people at your party, make more versions of the vegan loaded fries, so you can cater to a diverse palette of tastes.
But this is a recipe that you can enjoy by yourself, at home, too, you know! I can't tell you how hard it is for me not to eat a whole bowl of them, whenever I make some. This is why I don't make them as often as you might think, but don't let that stop you from making loaded fries until you've figured out the way you like the recipe best!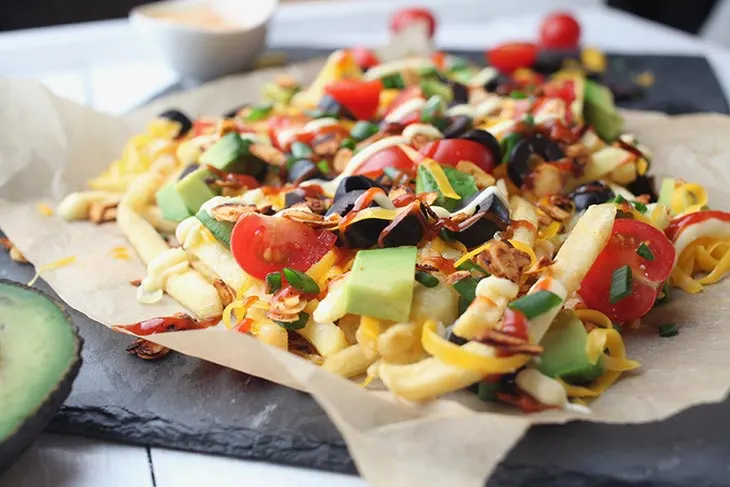 These vegan loaded fries will fill your stomach and warm your heart in the process! 🙂 The combination of tastes and aromas, along with the crunchiness of the fries will constitute a perfect vegan lunch.
I hope you'll enjoy trying out this recipe for vegan loaded fries! Don't forget to tell me how you made them, or if you have any suggestions. I always love to hear your thoughts!
Yield: 4
Vegan Loaded Fries - The Best Toppings!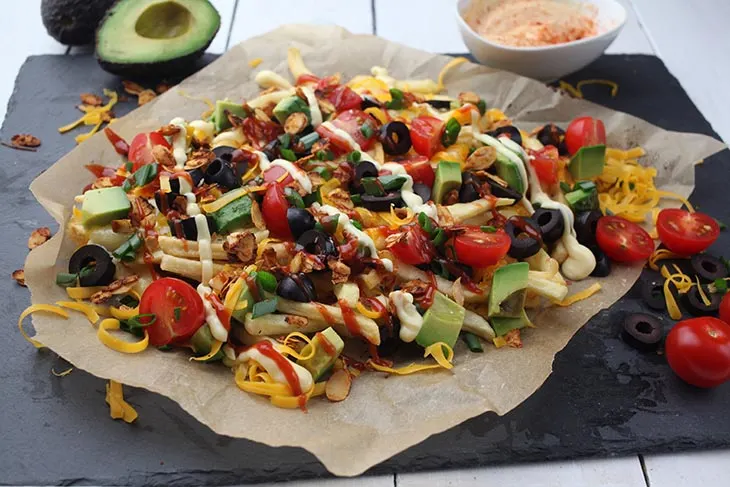 Satisfy your biggest hunger with a portion of healthy, vegan loaded fries for lunch or dinner and get inspiration for the best toppings!
Ingredients
For the fries:
3 potatoes, peeled and sliced into fries
2 Tbsp olive oil
½ tsp salt
For the "bacon":
70g (½ cup) sliced almonds
½ tsp ground cumin
½ tsp smoked paprika
⅓ tsp chili peppers
½ tsp garlic powder
½ black pepper
½ tsp salt
1 Tbsp tamari sauce
1 Tbsp apple cider vinegar
1 Tbsp water
For the topping:
130g (1 cup) shredded vegan cheese mix
60g (⅓ cup) sliced black olives
1 avocado, peeled and cubed
50g (⅓ cup) sliced cherry tomatoes
1 finely chopped jalapeno
2 Tbsp sliced spring onion
1 Tbsp vegan mayo
2 Tbsp BBQ sauce
Instructions
Preheat the oven to 120 C.
Cover a baking tray with a baking paper.
In a small bowl, add all the ingredients for the bacon, except the almonds.
When the ingredients are mixed and incorporated, add the almonds and give it a stir.
Lay the spicy almonds in a single layer on a baking tray and roast for about 7 minutes in the oven, or until golden. Set aside.
Set the oven to 190 C.
On the same tray add the sliced potatoes, brush them with olive oil and sprinkle with salt. Roast until crunchy, for about 20 minutes.
Once roasted, turn the heat off.
Top the potatoes with vegan shredded cheese and immediately return to the oven. Let it sit for about 5 minutes, or until the cheese is nice and melted.
Top with jalapenos, cherry tomatoes, avocado, black olives, vegan mayo, and the BBQ sauce.
Sprinkle with some green onions and enjoy!
Nutrition Information
Yield
4
Amount Per Serving
Calories

356
Total Fat

28g
Carbohydrates

23g
Fiber

6g
Sugar

5g