Try this beetroot galette recipe – a delightful explosion of flavors and textures wrapped in a delectable rustic tart. Indulge in the earthy sweetness of beetroots, harmoniously mingled with savory herbs and creamy cheese, all embraced by a flaky, golden crust.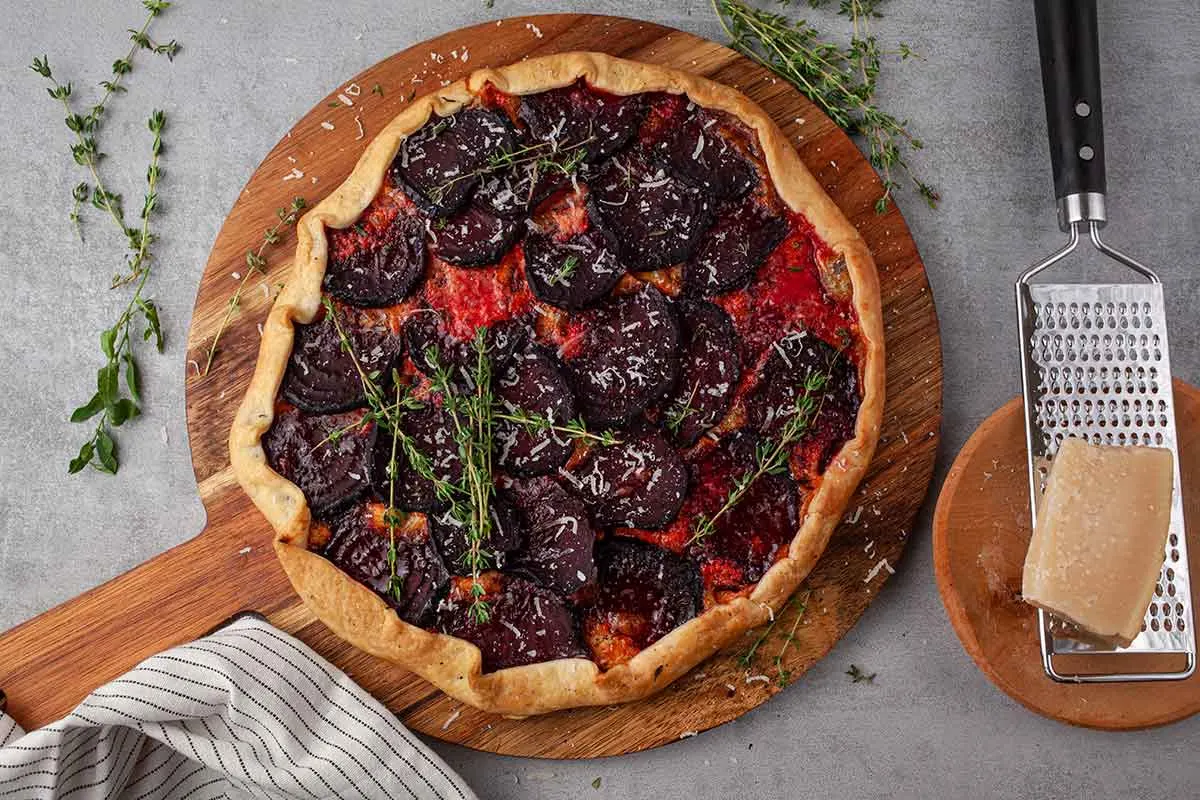 Beets are one of those vegetables that are often neglected in the kitchen. Apart from the classic beet salad (either cooked or raw) or beet juice, this wonderful root vegetable has so much to offer from a culinary and nutritional point of view that it would be a shame not to use it more often.
Today I chose to use it in a tart, and the combination of salty cheese and the sweetness of baked beets is absolutely surprising!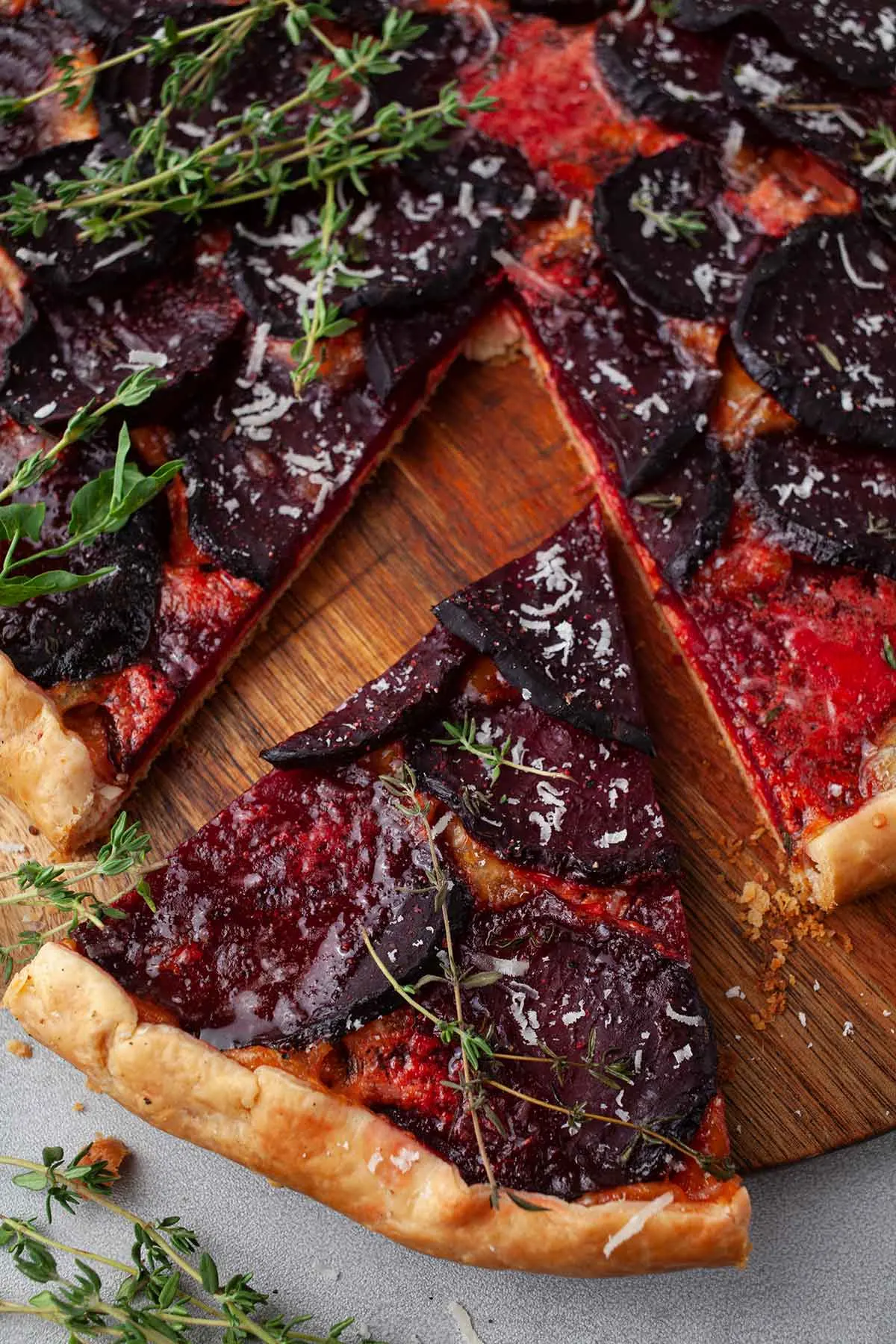 Why beets are amazing
Beetroot is a vegetable with multiple health benefits and can easily be included in a balanced diet. Rich in essential nutrients, beets contain vitamins such as A, C and K, minerals such as iron, magnesium and potassium, as well as antioxidants and dietary fiber.
Among its health benefits are:
Supports cardiovascular health: Beets are rich in nitrates, which can help reduce blood pressure and improve blood flow. It also contains flavonoid compounds that can support the health of the heart and blood vessels.
Improves digestion: Beets are an excellent source of fiber, which helps maintain intestinal health and promote healthy digestion. Regular consumption of beets can help prevent constipation and maintain a normal intestinal transit.
Supports brain function: Beets are an important source of nitrates, which can improve blood flow to the brain and support cognitive function. It also contains betaine, a compound that can support brain and nervous system health.
Contributes to detoxification: Beetroot contains antioxidant and phytochemical compounds that can support the body's detoxification processes. These compounds can help eliminate toxic substances and protect cells against oxidative stress.
Supports skin health: Due to the content of vitamin C and antioxidants, beets can contribute to maintaining skin health and reducing the signs of aging.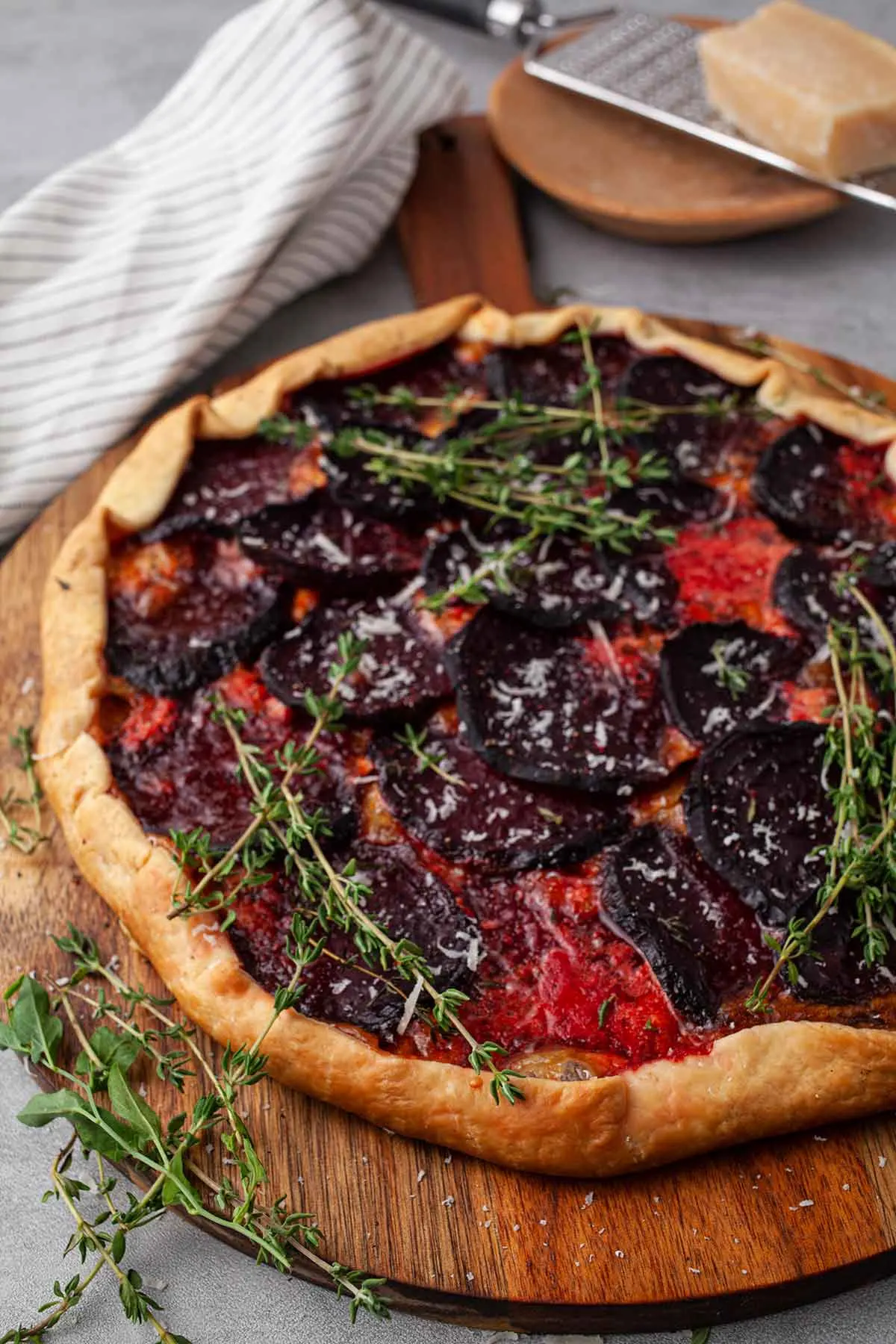 To benefit from its nutritional properties, beets can be included in a balanced diet in various ways. In the case of the beetroot galette recipe, the vegetable is used as a filling, bringing a sweet and colorful note. Also, beetroot can be consumed in the form of fresh juices, salads, soups or it can be cooked and served as a side dish for various dishes. By adding beets to your daily diet, you can support the body's health and enjoy the flavors and vibrant colors that this vegetable offers.
Try the following recipes with beets: Beetroot Borscht, Za'atar Baked Beets / Oven-Roasted Beetroot and Beet Burgers.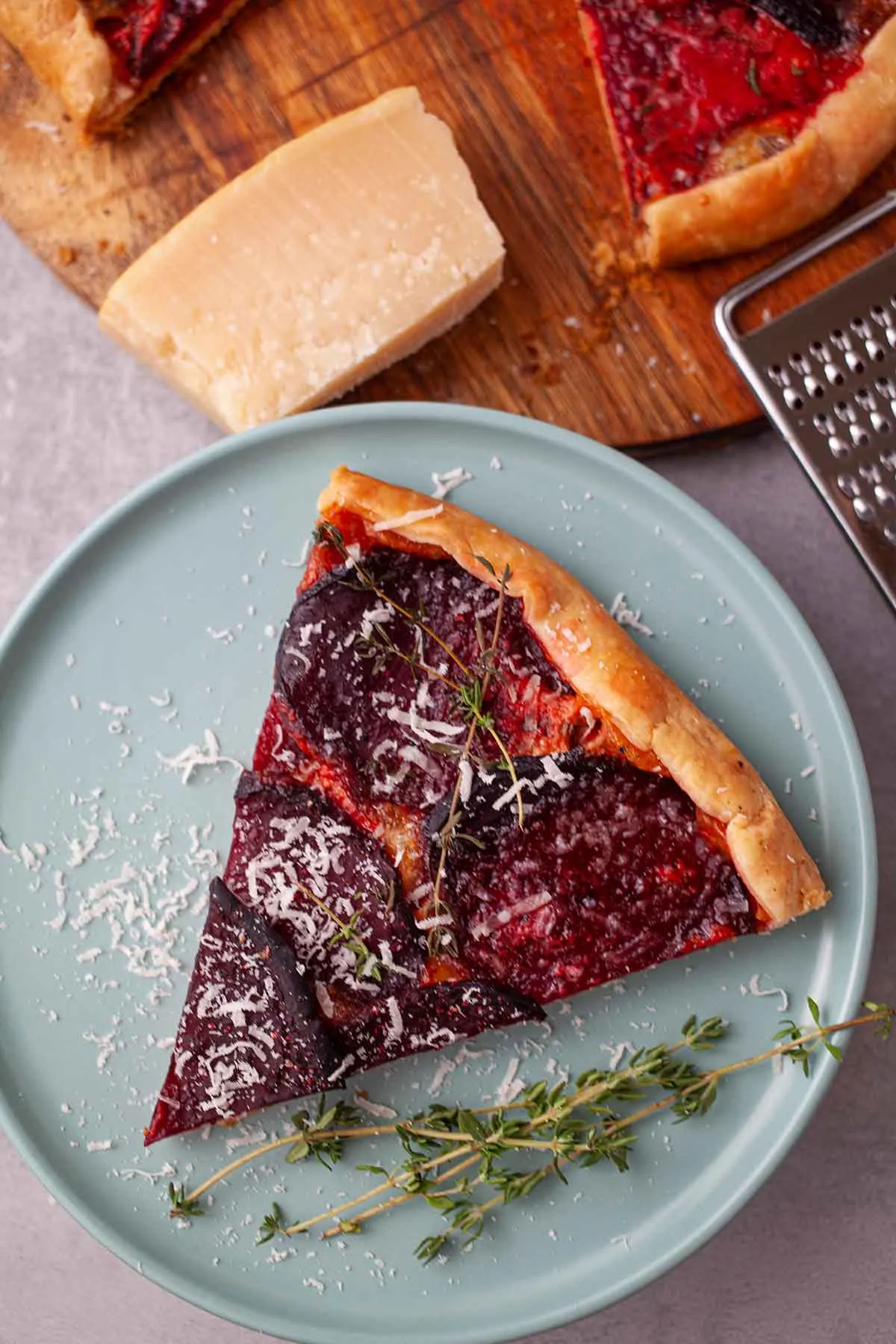 About galettes
Galette, comes from France and is a rustic tart, known for its uneven and simple appearance. The origins of the galette can be traced back in history to the Brittany region of western France, where it was created as a simple way to use local and cheap ingredients such as wheat and millet.
Initially, the galette was a tart made from a dough of millet flour, water and salt, which was then baked on large stone slabs placed in the oven. Over time, the recipe diversified and other types of dough were added, such as wheat flour or other cereals.
Galette became popular throughout France and became a kind of traditional food, being served especially with different fillings, from salty ones with cheese, vegetables and meat, to sweet ones, with fruit or chocolate.
Today, galette is appreciated internationally and is prepared in different versions and reinterpretations, keeping its rustic essence and authentic taste. Beetroot galette, or galette de beterraga, is one of these modern reinterpretations, which add a touch of freshness and novelty to the traditional recipe.
Due to its simple nature and versatility, the galette continues to be loved and appreciated by chefs and gourmets around the world, being a perfect choice to savor authentic flavors and experience the joy of classic French cuisine.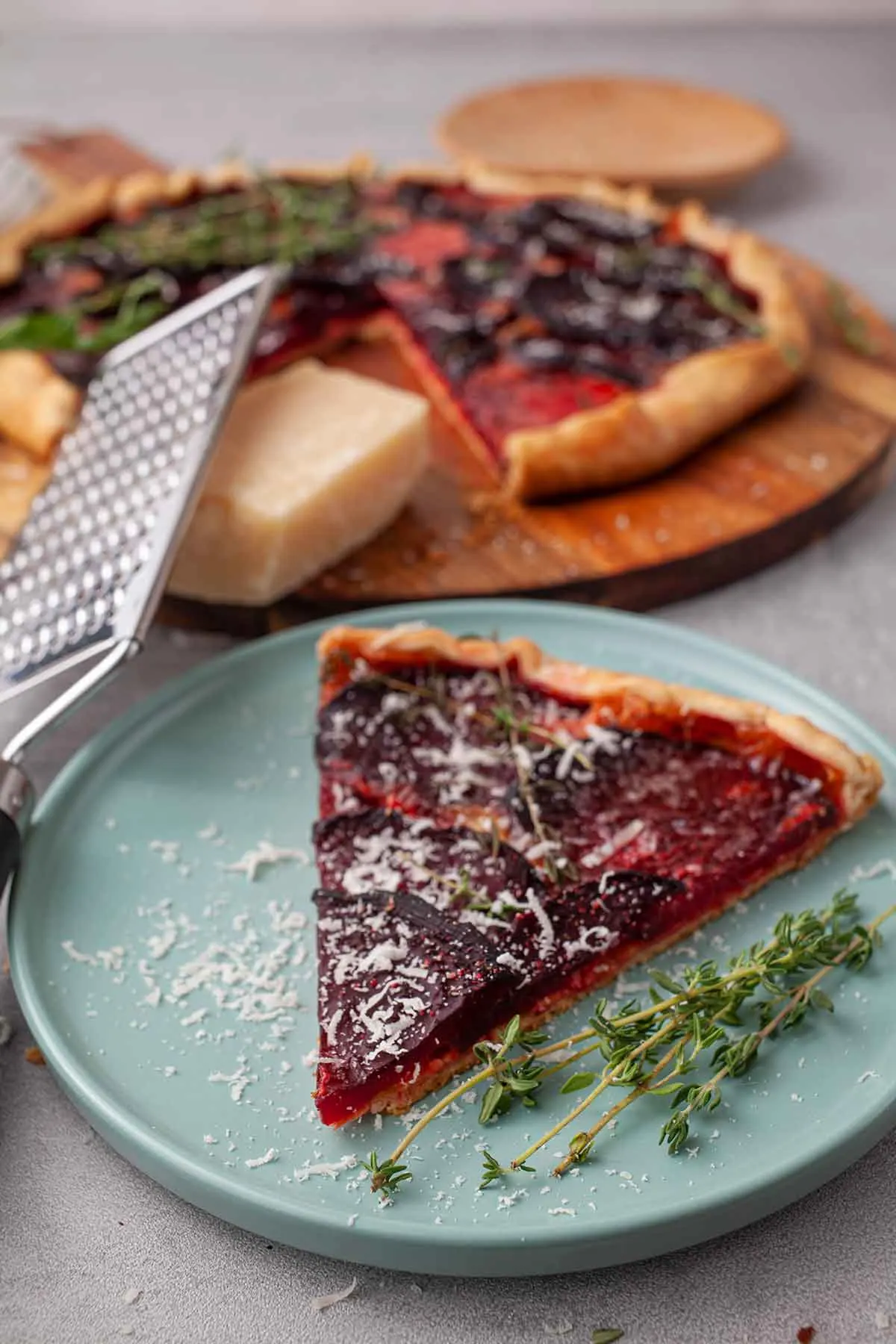 How to make a beetroot galette
This beetroot galette promises to captivate your taste buds and leave you craving for more. Don't miss the chance to savor this delightful symphony of tastes and impress your loved ones with a unique and visually stunning treat!
Yield: 6
Beetroot Galette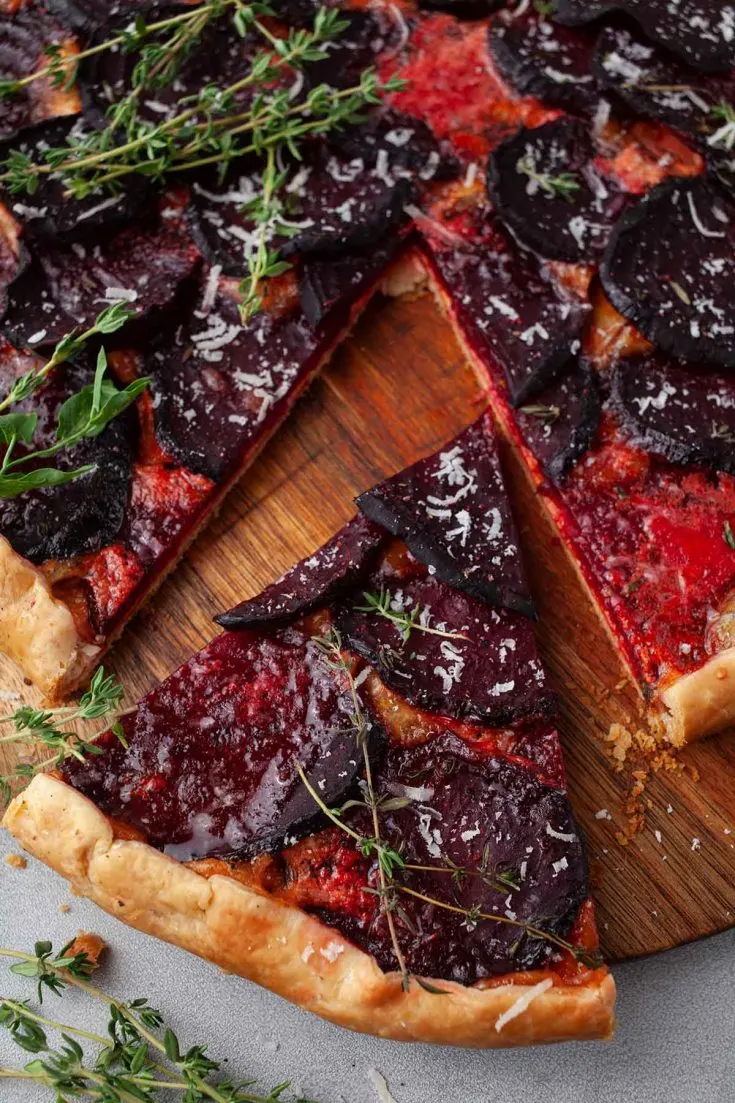 Try this beetroot galette recipe - a delightful explosion of flavors and textures wrapped in a delectable rustic tart.
Ingredients
For the dough:
200g (7.1 oz) cold butter, cubed
70 ml (2 fl oz) very cold water
220g (1 ¾ cup) flour
1 tablespoon of lemon juice
½ teaspoon of salt
For the filling:
3 red beets, boiled and sliced
100g cream cheese
½ teaspoon onion powder
30g Parmesan cheese, grated
1 tablespoon olive oil
fresh thyme and oregano
Instructions
Prepare the dough.
In a food processor, add the flour and half of the cold butter. Blend for 20 seconds, intermittently. Then add the rest of the butter and blend for another 5 seconds.
Add cold water with lemon juice and knead for 5-10 seconds until a dough ball is formed. Do not over-process.
Put the dough on a surface sprinkled with flour, spread it with a rolling pin, then wrap it back together like you would close an envelope from all sides; cover it with a plastic wrap and put it in the refrigerator for at least an hour or two.
Make the galette.
When the dough is ready, take it out of the refrigerator, stretch it until you get a circle and put it on a parchment paper-covered baking tray.
Heat the oven to 200 C (390F).
Spread cream cheese on the dough, sprinkle with onion powder, then arrange the round slices of beet, so that they cover the entire surface of the dough, except for the edges.
Roll the edges over the beetroot filling.
Drizzle with olive oil, sprinkle with thyme and oregano and put in the oven for 30-40 minutes, or until the edges are browned.
Serve sprinkled with freshly grated Parmesan.
Nutrition Information
Yield
6
Serving Size
1
Amount Per Serving
Calories

262
Total Fat

12g
Saturated Fat

6g
Trans Fat

0g
Unsaturated Fat

5g
Cholesterol

26mg
Sodium

355mg
Carbohydrates

32g
Fiber

2g
Sugar

3g
Protein

7g
I strive to keep the information as accurate as possible but make no warranties regarding its accuracy. I encourage you to make your own calculations using your preferred nutrition calculator.