Craving some burgers? Why not try something new – this delicious vegan recipe for beet burgers! It's comforting, easy to make and healthy as well!
Who doesn't love a good burger? I know I do! Burgers are a quintessential piece of American cuisine. They've been around since the drive-in diner days, and maybe even beforehand! Burgers have been a staple of culinary efficiency for a while, and they have come a long way since then. Nowadays, you are likely to find a burger joint on every other street corner in every major city.
Burgers are made in many different ways nowadays, boasting all sorts of ingredient configurations, from the classic beef cheeseburger to the fanciest grilled halloumi and avocado burger. There's a certain joy about biting down into your favorite foods stuck between two soft buns.
As with any popular dish, there are a lot of vegan and vegetarian options with burgers. And there's no surprise here, veganism has taken the world by storm in the past years, and I think that's a good thing.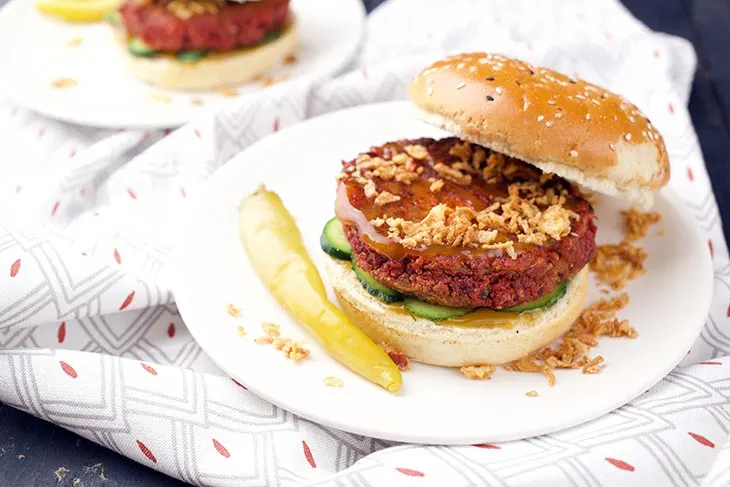 Most veggie burger recipes have the patty made out of beans, which is fine, I like some of those, but you can't really call it a veggie-burger, can you? And while beans are paramount for the protein content and the meat-like texture of the vegan burger patty, we can think about diversifying, and actually eat some vegetables every once in a while!
One of my favorite vegan burger recipes is the beet burger, and we're going to talk about it today. First of all, it's no secret that I love beets. I love putting them in salads, I love how well they go with garlic sauce, I love everything about them! But making a burger patty out of beets might seem a bit unconventional, and I do see why, but just bear with me here – wait till you taste your first beet burger, and your mouth will say otherwise!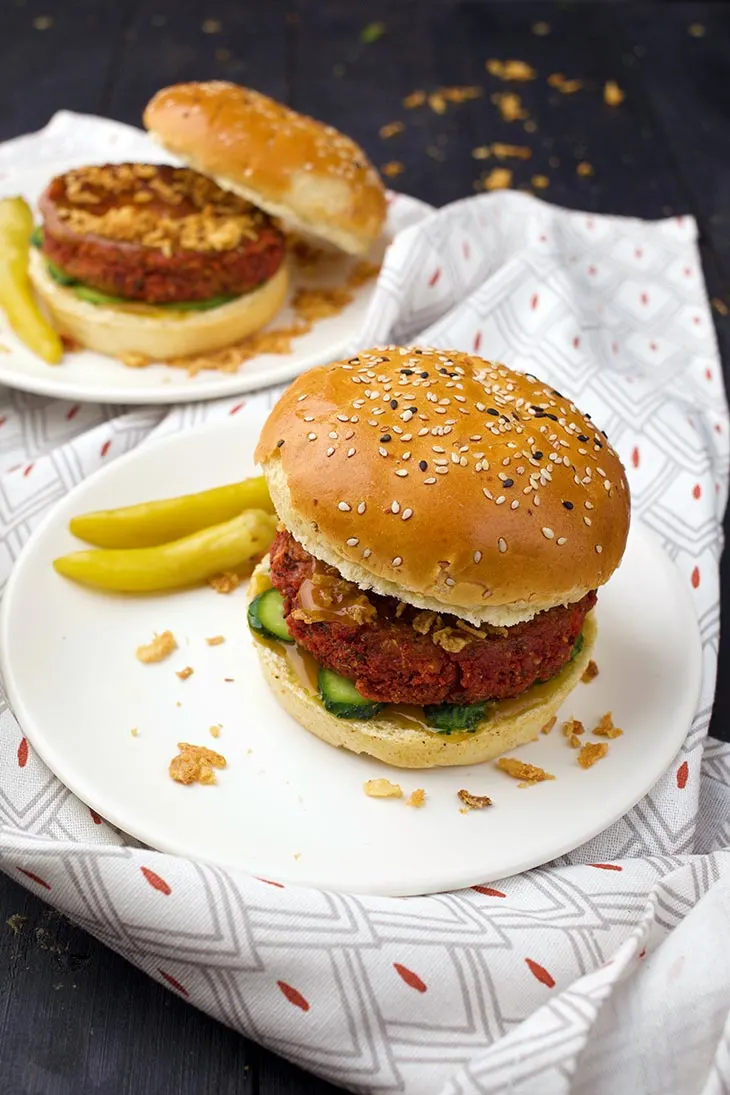 Beets are high in fiber, vitamin C and ease blood circulation. So it makes sense to replace red meat with them, not only on the cruelty-free basis but also for the added health benefits – they even have the same color!
When making a veggie patty, especially from more ingredients that vary in texture, be sure not to bring the ingredients to a paste if you are using a food processor, but rather have them finely chopped in the end so you could make a patty form easy.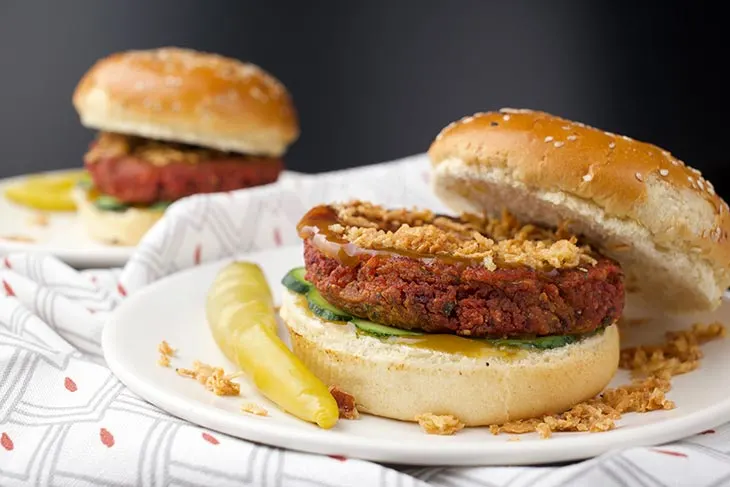 In what regards spices, the same rules apply as with any burger – spice the patty thoroughly before you cook it. This way, the taste and flavor of the spices will get imbibed into it much more efficiently. The heat of the pan will do the rest of the work! 🙂
Apart from the patty (and maybe some vegan cheese) the rest of the ingredients in this recipe are the all-familiar all-stars of burger goodness. You might want to use fewer pickles, or none because they tend to have a similar texture to the beet. Using beets, the patty will end up a bit more sweet and sour anyway, so adding pickles is a bit redundant. But that's just my opinion, it's your burger, you can do as you wish!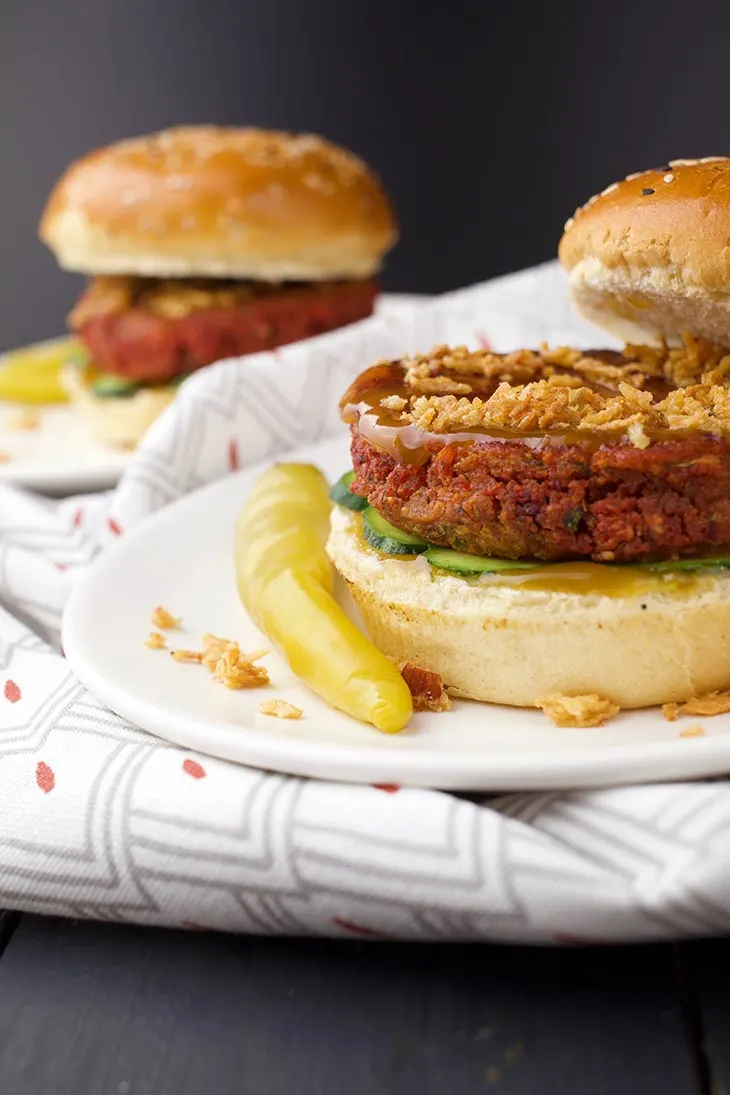 The beet burger has the potential to become an all-star in your grill parties! If your friends like it, don't get surprised when they ask for the recipe – and that includes the regular burger devourers, they ought to love the beet alternative to their favorite meat sandwich!
Of course, you can try making beet mini-burgers, seeing as the miniature alternative to the classic dish is all the rage right now. Just form smaller patties and put them in smaller burger buns! This is a suggestion that works for any veggie burger recipe.
The beet burger is a recipe that takes longer to make, so generally, you might want to set aside 30 to 40 minutes in a day to make it. It is a delicious weekend treat, one that you could make on the grill in your backyard, or cook in a pan in your kitchen! This beet burger will spice up your vegan lifestyle for months to come.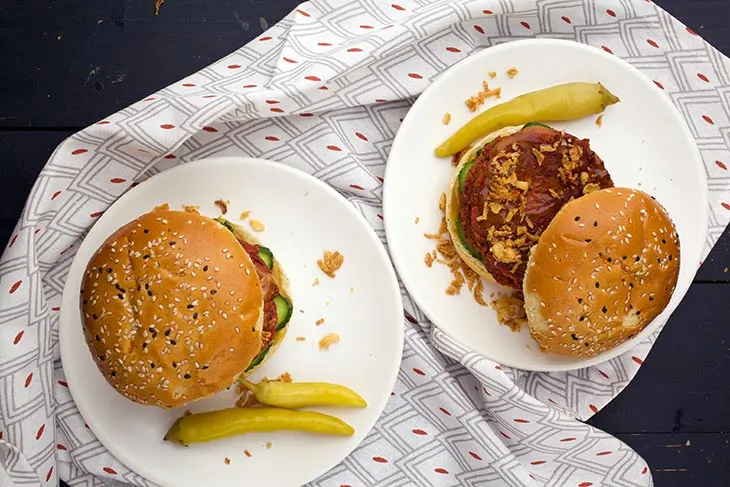 I hope you'll have fun cooking this recipe! 🙂 I know I do, every time I make it! Don't hesitate to browse my blog for more delicious vegan burger recipes! Tell me how it went, and if it just became your favorite vegan burger, I can't wait to hear your thoughts!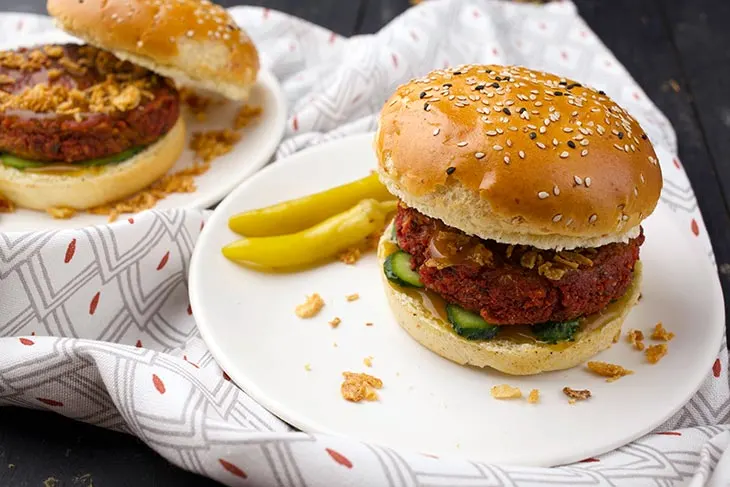 Craving some burgers? Why not try something new - this delicious vegan recipe for beet burgers! It's comforting, easy to make and healthy as well!
Ingredients
500g (2 cups) cooked brown rice
2 medium beetroot, peeled and cubed
225g (1 cup) pumpkin puree
1 medium onion, peeled and cubed
2 Tbsp fresh cilantro
1 garlic clove
1 Tbsp curry powder
1 tsp salt
½ tsp black pepper
½ cup panko breadcrumbs, use gluten-free if needed
½ cup flour, use gluten-free if needed
1 Tbsp psyllium husks
1 Tbsp olive oil
To assemble:
6 burger buns, use gluten-free if needed
100g (½ cup) sweet chili sauce
1 can chili pickles
2 sliced cucumbers
180g (1 cup) fried onions crumble
Instructions
Heat oven to 200 C.
Line a baking tray with baking paper.
Add all burger ingredients except for the olive oil to a food processor, pulse until well combined and incorporate.
Add extra breadcrumbs to get the desired consistency.
Form about 6 patties.
Heat a large skillet on medium with olive oil.
Fry the patties on each side for about 3 minutes or until golden brown.
Remove the patties to the prepared baking tray.
Bake for about 30 minutes. Set aside.
Meanwhile, prepare the buns.
Cut them in half to assemble.
Add a Tbsp sauce to the top of the first layer bun.
Top with sliced cucumbers, a beetroot pattie, sweet chili sauce, onions, and another bun half.
Serve with chili pickles on the side.
Nutrition Information
Yield
6
Amount Per Serving
Calories

375
Total Fat

8g
Carbohydrates

65g
Fiber

6g
Sugar

17g