This hearty broccoli salad is perfect for a keto or low carb diet and it's super delicious too! Give it a try!
Winter is the time of the year when people usually put on weight. This season just asks you to stay inside and binge. Pies, soups, hearty foods…I get it! 🙂 That's why I decided that today I will show you a recipe that is great for taking a break from all that. It's low carb and extremely delicious, so it's basically a great addition to your cooking repertoire. Are you ready to see what I'm talking about?
It's a low carb, keto broccoli salad! Personally, I love broccoli and I find it so sad that so many people don't! If you are one of them, this recipe will definitely change your mind, you just need to give it a chance.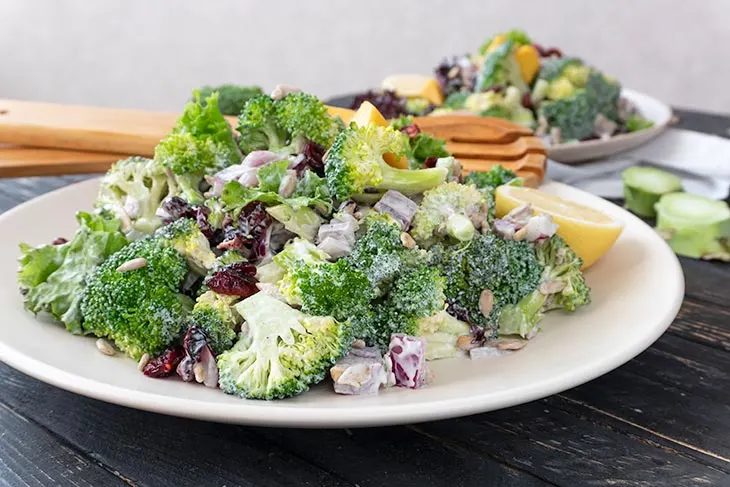 Because I really wanted to stick to the healthy side of things today, I decided that I will transform the classical broccoli salad into a keto version. That means as little carbs as possible, while still being super nutritious and balanced (and tasty, too, let's not forget that!
While I don't adhere entirely to the keto diet, I feel like a keto meal from time to time is more than welcomed. And this recipe proves why! It's really delicious, fresh and fun. And it's a perfect make-ahead meal.
Honestly, I feel that the taste actually gets better the next day, as all the flavors have time to blend in together and everything becomes creamier and tastier. It's also very packable – perfect for an office lunch!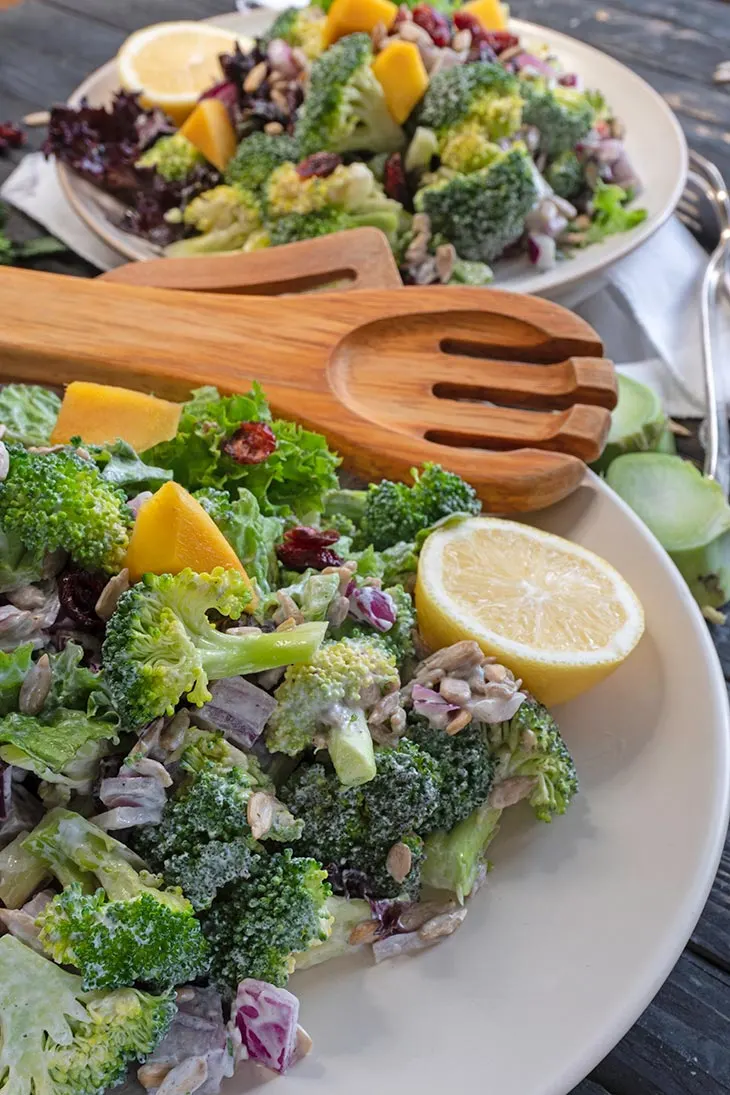 You may wonder why I chose a keto version. Maybe you're not familiar with all the eating trends, but keto is really popular now. And there are reasons for that!
There are numerous studies that show how keto diets are beneficial for our health. The ketogenic diet is a very low carb and high-fat diet. When you are on a keto diet, you are supposed to drastically reduce the carbs intake and replace them with fats. This will make your body enter a metabolic phase called ketosis. When this happens, your body starts burning fat for energy at an accelerated rate.
Let's get into science a bit. Fats are transformed into ketones in the liver, which supplies energy for the brain. Ketogenic diets lead to big reductions in blood sugar and insulin levels. And this, of course, leads to numerous health benefits!
There are scientific studies that suggest the fact that keto diets help effectively lose weight and reduce heart problems risks. It is also linked with decreased risk for diseases such as Alzheimer's and cancer. That's quite a big deal if you ask me!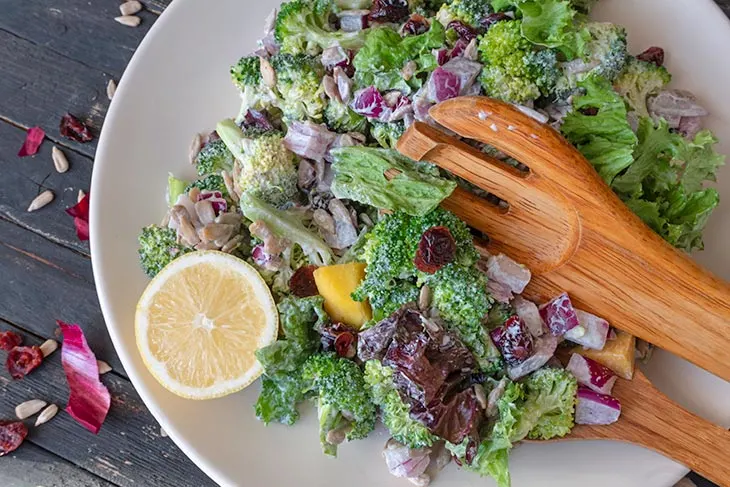 And because today I really wanted to keep things healthy, I chose broccoli as the main ingredient for today's recipe. Because broccoli is not only super delicious if prepared right, it is also packed with nutrients. Here's what eating broccoli will get you:
Vitamin K – essential for the functioning of many proteins involved in blood clotting
Vitamin C – a powerful antioxidant that protects your body from free radicals
Fiber – good for digestive health
Potassium – essential for the functioning of your nerves and heart contraction
Folate – necessary in producing and maintaining the health of new cells in your body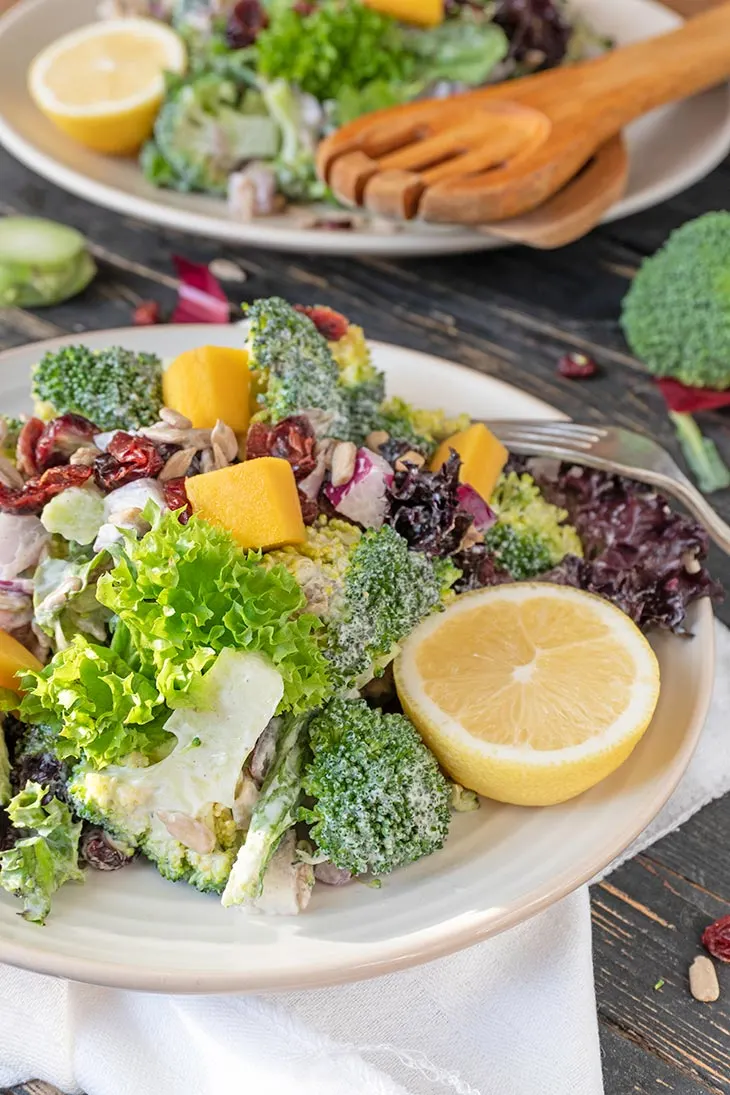 Our parents making us eat all those vegetables were absolutely right! Broccoli is no exception in the realm of veggies – as you've seen, it's extremely healthy in so many areas of the body. And the way we are going to prepare it today will really make it shine. Together with all the other delicious ingredients, you will get the most out of what broccoli means.
I think this introduction is more than enough, as I am quite eager to start preparing the salad. I'm actually planning on eating it again this week, it's so good! As I was telling you all about this delicious recipe, I actually got eager to get to the cooking part.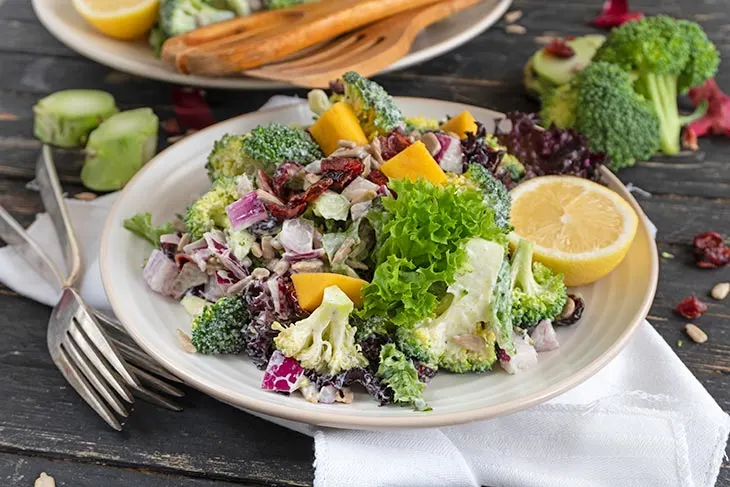 The good news is that it is really easy to prepare and you will have your salad in no time! Follow my steps and you will obtain the best keto broccoli salad, I promise. I hope you will enjoy it and tell me all about how it went!
Yield: 4
Broccoli Salad | Keto / Low Carb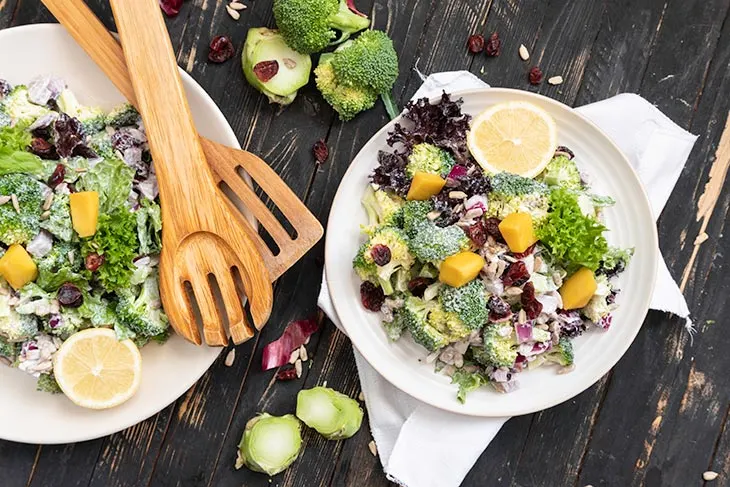 This hearty broccoli salad is perfect for a keto or low carb diet and it's super delicious too! Give it a try!
Ingredients
500g (7 cups) broccoli
1 big red onion
100g (¾ cup) sunflower seeds
100g (¾ cup) dried cranberries
lettuce
½ mango, chopped
For the dressing:
4 Tbsp vegan mayo
4 Tbsp vegan yogurt, unflavored or high-fat Greek yogurt
2 Tbsp extra virgin olive oil
salt and white pepper
½ lemon juice
Instructions
Toast the sunflower seeds in a pan. Careful, they burn easily!
Chop the broccoli, mango, and onion. Transfer into a bowl and mix with the sunflower seeds, cranberries, lettuce and olive oil.
In a separate bowl combine the mayo with the yogurt, squeeze the lemon juice and season with salt and pepper.
Pour the dressing over the salad and mix until it's evenly coated.
Cover and refrigerate for 1-2 hours.
Enjoy it cold.
Nutrition Information
Yield
4
Amount Per Serving
Calories

453
Total Fat

23.6g
Carbohydrates

49.5g
Protein

10.5g