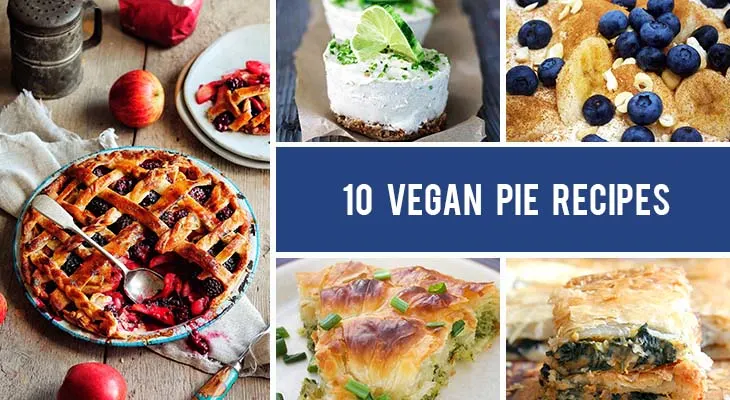 Here are 10 vegan pies, both savory and sweet, that are bursting with flavor! Try these amazing vegan pie recipes which you can easily bake at home.
For me, pies are the ultimate comfort meals, regardless if they are sweet or savory. Nothing can compare to the easy and fun process of putting together a pie and then watching everyone munching on their piece! Vegan pies are the right answer when you are searching for a delicious snack, appetizer or full meal or if you are on the look for some great recipes for parties and celebrations, that everyone can enjoy.
One of the best things about pies is their versatility – you can twist and change the recipes as you please, and achieve various different pies each time! It is easy to adjust a pie recipe in order to make it fit your own preferences or dietary needs and this is what makes them so tasty and amazing! All you need is a handful of ingredients, a good oven, and your imagination!
Pies are amazing dishes and if you want to include more of them in your diet, you can start by browsing this list with 10 of my favorite vegan pie recipes. You will find here vegan pies for each taste – it doesn't matter if you have a sweet tooth or if you prefer a savory dish that can be served as a snack, breakfast or quick lunch. You will find here some of my favorite recipes including apple and blackberry pie, spinach or eggplant pies, banana or lime pies and even a unique recipe for sweet potato pie. Sounds too good to be true, right? Well, I invite you to scroll through this list of yummy recipes and find your own favorites! And don't forget – even if all these pie recipes are vegan, this doesn't mean that they can't be enjoyed by omnivores as well.
Click on the linked titles in order to access the recipes for these amazing vegan pies. I collected some of these recipes from some of my favorite food bloggers, but the rest of them are my very own. Take a look and don't forget to tell me which vegan pie recipe you think will become your favorite!
Vegan Pies
Apple Pie is a classic American dessert loved all over the world! Here's how to make a delicious vegan apple pie that preserves the authentic flavors of the American apple pie recipe.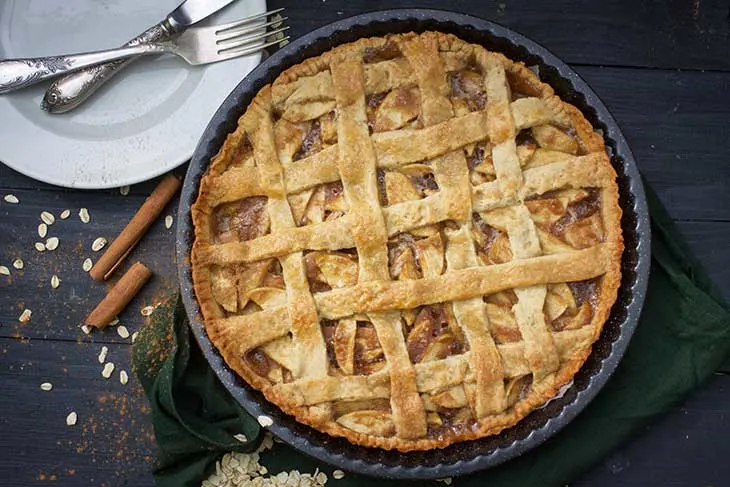 This beautiful double-crust apple pie uses ingredients that remind us of autumn such as nutmeg, cinnamon, apples, and blackberries, but it's a vegan dessert perfect all-year-round made extremely affordable! You have to take a look and give it a go!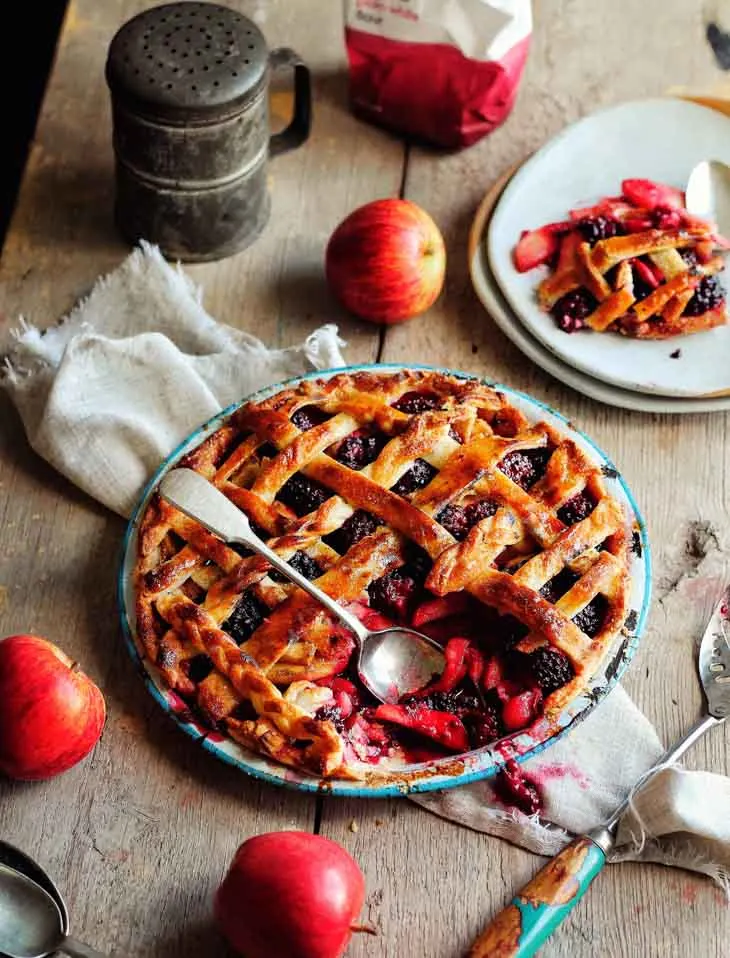 My vegan take on the Greek spinach pie recipe replaces feta cheese with smoky tofu crumbs, but the result is very close to the authentic recipe. Layers of crispy golden filo pastry and flavorful spinach filling with extra protein from chopped cashews and tofu! Sounds amazing, right?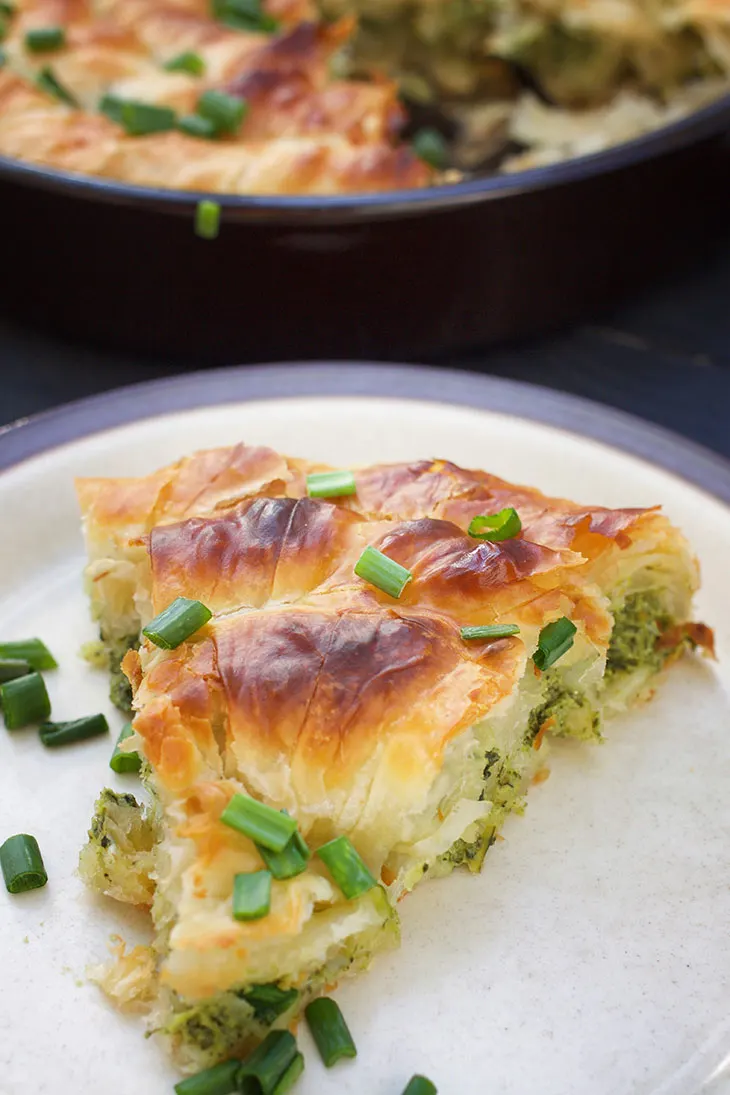 Everybody must know by now how much I love eggplants, so I couldn't miss adding a Mediterranean savory eggplant pie recipe to this list. Melitzanopita (Greek pie with eggplants) is a staple Greek recipe that will be a hit at any party, consisting of a rich vegetable filling wrapped in crunchy filo pastry. Give it a try!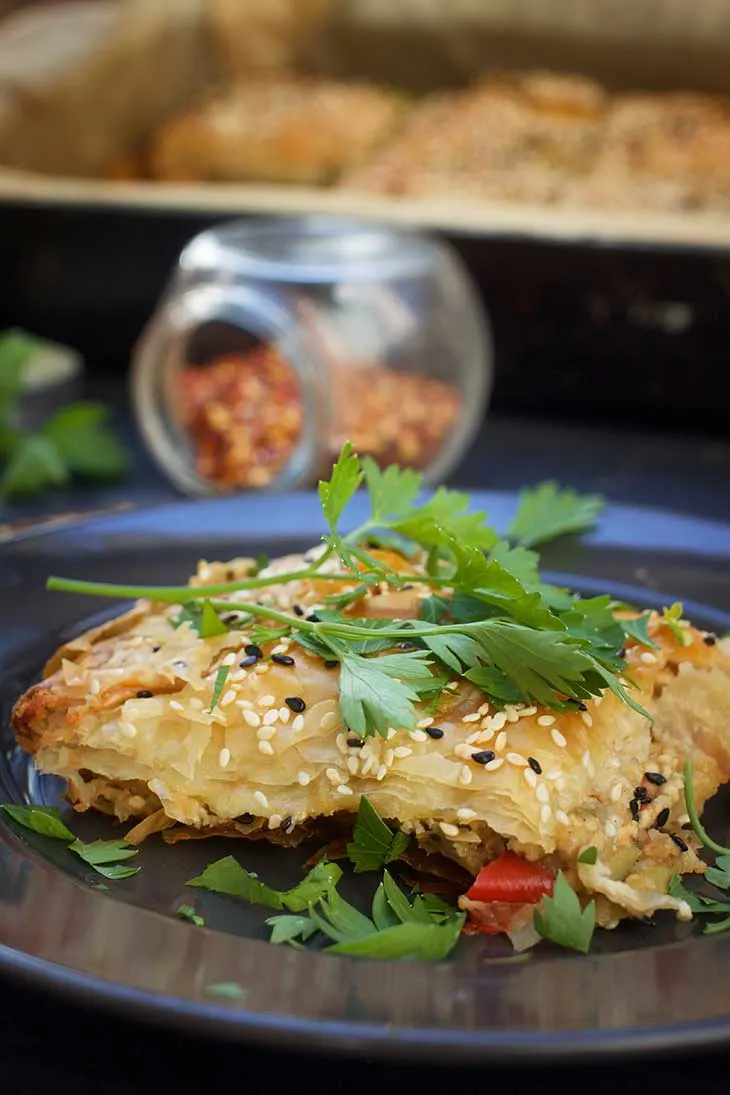 I'm simply obsessed with the vegan version of this all-American classic dessert. This divine pie tastes like summer to me, and with relatively little effort you will achieve a beautiful, rich and delicious pie that will certainly be the star of any party! The combination of bananas and cream goes brilliantly together!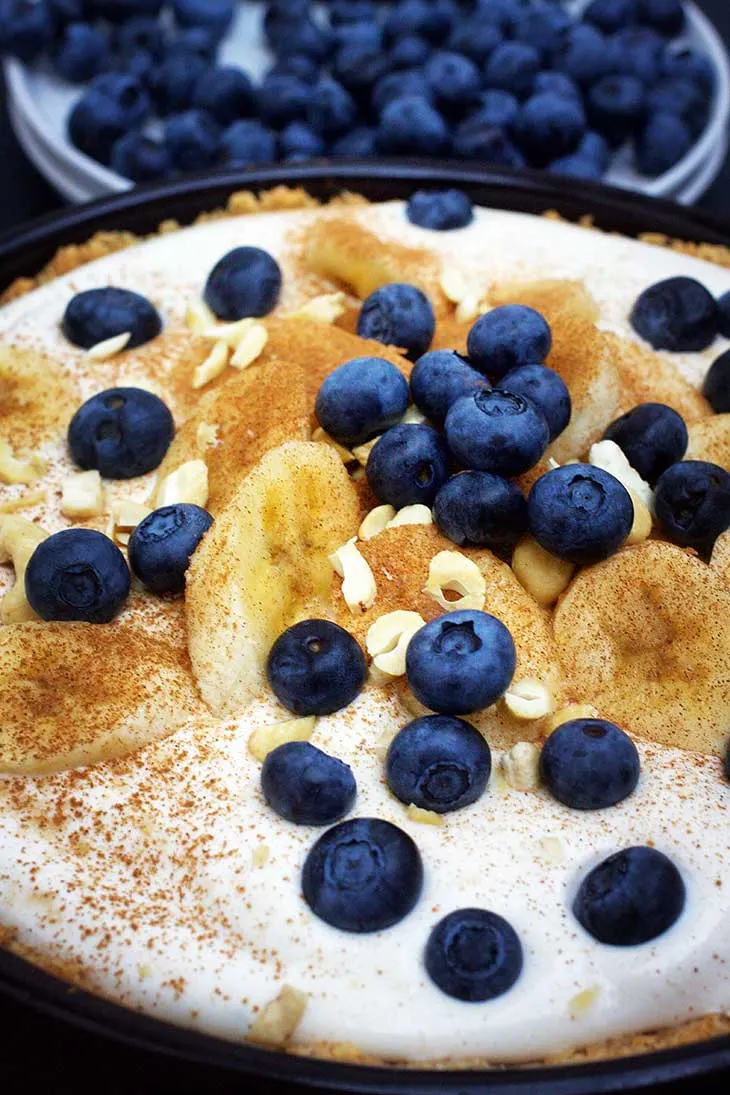 This incredibly decadent-looking pie seems like it would take ages to make at a first glance, but it is in fact really easy! The combination of creamy sweet potato, coconut milk, cinnamon, nutmeg, citrus zest and juice and many other delicious ingredients results in a finger-licking good pie!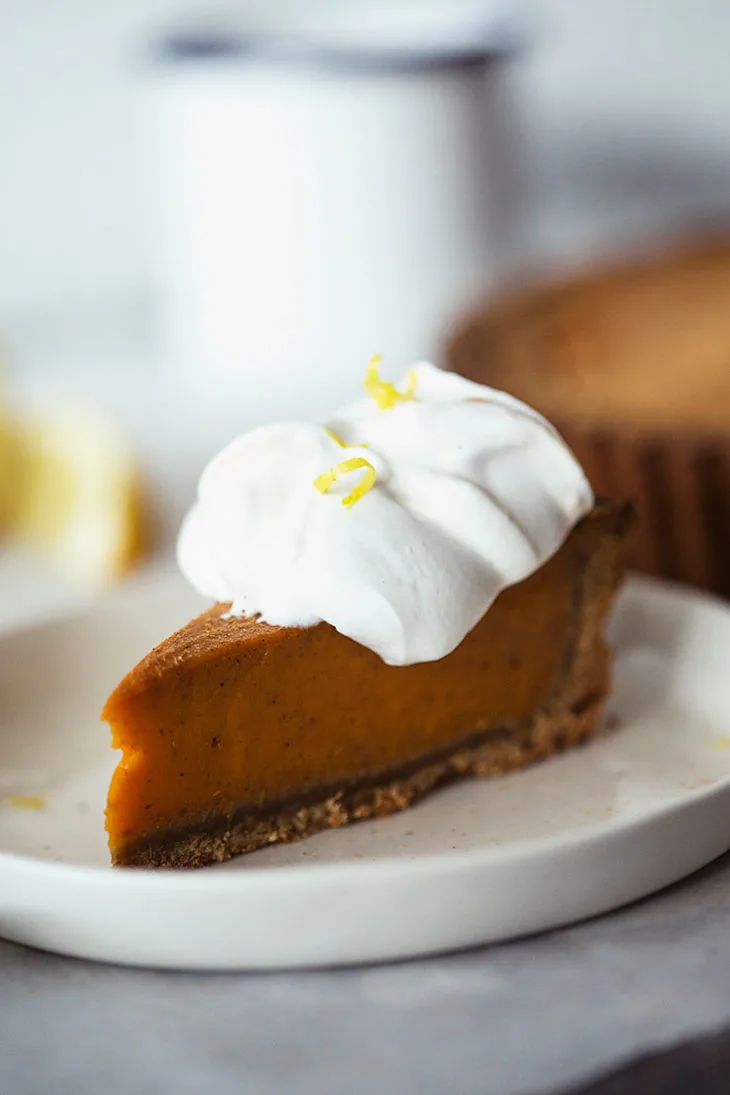 This pie is an absolute crowd-pleaser! This recipe for chickpea spinach pie with Berbere spice is really easy to make. A nourishing, protein-packed sauté of chickpeas, onions, spinach, and spices are used as a pastry filling and the results are incredible!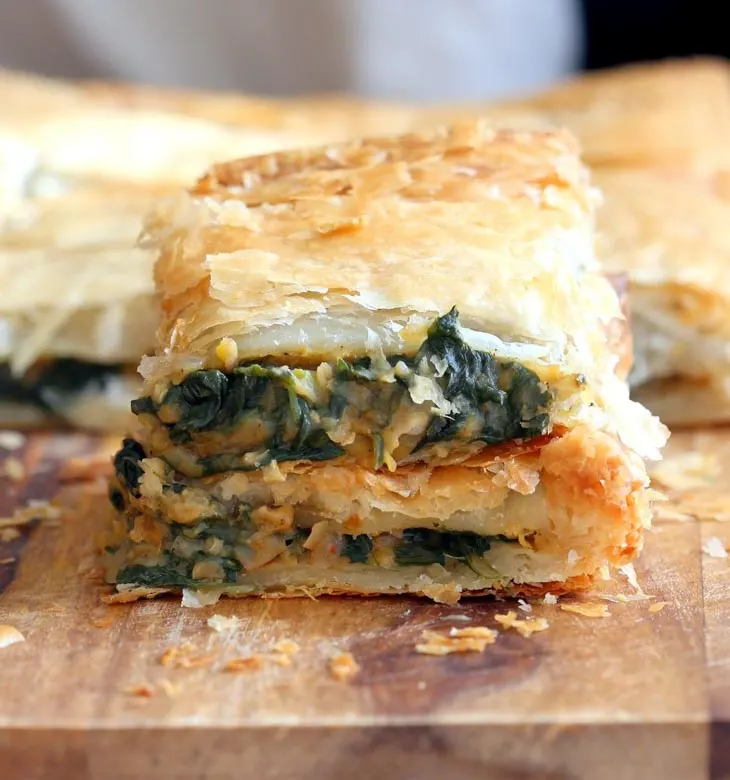 This amazing recipe reminds of shepherds' pies, using jackfruit in a very creative way as a meat substitute in a beautiful, nourishing, rich pie full of creamy vegan béchamel sauce, lots of veggies, potatoes and pulled jackfruit. Sounds like a real comfort food to me!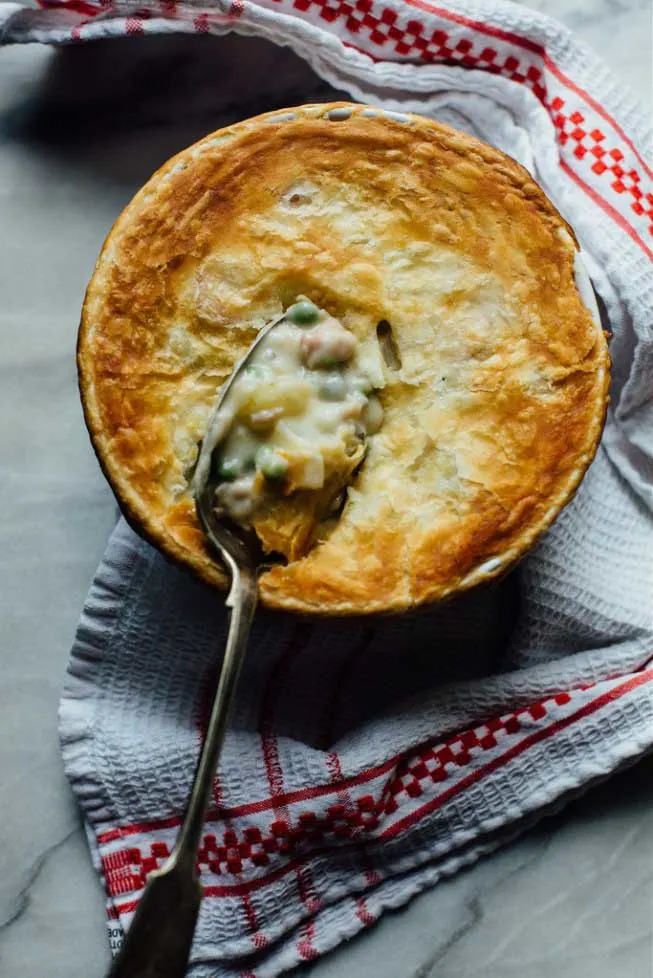 These mini pies are more like little incredible chocolate puddings or mousses, and they're velvety thanks to the avocado! These vegan French silk pies are simply decadent, with a subtle coffee flavor and topped with a big dollop of vegan coconut whipped cream. Try them out and you'll see they're seriously addictive! 🙂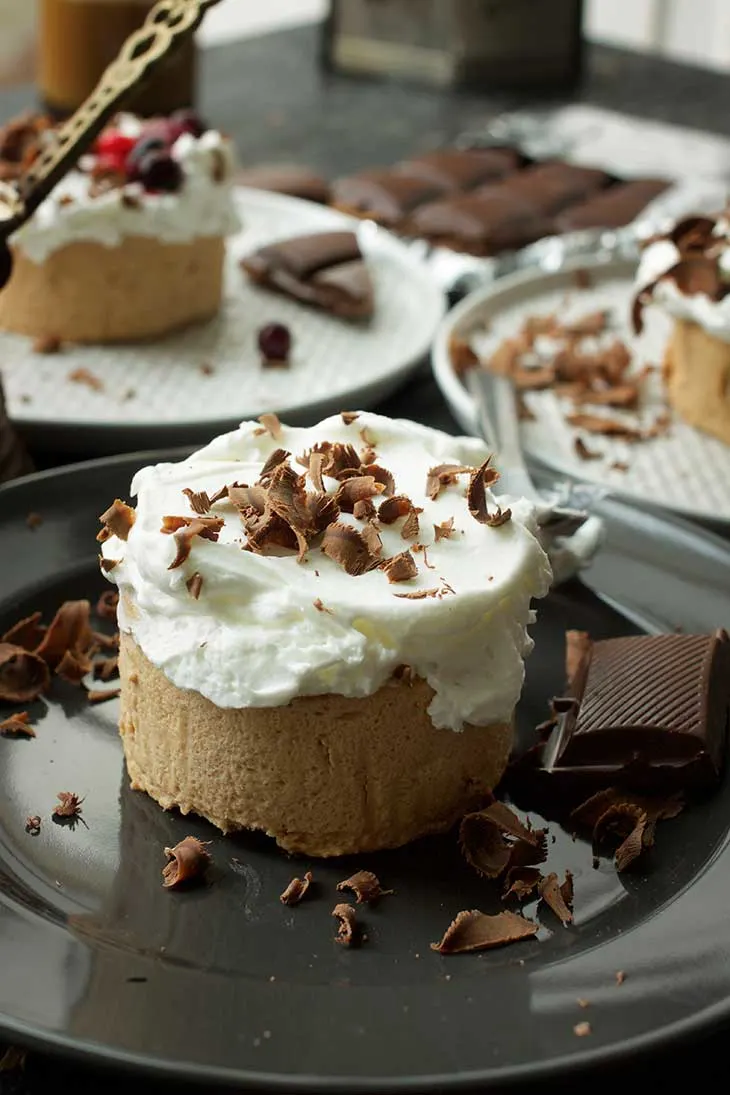 My mini key lime pies require only 5 ingredients, just 15 minutes to make and they are the perfect refreshing summer dessert! If you haven't tried cashew cream yet this is the perfect occasion, you'll surely fall in love with its silky texture paired with the freshness of lime!