Here's how to make vegan banana cream pie! This delicious dessert was inspired by the American classic Banoffee pie!
Banana Cream Pie is a well-known American dessert, a layered, very light and sweet pie made with, of course, bananas! It is also known as Banoffee pie, which is a combination between "banana" and "toffee", because, besides bananas, the traditional recipe for this pie also contains a delicious cream and some toffee.
Banoffee Pie is a very popular roadside diner dessert, together with the classic apple pie or cranberry pie. This pie recipe is widely spread across the entire country of the United States and, over time, it has received different changes and versions. Some Americans prefer to make it with chocolate or coffee too, which is a nice addition to the already flavorful cream of the banoffee pie.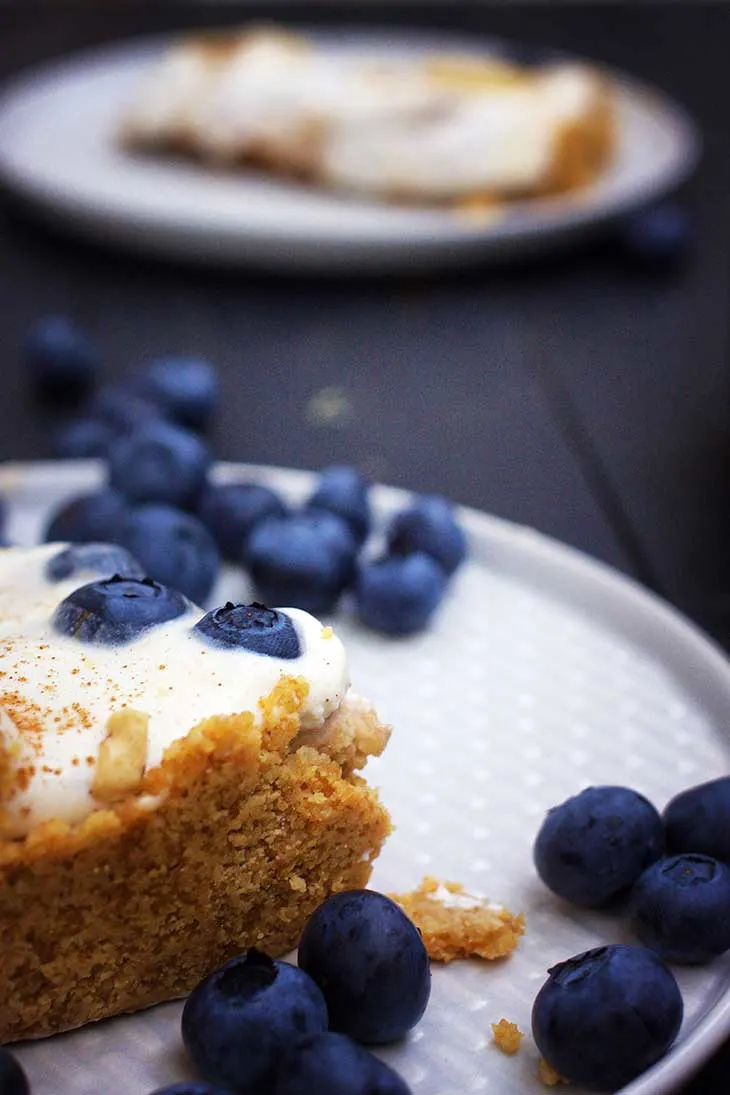 Many people trace the origins of the Banoffee pie or the banana cream pie in Britain, as it was created by a very famous British chef. Either way, the fact that the Banoffee pie (served with some whipped cream, of course!) has become a real staple dessert in the American cuisine is unquestionable.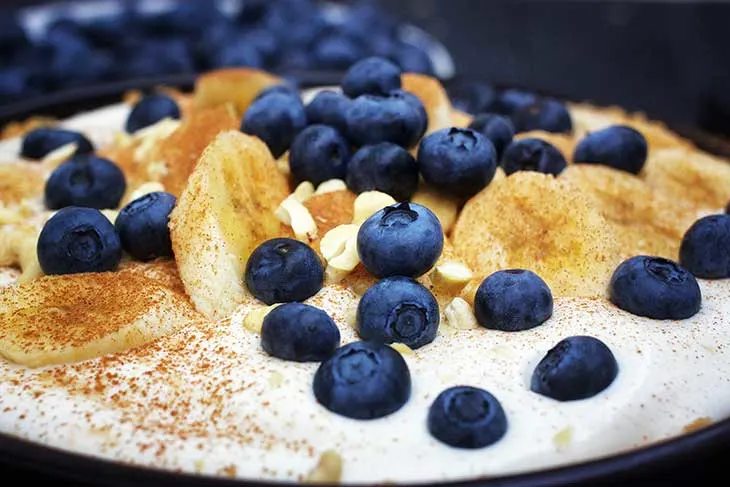 What I like most about the banana cream pie is the exquisite, yet simple combination of flavors. First, we have the simple crust, which gives the pie a nice consistency, then comes the amazing vanilla custard and everything is completed with some banana slices. If you want to eat the pie like a real American, you have to order it with some whipped cream on top, in order to achieve the perfect result.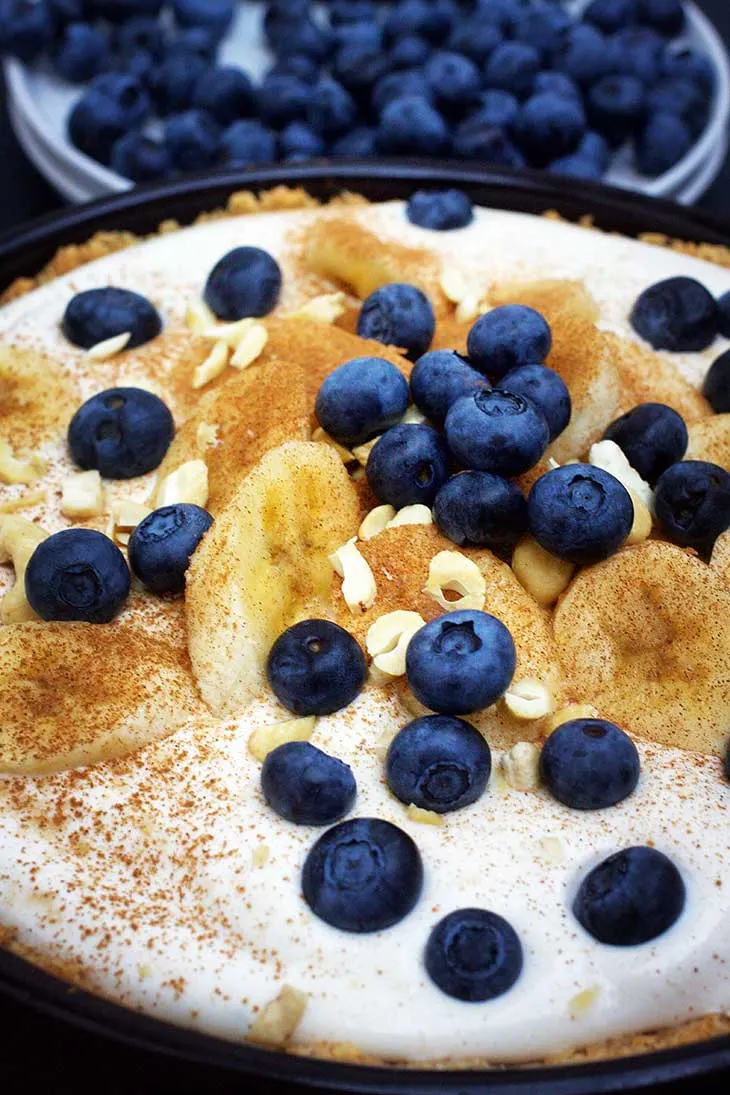 To make it healthier, I created this vegan banana cream pie, which is just as delicious as the authentic recipe. The traditional recipe is made with a biscuit base, but you can also bake a very simple crust out of coconut flour, almond flour and coconut oil, for example, like I did. If you want the even easier method, simply use a biscuit base you can make with some vegan biscuits, blended to a breadcrumbs consistency, and mixed with coconut oil.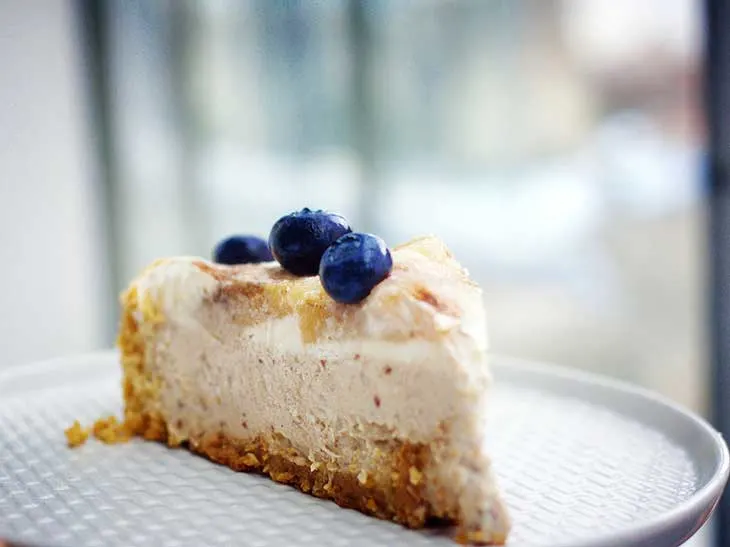 This vegan banana cream pie (vegan Banoffee pie) is absolutely perfect for a summer party, a celebration or just for a regular day when you want to satisfy your sweet cravings. Add some fresh blueberries on top and you'll have the perfect American dessert!
You'll need a blender to make it, but other than this, no special equipment is required. Enjoy my vegan banana cream pie recipe! 😀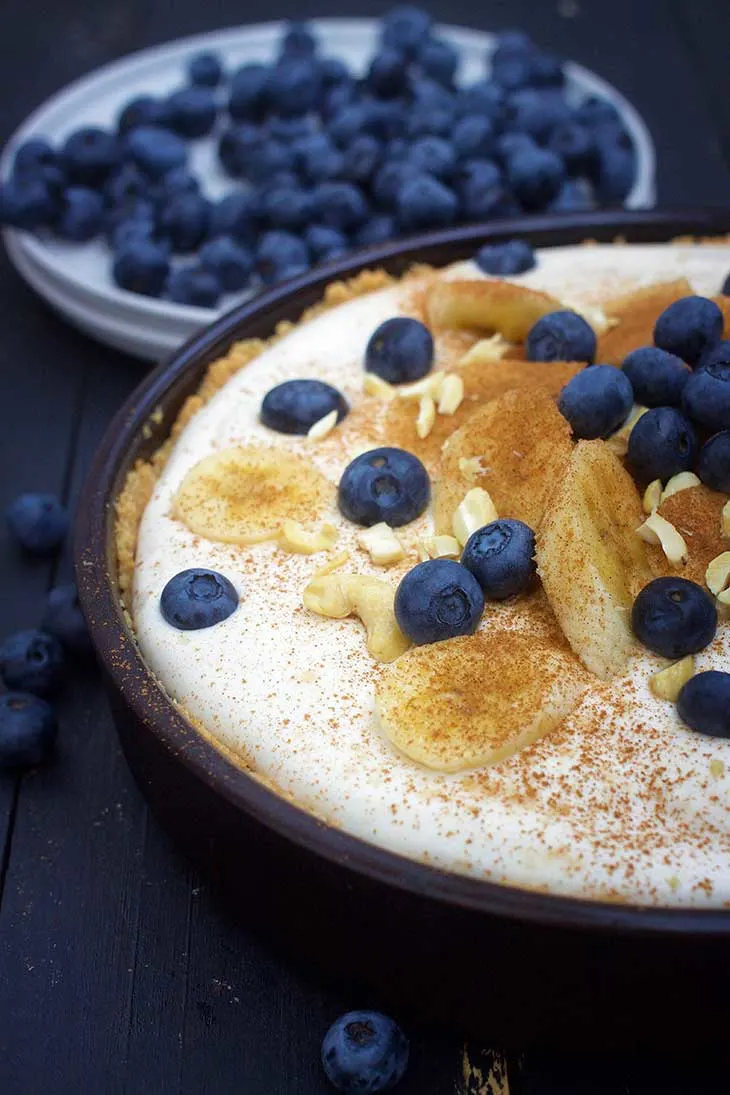 Yield: 8
Vegan Banana Cream Pie // Vegan Banoffee Pie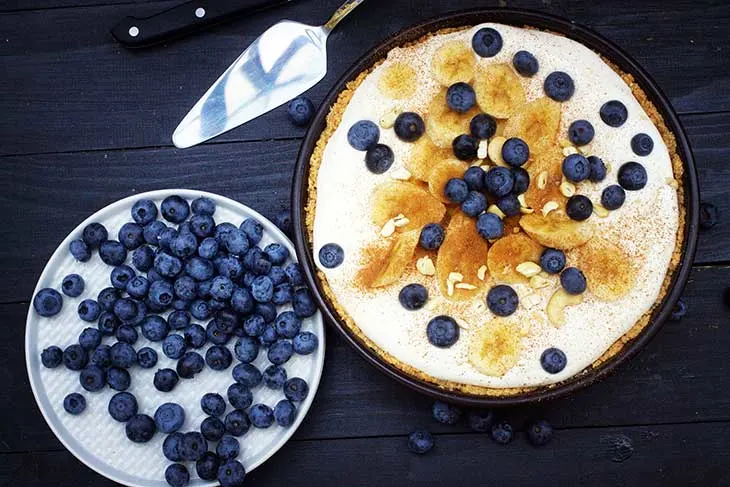 Here's how to make vegan banana cream pie! This delicious dessert was inspired by the American classic Banoffee pie!
Ingredients
For the crust:
120g (1 cup) almond flour
60g (½ cup) coconut flour
2 Tbsp coconut sugar
120ml (4 oz) melted coconut oil
For the filling:
3 Tbsp cornstarch
10 dates, pitted
1 banana, ripped and mashed
300ml (10 oz) almond milk
1 tsp pure vanilla extract
For the topping:
1 sliced banana
400g (1 ¾ cups) coconut cream
2 Tbsp powdered sugar
natural vanilla extract
Garnish:
1 banana, peeled
40g (½ cup) blueberries
1 tsp cinnamon
chopped nuts
Instructions
Preheat the oven to 180C.
In a bowl, mix all the crust ingredients until well incorporated. The crust should be easily shaped as a ball.
Spread the crust mixture in a pie baking dish.
Bake the crust about 10 minutes until lightly golden.
Set aside.
To make the filling, add cornstarch and almond milk in a small saucepan and place it over medium heat. Whisk continuously while cooking, until it starts bubbling.
Change heat to low and let it boil for about 5 more minutes, whisking until the mixture is homogeneous and thick.
Meanwhile, blend the mashed banana with the pitted dates until smooth.
Combine the pudding-like cornstarch and almond milk mixture with the banana-dates mixture until well incorporated.
To make the topping, whisk the coconut cream with sugar and vanilla in a bowl, until fluffy.
Fill the pie crust with the banana pudding, top with a layer of sliced banana and cover with the coconut topping. Decorate with banana slices, berries, chopped nuts, and cinnamon.
Let it cool in the fridge overnight before serving.
Nutrition Information
Yield
8
Amount Per Serving
Calories

716
Total Fat

43g
Carbohydrates

70.7g
Protein

11.5g